Your dose of crypto news and analysis from @BTO and @Goldfinger
Break out the champagne, folks. We made it! We survived Crypto Bloodbath 2018.
At least, I think so?!
What we witnessed yesterday was remarkable, regardless of how long the momentum from it lasts. On Thursday morning, more Bitcoin traded hands in one hour than at *any other time in history* -- a total of US$1.2 billion in trading volume in a single hour!
Mr. Soros, is that you?
Or maybe some Rockefeller cash? Adding to the news last week that the Soros' family office has been given the go-ahead to trade crypto, this week Venrock, the venture capital arm of the financial empire began by John D. Rockefeller, confirmed it will be placing a multi-million dollar bet on the bright future of cryptocurrency.
Or maybe it's true that the 2018 selling pressure has predominantly come from U.S. speculators selling crypto-assets to cover ~$25 billion of capital gains taxes from 2017 trading/profit-taking. With tax day in the U.S. just a few days away (on April 17 this year), and large holders known to have been selling this year — the Mt. Gox trustee and Fortress — believed to be done dumping (at least for now), this massive selling pressure is perhaps now mostly gone or coming to an end.
Whatever caused the surge, the bulls had a happy week — finally! Let's see how some of the major cryptos fared overall (close UTC time last Friday to today):
Bitcoin trading around US$8,060, up +21.5% on the week

Ethereum trading around US$507, up +37.1% on the week

Bitcoin Cash trading around US$763, up +25.0% on the week

Litecoin trading around US$130, up +14.7% on the week

Stellar trading around US$0.26, up +33.7% on the week

Dash trading around US$371, up +30.1% on the week

Monero trading around US$196, up +21.0% on the week

Ethereum Classic trading around US$16.43, up +24.9% on the week

ZCash trading around US$240, up +36.6% on the week
Every damn one up double digits on the week! We're not entirely out of the woods, but...
WTF did I miss this week in crypto?
Monero Just Hard Forked — and It Resulted in Four New Projects https://bitcoinmagazine.com/articles/monero-just-hard-forked-and-it-resulted-four-new-projects/#1523068899
Monero hard forked to version 12 of its protocol on April 5. But not everyone is on board. Following the example once set by Ethereum Classic, some users are continuing on the pre-hard fork Monero blockchain… though in this case not as a single project. Now there is Monero Classic, Monero 0 (XMZ), Monero Original (XMO) and a second project by the name Monero Classic (XMC). How confusing.
Chinese Cryptocurrency Mining Company Plans to File IPO Outside Of China http://bitcoinist.com/chinese-cryptocurrency-mining-company-plans-to-file-ipo-outside-of-china/

Canaan Creative, one of the world's leading cryptocurrency mining equipment manufacturers is planning to launch an IPO. The IPO will not launch in China due to regulatory issues; rather, the United States and Hong Kong have been mentioned as possibilities.
$1 Billion Blockchain Fund Launches with Chinese Government Backing https://www.coindesk.com/1-billion-blockchain-fund-launches-with-chinese-government-backing/
A new Chinese blockchain fund has $1.6 billion available to invest in innovative startups - 30 percent of which is backed by a city government.
Norway government backs ambitious datacentre investment plan https://www.computerweekly.com/news/252438569/Norway-government-backs-ambitious-datacentre-investment-plan
The project development strategy now being championed by prime minister Erna Solberg's conservative-led government, under its Norway As A Data Centre Nation (NADCN) plan, represents a shot across the collective bow of Denmark and Sweden. The NADCN strategy adopts an approach that includes regulatory and tax-based support. At the front-end, the stimulus plan includes the removal of taxes on plant and machinery for data centres and data-centric enterprises alike. The strategy also comprises reform legislation to fast-track the construction of data centres.
The scale and flow of new data centre projects is showing concrete signs of rapid growth. HIVE Blockchain (TSXV:HIVE) acquired the Norwegian-American Kolos project company in March. This project covers the building of a four story facility holding 70-MW of IT equipment in northern Norway. The facility has the potential to scale-up processing capacity to 1,000-MW. Strategically, Kolos will support HIVE's blockchain and crypto-currency infrastructure business.
Salesforce Confirms Development of Cryptocurrency, Blockchain Solutions https://bitsonline.com/salesforce-confirms-blockchain-solutions/

Salesforce, an American cloud computing company, has revealed that it has been working on a blockchain-based product. The cloud computing giant was always known to have been positive on the revolutionary technology. In an interview at the Salesforce Developer Conference – TrailheadDX, Salesforce CEO Marc Benioff and co-founder Parker Harris confirmed their intention to offer a suite of cryptocurrency and blockchain solutions.
Winklevoss-Backed Gemini to Offer Block Trading Service to Crypto Whales https://www.financemagnates.com/cryptocurrency/news/winklevoss-backed-gemini-offer-block-trading-service-crypto-whales/
This will allow massive trades to settle off the exchange without upsetting the market.
Another Goldman exec dumps Wall Street for crypto world https://www.cnbc.com/2018/04/09/another-goldman-exec-dumps-wall-street-for-crypto-world.html
Early cryptocurrency investor Mike Novogratz hired Richard Kim from Goldman Sachs as the new COO of his crypto merchant bank Galaxy Digital, says a person familiar with the matter. Kim is the latest of a handful of Goldman Sachs executives to leave Wall Street for crypto start-ups. Bitcoin's march to near $20,000 last year has attracted Wall Street traders and hedge funds to the space.
Complete guide to Proof of Stake – Ethereum's latest proposal & Vitalik Buterin interview https://blog.bitmex.com/complete-guide-to-proof-of-stake-ethereums-latest-proposal-vitalik-buterin-interview/
This research piece from Bitmex looks at the latest Ethereum Proof of Stake (PoS) proposal in detail — which involves a hybrid PoS / Proof of Work (PoW) model as a bridge between full PoW and full PoS. Bitmex concludes that (1) "it is unclear if it makes a net contribution to convergence or security"; (2) "critics of PoS could therefore argue that any rewards redistributed from PoW miners to stakers unnecessarily dilutes system convergence and security"; and (3) "despite the plan to use this proposal as a stepping stone, as part of a gradual shift towards a full PoS system, this will be significantly more difficult to achieve than some in the Ethereum community think".
22 European Nations Form New Blockchain Partnership https://www.coindesk.com/22-european-nations-form-new-blockchain-partnership/
The collaboration is aimed to avoid "fragmented approaches" to the technology by sharing technical and regulatory expertise among member states, as well as creating ways to promote blockchain applications across the EU-wide Digital Single Market.
Once-Surging Crypto Stocks Face Delisting and the End of an Era https://www.bloomberg.com//news/articles/2018-04-11/once-surging-crypto-stocks-face-delisting-and-the-end-of-an-era

Long Blockchain Corp. and Longfin Corp., two firms whose shares skyrocketed last year after they rebranded as blockchain businesses, are in trouble with Nasdaq. One faces an impending removal from the stock market and the other may meet the same fate, signaling the end of a brief era when everyone from soft-drink companies to cigar makers was cashing in on investors' mania for cryptocurrencies and their underlying technology. Good riddance, I say!
World's Second Largest Crypto Exchange OKEx Moves To 'Blockchain Island' Of Malta https://cointelegraph.com/news/worlds-second-largest-crypto-exchange-okex-moves-to-blockchain-island-of-malta

Malta, which has recently passed blockchain, cryptocurrencies, and ICO-related legislation in a bid to become a crypto-friendly "Blockchain Island", is welcoming another major crypto exchange, OKEx, to the country. OKex follows Binance, the world's largest exchange by trade volume, which also reported at the end of March that they are planning on opening an office in Malta, after having received a warning from Japanese regulators.
Crypto Hedge Fund Says Bitcoin Has Bottomed Out https://www.bloomberg.com/news/articles/2018-04-12/crypto-hedge-fund-pantera-capital-says-bitcoin-has-bottomed-out
"For those who are new to Pantera who might think a fund manager like Pantera would always be saying 'Today's a great day to get long,"' wrote Pantera's Dan Morehead and Joey Krug. "I rarely have such strong conviction on timing. A wall of institutional money will drive the markets much higher."
Yahoo Japan to buy minority stake in cryptocurrency exchange https://www.cnbc.com/2018/04/13/yahoo-japan-to-buy-minority-stake-in-cryptocurrency-exchange.html

Yahoo Japan Corp said today it would buy a minority stake in a Tokyo-based cryptocurrency exchange, becoming the latest major Japanese financial services provider to shrug off security concerns and join the digital money industry. Yahoo Japan, which is also the country's biggest online auction site, said in a statement it would buy through a subsidiary a 40 percent stake in BitARG Exchange Tokyo, with services planned for launch in the autumn.
JPMorgan Sued Over 'Sky-High' Fees for Cryptocurrency Purchases http://fortune.com/2018/04/11/jpmorgan-sued-cryptocurrency-fees/
I should have put this in the lolz section below. JPMorgan Chase & Co. has been sued for charging "sky-high" interest rates and fees to customers who used their credit cards to buy cryptocurrencies. Defrauding customers buying fraudulent money. Fraud on fraud crime.
Samsung Is Building ASIC Chips for Halong Mining https://bitcoinmagazine.com/articles/samsung-building-asic-chips-halong-mining/#1523581076

Seoul-based multinational conglomerate Samsung has confirmed that it is providing ASIC chips to mine bitcoin, ether and assorted cryptocurrencies for hardware manufacturer Halong Mining. Prior to entering the mining space, Samsung was producing "high-capacity memory chips" for GPUs, which are predominantly used to handle computer graphics but also possess mining capabilities. Its partnership with Halong is expected to bring heavy competition to the ASIC industry, primarily to China's Bitmain, which, up to this point, has largely dominated the chip-development arena.
Islamic Scholar Declares Bitcoin Sharia Law Compliant, Potentially Opening Market To 1.6 Billion Muslims https://www.cryptoglobe.com/latest/2018/04/bitcoin-is-declared-sharia-law-compliant-potentially-opening-market-to-1-6-billion-muslims/

An Islamic scholar recently considered bitcoin Sharia law compliant, which may potentially open the cryptocurrency market to the world's Muslim population of over 1.6 billion. Islam has strict definitions concerning money, and when a currency doesn't meet those definitions it is considered Haram - forbidden. Commodities considered to have inherent value like gold are favoured by Sharia law, and for a digital or paper currency to be recognized as a valid payment method, it needs to be backed by a commodity at a fixed exchange rate.
Tim Draper's Blockparty 2018 Bitcoin Prediction

Tim Draper's latest BTC price prediction: $250k by 2020. 🚀🚀🚀 Watch the kinda weird announcement below, complete with a crypto-themed song performed live -- lol.
UAE strategy to cash in on blockchain https://www.khaleejtimes.com/news/government/uae-strategy-to-cash-in-on-blockchain
Over 50 per cent of the UAE's federal transactions would be powered by blockchain technology by 2021, it was announced on Wednesday. The Emirates Blockchain Strategy would help the country save Dh11 billion spent annually on document transactions and documents. His Highness Sheikh Mohammed bin Rashid Al Maktoum, Vice-President and Prime Minister of the UAE and Ruler of Dubai, said the adoption of blockchain technology would help the government prepare for future challenges.
"The UAE has chosen to adopt the development of the 'future industry' in various aspects as means of development ... It is on its way to becoming a world leader in adopting technology," he said as he launched the strategy in Dubai. "The adoption of this technology would reflect on the quality of life in the UAE and will enhance happiness levels for citizens."
The crypto world is not happy with Deepak Chopra https://qz.com/1251784/deepak-chopras-appearance-at-an-ethereum-conference-courts-controversy-in-the-crypto-world/
The Ethereum world is in a tizzy over Deepak Chopra. The author and spiritual leader, who is also widely mocked for making pseudo-scientific claims, was promoted on Twitter this week as a speaker at a big crypto conference called Ethereal that will be held in New York next month. Bigwigs in the Ethereum world immediately vented their spleen at the conference organizers—a unit of ConsenSys, a company started by Ethereum co-founder Joe Lubin—for giving a "fraud" such a prominent platform. Ethereal expects 2,000 attendees this year, double last year's event. Here's Vitalik Buterin tweeting about it:
Coins and tokens and stocks, oh my!
[Note — Net change and % change figures are from the close last Friday to the close today.]
HIVE Blockchain (TSXV:HIVE) — $HIVE — Last at $1.40; Net Change: +$0.23; % Change: +19.7%
The renewed volume and price appreciation action across the crypto markets this week spurred on the share prices of HIVE and other crypto-focused pubcos, after a prolonged and nasty period of negative price action. If the bounce in cryptos lasts and continues in the coming weeks, I would expect to see continued price appreciation across the crypto pubco board, with first movers like HIVE leading the charge.
With media attention this week on Sweden and Norway as data centre-friendly jurisdictions, HIVE got some good coverage. In addition to the Norway article summarized above, HIVE was featured in this article, with CEO Pokrandt stating, "We already have a few places in Iceland, but the facility we are now building in Sweden will be ten times as big." And in a Reuters article, Director Olivier Roussy Newton said, "We're on a global hunt to secure as much power as we can."
In terms of relevant industry news, the Monero hard-fork to brick ASIC miners massively reduced network hash rate and mining difficulty, proving that ASIC Monero miners had likely been operating in secret for months. If the Ethereum community comes to an agreement on hard forking the chain to disable Bitmain's ETH ASICs, which are also believed to have been online for the past few months and a major contributor to the recent ~40% increase in network hash rate, we would likely see the same result. This would be very good for the profitability of Ethash GPU miners like HIVE. For a detailed discussion on where things stand on the proposal, see here -- a reddit post from Hudson Jameson (he organizes the bi-weekly ETH dev meetings). One potentially major hurdle to overcome for the pro-fork crowd: Vitalik is opposed.
Other crypto/blockchain-related stocks riding the wave -- some big movers!
HashChain Technology (TSXV:KASH) — $KASH — Last at $0.335; Net Change: +$0.12; % Change: +55.8%

Mogo Finance (TSX:MOGO) — $MOGO — Last at $3.52; Net Change: -$0.05; % Change: -1.4%

Overstock (NASDAQ:OSTK) — $OSTK — Last at US$37.40; Net Change: +US$1.55; % Change: +4.3%

Neptune Dash (TSXV:DASH) — $DASH — Last at $0.30; Net Change: +$0.09; % Change: +42.9%

Riot Blockchain (NASDAQ:RIOT) — $RIOT — Last at US$7.75; Net Change: +US$1.11; % Change: +16.7%

MGT Capital (OTC:MGTI) — $MGTI — Last at US$1.35; Net Change: +US$0.11; % Change: +8.9%

Global Blockchain (TSXV:BLOC) — Last at $0.41; $BLOC — Net Change: +$0.02; % Change: +5.1%

BTL Group (TSXV:BTL) — $BTL — Last at $7.65; Net Change: +$2.91; % Change: +61.4%

NetCents Technology (CSE:NC) — Last at $2.60; $NC — Net Change: +$1.66; % Change: +176.6% - wowzers!

eXeBlock Technology (CSE:XBLK) — Last at $0.25; $XBLK — Net Change: +$0.015; % Change: +6.4%

BIG Blockchain Intelligence Group (CSE:BIGG) — $BIGG — Last at $0.53; Net Change: +$0.15; % Change: +39.5%

And a few others that have been getting some attention: 360 Blockchain (CSE:CODE) — $CODE; Atlas Cloud (CSE:AKE) - $AKE; Block One Capital (TSXV:BLOK) - $BLOK; Calyx Bio-Ventures (TSXV:CYX) - $CYX; ePlay Digital (CSE:EPY) - $EPY; LeoNovus (TSXV:LTV) — $LTV; LottoGopher (CSE:LOTO) - $LOTO; HealthSpace Data Systems (CSE:HS); Blocplay Entertainment (CSE:PLAY); Blockchain Power Trust (TSXV:BPWR.UN) - $BPWR-UN; CryptoGlobal (TSXV:CPTO) - $CPTO; DMG Blockchain Solutions (TSXV:DMGI) - $DMGI; Hut 8 (TSXV:HUT) - $HUT.

Follow @Evenprime's crypto watchlist should you wish to track the now dozens of names apparently in the crypto/blockchain game.
The CryptoTechnician Report
This week was arguably the best week for cryptocurrencies since at least February as total crypto market capitalization found a bottom at ~US$250 billion and rallied more than 30%. Bitcoin broke out from a falling wedge after bouncing around near major support in the mid-$6,000s for two weeks:

The Bitcoin rally targets ~$9,200 and then the big round number psychological barrier at $10,000. Ethereum, the #2 crypto by market cap, had an even more impressive rally on a percentage basis than Bitcoin; gaining more than 40% in the last week and breaking above a key downtrend line:

Verge (XVG), an alt-coin we pointed out last week triggered a breakout from a rounding bottom pattern:

Above $.10 XVG can easily target $.15 and the $.08 level now becomes important support.

More than anything else last week may be most remembered for being the week in which crypto related stocks awoke and began to surge higher. Most crypto/blockchain equities posted double-digit percentage gains for the week and stocks such as NetCents Technology (CSE:NC) surged nearly 200% higher on the week on the heaviest trading volume since December.

Last week I noted that there were some 'green shoots' in the crypto stocks. This week i'd say that there are more green shoots and some of the green shoots from last week have grown taller and are donning a healthy shade of green. Considering how far some of the crypto stocks have fallen, it would not be unreasonable to expect stocks such as KASH.V to rally 300%+ from this week's lows.
For tactical short term traders the crypto sector might be the new hottest game in town for the next couple of weeks as volatility continues in a two-way market (as opposed to the downtrending market we've experienced in the last couple of months).
Funny things we saw this week
Actual footage of Bitcoin shorts on Thursday morning. LOOK OUT!!!!
Sage advice from Mr. McAfee: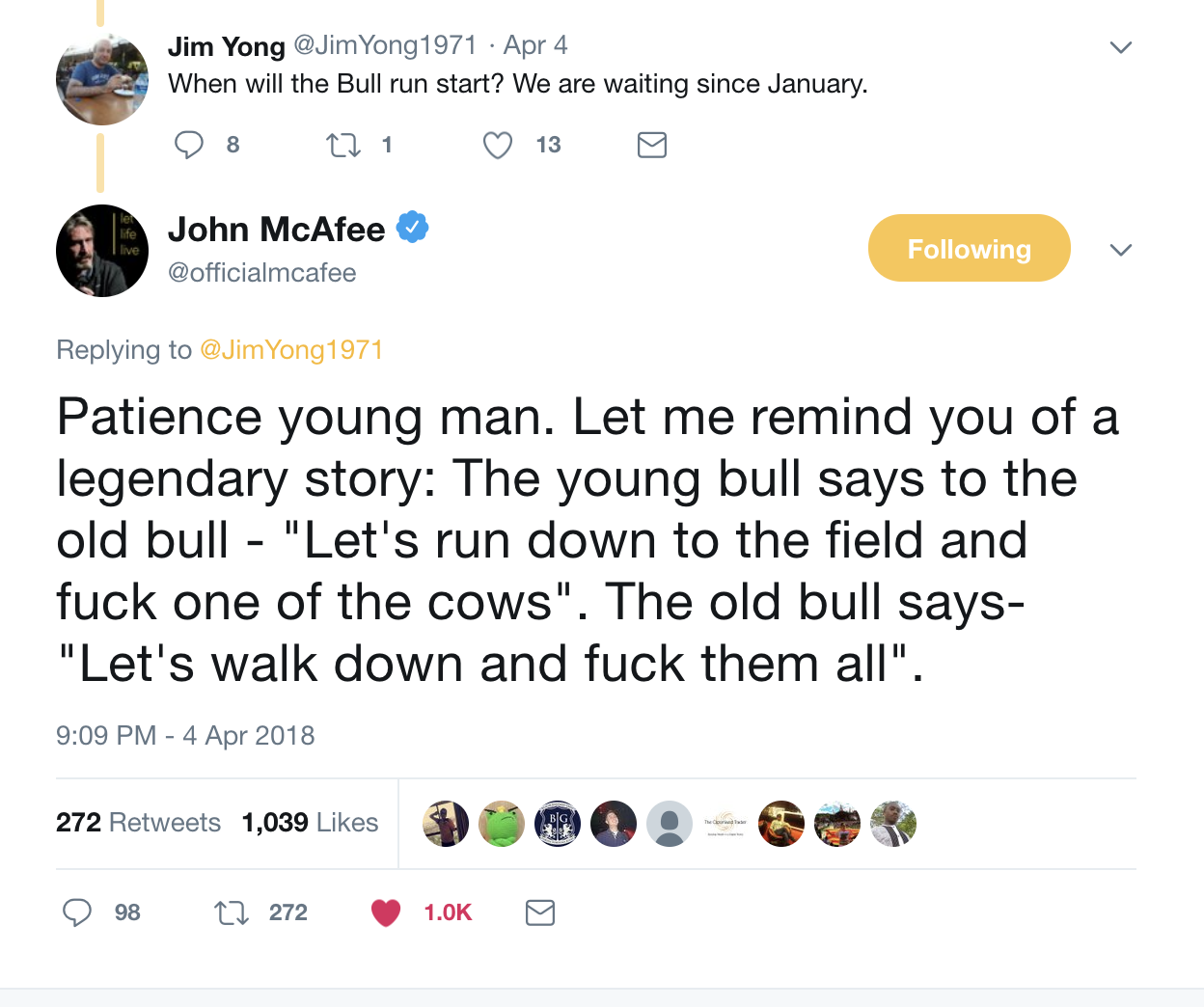 Bitcoin is volatile -- great stuff from HBO's Silicon Valley:
Moon boom for Bitcoin? CNBC is learning the lingo!

————————

DISCLAIMER — PLEASE READ CAREFULLY
All statements in this report, other than statements of historical fact should be considered forward-looking statements. These statements relate to future events or future performance. Forward-looking statements are often, but not always identified by the use of words such as "seek", "anticipate", "plan", "continue", "estimate", "expect", "may", "will", "project", "predict", "potential", "targeting", "intend", "could", "might", "should", "believe" and similar expressions. Much of this report is comprised of statements of projection. These statements involve known and unknown risks, uncertainties and other factors that may cause actual results or events to differ materially from those anticipated in such forward-looking statements. Risks and uncertainties respecting mineral exploration companies are generally disclosed in the annual financial or other filing documents of those and similar companies as filed with the relevant securities commissions, and should be reviewed by any reader of this newsletter.
The authors are online financial newsletter writers. They are focused on researching and marketing resource and other public companies. Nothing in this article should be construed as a solicitation to buy or sell any securities mentioned anywhere in this newsletter. This article is intended for informational and entertainment purposes only!
Be advised, the authors are not registered broker-dealers or financial advisors. Before investing in any securities, you should consult with your financial advisor and a registered broker-dealer.
Never, ever, make an investment based solely on what you read in an online newsletter, including Crypto Wars, especially if the investment involves a small, thinly-traded company that isn't well known or a crypto asset like Bitcoin or Ethereum.
Past performance is not indicative of future results and should not be used as a reason to purchase any stocks mentioned in this newsletter or on this website.
In many cases, the authors, and/or site owner/operator Tommy Humphreys, owns shares in the companies featured. For those reasons, please be aware that the authors can be considered extremely biased in regards to the companies written about and featured in Crypto Wars. Because of this, there is an inherent conflict of interest involved that may influence our perspective on these companies. This is why you should conduct extensive due diligence as well as seek the advice of your financial advisor and a registered broker-dealer before investing in any securities. We may purchase more shares of any featured company for the purpose of selling them for our own profit and will buy or sell at any time without notice to anyone, including readers of this newsletter.
None of the authors, Tommy Humphreys, or Pacific Website Company Incorporated (dba CEO.CA) shall be liable for any damages, losses, or costs of any kind or type arising out of or in any way connected with the use of this newsletter. You should independently investigate and fully understand all risks before investing. When investing in speculative stocks or crypto assets, it is possible to lose your entire investment.
Any decision to purchase or sell as a result of the opinions expressed in this report will be the full responsibility of the person authorizing such transaction, and should only be made after such person has consulted a registered financial advisor and conducted thorough due diligence. Information in this report has been obtained from sources considered to be reliable, but we do not guarantee that they are accurate or complete. Our views and opinions in this newsletter are our own views and are based on information that we have received, which we assumed to be reliable. We do not guarantee that any of the companies mentioned in this newsletter will perform as we expect, and any comparisons we have made to other companies may not be valid or come into effect.
We do not undertake any obligation to publicly update or revise any statements made in this newsletter.