Your dose of crypto news and analysis from @BTO and @Goldfinger
Bitcoin crossed the the US$10,000 for the first time ever 10 days ago. Remember that?! Seems like ages ago. And this week?
Woooooooooo! Take a look at what happened with Bitcoin:
breached US$11k last Friday;

crossed US$12k Tuesday;

plowed through US$13k and $14k Wednesday;

exploded through US$15k and $16k and $17k Thursday; and

tapped US$18k Friday before retreating to where it is now: around US$16,400.

Who's still waiting to buy the dip? (credit @lopp on Twitter)
Now, I'm in no way a chart reader — see @Goldinger's CryptoTechnician Report below for real analysis on the topic — but one thing I've casually observed is that the alt-coin market seems to suffer pullbacks when Bitcoin goes on a crazy tear — which is not surprising with traders likely flipping into Bitcoin. But then the alts — the good ones, at least — seem to recover to a greater extent than Bitcoin's inevitable pullback before it goes off again. The result is what seems to be unrelenting upward momentum to the individual prices of the stronger coins, but also the market cap of cryptocurrencies as a whole, which has more than doubled in the past month.
Yep — global market cap is up around the half a trillion dollar mark, with trading volumes up around US$30 billion per day.
As an experiment yesterday, I converted some BTC into ETH when BTC had quickly surged to around US$18k. At the time, ETH had gone down to around US$400, but I figured it would recover nicely, which it already has (now around US$450). Small amounts were involved here, but this little experimental pot of BTC/ETH is up 12.5% since the trade even though BTC is down. Thanks ETH!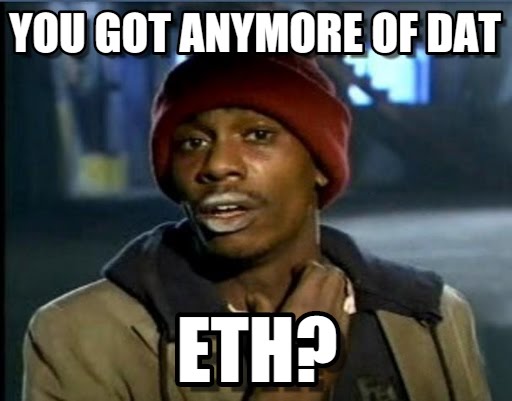 Anyway — it should be very interesting next week, and the one after, with Bitcoin futures coming online. What's your guess? Prices up or prices down?
WTF did I miss this week in crypto?
Introducing 'CryptoKitties,' the New Digital Pets Taking Ethereum by Storm — http://fortune.com/2017/12/04/blockchain-cryptokitties-ethereum/
Of course, I've gotta lead with the big story of the week: CryptoKitties!
Aren't they cute? People are spending millions of dollars worth of Ethereum trading these things, which seems insane, but what's cool about it is it's basically the first distributed application (DApp) adopted en masse and thus serves as an important proof-of-concept of what's to come. It also demonstrates that everything can — and will — be tokenized.
The story went viral — unsurprisingly — not just because of the numbers involved, but because of what it did to the Ethereum network. Apparently, CryptoKitty transactions amounted to 15% of overall Ethereum traffic at times, and this caused congestion to reach unprecedented levels, with a record-breaking 30,000 transactions stuck and waiting to be processed at one point yesterday. This will all be solved in due course once the technical change to facilitate increased scale is selected and implemented — should happen in 2018.
I thought my little one-day 12.5% gain on a simple trade was good, but apparently I could've made much more flipping CryptoKitties.
Venezuelan President Announces 'Petro' Oil-Backed Cryptocurrency — https://www.coindesk.com/venezuelan-president-announces-petro-oil-backed-cryptocurrency/
What could possibly go wrong?
And speaking of the amazing Andreas Antonopoulos — https://qz.com/1151233/andreas-antonopoulos-got-2-3-million-in-bitcoin-donations-after-roger-ver-bitshamed-him/
If you haven't yet scoured YouTube to watch even a small portion of the countless hours of footage of Andreas speaking passionately on the topics of cryptocurrencies and blockchain, I really urge you to do so. You will not regret it. This week, in response to a Twitter comment, he confirmed that, no, he is not a Bitcoin millionaire even though he began is speaking career on the topic back in 2012.
Roger Ver — aka Bitcoin Jesus or Bitcoin Judas depending on who you ask — then made a snarky comment that Andreas would have been one had he invested just $300 back then.
Well, the community has spoken out in unanimous support for Andreas — and put their money where their mouth is. In the past couple of days, he has received donations of more than 150 BTC — worth more than US$2 million. What an awesome community this is.
NiceHash CEO Confirms Bitcoin Theft Worth $78 Million — https://www.coindesk.com/nicehash-ceo-confirms-bitcoin-theft-worth-78-million/
Cryptocurrency mining marketplace NiceHash has confirmed they were hacked this week, resulting in the loss of over 4,700 Bitcoin — worth more than US$70 million. According to the company's CEO and co-founder, the attack began in the early hours of Dec. 6 after an employee's computer had been compromised. They are working with forensic analysis to determine how it happened. More on this here and here.
As Bitcoin Soars, Prices Diverge Wildly Across Exchanges — https://www.coindesk.com/bitcoin-soars-prices-diverge-wildly-across-exchanges/
The rocket launcher that was Bitcoin this week created some very interesting arbitrage opportunities for traders due to diverging prices between exchanges. Those who took advantage could have had a nice payday. According to CoinDesk, the difference in price from one exchange to another was more than US$2,000 at times.
Lightning Protocol 1.0: Compatibility Achieved ✅ - https://medium.com/@lightning_network/lightning-protocol-1-0-compatibility-achieved-f9d22b7b19c4
The long-awaited implementation of the Lightning Network on Bitcoin took a big step forward this week, with the three startups behind the most active Lightning implementations having revealed test results, including live transactions, proving their software is now interoperable. This effectively brings Lightning — the mechanism many see as the best solution for increasing Bitcoin's capacity — closer to public launch.
Coinbase OG Olaf Carlson-Wee: Ethereum Will Surpass Bitcoin in 2018 — https://www.bitsonline.com/olaf-carlson-wee-eth-tops-btc/
Olaf Carlson-Wee is known for being Coinbase's very first employee. And now he's boldly claiming Ethereum will surpass Bitcoin's market cap in 2018. Great watch here:
USV, Winklevoss Bros Invest in Blockstack's $50 Million ICO — https://www.coindesk.com/usv-winklevoss-bros-invest-in-blockstacks-50-million-ico/

Blockstack, touted as a new decentralized internet where users own their data and apps, announced this week that its high-profile ICO has officially closed, with the company having raised US$50 million through the sale of 440 million tokens. Investors included Union Square Ventures (USV), Foundation Capital, Lux Capital, Winklevoss Capital, Blockchain Capital, Digital Currency Group, Y Combinator partner Qasar Younis, Techcrunch founder Michael Arrington, and Digg founder Kevin Rose.
CBOE to Begin Bitcoin Futures Trading on December 10 — https://www.coindesk.com/cboe-begin-bitcoin-futures-trading-december-10/
In the Bitcoin futures arms race, we have another entrant, with CBOE announcing that it will launch its product this weekend — a week earlier than CME Group. The CEO of one of Japan's largest exchanges also says it will launch cryptocurrency futures "as soon as possible" once frameworks are in place.
SEC Halts a Silly Initial Coin Offering — https://www.bloomberg.com/view/articles/2017-12-05/sec-halts-a-silly-initial-coin-offering
If anything this will serve as a warning for others out there that the SEC is watching now. This is a good column on the first ICO scam that the SEC put an end to.
Apple Patent Filing Hints at Blockchain Use — https://www.coindesk.com/apple-patent-filing-hints-blockchain-timestamp-use/
Details as to what Apple might use the patent for (if at all) are not yet available, but it's certainly interesting to hear that the world's biggest tech company has a team focused on blockchain. In other blockchain patent news, Bank of America obtained a patent for a Crypto Exchange System this week. I'm sure there will be tons of these as time goes on — and then the inevitable patent trolls will raise their hands to cash in.
ASX Says Yes: Stock Market to Settle Trades with DLT — https://www.coindesk.com/asx-says-yes-securities-exchange-approves-dlt-replacement-post-trade-system/
The Australian Securities Exchange (ASX) has announced that it will replace its CHESS post-trade settlement system using technology developed by blockchain startup Digital Asset.
Coins and tokens and stocks, oh my!
[Note — Net change and % change figures are from the close last Friday to the close today.]
HIVE Blockchain (TSXV:HIVE) — $HIVE — Net Change: -$0.21; % Change: -6.1%
There was no news from HIVE this week, but it did have some media attention. Firstly, in this article: "The country that brought you the first marijuana unicorn is plunging headlong into the next big thing: cryptocurrencies." And then today, it caught the eye of prominent and influential Bitcoin bull Tom Lee, who heads research for Fundstrat Global Advisors. He picked HIVE as one of the ideas to leverage blockchain in an investment portfolio, alongside Bitcoin Investment Trust (GBTC), MGT Capital Investments Inc. (MGTI), U.S. Global Investors Inc. (GROW), DigitalX Ltd. (DCC), NVIDIA Corp. (NVDA), Advanced Micro Devices Inc. (AMD), CME Group Inc. (CME), Cboe Global Markets Inc. (CBOE), Overstock (OSTK), Goldman Sachs Group Inc. (GS), and Square Inc. (SQ). Nice company to be included with. And published just this afternoon is a new documentary film by @jonathanroth — it's super cool and well worth the watch:
Mogo Finance (TSX:MOGO) — $MOGO — Net Change: -$0.35; % Change: -4.6%

This week, Mogo announced a bought deal financing to raise just over $15 million at $7.00 per share, and today announced an increase to the offering to a total raise of over $26 million. With the over-allotment option the raise could be in excess of $30 million. Shares of Mogo finished off the week at $7.22.
Other crypto/blockchain-related stocks riding the wave (it's becoming harder and harder to keep track):
Overstock (NASDAQ:OSTK) — $OSTK — Net Change: US$2.85; % Change: 6.7%

MGT Capital (OTC:MGTI) — $MGTI — Net Change: US$0.49; % Change: 21.8%

LeoNovus (TSXV:LTV) — $LTV — Net Change: -$0.02; % Change: -2.9%

Global Blockchain (TSXV:BLOC) — $BLOC — Net Change: -$0.09; % Change: 3.8%

BTL Group (TSXV:BTL) — $BTL — Net Change: $4.24; % Change: 52.0%

NetCents Technology (CSE:NC) — $NC — Net Change: -$0.53; % Change: -11.6%

360 Blockchain (CSE:CODE) — $CODE — Net Change: $0.015; % Change: 5.8%

Riot Blockchain (NASDAQ:RIOT) — $RIOT — Net Change: $0.87; % Change: 5.8%

eXeBlock Technology (CSE:XBLK) — $XBLK — Net Change: $0.01; % Change: 0.7%

BIG Blockchain Intelligence Group Inc. (CSE:BIGG) — $BIGG — New story; Closed week at $2.31

And a few others that have been getting some attention: Atlas Cloud (CSE:AKE) - $AKE; Block One Capital (TSXV:BLOK) - $BLOK; Calyx Bio-Ventures (TSXV:CYX) - $CYX; ePlay Digital (CSE:EPY) - $EPY; LottoGopher (CSE:LOTO) - $LOTO; HealthSpace Data Systems (CSE:HS); Stompy Bot (CSE:BOT); Imagination Park (CSE:IP).

The CryptoTechnician Report
Cryptocurrencies had another remarkable week, adding more than US$100 billion in market capitalization to reach a peak near US$450 billion on Thursday before shedding ~25% of its gains on Friday:
Bitcoin reached a ~US$300 billion market cap at Thursday's highs before dropping back to ~US$250 billion at Friday's lows:
While Bitcoin traded above US$19,000 on at least one exchange at Thursday's highs, TradingView has a high of US$16,666.66. An interesting number to say the least. We will have to see how long this level holds as the high.
Meanwhile, as Bitcoin was soaring the #2 crypto by market cap, Ethereum, suffered another correction:
Ethereum dropped from above US$480 to roughly US$400 before finding support at this level for the second time in 8 days. Given that support at US$400 has held decisively it may be time for Ether to take another crack at the US$520 all-time high level which corresponds to a roughly US$50 billion market cap.
The #6 cryptocurrency, Litecoin, finally decisively broke-out above US$100:
Notice once again with Litecoin that previous resistance near US$90 became support during Thursday's correction. We have seen this theme over and over again in the cryptos and from a technician's standpoint it's nice to see such clean charts.
Finally, some food for thought as to where cryptocurrencies as a sector might be in the market cycle:
"Bubbles are mathematically impossible in this new paradigm." ~ John McAfee, CEO MGT Capital Investments (12/7/2017)
Mark Yusko, Founder & Chief Investment Officer Morgan Creek Capital Management, believes that cryptocurrencies are just beginning to launch into the frenzy phase:
And yet another interpretation which could indicate cryptos are still in the "innovators" or "early adopters" phase:
I'll leave you with one more tweet-quote from John McAfee which will undoubtedly be talked about for a long time to come...
"Gold is laughable compared to cryptocurrencies. How do you fractionalize gold? How do you ship it? It's physical so how do you safely store it. It was good for people 3,000 years ago. Today it is inherently worthless. Soon it will drop in value as crypto currencies climb." ~ John McAfee (12/7/2017)
Funny things we saw this week
Live footage of a prominent HODLer party when BTC jumped from US$15k, to $16k, to $17k, to $18k:
The Bitcoin : Lambo ratio: http://lambo2btc.com/

The figure's a little off for X-mas 2017, but you get the point:
And finally, some Bitcoin music:
————————
DISCLAIMER — PLEASE READ CAREFULLY
All statements in this report, other than statements of historical fact should be considered forward-looking statements. These statements relate to future events or future performance. Forward-looking statements are often, but not always identified by the use of words such as "seek", "anticipate", "plan", "continue", "estimate", "expect", "may", "will", "project", "predict", "potential", "targeting", "intend", "could", "might", "should", "believe" and similar expressions. Much of this report is comprised of statements of projection. These statements involve known and unknown risks, uncertainties and other factors that may cause actual results or events to differ materially from those anticipated in such forward-looking statements. Risks and uncertainties respecting mineral exploration companies are generally disclosed in the annual financial or other filing documents of those and similar companies as filed with the relevant securities commissions, and should be reviewed by any reader of this newsletter.
The authors are online financial newsletter writers. They are focused on researching and marketing resource and other public companies. Nothing in this article should be construed as a solicitation to buy or sell any securities mentioned anywhere in this newsletter. This article is intended for informational and entertainment purposes only!
Be advised, the authors are not registered broker-dealers or financial advisors. Before investing in any securities, you should consult with your financial advisor and a registered broker-dealer.
Never, ever, make an investment based solely on what you read in an online newsletter, including Crypto Wars, especially if the investment involves a small, thinly-traded company that isn't well known or a crypto asset like Bitcoin or Ethereum.
Past performance is not indicative of future results and should not be used as a reason to purchase any stocks mentioned in this newsletter or on this website.
In many cases, the authors, and/or site owner/operator Tommy Humphreys, owns shares in the companies featured. For those reasons, please be aware that the authors can be considered extremely biased in regards to the companies written about and featured in Crypto Wars. Because of this, there is an inherent conflict of interest involved that may influence our perspective on these companies. This is why you should conduct extensive due diligence as well as seek the advice of your financial advisor and a registered broker-dealer before investing in any securities. We may purchase more shares of any featured company for the purpose of selling them for our own profit and will buy or sell at any time without notice to anyone, including readers of this newsletter.
None of the authors, Tommy Humphreys, or Pacific Website Company Incorporated (dba CEO.CA) shall be liable for any damages, losses, or costs of any kind or type arising out of or in any way connected with the use of this newsletter. You should independently investigate and fully understand all risks before investing. When investing in speculative stocks or crypto assets, it is possible to lose your entire investment.
Any decision to purchase or sell as a result of the opinions expressed in this report will be the full responsibility of the person authorizing such transaction, and should only be made after such person has consulted a registered financial advisor and conducted thorough due diligence. Information in this report has been obtained from sources considered to be reliable, but we do not guarantee that they are accurate or complete. Our views and opinions in this newsletter are our own views and are based on information that we have received, which we assumed to be reliable. We do not guarantee that any of the companies mentioned in this newsletter will perform as we expect, and any comparisons we have made to other companies may not be valid or come into effect.
We do not undertake any obligation to publicly update or revise any statements made in this newsletter.