This article was originally published on www.criticalinvestor.eu, a platform for junior mining investors. To never miss a thing please subscribe to my free newsletter!
1. Introduction
In a time where large gold deposits are becoming increasingly rare, Goldshore Resources (TSXV:GSHR)(OTCQB:GSHRF)(FWB:8X00) set the bar high for themselves. After being guided by a 4M oz Au historic resource, Goldshore announced a robust NI43-101 compliant Inferred 4.17Moz @ 1.1g/t gold current resource in November 2022 at their fully owned flagship Moss Lake project in Ontario. This new resource represents about 45% of the drilling data to date, and management is aiming at a much higher end figure, as double-digit target figures are regular subjects in interviews featuring CEO Brett Richards. According to him, Moss Lake is at the same stage as Detour Gold was 9 years ago, before it grew into a 30Moz behemoth, which is the largest producing gold mine in Canada. Currently, Richards and his team think Moss Lake could have the same growth potential. Goldshore acquired Moss Lake from Wesdome Gold Mines for C$52.2M in May 2021, as Wesdome quietly put together the extensive land package after years of consolidating, but decided to focus on high grade underground mining at its Eagle and Kiena operations, and opted for divesting it.
With powerful financial backing from the likes of Jeff Zicherman (Eventus Capital), CEO Richards, Chairman Galen McNamara and advisor David Garofalo teamed up, assembled a strong group of people and put the deal together with Wesdome, listing the company in June 2022, right after closing the acquisition. The Moss Lake project had seen quite a bit of exploration work over the past 30 years and a PEA (2013) completed on it, but back in the days economics weren't very compelling, albeit on a lower gold price at the time. Goldshore studied the project data extensively, and was convinced it could expand the resource, and better understand the distribution of gold to improve eventual economics. As you don't just pick up a profitable 5-10Moz or even bigger gold project in Ontario for C$52.5M these days, this article will discuss all the challenges and opportunities that go with Moss Lake, and I believe they have an excellent chance of developing a real Tier I asset here, with strong gold sentiment drivers in the background, providing lots of potential leverage.
All presented tables are my own material, unless stated otherwise.
All pictures are company material, unless stated otherwise.
All currencies are in US Dollars, unless stated otherwise.
Please note: the views, opinions, estimates, forecasts or predictions regarding Goldshore Resources' resource potential are those of the author alone and do not represent views, opinions, estimates, forecasts or predictions of Goldshore or Goldshore's management. Goldshore Resources has not in any way endorsed the views, opinions, estimates, forecasts or predictions provided by the author.
2. Company
Goldshore Resources is a gold focused development company with one flagship asset, the Moss Lake Gold project, in Ontario, a Canadian jurisdiction consistently seen as one of the best mining jurisdictions in the world. Ontario is endowed with many greenstone belts, containing major gold camps, like Red Lake, Hemlo, Timmins/Porcupine, Detour and Kirkland Lake. On a side note, the large Detour Lake open pit mine proved that permitting an open pit mine in Ontario does not take many years.
The company is led by CEO Brett Richards, a very experienced mining professional with over 36 years of experience in the development and mining business, serving in various senior executive roles ranging from VP Corporate Development, EVP Corporate Affairs to no less than 6 CEO roles in the last 20 years of his career. He started his career at Kinross, and was stationed in many locations around the world near the assets Kinross acquired. From Kinross, he was one of the founders of Katanga Mining (Kamoto/Katanga Project in DRC) which delivered a 80 times return to its first equity shareholders and a 20 times return to its last equity shareholders. Richards then enjoyed further success at a number of roles moved as CEO: Avocet Mining, Roxgold, Midnight Sun Mining, African Thunder Platinum, Banro (restructuring) and now Goldshore Resources.
CEO Brett Richards is assisted by his VP Exploration Peter Flindell, who has over 36 years of experience as a senior exploration geologist, leading teams to discover, develop and expand several gold and copper mines in Southeast Asia, Central Asia, West Africa, Central Africa, Europe and Central America for companies like Newmont, Avocet and Signal Delta (geological consultancy), Midnight sun Mining, and Banro. He is an expert in verifying, expanding and advancing existing resources, which comes in very handy at Goldshore. The Board of Directors already sports lots of well-known names like Galen McNamara, Doug Ramshaw, Brandon MacDonald, Shawn Khunkhun and Victor Cantore, but some real heavyweights can be found in the advisory board: David Garofalo (former CEO Hudbay, Goldcorp), Craig Parry (founder NexGen Energy), Daniel Kunz (former CEO Ivanhoe Mines) and Adrian Rothwell (former director Goldcorp).
The company's project is the 100% owned Moss Lake gold project, which was acquired from Wesdome Gold Mines (22% shareholder) for C$52.5M in May 2021, and was the qualifying transaction for Goldshore Resources at the time. The 16,036 ha property contains a Nov 2022 NI 43-101 current Inferred mineral resource estimate of 4.17Moz @ 1.1g/t Au for Moss Lake, and a historic Inferred mineral resource estimate of 0.85Moz @ 0.76g/t Au for East Goldstream. About 90% of the project is located within provincial Crown Land, with the balance being patented claims.
Exploration upside potential at Moss Lake is significant, as historical drilling intersected gold mineralization of a strike length of 8km (current strike length of the current resource is 3.5km), and parallel shear structures have been identified, for direct lateral expansion potential of the deposit.
Experienced management, strong financial backing, and a robust 2022 resource with lots of growth potential located in one of the best mining jurisdictions on the planet should be enough for unabating investor enthusiasm one would say. This has not been the case with the share price unfortunately, watching the chart unfold since the listing in June 2021:
Share price 1 year timeframe (Source: tmxmoney.com)
As we weren't exactly in a bull market when Goldshore listed, with gold not performing particularly strong at the time, and the company didn't have a sexier narrative at the time of a large, new and potentially super profitable discovery like Snowline Gold, Rupert Resources or Reunion Gold. So the share price faced downward pressure, basically since listing, and seems to be in a bottom-forming process at the moment. At a current market cap of C$40M and a NI43-101 compliant resource of 4.17Moz Au with the estimated (by management) additional potential of another 1.5-2Moz Au for the April 2023 resource update, and much more expansion potential beyond this, it will be clear I view Goldshore as undervalued at the moment, but more on this later when I line up the company against several peers.
Some basic information on share structure: Goldshore Resources has 167.85M shares outstanding, and trades at an average daily volume of 234,562k shares. There are 17.5M warrants (5M @ $0.75 and 12.5M @ $0.40) all with a 2-year expiry in April 2024 and December 2024, respectively.
Management and BoD have significant skin in the game, as they hold 10% (with CEO Richards at 2.5% and Chairman McNamara at 2.5%), with the remaining shareholder base of: Wesdome Gold Mines 22%, other institutions holding 17%, and retail holding the balance of 51%. Goldshore management is looking to substantially bring down the Wesdome position via a strategic partner, preferably a mid-tier or major with useful skillsets, and the ability to help further develop Moss Lake. Goldshore also fully controls the selling of shared held by Wesdome, so there is no active overhang.
The cash position is estimated at a convenient C$4.2M after raising C$6M in Dec 2022, with no debt, and take Goldshore well into the summer of 2023. Most of the current capital will be used for exploration and resource expansion, represented by their ongoing drill program as part of the 100,000m overall program, but also geotechnical drilling, metallurgical test work, and environmental baseline data collection towards the resource update in April 2023. Once the second mineral resource estimate update is published, the company will prepare the scope for a PEA to done, with completion estimated at the end of Q2, beginning of Q3. In H2 2023, further development drilling, geotechnical drilling, metallurgical test work and relogging of cores will be conducted to prepare for a Pre-Feasibility Study (PFS) in 2024.
For the last 9 months ended Sept 30, 2022, G&A was C$3.6M, which was substantial, but still acceptable as C$1.7M of this was non-cash stock option-based compensation for management and the Board, and more importantly exploration expenditures for the same period came in at C$15.1M, which is well over 90% of available cash put in the ground, for which 75% is an important threshold for juniors in my view.
The current share price is C$0.24, resulting in a current market cap of C$40.28M, and although this is already a well-advanced junior, the resource- and economic potential could be colossal, and Goldshore could easily become a multi-bagger from here in a year or two. CEO Brett Richards has set out a clear path for himself and shareholders, and this is delivering the most value in the shortest period of time, while at the same time providing sufficient project quality in all areas as if he was taking Moss Lake into construction and production. Richards has built 3 mines in his career and is prepared to build Phase One of this large project mass, but is also amenable to partnerships and ventures with larger, more integrated mid-tiers or majors. Let's have a look at all the ins and outs of the Moss Lake project now, and how this all fits into CEO Richards' vision.
3. Moss Lake Gold Project
The company's primary project is the fully owned 16,036ha Moss Lake gold project in Ontario, not too far away from some of the largest and most famous gold mines in the history of Canada.
Most of the project is located on provincial Crown Land. The Moss Lake project consists of five 100% owned properties, plus two others; Iris Lake (2) and Vanguard which are subject to an earn-in with Thunder Gold (formerly White Metals). As most is Crown Land, and Goldshore needs to acquire substantial surface rights for the proposed mine project area, they need to buy this from the government. Fortunately, costs are limited, and estimated by management to the tune of an estimated C$100k in total. The various properties make up for a 35km long mineralized trend:
When digging through the 2022 NI43-101 compliant resource report, two things caught my eye: the need to divert a nearby river and draining of a small water basin, and the significant number of royalty deals on the Moss Lake project. These mostly very old deals (from the eighties and nineties) with one claim holding a 8.75% net profit interest (NPI), and in addition there is a 1% NSR to Wesdome. This last NSR (Wesdome) can be bought back by the company and management sees the NPI as something they could sell to a producer, as it could be valued at about $40M when compared to the buyback figure for the 1% NSR, this NPI could be a very interesting contribution to development costs when sold to a royalty company like for example Wheaton Precious Metals. So although the royalties/interests are massive, management believes they present opportunities as well.
According to management, the diverting of the river and the drainage of the water basin known as Snodgrass Lake shouldn't be much of a problem, as the adverse effects can be mitigated well, and they are well advanced on preparations for the permitting process and are closely working with our First Nations and Métis hosts to ensure professional land management and mitigation of environmental risks.
Moss Lake has seen lots of exploration work in the past, as the historical drillhole database consists of 2,060 drill holes for 278,273m drilled, with many different operators. This doesn't implicate issues in this case, as the project has only relatively recently seen consolidation by Wesdome. Before this, it was a collection of dozens of claim blocks, and every block had its own drilling and exploration, some logged properly, some not, others with markings gone rendering most of the historical drill core unusable. The Goldshore crew scanned the area extensively since the acquisition to see if they could find useful historic core with proper markings, but a significant part of it obviously was out there for too long:

Notwithstanding this, Goldshore recently commenced relogging of historic core where possible, and extensive metallurgical test work to significantly improve on the 2013 historic met test results, which concluded 85% recovery on very minimal size sampling, versus a larger representative sample of the total ore body.
Since the acquisition in 2021 and until January 17, 2023; Goldshore completed another 132 holes for 74,904m of drilling at Moss, of which 33,445m was sufficient to convert the formerly Moss Lake historic resources into the Nov 2022 43-101 compliant current resource, with the balance of 41,459m to be released yet, most likely in the April 2023 mineral resources estimate (MRE). A further 9,913m was drilled at East and North Coldstream. The result was the aforementioned 4.17Moz @ 1.1g/t Au Inferred resource, based on a gold price of US$1,500/oz Au and a cut-off grade of 0.37g/t, just at Moss Lake.
Besides the Moss Lake block, the Coldstream block sports a historic resource estimate as well, and although it is historic in nature (0.09Moz @ 0.85g/t Au Ind. and 0.76Moz @ 0.78g/t Au Inf.), it has the potential to also become quite sizeable. Management estimates that about 75% of another 45-50,000m drill program is necessary to convert most of the current Inferred resources (Moss Lake) to the Indicated level, the historic resources into Inferred (Coldstream), and the other 25% will be used for resource expansion, step out and scout drilling.
As can be seen in the table above from the Moss Lake resource, the mineralization is localized in shear and intrusion domains, with the narrower shear domains acting as higher grade zones (green), with the wider intrusion domains providing a low grade halo (light yellow) around the shear zones: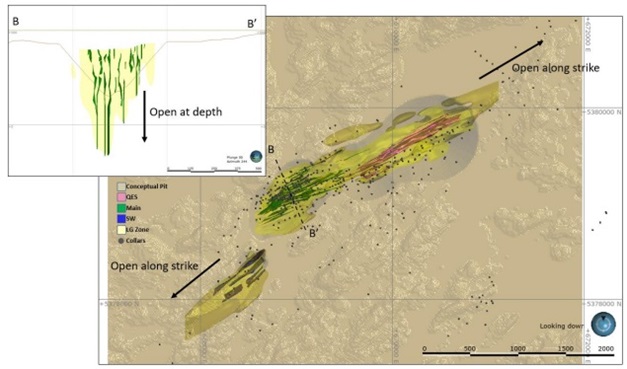 This shear/intrusion concept wasn't clear from the beginning when Goldshore acquired the project from Wesdome, beforehand it was viewed as a more or less evenly dispersed mineralized envelope. After lots of drilling it became clear to VP Exploration Peter Flindell and his team that there was a clear structure in place, one which could provide them with options regarding mining sequences and recoveries, for example mining the higher-grade shear zones first, while stockpiling or heap leaching the lower grade intrusion ore through grade controls. I noticed a mining block size of 15x15x5m in the 2022 resource report and I wondered if this didn't need adjusting to for example 10x10x5m, in turn needing more drilling.
VP Ex Flindell explained: "We need to conduct an SMU (selective mining unit) study to evaluate the mining scale vs desired throughput to optimize our approach to mining Moss Lake. By focusing on having the resource defined by geology with no mining assumptions, we have allowed the mine planning engineers an unencumbered approach to optimizing the Ppoject." He also told me their exploration geologists will be working with consulting engineers together after the upcoming PEA (scheduled for the end of Q2, beginning of Q3) will be completed, in order to optimize drilling further for the PFS which is planned for next year.
Another new insight was the additional depth and lateral expansion of mineralization, allowing the Goldshore team to think about deeper and wider open pit scenarios in due course, increasing tonnage and improving potential economics. The open pit stands at 300 to 500m depth now, but could increase to as deep as 500-600m according to CEO Richards:
Very recent drill results confirmed the mineralization at depth, and reinforced the idea of a larger, deeper open pit being feasible. Goldshore is planning to update the resource around the end of March, beginning of April. The company is looking to receive over 40,000m of drill results, which will be released every 3 weeks or so from now on into the resource update in March/April, and is completing about 5,000m of drilling which will be included in this resource update as well. There will not be any new drilling starting before the PEA comes out, probably in late August of this year. This is for capital preservation first and foremost, given the volatile / depressed capital market environment for juniors, however the company is flexible enough to alter that strategy should the market support it. At the moment, management is aiming at resource expansion via the Southwest Zone at Moss Lake (yellow squares to the south):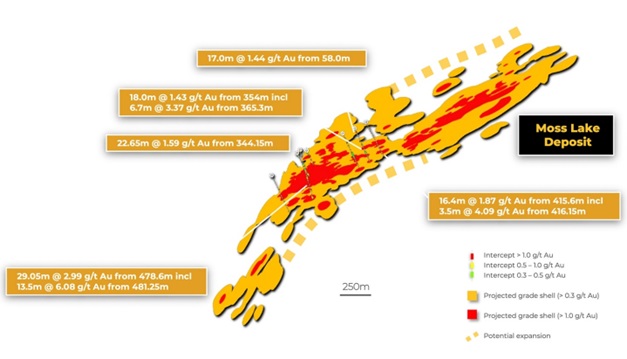 According to VP Ex Flindell, expectations are that Goldshore can add another million ounces through this zone, and likely also a million ounces by converting Coldstream from historic into NI43-101 compliance, generating a hypothetical 6Moz Au estimate for now. The PEA will be based on the outcome of this updated resource, and there is no doubt in my mind and with management that economics will be much better compared to the outdated 2013 PEA (After tax NPV5 of US532$M @ 1,700 gold, IRR of 24%, capex of US$542M).
The company further anticipates lots of mineralization at depth, but choses not to drill deeper than about 600m for now, as it would require significant additional funding and take more than six months, thereby further delaying the PEA. VP Ex Flindell notes that there is already an exploration target of 0.8-1.4Moz Au at depth below the Moss Lake open pit resource. This potential is indicated by lots of historic drill holes, but since lots of information was lost, these cores can't be used to define a compliant resource at depth. A downhole survey at depth indicated a 50-60% success rate, which is promising but needs more drilling obviously. As just about 30% of the historic cores can be used for a compliant resource overall, the PFS will need 30,000-50,000m of redrilling/verification drilling.
A mandatory subject with these projects is always metallurgical test work, also called met work. Management anticipates 90% recoveries for the low-grade intrusion ore, and 90-92% recoveries for the higher-grade shear zone ore, which is better than the 2013 PEA figures for overall recovery (79% and 84% - south and north). The results of the ongoing met work are expected back at the end of Q1, and a lot of process options will be studied and tested before that time as well. The PEA outcomes will decide which process needs more work. VP Ex Flindell told me, that because of the large volume of low-grade gold mineralization outside of the shear domains, he started thinking of Yukon style heap leach scenarios for the low grade intrusions, as the host rock doesn't appear that different. There is very little information on this process in the eastern part of Canada, and Flindell wonders why. It has to be said that heap leach testing would take at least 8-9 months, as specific holes need to be drilled with bigger diameters, lots of column tests need to be done etc, etc, but the initial coarse particle leaching work will be part of the met work this quarter. According to him the project doesn't need heap leaching, but it could be an interesting add-on. Even at 40-60% recovery rates, heap leaching would be beneficial and allow the economic cutoff grade to be lowered and increase the tonnage of ore grade material, significantly adding to the economics for the first 5 to 7 years of the project.
It probably is a bit too early to talk about economics here, as the project probably grows significantly larger in the next few months, but I had an interesting conversation with management regarding production scenarios. They anticipate in a small Phase One starter operation, starting with higher grade shears, stockpiling (and possibly heap leaching) the lower grade, for a potential annual production of 150koz Au for a few years. After this, the much larger Phase Two kicks in, financed by internal cash flows, ultimately producing a potential 500koz Au per annum, all without the need to raise external capital. Management believes there could be as much as 15M-20Moz Au potential, with 8-10Moz at Moss Lake and another 5M-10Moz Au elsewhere on the tenement, including at Coldstream, because of the large amount of viable targets at the property, compiled by sampling, mapping and surveys. Vrify made a nice 3D visualization of these targets, modeling the anomalies, based on the contacts between magnetic lows and highs:
The VRIFY interactive deck can be found here. According to Flindell, it represents the chargeability anomaly, which reflects pyrite in bedrock. But it can also reflect wet sediments, so they were careful to remove those when restricting that body. What this means is that it is the minimum area of pyrite in bedrock as other potential areas are masked by lakes and swamps, which they have removed. It can be seen that the hypothetical volume and strike length of this anomaly is quite impressive, and certainly bodes well for exploration. If management really is on track to find a second Detour Lake only time will tell. For now, let's see where the current valuation of Goldshore stands in a good old-fashioned peer comparison.
4. Peer comparison
As always, a peer comparison based on discounted cash flow analysis (DCF) is of course the most useful if the projects selected are as close as possible on parameters, but as no project is exactly the same, a sub-optimal comparison is the inevitable result directing our assumptions. Although inherently flawed, DCF provides at least some meaningful guidance, way beyond simple metrics like EV/oz which don't say anything about economics, or even more critically flawed metrics like "gross metal values compared to market cap". Of course, keep in mind that Goldshore just established an Inferred resource at Moss Lake, and although it is perfectly possible to engineer a PEA based on just Inferred resources, all numbers based on Inferred resources are highly speculative as these resources aren't economic per NI43-101 definitions.
In my view, being less de-risked than its peers for resource category, a not too stellar 2013 PEA and needing a substantial amount of drilling to convert to M&I is one of the reasons that Moss Lake is trading where it is at the moment. Is this well-deserved? I don't think so, as the 2013 PEA, although outdated of course, already had good economics at a gold price of US$1700/oz, based on a historic resource input of 3Moz Au. The resource already stands at 4.17M and likely grows to 6Moz, and management figured out a much more specific geology, enabling them to mine selectively for high grade ore and stockpiling the low-grade ore for a later stage, likely significantly improving economics. Keep in mind capex and to a lesser degree opex have inflated since, but both were relatively high after the bull market of 2011-2012, as people and goods became very scarce. Recoveries will likely improve as well, plus the increased resource will generate economies of scale effects.
Let's see where Goldshore would end up across some of its peers, with mostly fairly large, lower grade projects with all or in large part open pit component operations, and all in North American jurisdictions:
Most importantly I tried to find peers with fairly recent resource estimates, using decent gold prices:
As we can see, Goldshore is trading at a very low EV/oz metric of just 8.3, so it doesn't get much love from the markets yet. And if management is correct and Moss Lake does expand to about 6Moz Au at the upcoming resource update in March/April, the EV/oz figure drops to 5.83, which for example is half the figure of Troilus Gold, with about 7Moz Au but in higher categories. Therefore, there is lots of room for improvement in my view.
When looking at the economic studies below, it is likely that studies before 2022 need significant updates in the cost department, probably resulting in lower NPVs and IRRs.
For example Troilus will not get away with a US$333M capex these days, when looking at more recent studies like Moneta, a US$500M capex doesn't seem unrealistic when looking at other capex/tpd figures, and accounting for a larger operation with economies of scale. Moss Lake had an even bigger operation planned with 40,000tpd in 2013, and when discussing this with management it appears they are not looking for having to fund a huge capex, and have scenarios in mind with a staged development, where a relatively small stage I (about 150koz Au per annum) could provide the capex for the much larger stage II (about 500koz Au per annum) through internal cash flow. And who knows, if expansion drilling proves to be successful and the 10Moz Au threshold really comes in sight, and gold trades over US$2,000/oz, mine financiers might as well approach management with interesting proposals to fund the larger operation from the start. Or a major producer with plans of their own simply acquires the project, as standalone large deposits are becoming increasingly rare these days.
5. Conclusion
At first sight an investor might think of Moss Lake as a slam dunk project for Goldshore, buying and converting a 4Moz Au historic resource into a 4.17Moz Au compliant estimate, heading towards 6Moz Au in one of the best jurisdictions on the planet. On a second look he or she probably notices the need to redrill a significant part of the historic drilling as this wasn't retraceable again, the royalty structure and the need for relocation and mitigation of water bodies nearby Moss Lake. Goldshore management seems to advance the project eloquently with all this in mind, and believes it might be on to even much bigger potential, possibly rivaling even the giant Detour Lake deposit. If this could be a reality, Goldshore could even be built out into a billion dollar market cap, even before production commences, assuming they aren't bought out before this. But this is all early days speculation, first let's see what the next batches of drill results bring, the updated resource and the PEA, as the first 6-7 months of 2023 are filled with catalysts. Stay tuned for this potential colossus in the making!
I hope you will find this article interesting and useful, and will have further interest in my upcoming articles on mining. To never miss a thing, please subscribe to my free newsletter at www.criticalinvestor.eu, in order to get an email notice of my new articles soon after they are published.
Disclaimer:
The author is not a registered investment advisor, and currently has a long position in Goldshore Resources, Gold Terra and Moneta Porcupine. Goldshore Resources and Gold Terra are sponsoring companies. All facts are to be checked by the reader. For more information go to www.goldshoreresources.com and read the company's profile and official documents on www.sedar.com, also for important risk disclosures. This article is provided for information purposes only, and is not intended to be investment advice of any kind, and all readers are encouraged to do their own due diligence, and talk to their own licensed investment advisors prior to making any investment decisions.