This article was originally published on www.criticalinvestor.eu, a platform for junior mining investors. To never miss a thing please subscribe to my free newsletter!

1. Introduction
At a time where the Western hemisphere is looking to become less dependent on China and others for critical metals and minerals and is scrambling for battery metals, Inomin Mines (MINE.V)(FRA:IMC) is focusing on exploring exactly for these commodities. The company already experienced explosive drilling success in 2022 at their Beaver-Lynx project in British Columbia, by intercepting 252m of 20.6% Magnesium and 0.16% Nickel close to surface, accompanied by 4 other impressive holes. These results caused the share price to sevenfold following the discovery announcing, as investors realized this could be a rare deposit in the making.
As the share price reached such stratospheric heights, and dropped off so fast after initial euphoria ebbed away, it was hard for the company to raise money, as brokers wanted to get in lower and lower. It seems Inomin's price bottomed recently, and good news on metallurgical testwork has generated renewed interest of investors that didn't forget about last year. With magnesium prices of US$3500/t and nickel prices of US$12.5/lb, it shouldn't be too hard for Inomin to raise sufficient cash soon for a decent drill program at Beaver-Lynx. On top of this, they also own very interesting gold-silver projects in Oaxaca state, Mexico, of which La Gitana is the most advanced, and has seen enough drilling to already estimate a 500-600koz Au mineralized envelope with potential to 1Moz Au. All this valued at just a C$3.4M market cap at the moment seems odd, and I will explain potential future value as I see it in this article.
All pictures are company material, unless stated otherwise.
All currencies are in US Dollars, unless stated otherwise.
Please note: the views, opinions, estimates, forecasts or predictions regarding Inomin Mines' resource potential are those of the author alone and do not represent views, opinions, estimates, forecasts or predictions of Inomin or Inomin's management. Inomin Mines has not in any way endorsed the views, opinions, estimates, forecasts or predictions provided by the author.
2. Company
Still flying very much under the radar these days, Inomin Mines Inc. is a mineral exploration company focused on the discovery of precious metals, and the much more coveted battery metals and critical minerals. They own multiple assets, with two flagship projects: one is the highly prospective Beaver-Lynx magnesium-nickel-chromium-cobalt property in British Columbia, Canada. The second is the La Gitana gold-silver project with near surface disseminated and high grade gold-silver potential in Oaxaca, Mexico.
Inomin Mines is led by President & CEO John Gomez since 2017, who founded and managed private enterprises in mining, technology, and sports. Prior to being a founder of Inomin, Mr. Gomez founded and was president of a successful private gold exploration company in Colombia. Under his leadership, the company acquired strategic land and mining interests in some of the country's top gold districts. Mr. Gomez is assisted by geologist John Peters for the Beaver-Lynx project, who has 30 years of experience, and is currently a geological consultant for Commander Resources and Fjordland Exploration. He worked for Homestake, and as a project manager during JVs with Sumitomo, Capstone and Gold Fields. In Mexico, Gustavo Allende runs the show for Inomin. Mr. Allende is a metallurgist and industrial engineer with 35 years of mining management experience in Mexico's public and private sectors, lastly as the Director of Industry and Mining for the State of Oaxaca.
Despite its strong team, interesting projects and current high mineral & metal prices, it looks like the Inomin Mines share price has bottomed now. Although the Russia-Ukraine conflict doesn't seem to end soon, and China has issues with COVID-19 again after abandoning all measures, inflation seem to come down in lots of sectors, causing the Fed not to increase rates further, which in turn generates positive sentiment on the stock markets, and the US Dollar Index to go down further, which is good for metal prices. The chart of Inomin Mines itself is cautiously looking up again as well:
Share price 1 year timeframe (Source: tmxmoney.com)
Some basic information on share structure: Inomin Mines has a very tight 30.95M shares outstanding, and trades at an average daily volume of 90,551k shares. There are just 1.1M warrants (The warrants are at $0.15 expiring Aug and Sept 2023. The options are at $0.05, $0.10 and $0.375 expiring between June 2023 and March 2027. and only 2.2M options so the fully diluted number stands at a fantastic 34.26M at the moment. Management and BoD have lots of skin in the game as they hold 11%.
Inomin Mines is low on cash at the moment with about C$300k in the treasury including 1M shares of Maritime Resources (MAE.V), and intends to raise fresh money soon for further exploration, and at a current, very tiny market cap of just C$3.4M, management is careful not to dilute existing shareholders too much for now. The plan is to raise enough money to show the world the potential of Beaver-Lynx. If drilling is as successful as the last program, and metal prices and market sentiment cooperates, the idea is raise more at better prices right after drill results, in order to keep drilling this time at Beaver-Lynx, and start exploration at La Gitana and/or Pena Blanca at a later stage to provide more or less continuous news flow. With battery metals high and gold/silver prices rising again, Inomin Mines seems to be positioned well for a substantial re-rating, especially considering the dramatic jump on the last drill results on Beaver-Lynx.
3. Projects
Although the most early stage of the two flagship projects, Inomin's 100% owned all-season Beaver-Lynx property clearly has the most explosive potential (with exposure to the rapidly growing EV-battery metal sector), as the results of the first five drill holes at the Beaver area last year sent the share price from C$0.105 to C$0.72 in just two trading day starting at 30 March, 2022, on colossal volume (32M shares changed hands, more than the company's entire free float). The recently enlarged 22,436 hectare project is a magnesium-nickel-chromium-cobalt property in mining-friendly British Columbia, Canada, located near the Gibraltar and Mount Polley porphyry mines. A few other magnesium projects in BC (Driftwood Creek-MGX Minerals and Record Ridge-West High Yield) came to mind, and after checking those projects, it appeared all three are located in the same southern part of British Columbia, so this seems to be a magnesium district of sorts.
Inomin acquired Beaver-Lynx in 2019 very cheaply, largely through online staking. as VP Ex John Peters remembered the project from his time at Westhaven, and when the claims expired, the company moved quickly. Historic drilling was done when nickel prices were around US$4/lb Ni so not much interest was given to the project.
Highlights here were holes BN14-12 and BN14-19 to BN14-23, all located in the southern area of the property. The locations of the historic drill collars can be seen on this magnetics map, where the magnetic anomalies to the north and right didn't see any drilling back then: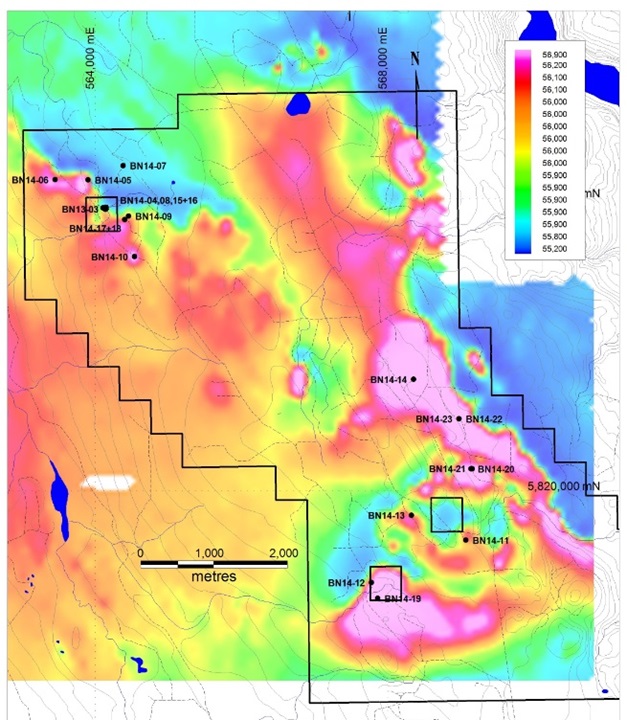 At the time nobody had an interest in magnesium so these cores weren't assayed for it, but this changed when magnesium prices started rising. Nowadays the magnesium price still stands at about US$3,500/t, after it traded around US$700-1,000 for years.
Nickel had a similar drastic spike early in 2022, as it rose to US$23/lb, dropped to US$10/lb again, and trades currently at US$12.5/lb. After completing reconnaissance exploration programs at Beaver, Inomin commenced a drill program in October 2021, with the results of this coming in at the end of March 2022. Five drill holes were completed, and the highlight drill result (Hole B21-02) was a 252m intercept from 40.5m depth, returning, 20.6% Magnesium, 0.16% Nickel, 0.33% Chromium and 0.01% Cobalt, generating an impressive gross metal value of US$750/t on average for the 5 drill holes. Full results can be observed in the following table:
As can be seen, all mineralized intercepts start near surface, and holes 02 and 03 had the longest and highest grade intercepts. The cobalt and especially the chromium credits are interesting as a byproduct. Hole 01 surprised as it almost was a duster, but very close to hole 02, which probably indicates a fault line. These were exactly the holes drilled in the target to the north and right, as can be seen in this map:
As the magnetic anomalies beautifully correspond with the recent and historic drill results, I don't hesitate to guesstimate a potential mineralized envelope for those anomalies. According to the drill results it appears that there is a thick, relatively narrow mineralized envelope to the right, combined with the triangular shape at the south. The other anomalous zones are much thinner. The northern part around 02 and 03 could be 1700x200x100m x2.75t/m3 = 93.5Mt. The long zone to the right could be 3500x200x60x2.75t/m3 = 115.5Mt. The triangular zone to the south could be 1000x700x60x2.75t/m3 = 115.5Mt, which generates a total of 324.5Mt. For the thinner zones I'm happy to throw in another 2000x1000x20x2.75t/m3 = 110Mt, resulting in a total estimated tonnage of 434.5Mt. Looking at the drill results, the average grade could very well be 0.18%Ni and 21%Mg.
What could these numbers imply? As for example West High Yield Resources has a very economic project based on "just" 43Mt @ 24.6%Mg (Nov 2022 PFS shows an after-tax NPV10 of US$1.2B, IRR 55%), and Beaver could be ten times larger, it is probably easy to understand the magnitude of potential mineralization here. For now I see nickel as a byproduct, as the gross metal value is about 8-10% compared to the magnesium gross metal value (US$25B vs US$320B).The nearby Lynx area is geologically similar to the Beaver discovery, with even larger targets according to nickel sampling:
It is easy to understand that if Lynx could return the same kind of results Beaver showed us or with even better nickel figures, Inomin Mines could be sitting on a monster deposit.
Imagine if Lynx could return say another hypothetical 400Mt @ 0.25%Ni, then Beaver and Lynx combined might even provide 1.7-2.0Mt contained nickel, which would put it not too far from Decar (2.4Mt @ 0.12% awaruite nickel -FPX Nickel) or Crawford (sulfides 3.5Mt @ 0.24%-Canada Nickel). In case the magnesium might be the by-product, Beaver-Lynx will likely be a very economic low grade nickel producer in the distant future. However this is all arm-waving as you understand, as Lynx still has to have its first drill hole ever completed. Notwithstanding this, the potential is extreme and I'm very interested in any upcoming drill program.
In the meantime, Inomin has been busy doing metallurgical testwork on the Beaver drill core samples, and achieved very high recoveries of 99% using HCL leaching, which is standard for magnesium. In addition, up to 58% of total nickel was extracted by flotation. The Beaver property is similar in composition to the aforementioned West High Yield Resources' Record Ridge magnesium-bearing serpentine deposit. Their 2022 PFS describes robust project mining economics based on identical hydrochloric acid (HCl) leaching of magnesium from serpentine. Usually lab tests need to be taken with a few grains of salt, but in this case, as geology and mineralization seems similar to a comparable magnesium project in the same region, the excellent test results bode well for commercial scale studies. This concludes the Beaver-Lynx project for now.
The second flagship of Inomin Mines is the 100% owned 494 hectare La Gitana project in Oaxaca State in southwestern Mexico, located in the prolific Oaxaca Gold-Silver Belt, near the Arista and Mirador mines (Gold Resource) and San Jose mine (Fortuna Silver), all three being producing gold-silver mines.
Inomin Mines acquired the property from Gunpoint Exploration in 2019, for the modest sum of C$25k cash and 1M shares, with all payments made. Substantial historical drilling has been done, as 8,230m of drilling over 38 holes was completed in 2005-2006 on the property by former co-owners Chesapeake Gold and Goldcorp.
About half of the holes hit significant gold and silver mineralization, most starting close to surface, including the first hole that intersected an impressive 133.5m @ 1.78 g/t gold and 100.7 g/t silver. This result wasn't eclipsed anymore unfortunately, but more than enough economic results came in as can be seen in the following highlights table:
Given available drilling data, just 20% verification drilling (about 5-6 holes) should be needed for a NI43-101 compliant resource. Mineralization consists of gold-silver bearing quartz-breccia veins, quartz stockworks and disseminated gold-silver. As the deposit is located on a hill top, it indicates it should be conducive for an open pit operation with a low strip ratio.
I estimate the mineralized potential at 500-600koz Au for now, and management thinks there is even potential for 1Moz Au as the deposit is open to expansion in all directions. With a lessening of Covid in the region, the company anticipates renewing discussing with the community soon and hopefully reaching an agreement to resume exploration.
Besides La Gitana, the Pena Blanca project might even have more potential, as sampling and trenching delivered excellent results over an area of roughly 1000x800m.
Mineralization was found on a hilltop, which appeared to be a massive mineralized outcrop.
As less than 1km2 of 9km2 of hydrothermal alteration has been explored, management sees lots of opportunities to discover a second and perhaps bigger version of La Gitana.
4. Conclusion
Inomin Mines could very well have a giant tiger by the tail, representing colossal potential exploration upside at their Beaver-Lynx project. Inomin raised some money (through warrant exercises) shortly after the impressive drill results in March-April of last year, but not as much as desired through a PP as the share price movements were a bit too volatile for brokers and other usual suspects. Apparently, everybody was caught off-guard, which is something you don't see too often. Let's see if CEO Gomez has another plan this time, as the mineralized potential for magnesium at Beaver-Lynx could be Tier I, and for nickel mid tier, and such a combination deserves more than a market cap of just C$3.4M in my view, much more.
I hope you will find this article interesting and useful, and will have further interest in my upcoming articles on mining. To never miss a thing, please subscribe to my free newsletter at www.criticalinvestor.eu, in order to get an email notice of my new articles soon after they are published.
Disclaimer:
The author is not a registered investment advisor, and currently has a position in this stock. Inomin Mines is a sponsoring company. All facts are to be checked by the reader. For more information go to www.inominmines.com and read the company's profile and official documents on www.sedar.com, also for important risk disclosures. This article is provided for information purposes only, and is not intended to be investment advice of any kind, and all readers are encouraged to do their own due diligence, and talk to their own licensed investment advisors prior to making any investment decisions.