Electra Battery Materials Corp. (NASDAQ: ELBM; TSX-V: ELBM) continues to demonstrate that it's in the right place at the right time with the right team, soon to be offering the right battery materials.
As part of a robust growth strategy "in support of the onshoring of EV supply chains in N. America," CEO Trent Mell and his team are in discussions with the Quebec provincial gov't to build a new refinery in Bécancour to be integrated into an emerging Bécancour Industrial Park (BIP). Last year graphite development company Nouveau Monde announced major plans in Bécancour.
According to Mr. Mell, "…we have received significant interest from industry & government stakeholders to build a second refinery." The BIP has already attracted commitments & investments from automotive & chemical/processing companies including GM, POSCO Chemical & BASF to produce materials essential in the production of Li-ion batteries.
On-shoring manufacturing to address logistical bottlenecks caused by COVID-19 began to gain traction in early 2021, only to be kicked up a notch by soaring freight rates (accompanied by costly shipping delays) and then substantial energy price hikes that remain in place to this day.
China & Russia are likely to be difficult-to-impossible for "the West" to do business with for many years to come. Therefore, auto OEMs & battery makers, are all-in on security of supply & onshoring initiatives.
Make no mistake, onshoring will be expensive & logistically difficult for some companies/industries, but every step that Electra is taking is exactly what its customers & investors want to see. Even better, management expects margins to improve with onshoring & co-locating facilities at its Battery Materials Park ("BMP").
Electra is undertaking a study on the BIP to determine annual production & permitting requirements, capital costs, synergies from integration with other battery materials companies, and potential funding opportunities from federal & provincial governments. Electra's study is expected to be completed by year-end.
To lead this effort, Electra has appointed David Marshall as VP, Engineering. Mr. Marshall is a 31-year industry veteran with extensive experience in engineering studies, project management & delivery for mineral processing & mining operations. He spent 29 years with Vale in a number of senior project management roles.
Mr. Marshall led large projects involving hundreds of personnel, contractors & suppliers, ensuring that projects were completed on time and delivered the expected IRRs. Mr. Marshall is a P. Eng, having obtained a B.Sc. from the Univ. of Waterloo. He also holds an MBA from Laurentian Univ.
Electra is now a Cobalt, Nickel, Lithium, Copper, Graphite & Precursors development company. Next year Li-ion battery recycling will start, followed by battery-quality nickel sulfate production in 2025. Later this year a demonstration recycling circuit is expected to be up & running, which will provide valuable insights into the economics of this segment.
Not much has been said about Electra's future nickel sulfate segment, but the slide (above) from the corporate presentation conveys the need for nickel sulfate processing facilities in eastern/central Canada to refine nickel coming from Manitoba, Quebec, Ontario & Newfoundland.
All of these activities; refining cobalt & nickel + Li-ion battery (black mass) recycling + precursor production, will be housed on the same expanding footprint, centered around an existing refinery that's being upgraded & expanded.
In articles I've written lately I've had the following peer comparison chart. Electra continues to be cheap at an estimated EV/2024e EBITDA multiple of 4.1x vs. the peer average of 11.0x, a 63% discount.
Readers should note that peers have suffered substantial declines in valuation. The average could easily return to 14-15x 2024e EBITDA in the next few quarters.
Importantly, this chart likely understates the true discount as Electra's 2024e EBITDA does not include any contribution from nickel sulfate or precursors (2025 at the earliest) and only assumes C$5M of cash flow for Li-ion battery recycling. Nickel sulfate & precursors will likely be produced in partnership with third parties.
I argue that Electra should have stronger growth than peers for at least five years from 2024 on, especially if it partners to develop the Quebec BIP. Once the Ontario BMP is established in 2025 or 2026, it will carry considerable strategic value above & beyond just its cash flow multiple.
A Major or mid-tier battery material or automaker with operations in — or plans to enter — Ontario/Quebec would save 3-5 years & C$100s of millions by acquiring Electra's BMP vs. designing, permitting, funding, constructing & commissioning a new BMP and associated tailings facilitates from scratch.
Imagine the scene 2-3 years from now when dozens of EV-related companies with operations in Canada and/or in central/northern parts of the U.S. are fiercely competing for market share, economies of scale, security of supply & ESG credentials.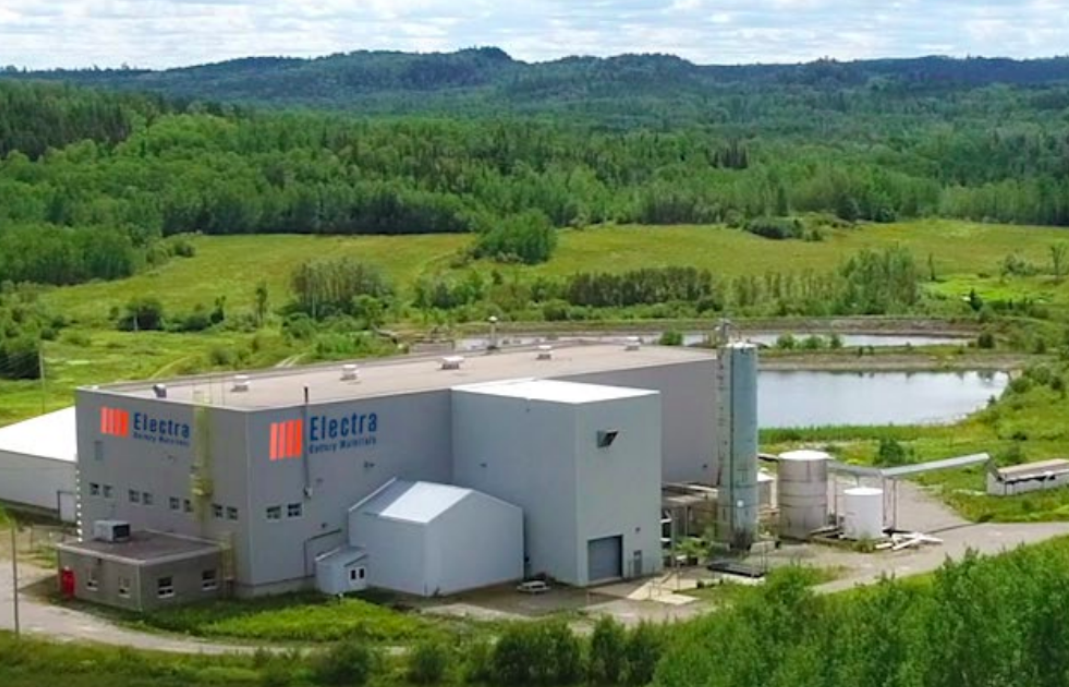 Companies valued in the $10s/$100's of billions are not going to wait 3-5 years for new BMPs to be built when they can acquire existing operations. Aside from Glencore, very few companies are as well positioned to build & permit a new refinery as Electra is — especially in N. America.
Therefore, I firmly believe that Electra's expanding operations in northern Ontario will be worth C$500M+ to the right buyer, in a few years. Of course, management will need to raise capital between now and then, but the fully-integrated BMP should eventually be worth a multiple of Electra's current valuation.
While the BMP in Ontario remains Electra's primary (and near-term) focus, the Quebec BIP is potentially a big deal. Although Electra won't be running the show, it could own a meaningful portion of the BIP's economics.
There's a good chance that the gov't of Quebec and/or the primary owners of the BIP would be willing to fund/support (loans, grants, low-cost debt facilities, off-take agreements) a substantial portion of Electra's upfront capital needs.
Therefore, as valuable as the Ontario BMP is likely to be, (C$500M+), participation in the Quebec BIP would add substantial incremental value to the Company's valuation at a very reasonable cost.
Having said that, Trent's team has just begun studying this opportunity. It might not come together in a manner that justifies the time, capital & risk. Or, even better projects could arise.
Electra Battery Materials (TSX-V: ELBM) / (NASDAQ: ELBM) enjoys the best of multiple worlds; high-tech, high-growth, green, ESG-friendly, with robust positive EBITDA starting in 2023, and a very attractive valuation. A company offering security of supply & just-in-time delivery in a time of ever-growing geopolitical headwinds.
The keys to the Electra story are; 1) there are multiple exciting opportunities, 2) positive cash flow is months, not years away, and 3) global trends & geopolitical events closely align with the Company's plans. Readers are encouraged to watch CEO Mell's continued progress towards positive cash flow in the coming quarters.
FOR MORE INFO, please review Electra's latest corp. presentation.
Disclosures: The content of this article is for information only. Readers understand & agree that nothing contained herein, written by Peter Epstein of Epstein Research [ER], (together, [ER]) about Electra Battery Materials, incl. but not limited to, commentary, opinions, views, assumptions, reported facts, calculations, etc. is to be considered implicit or explicit investment advice. Nothing contained herein is a recommendation or solicitation to buy or sell any security. [ER] is not responsible under any circumstances for investment actions taken by the reader. [ER] has never been, and is not currently, a registered or licensed financial advisor or broker/dealer, investment advisor, stockbroker, trader, money manager, compliance or legal officer, and does not perform market-making activities. [ER] is not directly employed by any company, group, organization, party or person. The shares of Electra Battery Materials are highly speculative, not suitable for all investors. Readers understand and agree that investments in small-cap stocks can result in a 100% loss of invested funds. It is assumed and agreed upon by readers that they will consult with their own licensed or registered financial advisors before making investment decisions.
At the time this article was originally posted, Peter Epstein owned shares of Electra Battery Materials and the Company was an advertiser on [ER].
Readers should consider me biased in my view of the Company. Readers understand and agree that they must conduct their own due diligence above and beyond reading this article. While the author believes he's diligent in screening out companies that, for any reason, are unattractive investment opportunities, he cannot guarantee that his efforts will (or have been) successful. [ER] is not responsible for any perceived, or actual, errors including, but not limited to, commentary, opinions, views, assumptions, reported facts & financial calculations, or for the completeness of this article or future content. [ER] is not expected or required to subsequently follow or cover events & news, or write about any particular company or topic. [ER] is not an expert in any company, industry sector or investment topic.