Before we start, don't forget to subscribe to my CEO.ca channel:
All information related to the #StockPickingContest is stored on my website

www.EverythingEven.com

I really enjoyed this article The West needs to level the playing field to compete with China
@Vaughan interviews @Colop (Kai Hoffman from Soar Financial) Embracing Negative POVs and Red Flags:
We are officially through the 1/3rd mark of the 2021 calendar year. This is an important moment as we enter the, "Sell in May, and go Away" adage which refers to a period between May and October when the market on average underperforms the prior six months. I'd wager this time however, you are like me, and I'm not going anywhere! Excluding the gold sector which has been cooling since last August after a remarkable run (although it has been doing well this past month), everything else is full steam ahead.
During the first week of January, just before markets opened for the calendar year, 2,164 CEO.ca users provided their 3 top picks and off to the races we went. Comparing the first 5 months of the 2021 #StockPickingContest with previous years, we can see we are in great shape, out-performing the 2018 and 2019 years and keeping pace with the 2020 year.
There are 1,160 different companies chosen in the contest. It is nice to see that almost half the companies are above 10%, which reflects the TSXV Venture (which most of the stocks in the contest are on) being up 7%.
From 2016, through 2019, the most picked companies in the contest often performed poorly. In 2021, 11 of 20 companies are negative but the incredible gains from a few, offset the rest and the average returns are exceptional. Note, without $GRAT and $CMC (highlighted in blue) these average returns would be significantly different. To be honest, the deeper I looked into this, the more I find these statistics more troubling than not. See full list here: http://everythingeven.com/2021pickdata.php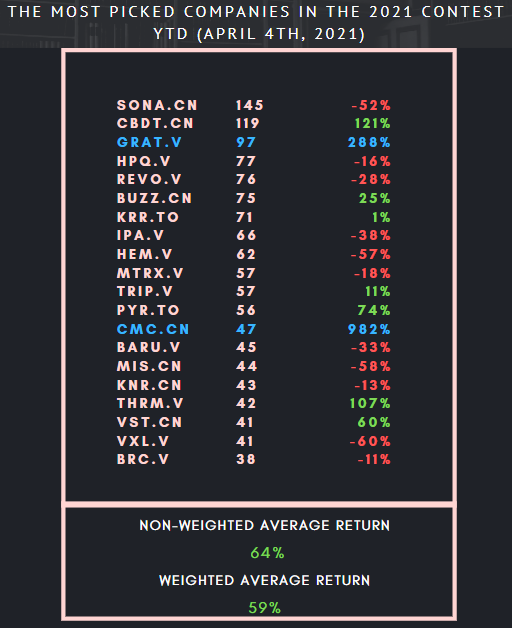 Below is a list of the top performing stocks in the contest. I find it interesting that only two of the companies above are in the list below possibly indicating that making money and following the herd mentality is mutually exclusive. I have enough data since 2016 to support this but there will always be outliers such as CMC.CN and I've got to be honest, its hard not to get excited when you see numbers like that.
The top 25 contestants all have portfolios over 340%. Remarkable gains considering these are the average of 3 companies chosen. Congratulations, and I hope only one of you drop out to make room for me when I make my run in the later course of the year.
Fun Fact: 24 of the top 25 contestants all chose $CMC can you spot who didn't? Incredible what a single stock can do to ones portfolio. I suppose that is why we are all here.

The CEO.ca #StockPickingContest is a fun contest I've been tracking for years. This is how it started (Dec 29, 2016)
What started with 56 people, now has over 2,000. This exponential increase led to an exponential increase in site traffic, and equally, an increase in work to keep track of everything. My friend @mathematics and I made the decision that most of the money we receive from sponsorships would go directly back into those companies. I currently own Mammoth Resources $MTH, our first sponsor of 2021 at 12 cents. The stock was up 35% last week, but has since come back to the 12 cent range. I actually really like this company and I've put a lot of my own money into this. Its currently my third largest position.

Our second sponsor is Exploits Discovery Corp $NFLD. This was an easy pick for me because I believe Newfoundland is experiencing a modern day gold rush, with many companies exploring for gold on the island. Exploits Discovery Corp. is one of the leaders, with a substantial land package. I'm originally from Nova Scotia, and have many friends in Newfoundland and they all like this one because of this large land package. The best place to find a gold mine is beside an existing gold mine. I am currently accumulating on weakness.
And our most recent sponsor is Slave Lake Zinc $SLZ.I just worked out a deal yesterday and I'm currently on the bid, but have not purchased shares as of yet.

Please remember I am not a professional, and everything we do with the contest is for fun and educational purposes only. I recommend speaking with your financial planner before making investment decisions. Please remember the high risk environment we are in. I encourage you to read the disclosure and disclaimer below.
Conclusion:
Most people I speak with feel they are down lately on their investments but the numbers indicate otherwise. I believe this is probably because we had a solid January/February run that has cooled off over the last two months. My mentors are bullish over the next few months and they believe the 'Go Away In May' quote is a fallacy especially considering Covid which supersedes any previous trend. I believe everyone will patiently wait and sit tight and will most likely be rewarded for this. I personally will continue to look for quiet, boring, companies with tight share structures, and decent exploration potential, that are looking at increasing their awareness and doing a little marketing. Its these gems that become 5 baggers before the masses even take notice.
Also, dont forget to follow me on twitter as I will be starting something cool on there in the next month.
Take care and all the best in 2021
-Even
Disclosure: The author, @Evenprime owns MTH.V, & NFLD.CN shares at the time of publishing and may choose to buy or sell at any time without notice. @Evenprime has been compensated for marketing services by Mammoth Resources Corp, Exploits Discovery Corp, and Slave Lake Zinc, as they are a site sponsor of the #StockPickingContest hosted at www.EverythingEven.com.
DISCLAIMER — PLEASE READ CAREFULLY
The views expressed in this report are the personal views of the author, @Evenprime. Mammoth Resources Corp, Exploits Discovery Corp, and Slave Lake Zinc are a site sponsor at www.EverythingEven.com which hosts the yearly #StockPickingContest and @Evenprime owns shares in the company. Nothing in this report should be construed as a solicitation to buy or sell any securities mentioned anywhere in this report. This article is intended for informational purposes only! Please read the full disclaimer at the bottom of this article. All statements in this report, other than statements of historical fact should be considered forward-looking statements. These statements relate to future events or future performance. Forward-looking statements are often, but not always identified by the use of words such as "seek", "anticipate", "plan", "continue", "estimate", "expect", "may", "will", "project", "predict", "potential", "targeting", "intend", "could", "might", "should", "believe" and similar expressions. Much of this report is comprised of statements of projection. These statements involve known and unknown risks, uncertainties and other factors that may cause actual results or events to differ materially from those anticipated in such forward-looking statements. Risks and uncertainties respecting mineral exploration companies are generally disclosed in the annual financial or other filing documents of those and similar companies as filed with the relevant securities commissions, and should be reviewed by any reader of this report.
Be advised, the author is not a registered broker-dealer or financial advisor. Before investing in any securities, you should consult with your financial advisor and a registered broker-dealer.
Never, ever, make an investment based solely on what you read in an online report, including this one, especially if the investment involves a small, thinly-traded company that isn't well known.
Past performance is not indicative of future results and should not be used as a reason to purchase any stocks mentioned in this report or on this website.
None of the authors, nor the hosting platform, Pacific Website Company Incorporated (dba CEO.CA) or its affiliates, nor their shareholders, directors, officers, or other personnel, shall be liable for any damages, losses, or costs of any kind or type arising out of or in any way connected with the use of this report. You should independently investigate and fully understand all risks before investing. When investing in speculative stocks, it is possible to lose your entire investment.
Any decision to purchase or sell as a result of the opinions expressed in this report will be the full responsibility of the person authorizing such transaction, and should only be made after such person has consulted a registered financial advisor and conducted thorough due diligence. Information in this report has been obtained from sources considered to be reliable, but the author does not guarantee that they are accurate or complete. The author's views and opinions in this report are his own views and are based on information that he has received, and assumed to be reliable. The author does not guarantee that the company mentioned in this report will perform as he expects, and any comparisons made to other companies may not be valid or come into effect.
We do not undertake any obligation to publicly update or revise any statements made in this report.