Summary
#AMX is a Canadian gold exploration and mining company with a flagship property in Quebec on the prolific Abitibi Greenstone Belt.
Drilled their highest grade hole to date in September, hitting 102.07 g/t gold over 6.10 metres expanding continuity, mineralization and potential for a significant sized deposit.
Awaiting 14,200 samples from holes drilled at various zones on their property which will feed their resource model for Perron's maiden resource estimate expected in Q1, 2022.
With the consistent high-grade gold results coming from #AMX's flagship Perron site, and the new push to build international interest, this overlooked exploration company will not be for long.
Amex Exploration (TSX: AMX, TSX: AMX, OTCQX:AMXEF, FSE: MX0) is a Canadian gold exploration and mining company with a flagship property in Quebec on the prolific Abitibi Greenstone Belt, backed by an experienced management team executing on one of the largest drilling programs in Canada.
Amex has three worksites; however, their primary property is in a unique location, making this company a superior investment play.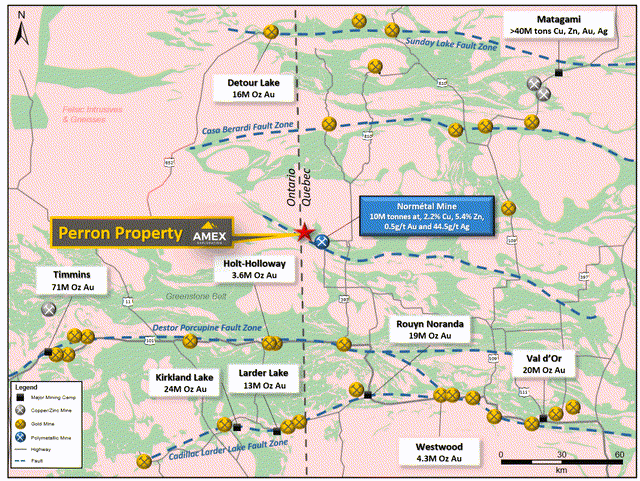 Their Perron property lies in the Abitibi region of Quebec, Canada, eight kilometers northwest of the village of Normetal, 110 kilometers north of Rouyn-Noranda, near the border between Quebec and Ontario. In total, the Perron location, which is 100% owned and controlled by Amex Exploration, is built from 117 adjacent claims, totaling 4,560 hectares.
The few qualities that make this property unique and more lucrative are that:
it is fully road accessible year-round
it is close to both power and water services
it is so central to Normetal town that workers live in housing at the town instead of mining camps and Amex's 7,000sqft core shack facility sits within a former Curling rink
Perron is in a tier 1 jurisdiction with a high-grade smelting facility in its backyard.
Having consistent year-long road service and water means that a claim can be worked for more of the year than other claims that must shut down as soon as the ground and their sources of water freeze.
In geological terms, Perron is located in the Archean Greenstone Belt of the Lac Supérieur structural province and crossed by the Normetal and Perron faults that trend from Northwest to Southeast. At the confluence of two faults that have already proven successful.
The Normetal fault sits at a horizon of massive sulfide deposits, which attracted the now exhausted polymetallic Normetal Mine, that harvested copper, zinc, gold, and silver, and the Normetmar Deposit, which had gold-bearing veins, due east of the Perron facility.
The Perron fault ranges between 500 meters to 1 km south of the Normetal fault, and is also related to several gold-bearing veins as well as a polymetallic zone.
Testing at Amex's Perron location is proving to have excellent potential with several areas that are slowly being identified as lucrative. The Perron property hosts multiple styles of mineralization, both VMS as well as orogenic gold. The orogenic gold mineralization has been located in three zones.
Eastern Gold Zone (now subdivided into the East and West High-Grade Zone (HGZ) and the Denise)
Gratien Gold Zone
Grey Cat Zone
Amex is in the process of a total of 300,000 meters of sample drilling, with consistent high-grade gold results.
In October, Amex announced the results of 32 drilling samples taken from two different zones (the Deeper Eastern High-Grade Zone and the Shallower Western High-Grade Zone) of the Perron site; the sample with the highest result showed a concentration of gold that amounted to over 6.10 meters of 102.07 grams of gold per ton (g/t) of material; grams per ton is the standard measurement of quality for gold. For the reader's reference, 102 g/t is over 20 times the 5g/t that is considered necessary for a mine to be economically viable.
Eight of the 32 samples taken showed results that exceeded the 5g/t level. Six samples from the Deeper (Eastern) High-Grade Zone show gold from 10.21 to 102 g/t, and three samples from the Shallower (Western) High-Grade Zone show gold from 11.97 to 84.02 g/t.
In the past, the Eastern HGZ has provided samples that have produced up to 269.23 g/t of gold, while the western HGZ has previously provided samples with up to 138.65 g/t of gold.
The results of these most recently announced drill holes significantly expand the HGZ vertically and along the strike. Previous drilling had suggested this to be lower grade mineralization however these results suggest a positive impact on resource modelling for the upcoming maiden resource estimate.
The following is a diagram of the HGZ Eastern Gold Zone showing metal factor (g/t gold x meters). Note that East and West are reversed from their traditional West being on the left orientation.
In September, Amex announced a confirmed VMS discovery followed by additional results in October. The September announcement of polymetallic drilling returned 8.0 meters of 1.93% copper, 0.15% zinc, 0.28 g/t gold, and 14.0 g/t silver. Generally, a copper mine will require a level of 0.5% of material to be viable, and the presence of multiple metals at Perron improves the viability of the entire area.
A VMS ore deposit is a specific type of ore deposit, mainly consisting of copper and zinc, created at the ancient ocean floor by volcanic-associated hydrothermal events.
Formation of a typical VMS deposit, showing accumulations of massive sulfides on the (once) ocean floor, overlying a zone of stockwork mineralization that forms below the ocean floor (after Hannington et al., 1998).
If a VMS is found, the next goal is to locate the Metal Ferrus sediment ring, sulfide talus, and marginal facies surrounding it. This is the location, which when the VMS is formed at the ocean floor has a radius of about 100 meters, where the useful and precious metals will be found. Over the millions of geological years since its ancient formation, the VMS will get kneaded like dough into a different shape, and where lucky, combined with any orogenic gold.
The September announcement is proof that the Perron site hosts a Volcanogenic Massive Sulfide (VMS) ore deposit, as was hoped, given the property's close proximity to the past-producing Normetal VMS Mine.
Just being a VMS makes mining in the area viable, but adding to this, the presence of high-quality gold ore proves it to be an avenue to riches.
A Growing International Interest
The interest in Amex is reaching a trajectory similar to that of New Found Gold which has been working its 100% owned 1,510km 2 Queensway gold project, located on the Trans-Canada Highway west of Gander in Newfoundland. New Found Gold's site is producing gold samples in the 42 to 92 g/ton range with a few exceptional sections of 150 and 225g/ton not unlike Amex's Perron site.
The main difference between these two finds is that New Found Gold doesn't have the same continuity of high-grade gold seen at Perron. However, New Found has a market cap worth $1 billion while Amex is currently sitting at only $200 million.
Amex has been overlooked so far.
The likely reason is that historically, Amex avoided any large marketing and retail awareness campaigns, choosing instead to focus more on the mining aspect of their business. Their strategy, in so many words, has been to 'just keep drilling.'
This is starting to change with Amex beginning to increase their investor exposure in both Canada and Europe over the last few months with Victor Cantore, Kelly Malcolm and others from the company conducting numerous interviews (Victor Cantore's Crux Investor Interview) and extensive shareholder meetings. Clearly, what they are saying is resonating as seen in their recent share price. These steps backed by significant high-grade gold results from recent drill holes are producing results.
Amex started October at $2.27 and has already gained 20% sitting at $2.74 Canadian as of October 28. The four analysts covering Amex all have "Buy" ratings for Amex with the most recent (Canaccord August 9, 2021) with the impressive price target of C$4.25 an increase of over 55% above the current price.
Canaccord Genuity Corp. (Canada) | Price target of C$4.25
Tom Gallo, Mining Analyst
Industrial Alliance Securities | Price target of C$4.25
George Topping, Mining Analyst
Laurentian Bank Securities | Price target of C$4.25
Ryan Hanley, Mining Analyst
PI Financial Corp | Price target of C$3.45
Philip Ker, Mining Analyst
As for the discrepancy? PI Financial has this to say: "We believe that investors are overlooking property wide exploration upside unlocked through expanding known zones as well as emerging targets such as the 210 discovery which we view as a game changer reflective of Perron's target-rich potential to yield new discoveries."
Summary
With the consistent high-grade results coming from Amex Exploration's Perron site, and the new push to build Canadian and international interest, this overlooked exploration company will not be for long. The company is awaiting an incredible 14,200 samples from holes drilled at various zones on their property which will all feed their resource model for Perron's maiden resource estimate expected in Q1, 2022. If they can reach analysts' price targets, who have followed Amex for years, the investors will be pleased; if Amex can match the marketing success seen by the similar New Found Gold, they will be ecstatic.