BURLINGTON, Mass., March 22, 2023 (GLOBE NEWSWIRE) -- Avid® (Nasdaq: AVID) has turned on its new Badges & Digital Credentials program to bring instantaneous recognition to highly skilled media creation professionals, engineers, educators and students everywhere. More than 12,000 Avid-certified users are gaining valuable, differentiated visibility to capture the attention of peers, clients and prospective employers who insist on collaborating with talented people who are expert users of the media industry's top creative tools and solutions including Media Composer®, Pro Tools®, MediaCentral®, Avid NEXIS® and others.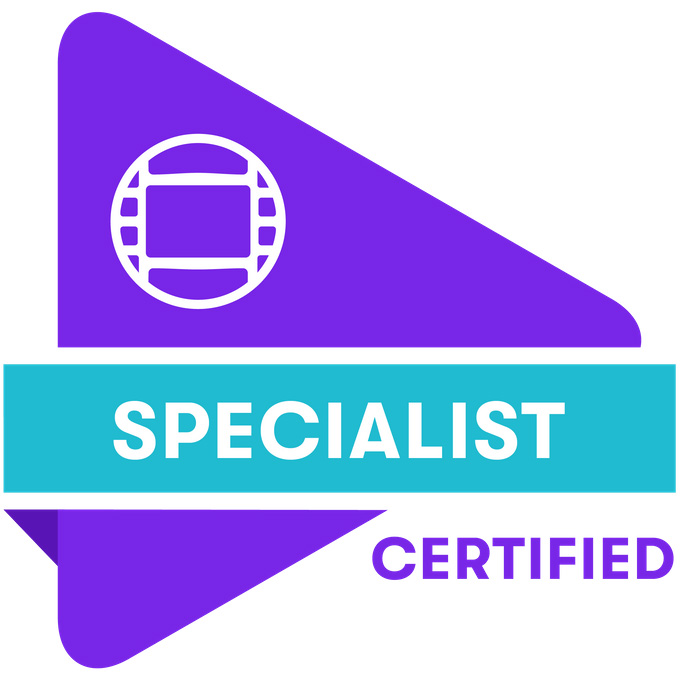 Built around the secure and verified Credly platform, Avid's Badges & Digital Credentials program prominently signifies the relevance and integrity of the most sought-after video and audio production skill sets. Avid presents this new career advantage to all users who complete Avid certification courses—from creative individuals working independently, to people working on media teams, as well as educators, Avid resellers, and technical support staff who are required to be well-versed in Avid-based media production workflows in film, television and music. This new program is one of several ways Avid is addressing today's unprecedented skills crisis by fostering a ready workforce of qualified craftspeople and technicians.
Film editor Daysha Broadway, an Emmy Award winner, said, "Learning Media Composer was integral to starting my career, especially in the early years when my certification helped me stand out and show my dedication. It's actually what got me my first assisting job out of grad school with a company that was converting everything over to Avid and they needed assistant editors who knew the program well."
Michael Sebastian Romero, Grammy® award-nominee, multiplatinum engineer and producer and Avid Community Association member, said, "As a music producer and engineer, I believe it's essential for artists to demonstrate their technical skills and confidence in using modern technology like Pro Tools to create high-quality music. Whether you're just starting out or have established yourself in the industry, leveraging tools like Avid can help you achieve your creative vision and make your mark in the music world."
Developed to distinguish Avid users at all levels of experience and proficiency, badges are a standout feature of a user's social media profiles, websites, portfolios, CVs/résumés, e-mail signatures and other digital properties. All certified users are also included in an online database connected to popular job search engines to match qualified talent with new opportunities. Through the convenience of e-learning, virtual instructor-led and/or in-person training, Avid and its partners offer more than 50 courses preparing talent for seven certification profiles:
Avid Certified | Specialist – brings core competencies in music production, composition, gaming audio, live sound and TV news creation;


Avid Certified | Professional – ready for demanding audio and video production environments including immersive audio and audio for post;


Avid Certified | Expert​ – brings deep product expertise, creativity and operational efficiency across Avid's tools and solutions used in music production and audio post;


Avid Certified | System Administrator –​ maximizes the performance of Avid storage and asset management systems in TV newsrooms and other collaborative environments;


Avid Certified | Support Representative (ACSR) – installs, manages, troubleshoots, and supports on-premises, cloud and hybrid technical environments built around the widest range of Avid solutions;


Avid Certified | Instructor​ – instructs with full operational expertise and readiness to deliver Avid courses in the classroom;


Avid Certified | Developer – skilled at using Avid SDKs and APIs to integrate third party tools into an Avid production environment.

Charlotte Layton, Chief Commercial Officer of post-production services provider Racoon, said, "Right now, the growing lack of qualified talent is felt acutely everywhere in TV and film. Initiatives like Avid's are crucial to closing the gap and are a perfect complement to the safe and secure space that Racoon's platform, Tanooki, has created for professionals and aspiring talent to collaborate freely and form productive connections with other highly skilled people."
Avid's Jason Plews, Vice President of Learning Services, said, "People learn Avid to go pro and a majority of them never stop acquiring new expertise to keep up a successful career. Across other industries, digital certification is proven to offer validation that gets professional people jobs, promotions, new business and better compensation. We are thrilled to now let media professionals everywhere switch on their own beacon as part of our commitment to help them stay creative, productive and prosperous."
Deb Sanders, Avid's Chief Customer Officer, "We spend a lot of time with studios, post houses, broadcasters and other customers whose wish lists are topped by the overwhelming need for qualified talent who can go straight to work on shows, films and other projects. With visible and searchable certification, we're taking the guesswork out of identifying great people with proven skills who can hit the ground running and work effectively with an employer's Avid-fluent teams. It's one of the many ways our customers will see that Avid is digging deeper into helping them stay ahead of their opportunities."
Visit Avid's Badges & Digital Credentials program frequently asked questions.
Editor's note: Visit www.avid.com/press-center/media-library/ for high-resolution images of Avid user badges signifying digital certification.
Avid Powers Greater Creators 
People who create media for a living become greater creators with Avid's award-winning technology solutions to make, manage and monetize today's most celebrated video and audio content—from iconic movies and binge-worthy TV series, to network news and sports, to recorded music and the live stage. What began more than 30 years ago with our invention of nonlinear digital video editing has led to individual artists, creative teams and organizations everywhere subscribing to our powerful tools and collaborating securely in the cloud. We continue to re-imagine the many ways editors, musicians, producers, journalists and other content creators will bring their stories to life. Discover the possibilities at avid.com and join the conversation on social media with the multitude of brilliant creative people who choose Avid for a lifetime of success. 
© 2023 Avid Technology, Inc., Avid, Media Composer, Pro Tools, MediaCentral, Avid NEXIS and its logo are property of Avid. Grammy is a trademark of the National Academy of Recording Arts & Sciences, Inc. All rights reserved. Other trademarks are property of their respective owners.
PR Contacts 
Avid 
Dave Smith – Americas 
david.smith@avid.com 
978.502.9607 
Avid  
Neil Beston – EMEA/ANZ 
neil.beston@avid.com 
+44 (0) 7770 644 136 
Red Lorry Yellow Lorry (Avid's PR agency)   
avid@rlyl.com 
A photo accompanying this announcement is available at https://www.globenewswire.com/NewsRoom/AttachmentNg/0cb5c1c2-dd29-43f3-b22a-8b644968f361