TORONTO, May 16, 2023 (GLOBE NEWSWIRE) -- Churchill Resources Inc. ("Churchill" or the "Company") (TSXV: CRI) is pleased to announce that it has completed a National Instrument 43-101 – Standards of Disclosure for Mineral Projects ("NI 43-101") compliant technical report on the Florence Lake Project (the "Report") that is highly encouraging for nickel discoveries throughout the volcanic stratigraphy, rather than just the Baikie Showing horizon concentrated on previously. This is the first independent technical report ever prepared on the project and includes compiled and reinterpreted historical work by Falconbridge from 1992 to 96, as well as Churchill's 2022 soil sampling and VTEM airborne survey. An important conclusion to the work has been the recognition of numerous Al2O3-undepleted ultramafic volcanic areas (i.e. more primitive lavas, associated with nickel mineralization) at Florence Lake, as stacked targets located throughout the upper Eastern Volcanic areas of the greenstone belt, and importantly also within the more basal Western Volcanics. Kambalda-style nickel sulphide deposits are generally at the base of ultramafic volcanic sequences.

The Report recommends a 2023 field program that includes a Phase 1 of summer camp establishment, lithogeochemical sampling, mapping, prospecting, ground, and airborne geophysical surveys, all preparatory for a 5,000m Phase 2 drill program in early Fall. The Company is receiving quotes for the recommended work and is submitting all permit applications required to complete the program.
At Taylor Brook, the Company is preparing for late Spring drilling, soil sampling, prospecting and ground geophysical work along the Layden magmatic intrusive trend, where shallow high-grade intersections to 4.44m of 2.79% Ni, 0.54% Cu, 0.05% Co were drilled in 2022.
The Company is also pleased to announce the appointment of Conan McIntyre as a new independent member of the board.
Florence Lake Technical Report – Key Points
The Report was authored by Dr. Derek Wilton, P.Geo., of Terra Rosetta Inc., St. John's, NL, Mr. Jeremy S. Brett, M.Sc., P.Geo., of Jeremy S. Brett International Consulting Ltd., Toronto, ON, and assisted by Mr. Paul Sobie P.Geo., Chief Executive Officer & Director of Churchill. A copy of the Report will be posted and available for download on the Companhy's issuer profile on SEDAR and on the Company's website at www.churchillresources.com.
Key conclusions from the Report include:
Falconbridge's historical rock and core geochemical sampling data has proven beneficial to Dr. Wilton in characterizing certain ultramafic volcanic units or areas as having potential for Kambalda-style high grade nickel mineralization.


Importantly these potentially mineralized ultramafic samples (Aluminum-undepleted komatiites, or "AUK") are found throughout the Florence Lake stratigraphy, and are not limited to the Baikie Showing horizon focused on by past workers. This opens the entire belt as being prospective for Kambalda-style nickel deposits.


Churchill's VTEM survey is an excellent first pass system with the magnetic data assisting with mapping the ultramafic volcanics and structures, and the VTEM helping to identify stringer to net textured sulfide conductors, and for interpretation and planning of Surface TDEM surveys which can identify massive sulfides.


Churchill's detailed soil sampling approach has proven effective at mapping the ultramafic horizons and demonstrating high-grade nickel mineralization can be detected, as at the Baikie Showing where a nearby soil sample assayed 1.0% Ni.


A total of 113 targets have been selected, of which most are VTEM conductors, with some more highly ranked based on correlative Ni assays in soil, or AUK komatiitic geochemistry being present.


Forty-three (43) of the targets are ranked as high priority, and are presented in Figure 1, where Al2O3-undepleted (AUK) rocks are designated as KA targets, and conductors with AUK rocks present (either at surface or in core) are designated as AUK targets. Stacked AUK/KA targets are located throughout the stratigraphy in the DCP NE, Baikie and Boomerang areas of the greenstone belt, and importantly within basal Western Volcanics.


The presence of AUK rocks at the base of the Western Volcanics is potentially very important to understanding the emplacement history of the Baikie Sub-belt komatiites, and therefore where the best mineralization may be localized. The western portion of the Eastern Volcanics is much less explored than the Baikie horizon, and the Western Volcanics have seen little to no exploration other than Churchill's VTEM survey.


Churchill's soil sampling in 2022 did not reach the conductors present in the Western Volcanics in the Boomerang SE2 area where the volcanic pile seems thickest based on the magnetic data, and numerous conductors in this area need follow-up. Similarly, the 2022 soil work did not follow-up on target LN-22 in the DCP Area.   

With these results in mind the authors recommend comprehensive geological, soil sampling and ground geophysical follow-up to further prioritize targets and allow for the design of appropriate drilling tests. It is also important that the 2022 soil sampling program be completed through the Baikie SE2 Area of the North Block, and the large grid on the South Block.
Fig. 1 High Priority Targets Identified on the North Block of the Florence Lake Property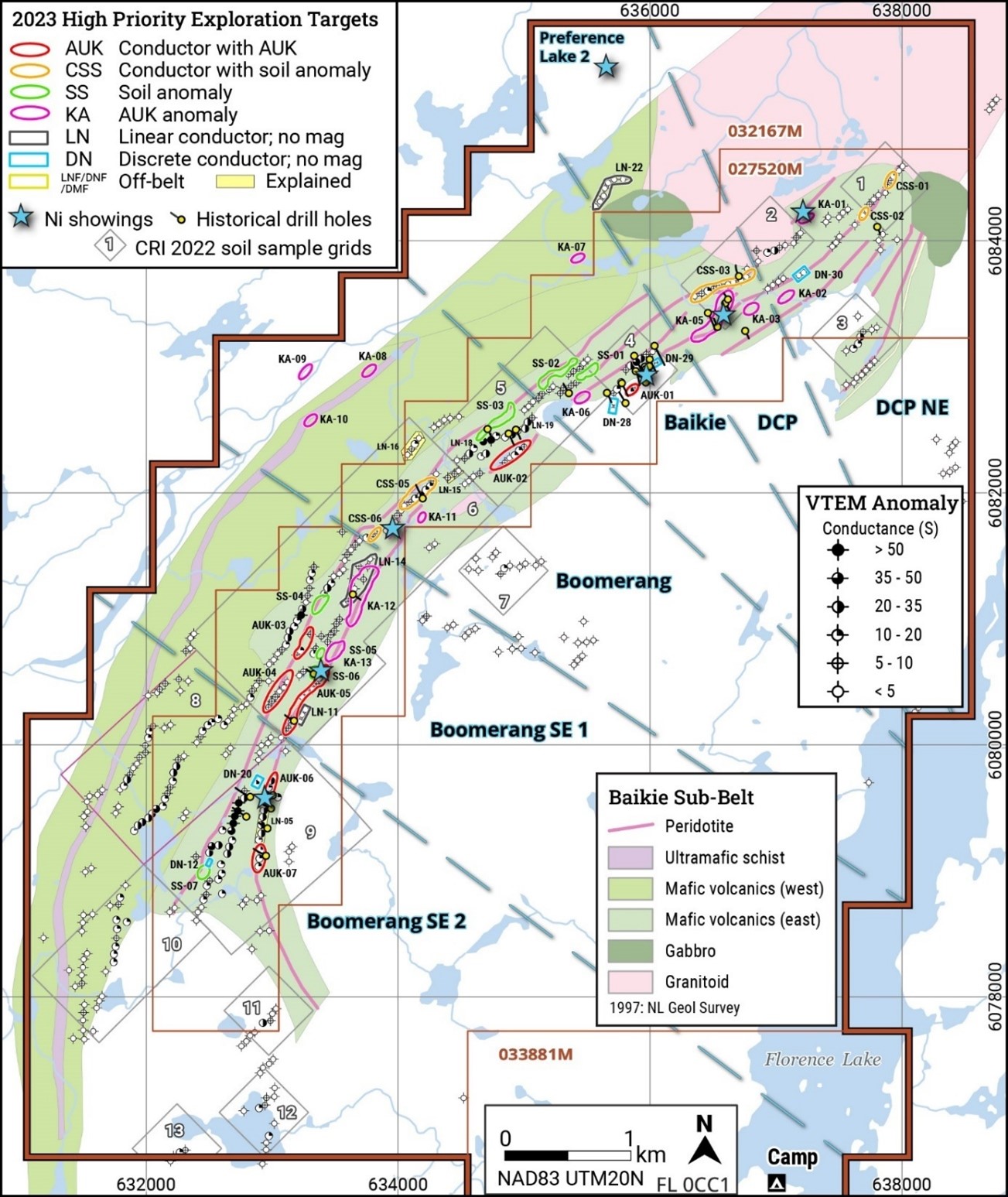 The authors of the Report recommended a 2023 exploration program including:
Phase1
Lithiogeochemical analyses of ultramafic samples from legacy drill core and rock samples to generate full trace and major element data.
Complete the establishment of the 16-person field camp on Florence Lake as early as possible in late Spring. Winterize the tents in late Summer.
Refurbish the Falconbridge grids at Baikie, Boomerang and Knee Lake to assist with access for field crews. Expand these to the edges of the greenstone belts in areas of interest.
Complete on-going compilations of all past exploration work coupled with new VTEM Magnetic and EM interpretations.
Detailed airborne radiometrics - gradiometer magnetic surveying is recommended for the North Block encompassing the greenstone belt as well as VTEM conductor targets within the granitic terrain.
Airborne TDEM surveying at 100m line spacing over the South Block of the property, where both VMS and magmatic nickel mineralization models apply.
A LiDAR survey is recommended to provide an accurate surface dataset and aid in structural interpretations.
Early summer prospecting and mapping to follow-up the anomalous target areas
Expansion of, as well as completion of the 2022 planned soil sampling coverage.
Induced Polarization, TDEM and CSAMT ground surveys over the highest ranked targets and areas.
An initial drilling program should be conducted from the results of the summer fieldwork with the aims of: a) deeper/along strike drilling at the Baikie Showing horizon if compilations suggest larger size possibilities, and b) evaluation of other priority targets. This program should consist of ~5,000 m of cumulative drilling to allow for reasonable unit costs. Drilling equipment may need to be winterized and stored on-site for the winter.
All boreholes should receive Televiewer and BHEM surveys to better identify oriented structural and geological features drilled, and detect off-hole conductors.
Taylor Brook Project
An updated NI 43-101 report is in progress on the combined Taylor Brook/Taylor Brook South Property while preparations for 2023 fieldwork commences with activities to start in mid-June. Key components of the program will include deeper drilling beneath the high-grade intersections at the Layden Intrusive, CSAMT surveys over the Layden Intrusive, and new targets along the Layden Magmatic Trend including the TBS-1 target. In addition, Churchill is expected to continue the detailed soil sampling southward along the trend, towards and over the South Lobe of the Taylor Brook Gabbro Complex.
Conan McIntyre, Director
Churchill is also pleased to announce the appointment of Mr. Conan McIntyre to the board of directors of the Company.  Mr McIntyre has extensive experience structuring corporate finance transactions and in providing advisory services to a wide variety of organizations, from emerging growth companies to global asset managers pursuing internationally prominent transactions. He has also acted as an executive and director for a number of public and private issuers from their formative stages, including in the junior resource sector. He began his career as a lawyer at Torys LLP in Toronto, and worked as a mergers and acquisitions attorney at Simpson Thacher & Bartlett LLP in New York.  He also previously worked at Macquarie Capital in both Toronto and New York and at PowerOne Capital Markets Limited in Toronto.
Florence Lake Project
The Florence Lake project consists of four map-staked licenses totalling 316 claims (69km2) located approximately 70km west of the coastal community of Postville in central Labrador. CRI entered into a two-year option agreement with Altius Resources Inc. to acquire a 100% interest in the property, subject to a 1.6% gross sales royalty on any metals produced, in an agreement dated June 24, 2021.
The technical and scientific information in this news release has been reviewed and approved by Dr. Derek H.C Wilton, P.Geo., FGC, who is a "qualified person" as defined under NI 43-101 and independent of the Company.
About Churchill Resources Inc.
Churchill Resources Inc. is a Canadian exploration company focused on high grade, magmatic nickel sulphides in Canada, principally at its prospective Taylor Brook and Florence Lake properties in Newfoundland & Labrador.   The Churchill management team, board and its advisors have decades of combined management experience in mineral exploration and in the establishment of successful publicly listed mining companies, both in Canada and around the world. Churchill's Taylor Brook and Florence Lake projects have the potential to benefit from the province's large and diversified minerals industry, which includes world class nickel mines and processing facilities, and a well-developed mineral exploration sector with locally based drilling and geological expertise. The province was recently ranked 4th in the world for investment attractiveness by the Fraser Institute in its 2022 annual survey of mining and exploration companies.
Further Information
For further information regarding Churchill, please contact:

Cautionary Note Regarding Forward Looking Information

This news release contains "forward-looking information" and "forward-looking statements" (collectively, "forward-looking statements") within the meaning of the applicable Canadian securities legislation. All statements, other than statements of historical fact, are forward-looking statements and are based on expectations, estimates and projections as at the date of this news release. Any statement that involves discussions with respect to predictions, expectations, beliefs, plans, projections, objectives, assumptions, future events or performance (often but not always using phrases such as "expects", or "does not expect", "is expected", "anticipates" or "does not anticipate", "plans", "proposed", "budget", "scheduled", "forecasts", "estimates", "believes" or "intends" or variations of such words and phrases or stating that certain actions, events or results "may" or "could", "would", "might" or "will" be taken to occur or be achieved) are not statements of historical fact and may be forward-looking statements. In this news release, forward-looking statements relate to, among other things, the Company's objectives, goals and exploration activities conducted and proposed to be conducted at the Company's properties; future growth potential of the Company, including whether any proposed exploration programs at any of the Company's properties will be successful; exploration results; and future exploration plans. These forward-looking statements are based on reasonable assumptions and estimates of management of the Company at the time such statements were made. Actual future results may differ materially as forward-looking statements involve known and unknown risks, uncertainties and other factors which may cause the actual results, performance or achievements of the Company to materially differ from any future results, performance or achievements expressed or implied by such forward-looking statements. Such factors, among other things, include: the expected benefits to the Company relating to the exploration conducted and proposed to be conducted at the Company's properties; failure to identify any additional mineral resources or significant mineralization; the preliminary nature of metallurgical test results; uncertainties relating to the availability and costs of financing needed in the future, including to fund any exploration programs on the Company's properties; business integration risks; fluctuations in general macroeconomic conditions; fluctuations in securities markets; fluctuations in spot and forward prices of gold, silver, base metals or certain other commodities; fluctuations in currency markets (such as the Canadian dollar to United States dollar exchange rate); change in national and local government, legislation, taxation, controls, regulations and political or economic developments; risks and hazards associated with the business of mineral exploration, development and mining (including environmental hazards, industrial accidents, unusual or unexpected formations pressures, cave-ins and flooding); inability to obtain adequate insurance to cover risks and hazards; the presence of laws and regulations that may impose restrictions on mining and mineral exploration; employee relations; relationships with and claims by local communities and indigenous populations; availability of increasing costs associated with mining inputs and labour; the speculative nature of mineral exploration and development (including the risks of obtaining necessary licenses, permits and approvals from government authorities); the unlikelihood that properties that are explored are ultimately developed into producing mines; geological factors; actual results of current and future exploration; changes in project parameters as plans continue to be evaluated; soil sampling results being preliminary in nature and are not conclusive evidence of the likelihood of a mineral deposit; title to properties; ongoing uncertainties relating to the COVID-19 pandemic; and those factors described in the most recently filed management's discussion and analysis of the Company. Although the forward-looking statements contained in this news release are based upon what management of the Company believes, or believed at the time, to be reasonable assumptions, the Company cannot assure shareholders that actual results will be consistent with such forward-looking statements, as there may be other factors that cause results not to be as anticipated, estimated or intended. Accordingly, readers should not place undue reliance on forward-looking statements and information. There can be no assurance that forward-looking information, or the material factors or assumptions used to develop such forward-looking information, will prove to be accurate. The Company does not undertake to release publicly any revisions for updating any voluntary forward-looking statements, except as required by applicable securities law.
Neither the TSXV nor its Regulation Services Provider (as that term is defined in the policies of the TSXV) accepts responsibility for the adequacy or accuracy of this news release.
A photo accompanying this announcement is available at https://www.globenewswire.com/NewsRoom/AttachmentNg/f444c87c-41d7-4d80-bc8a-3c22f003fd21