VANCOUVER, British Columbia, Jan. 20, 2023 (GLOBE NEWSWIRE) -- In a release issued on Friday, January 20th, by InvestmentPitch Media and iMining Technologies, please note that the headline should have read "90MW" and not "95MW". The corrected release follows:
InvestmentPitch Media Video Discusses iMining Technologies' Signing of Letter of Intent to Acquire 90MW Power Plants in Ontario
iMining Technologies Inc. (TSXV:IMIN) (FSE:P1A), which invests in energy infrastructure, blockchain technology and the Web3.0 ecosystem, has signed a Letter of Intent to acquire Power Plants in Ontario. The Power Plants, with the capacity to produce 90 megawatts of low-cost electricity, have existing agreements with the Ontario Grid to supply energy to the grid during the highly profitable periods.
A Media Snippet accompanying this announcement is available by clicking on the image or link below: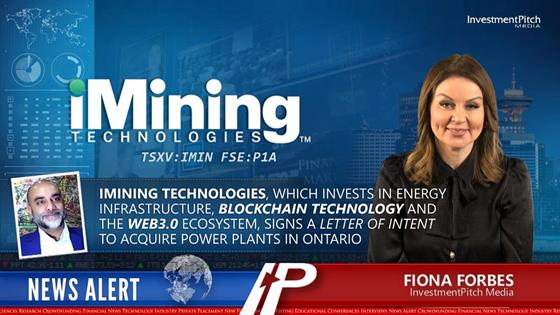 For more information, please view the InvestmentPitch Media video which provides additional information about this news and the company, along with video comments from Khurram Shroff, President and CEO of iMining. The video is available for viewing on "InvestmentPitch" and on "YouTube". If these links are not enabled, please visit www.InvestmentPitch.com and enter "iMining" in the search box.
The value of the acquisition is subject to third party valuation and following the due diligence period, including receipt of tax, corporate and security law advice, the parties will execute a final definitive agreement. The company will announce financing plans prior to completion of the acquisition.
This acquisition is another step in the company's plans of developing sustainable energy and technology solutions for Data Center operations. With diverse investment and infrastructure solutions, iMining looks to be an Energy first company enabling the growth of future technologies and is committed to building a sustainable and environmentally friendly Energy company of the future.
For more information, please visit the company's website at www.iMining.com, contact Saleem Moosa, Director, at 604-602-4935 or email investor@iMining.com.
About InvestmentPitch Media
InvestmentPitch Media leverages the power of video, which together with its extensive distribution, positions a company's story ahead of the 1,000's of companies seeking awareness and funding from the financial community. The company specializes in producing short videos based on significant news releases, research reports and other content of interest to investors.
Disclaimer
The information in this InvestmentPitch Media Ltd video is for the viewers information only. iMining has paid a fee not exceeding $2,000 in cash to have its current news release produced in video format. The corporate information is based on information that is publicly available. Any information provided by InvestmentPitch Media Ltd., through its media services is not to be construed as a recommendation or suggestion or offer to buy or sell securities but is provided solely as an informational media service. InvestmentPitch Media Ltd makes no warranties or undertakings as to the accuracy or completeness of this information. All due diligence should be done by the viewer or their financial advisor. Investing in securities is speculative and carries risk.
CONTACT:
InvestmentPitch Media
Barry Morgan, CFO
bmorgan@investmentpitch.com