ROUYN-NORANDA, Quebec, Sept. 18, 2023 (GLOBE NEWSWIRE) -- GLOBEX MINING ENTERPRISES INC. (GMX – Toronto Stock Exchange, G1MN – Frankfurt, Stuttgart, Berlin, Munich, Tradegate, Lang & Schwarz, LS Exchange, TTMzero, Düsseldorf and Quotrix Düsseldorf Stock Exchanges and GLBXF – OTCQX International in the US) is pleased to provide a brief update on work planned by Radisson Mining Resources Inc. (RDS-TSXV, RMRDF-OTCQB) on the O'Brien Gold Project located in Cadillac township, Quebec. The property straddles the prolific gold localizing Cadillac Break.

Radisson has announced that a 10,000-metre drill program is currently underway which "will focus on expanding the current mineral resource estimate." The Phase 1 drill program will focus on 20 of the highest priority targets out of 118 targets established at O'Brien East, near the current resource (587,121 oz. Au), primarily within vertical depths between surface and 500 m of less explored areas, such as high-grade Trends #3 and #4 among others.
Globex retains a 2% Net Smelter Royalty on Trends #3 and #4 and others in the O'Brien East Area (Kewagama) as well as the underexplored 700 metres east of the former Kewagama Gold Mine. See attached plan map and longitudinal section. Note: At its east boundary the O'Brien property adjoins Globex's 100% owned Central Cadillac-Wood Gold Mines property.
Radisson has also re-interpreted drill data along the Larder Lake-Cadillac Break within the O'Brien West portion of their property where an "Inferred Resource totalling 293,600 tonnes grading 7.59 g/t Au" has been outlined and is open in all directions.
Globex holds a 1% Net Smelter Royalty on much of the O'Brien West Area (formerly called the New Alger or Thompson Cadillac Gold Mine).  
Click here to access the Radisson press Release.
This press release was written by Jack Stoch, Geo., President and CEO of Globex in his capacity as a Qualified Person (Q.P.) under NI 43-101.
We Seek Safe Harbour.  
Foreign Private Issuer 12g3 – 2(b)
 
CUSIP Number 379900 50 9
LEI 529900XYUKGG3LF9PY95
For further information, contact:
Jack Stoch, P.Geo., Acc.Dir.
President & CEO
Globex Mining Enterprises Inc.
86, 14th Street
Rouyn-Noranda, Quebec Canada, J9X 2J1
Tel.: 819.797.5242
Fax: 819.797.1470
info@globexmining.com
www.globexmining.com
 
 
Forward Looking Statements: Except for historical information, this news release may contain certain "forward looking statements".  These statements may involve a number of known and unknown risks and uncertainties and other factors that may cause the actual results, level of activity and performance to be materially different from the expectations and projections of Globex Mining Enterprises Inc. ("Globex").  No assurance can be given that any events anticipated by the forward-looking information will transpire or occur, or if any of them do so, what benefits Globex will derive therefrom.  A more detailed discussion of the risks is available in the "Annual Information Form" filed by Globex on SEDAR at www.sedar.com.
Plan Map and Corresponding Longitudinal Section of the O'Brien Property Showing Various Trends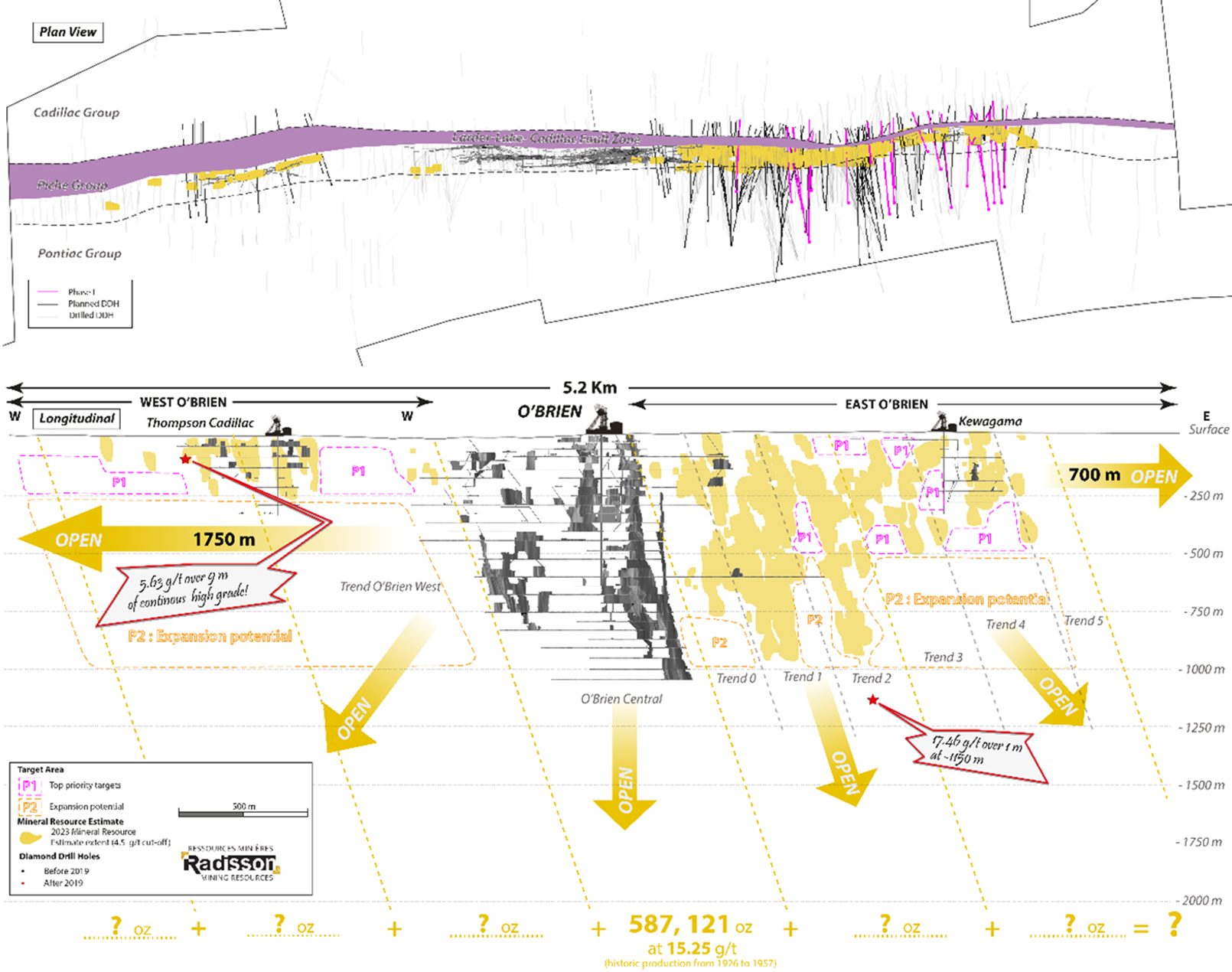 A photo accompanying this announcement is available at https://www.globenewswire.com/NewsRoom/AttachmentNg/90fe5b41-7a2b-4b76-a4d4-1037c47993ae