VANCOUVER, British Columbia, May 18, 2023 (GLOBE NEWSWIRE) -- Fancamp Exploration Ltd. ("Fancamp" or the "Corporation") (TSX Venture Exchange: FNC) is pleased to share the recent program updates and announcement made by Platinex Inc. (CSE:PTX) ("Platinex") with regards to the Shining Tree Gold Property, in which the Corporation holds a 25% interest through South Timmins Mining Inc. ("Goldco"), a joint venture with Platinex Inc. (refer to news release dated March 14, 2023). GoldCo's Shining Tree Gold Property is strategically located in the South-West region of the Abitibi Greenstone Belt, the world's largest 2.7-billion-year-old mineral-rich greenstone geological belt, which hosts numerous major gold and base metal deposits, and predominant gold producers (refer to Figure 1).

Fancamp is encouraged by the timely commencement of the exploration program at the Shining Tree Gold Property which follows on Platinex's 2022 reconnaissance geochemical and prospecting programs (refer to Platinex Inc. release dated December 7, 2022) and the recently announced joint venture between the Parties in relation to the advancement of properties in the Abitibi Greenstone Belt through GoldCo.
Part of Fancamp's mission is to invest in highly prospective projects and near-term producing assets in order to monetize and generate meaningful returns for shareholders. The Shining Tree Gold Property is of great significance to Fancamp given the geological and regional aspects of its location and the previous work conducted by Platinex which delineated areas of interest which could result in high-grade mineralization potential.
Platinex, operator of the Shining Tree Gold Property, is now focused identifying new gold targets in highly prospective but underexplored regions of the 225 km2 land package, with initial work to commence in highly prospective Areas 2 and 3. From previous work programs conducted by Platinex, these targets indicated several anomalous soil samples with gold values that coincide with the probability that Au-mineralization may be present (refer to Figure 2 and Platinex Inc. press release dated May 17, 2023).
For further information on the exploration program operated and led by Platinex at the Shining Tree Gold Property, and reference to previous work conducted on the property as referenced above, refer to press release by Platinex Inc. dated May 17, 2023.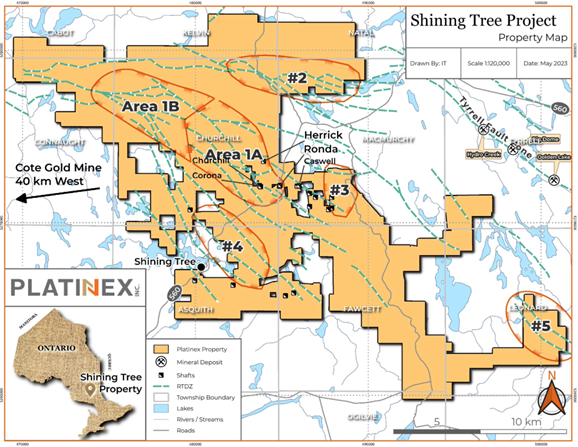 About Fancamp Exploration Ltd. (TSX-V: FNC)
Fancamp is a growing Canadian mineral exploration corporation dedicated to its value-added strategy of progressing priority mineral properties through exploration and innovative development. The Corporation is focused on an advanced asset play poised for growth and selective monetization with a portfolio of mineral claims encompassing over 158,000 hectares across Ontario, Quebec and New Brunswick, Canada; including copper, gold, zinc, titanium, chromium, strategic rare-earth metals and others. The Corporation continues to identify near term cash-flow generating opportunities and in parallel aims to advance its investments in strategic mineral properties. Fancamp has investments in an existing iron ore operation in the Quebec-Labrador Trough, a rare-earth elements company, NeoTerrex Corporation, in addition to an investment in a zinc mine planned to be restarted in Nova Scotia. The Corporation has future monetization opportunities from its Koper Lake transaction in the highly sought-after Ring of Fire in Northern Ontario. Fancamp is developing an energy reduction and titanium waste recycling technology with its advanced titanium extraction strategy. The Corporation is managed by a focused leadership team with decades of mining, exploration and complementary technology experience.
Further information of the Corporation can be found at: www.fancamp.ca
Forward-looking Statements
This news release contains certain "forward-looking statements" or "forward-looking information" (collectively referred to herein as "forward-looking statements") within the meaning of applicable securities legislation. Such forward-looking statements include, without limitation, the closing of the Offering, the receipt of regulatory approval, completion of the Agreement, forecasts, estimates, expectations and objectives for future operations that are subject to a number of assumptions, risks and uncertainties, many of which are beyond the control of the Corporation. Forward-looking statements are statements of fact that are not historical facts or are events or conditions that may occur or be achieved.
Although Fancamp believes that the material factors, expectations and assumptions informing such forward-looking statements are reasonable based on information available to it on the date such statements were made, no assurances can be given as to future results of such statements.
Such forward-looking statements involve known and unknown risks, uncertainties and other factors that may cause actual events to differ materially from those anticipated in such forward-looking statements.
Readers are cautioned that the foregoing list of factors is not exhaustive. Statements including forward-looking statements are made as of the date they are given and, except as required by applicable securities laws, Fancamp disclaims any intention or obligation to publicly update or revise any forward-looking statements, whether as a result of new information, future events or otherwise. The forward-looking statements contained in this news release are expressly qualified by this cautionary statement.
For Further Information
Rajesh Sharma, President & Chief Executive Officer

+1 (604) 434 8829

info@fancamp.ca
Debra Chapman, Chief Financial Officer

+1 (604) 434 8829

info@fancamp.ca
Tara Asfour, Director of Investor Relations
+1 (604) 434 8829
Neither TSX Venture Exchange nor its Regulation Services Provider (as that term is defined in policies of the TSX Venture Exchange) accepts responsibility for the adequacy or accuracy of this news release.
Photos accompanying this announcement are available at

https://www.globenewswire.com/NewsRoom/AttachmentNg/24589b01-6261-4864-9b7d-16dc13c68eb6
https://www.globenewswire.com/NewsRoom/AttachmentNg/ccb3070b-bfaa-4b2c-8eb2-d9ddd82e5fc4