ROUYN-NORANDA, Quebec, Sept. 14, 2023 (GLOBE NEWSWIRE) -- GLOBEX MINING ENTERPRISES INC. (GMX – Toronto Stock Exchange, G1MN – Frankfurt, Stuttgart, Berlin, Munich, Tradegate, Lang & Schwarz, LS Exchange, TTMzero, Düsseldorf and Quotrix Düsseldorf Stock Exchanges and GLBXF – OTCQX International in the US) is pleased to provide an update on Globex's 100% owned Crater Lake Scandium property located 200km east of Schefferville, Quebec. Globex holds half the circular geological structure that contains the scandium-rare earth deposit held by Imperial Mining ("Imperial").

Today, Imperial announced that recent drilling has enabled them to increase their mineral resources estimate by 58% in total scandium tonnage for the Indicated Resource category and a 22% increase in total scandium tonnage for the Inferred Resource category for a total of 27.7 million tonnes representing an increased projected mine life to 40 years (click to access Imperial Mining Press Release).
Recently, Globex engaged Terraquest to fly a High Resolution Aeromagnetic and Matrix Digital VLF-EM Survey over the entire Globex property. The 239-line kilometer survey has been completed and we are awaiting the final survey results. Preliminary results clearly define the rock unit (circular magnetic high) which localizes the scandium-rare earth deposit on the adjoining Imperial claims as it traverses the entire strike length of the Globex claims.
The Globex claims have numerous showings of scandium and rare earths. Depending upon the final survey results, we will plan follow-up groundwork over the next field season or seek an option partner to carry the project forward. Field work was planned for the 2023 field season but the absence of logistical helicopter support due to the fire emergency prevented our undertaking the work.
Crater Lake Scandium-Rare Earth Property, Aeromag with Mineralized Surface Showings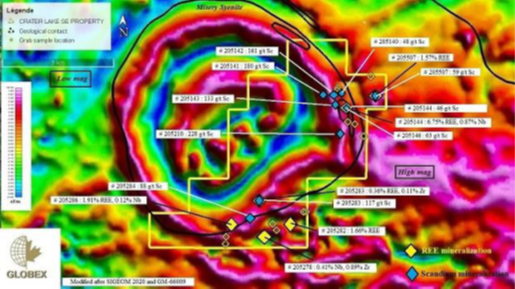 Yellow line outlines Globex claims.
This press release was written by Jack Stoch, Geo., President and CEO of Globex in his capacity as a Qualified Person (Q.P.) under NI 43-101.
We Seek Safe Harbour.  
Foreign Private Issuer 12g3 – 2(b)
 
CUSIP Number 379900 50 9
LEI 529900XYUKGG3LF9PY95
For further information, contact:
Jack Stoch, P.Geo., Acc.Dir.
President & CEO
Globex Mining Enterprises Inc.
86, 14th Street
Rouyn-Noranda, Quebec Canada J9X 2J1
Tel.: 819.797.5242
Fax: 819.797.1470
info@globexmining.com
www.globexmining.com
Forward Looking Statements: Except for historical information, this news release may contain certain "forward looking statements".  These statements may involve a number of known and unknown risks and uncertainties and other factors that may cause the actual results, level of activity and performance to be materially different from the expectations and projections of Globex Mining Enterprises Inc. ("Globex").  No assurance can be given that any events anticipated by the forward-looking information will transpire or occur, or if any of them do so, what benefits Globex will derive therefrom.  A more detailed discussion of the risks is available in the "Annual Information Form" filed by Globex on SEDAR at www.sedar.com.
A photo accompanying this announcement is available at https://www.globenewswire.com/NewsRoom/AttachmentNg/627f1072-ddfe-408c-8fb0-03c3c2041141