ROUYN-NORANDA, Quebec, May 24, 2023 (GLOBE NEWSWIRE) -- GLOBEX MINING ENTERPRISES INC. (GMX – Toronto Stock Exchange, G1MN – Frankfurt, Stuttgart, Berlin, Munich, Tradegate, Lang & Schwarz, LS Exchange, TTMzero, Düsseldorf and Quotrix Düsseldorf Stock Exchanges and GLBXF – OTCQX International in the US) is pleased to update shareholders on our 100% owned Cameron Lake Gold Property in Desjardins, Franquet & Grevet townships, Quebec (NTS 32F07) located 30 kilometres north of Lebel-sur-Quevillon.
The Cameron Lake Gold Property consists of 30 cells totaling 1,280 hectares which straddle 6.5 kilometres of the Cameron Fault corridor, a gold localizing structure that is host to a number of gold deposits including the neighboring Flordin Gold Deposit.
On May 18, 2023, Abcourt Mines Inc. announced a first Mineral Resource Estimate (MRE) for the Flordin Gold Project based upon 73,400 metres of drilling of which 34,900 metres were drilled between 2010 and 2020. Using a $1,650.00/oz. gold price, a Measured and Indicated Resource of 1,758,000 tonnes at an average grade of 2.38 g/t Au and an Inferred Resource of 570,000 tonnes at an average grade of 3.23 g/t Au was calculated by InnovExplo of Val-d'Or, Quebec by Independent and Qualified Persons as defined by NI 43-101 for the MRE, Olivier Vadnais-Leblanc, P.Geo., Carl Pelletier, P.Geo., Eric Lecomte, P. Eng., and Simon Boudreau, P.Eng..
The Flordin deposit directly adjoins Globex's Cameron Lake Gold Property to the west (See attached two maps). Historical drilling on Globex's property returned numerous intersections of significant gold values over a 700-metre strike length and to a tested vertical depth of up to 300 metres. The "Principal Zone" which is the closest of the Cameron gold zones to the Abcourt/Globex boundary has been tested by 70 holes. Drill holes intersected numerous parallel gold horizons such as the following:
-
5.55 g/t Au over 1.15 m
-
13.61 g/t Au over 0.40 m
-
17.83 g/t Au over 1.05 m
-
8.23 g/t Au over 1.30 m
-
9.40 g/t Au over 0.77 m
-
8.13 g/t Au over 1.00 m
-
9.05 g/t Au over 0.86 m
-
7.41 g/t Au over 1.10 m
-
7.44 g/t Au over 0.97 m
-
16.12 g/t Au over 0.68 m
-
4.94 g/t Au over 1.14 m
-
7.72 g/t Au over 1.44 m
-
21.84 g/t Au over 1.50 m
 
 
(Source : Sigeom Files)
 
 

Surface grab samples returned values such as 6.57 g/t Au, 2.86 g/t Au, 2.35 g/t Au.

In addition to the Principal Gold Zone, gold was intersected in drill holes along the fault corridor and in several unrelated geological environments.
The establishing of a 1,758,000 tonne Measured and Indicated Resource and a 575,000 tonne Inferred Resource directly adjoining Globex's 100% owned Cameron Gold Property, elevates the potential and highlights the need to undertake more modern and focussed exploration on the Cameron claims.
Cameron Fault Corridor Area Geology Map (Figure 1 of 2)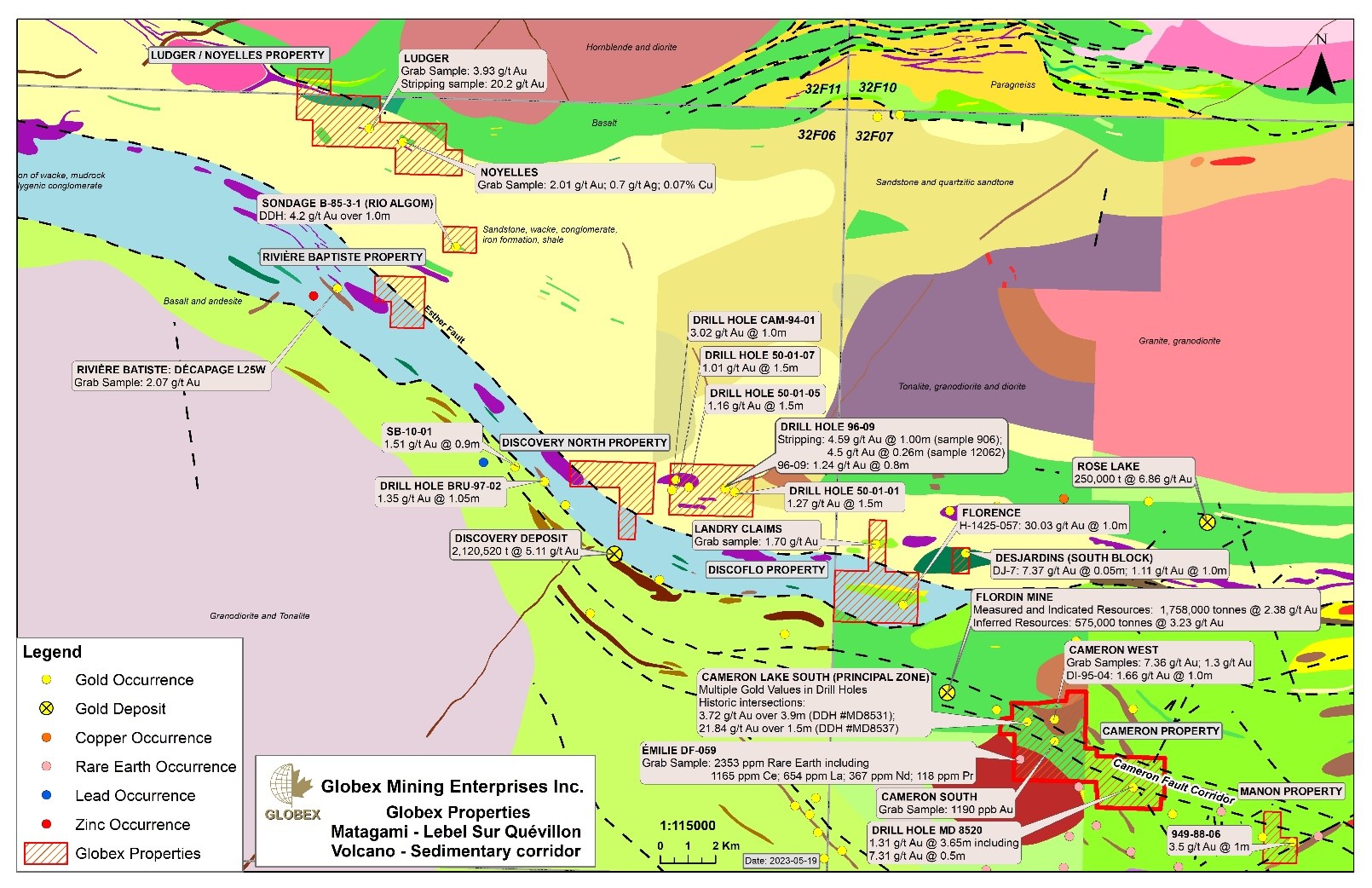 Cameron Property – Mineral Occurrences (Figure 2 of 2)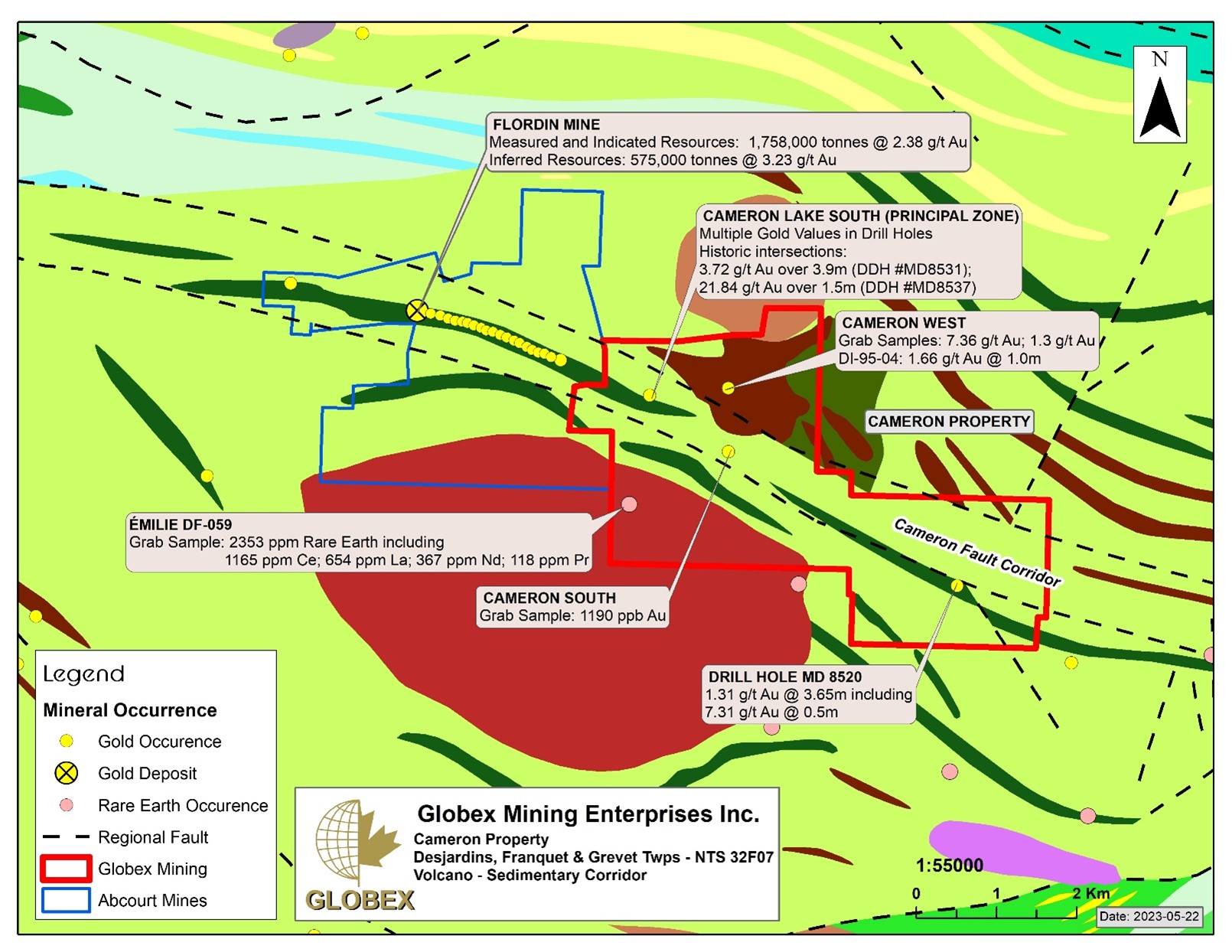 This press release was written by Jack Stoch, Geo., President, and CEO of Globex in his capacity as a Qualified Person (Q.P.) under NI 43-101.
We Seek Safe Harbour.
Foreign Private Issuer 12g3 – 2(b)
 
CUSIP Number 379900 50 9
LEI 529900XYUKGG3LF9PY95
For further information, contact:
Jack Stoch, P.Geo., Acc.Dir.
President & CEO
Globex Mining Enterprises Inc.
86, 14th Street
Rouyn-Noranda, Quebec, Canada J9X 2J1
Tel.: 819.797.5242
Fax: 819.797.1470
info@globexmining.com
www.globexmining.com
Forward Looking Statements: Except for historical information, this news release may contain certain "forward looking statements". These statements may involve a number of known and unknown risks and uncertainties and other factors that may cause the actual results, level of activity and performance to be materially different from the expectations and projections of Globex Mining Enterprises Inc. ("Globex"). No assurance can be given that any events anticipated by the forward-looking information will transpire or occur, or if any of them do so, what benefits Globex will derive therefrom. A more detailed discussion of the risks is available in the "Annual Information Form" filed by Globex on SEDAR at www.sedar.com.
Photos accompanying this announcement are available at:
https://www.globenewswire.com/NewsRoom/AttachmentNg/0088ac34-3ecb-426b-a4eb-fa9b6708400e
https://www.globenewswire.com/NewsRoom/AttachmentNg/2caadebf-a237-4c67-9857-53ca6518be28