VANCOUVER, British Columbia, Jan. 31, 2023 (GLOBE NEWSWIRE) -- NINE MILE METALS LTD. (CSE: NINE, OTCQB: VMSXF, FSE: KQ9) (the "Company" or "Nine Mile"), is pleased to announce the scheduled mobilization of our Winter Skid Mount Drill Rig for continuation of its 5000m Stage 2 drill program at its flagship Nine Mile Brook VMS Project in the world-famous Bathurst Mining Camp, New Brunswick ("BMC").
Nine Mile Brook VMS Project resumes its 5000m Stage 2 Drill Program.
New Targets Identified at "Hinge A" Target Area and Necessary Permits Received.
Skid Mounted, Enclosed, Winterized Deep Drill Rig Mobilizes February 4, 2023 to site at BMC.
Orbit-Garant Drilling Inc. Specializes in Executing Deeper Diamond Drill Programs up to 3000m.
Moncton, New Brunswick based Orbit-Garant Drilling has been secured for our Winter Drill Program at our Nine Mile Brook VMS Project. Their skid mount rig system is winterized, enclosed and more powerful for the deeper portion of our drill program at Nine Mile Brook. Mobilization is scheduled for February 4, 2023, along with line cutters and snowmobile infrastructure confirmed for access to new drill hole targets.


Figure 1: Orbit Garant Drill Rig and Support Equipment
Orbit Garant Drilling is ECOLOGO accredited, recognized for their mineral exploration services, and certified for responsible environmental and social best practices. 

"After reviewing the new data on the Lens Area drilling and updated Hinge A data analysis during the holiday break, additional drill holes are planned for the Hinge "A" target area. EarthEX and our Geological Team are excited to begin this High Priority Deeper Drill phase of our program. We have obtained the necessary permits for the new targets at "Hinge A" and the new eastern flank," stated Gary Lohman, B.Sc., P. Geo., VP Exploration and Director.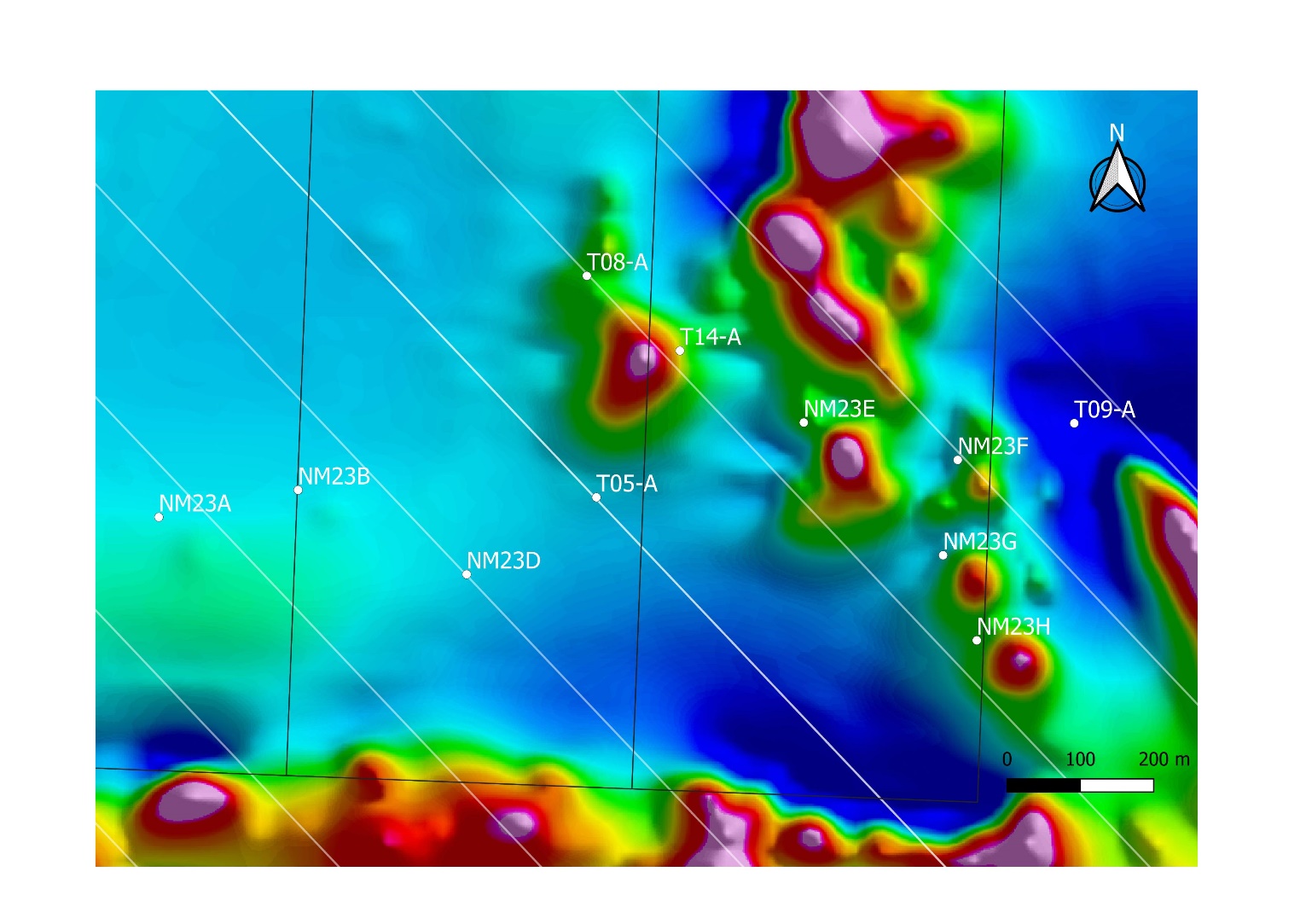 Figure 2: Nine Mile Brook Updated "Hinge A Target Area" Proposed Drill Holes Program

About Nine Mile Metals Ltd.: 
Nine Mile Metals Ltd. is a Canadian public mineral exploration company focused on VMS (Cu, Pb, Zn, Ag and Au) exploration in the world-famous Bathurst Mining Camp, New Brunswick, Canada. The Company's primary business objective is to explore its three VMS Projects: Nine Mile Brook VMS Project; California Lake VMS Project; and the Canoe Landing Lake (East – West) VMS Project. The Company is focused on Critical Minerals Exploration (CME), positioning for the boom in EV and green technologies requiring Copper, Silver, Lead and Zinc with a hedge with Gold.
Social Media

ON BEHALF OF NINE MILE METALS LTD.
"Patrick J Cruickshank, MBA"
CEO and Director
T: +1.506-804-6117
E: patrick@ninemilemetals.com
Forward-Looking Information:
This press release may include forward-looking information within the meaning of Canadian securities legislation, concerning the business of Nine Mile. Forward-looking information is based on certain key expectations and assumptions made by the management of Nine Mile. In some cases, you can identify forward-looking statements by the use of words such as "will," "may," "would," "expect," "intend," "plan," "seek," "anticipate," "believe," "estimate," "predict," "potential," "continue," "likely," "could" and variations of these terms and similar expressions, or the negative of these terms or similar expressions. . Forward-looking statements in this press release include that (a) additional drill holes are planned for the Hinge "A" target area, and (b) mobilization is scheduled for February 4, 2023, along with line cutters. Although Nine Mile believes that the expectations and assumptions on which such forward-looking information is based are reasonable, undue reliance should not be placed on the forward-looking information because Nine Mile can give no assurance that they will prove to be correct.
The Canadian Securities Exchange (CSE) has not reviewed and does not accept responsibility for the adequacy or the accuracy of the contents of this release.        

Photos accompanying this announcement are available at
https://www.globenewswire.com/NewsRoom/AttachmentNg/cdf5dada-d22c-4041-b936-526e350b5aa5
https://www.globenewswire.com/NewsRoom/AttachmentNg/bed41542-3b7a-42ae-9bb9-90472685c0eb