TORONTO, April 21, 2023 (GLOBE NEWSWIRE) -- Sintana Energy Inc. (TSX-V: SEI, OTCQB: SEUSF) ("Sintana" or the "Company") is pleased to confirm that over fifty per cent of the 6,872 square kilometers of 3D seismic survey data has been gathered from Petroleum Exploration License 87 ("PEL 87") and the surrounding area in the Orange Basin in Namibia. Initial processed results are expected to be available and interpreted by the end of August 2023.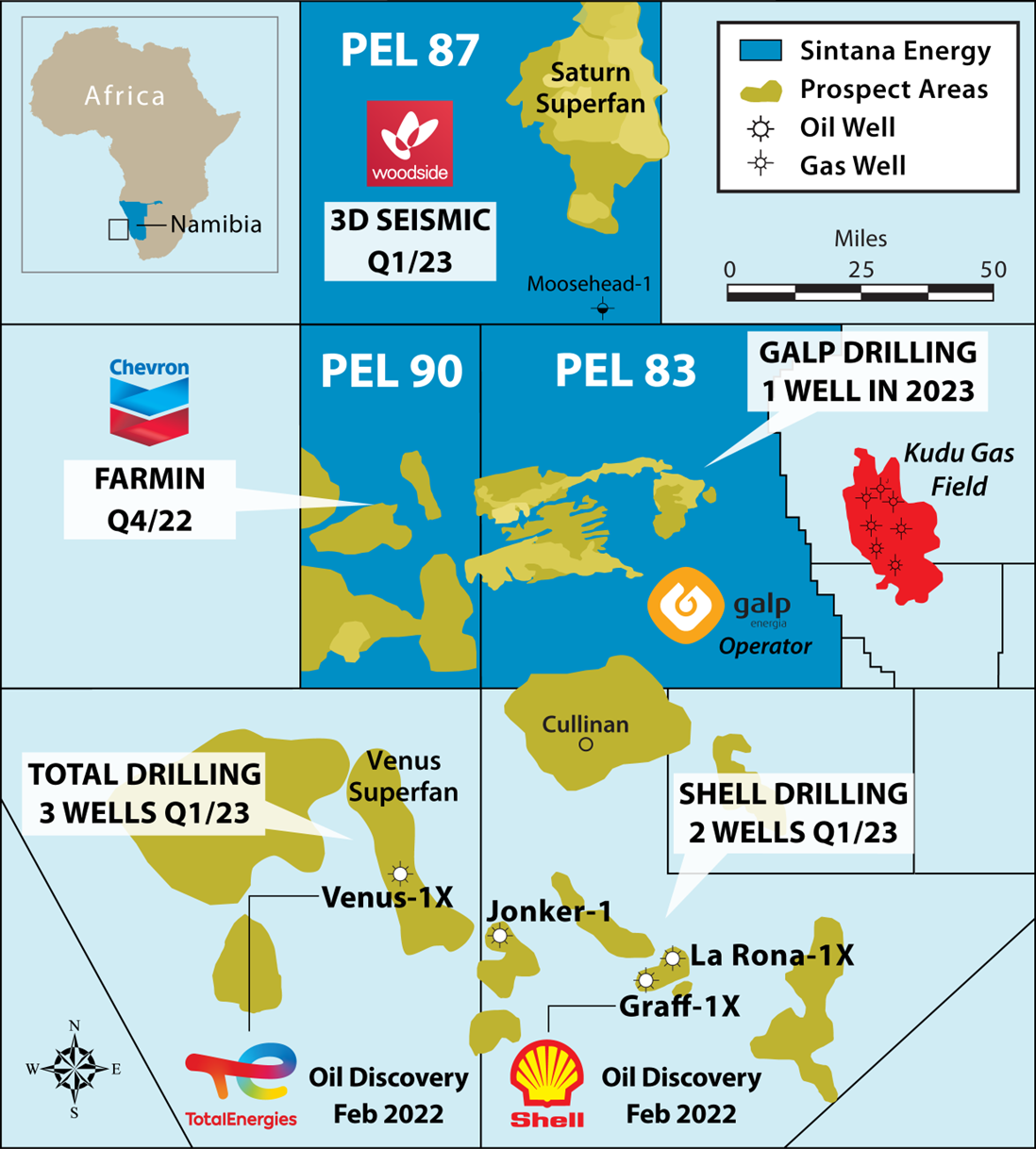 PEL 87 includes the very large Saturn turbidite complex that has been mapped. This complex shares many geologic characteristics and is on-trend with the Venus oil discovery made by TotalEnergies in February 2022. The core features of Saturn, covering approximately 2,400 square kilometers, lie entirely within the PEL 87 area.
"Survey activities on PEL 87 are well advanced and we remain confident that the results will confirm that we are on trend with the recent massive discoveries in the basin, and will further demonstrate that Saturn Turbidite Complex is a significant offshore deep water oil opportunity." said Robert Bose, President and Director of Sintana.
Woodside Energy (GOM), Inc., a wholly-owned subsidiary of Woodside Energy Group Ltd. ("Woodside") entered into an agreement in March of 2023 whereby it has the option to acquire a 56% Participating Interest in PEL 87 in consideration for, among other things, paying the full cost of a 3-D seismic survey covering an area of at least 5,000 square kilometers within the PEL 87.
Woodside has a period of at least 180 days after delivery of the survey to exercise its option. If the option is exercised, Woodside has agreed to enter a farmout agreement whereby it will carry existing joint venture partners for the full cost of drilling the first exploration well. Custos Investments (Pty) Ltd. ("Custos") retains a 15% interest in PEL 87 and benefits from this carry and other elements related to the farmout and joint venture agreements. Sintana owns an indirect 49% interest in Custos.
ABOUT SINTANA ENERGY:
The Company is engaged in petroleum and natural gas exploration and development activities in five large, highly prospective, onshore and offshore petroleum exploration licenses in Namibia, as well as in Colombia's Middle Magdalena Basin. Sintana's exploration strategy is to acquire, explore and potentially develop superior quality assets with substantial reserves potential.
On behalf of Sintana Energy Inc.,
"Douglas G, Manner"
Chief Executive Officer
For additional information or to sign-up to receive periodic updates about Sintana's projects, and corporate activities, please visit the Company's website at www.sintanaenergy.com
| | | | | |
| --- | --- | --- | --- | --- |
| Corporate Contacts: |   |   |   | Investor Relations Advisors: |
|   |   |   |   |   |
| Douglas G. Manner |   | Sean J. Austin |   | Jonathan Paterson |
| Chief Executive Officer |   | Vice-President |   | Founder & Managing Partner |
| 832-279-4913 |   | 713-825-9591 |   | Harbor Access |
|   |   |   |   | 475-477-9401 |
Forward-Looking Statements
Certain information in this release are forward-looking statements. Forward-looking statements consist of statements that are not purely historical, including statements regarding beliefs, plans, expectations or intensions for the future, and include, but not limited to, statements with respect to potential future farmout agreements on PEL 83 and/or PEL 87, and proposed future exploration and development activities on PEL 90 and neighbouring properties, as well as the prospective nature of the Company's property interests.  Such statements are subject to risks and uncertainties that may cause actual results, performance or developments to differ materially from those contained in the statements, including, but not limited to risks relating to the receipt of all applicable regulatory approvals, results of exploration and development activities, the ability to source joint venture partners and fund exploration, permitting and government approvals, and other risks identified in the Company's public disclosure documents from time to time.  Readers are cautioned that the assumptions used in the preparation of such information, although considered reasonable at the time of preparation, may prove to be imprecise and, as such, undue reliance should not be placed on forward-looking statements.  The Company assumes no obligation to update such information, except as may be required by law.
NEITHER THE TSX VENTURE EXCHANGE NOR ITS REGULATION SERVICES PROVIDER (AS THAT TERM IS DEFINED IN THE POLICIES OF THE TSX VENTURE EXCHANGE) ACCEPTS RESPONSIBILITY FOR THE ADEQUACY OR ACCURACY OF THIS RELEASE.