We hear a lot about 'battery metals' today. Battery metals are a general term that includes graphite, lithium, cobalt, and nickel. However, battery metals can also include copper and even more obscure metals like vanadium. By far, the two most important metals for powering the electric vehicle revolution and decarbonization process of the next several decades are copper and nickel.
The eye of the decarbonization process goes through copper, and the average electric vehicle contains 4x as much copper as an ICE (internal combustion engine) vehicle. Meanwhile, nickel is a key input of electric vehicle batteries and critical for battery storage. Decarbonization is metals intensive and copper and nickel are two of the most critical metals for 'fueling' the decarbonization process.
The demand outlook for copper and nickel is strong. Meanwhile, the supply picture is murky with many of the largest new mining projects facing significant permitting/capex hurdles. This creates a perfect storm for smaller capex high-grade nickel-sulphide deposits; projects that may not have been as attractive in a $6 nickel and $2 copper price environment become much more attractive at a $8-$10 nickel $4-$5 copper price environment.
Junior miners with development stage high-grade copper/nickel projects in safe jurisdictions with a clear path to permitting are becoming scarce and highly sought after. Previously, major mining companies weren't interested in base metals projects less than 10 million tonnes, unless they were ultra high-grade. This has allowed many high quality projects to slip through the cracks. Moreover, the strong price action in base metals combined with an even stronger global demand outlook has brought many of these previously overlooked projects back to the forefront.
As the battery metals bull market takes flight over the next few years, I expect investors will increasingly favor projects that are able to move into production relatively quickly, while also having lighter capex hurdles to complete project construction. There are very few viable copper/nickel projects that check the following boxes:
US$1 billion+ of mineable gross metal value at current metals prices.
Top tier mining jurisdiction.
Potential to complete a feasibility study and make a production decision within 24 months.
Less than US$150 million in capex to complete mine construction.
Significant potential for resource expansion along with multiple high priority regional targets within the property package.
Clean share structure with sub-$100 million market cap.
Strong insider ownership (more than 20%) and strong trend of recent insider buying on the open market.
Not only does Tartisan Nickel Corp. (CSE:TN, OTC:TTSRF) check all of the above boxes, but the company also has an equity portfolio with total holdings valued at more than C$16 million, as well as C$5 million in cash in the company treasury. If we subtract the cash and equity holdings from Tartisan's market cap we get an enterprise value of C$30 million. This represents a very modest valuation for Tartisan's flagship Kenbridge Nickel Sulphide Deposit in northwest Ontario.
Tartisan Nickel's Kenbridge Nickel Deposit has an existing measured & indicated resource of 7.47 million tonnes grading .6% nickel and .32% copper, and an inferred resource of 1 million tonnes grading 1% nickel and .62% copper. Kenbridge is located in a mining friendly jurisdiction in NW Ontario 80 kilometers north of New Gold's Rainy River Gold Mine.
The main Kenbridge Deposit gives Tartisan a strong foundation from which to grow. Tartisan is about to commence a 10,000 meter diamond drill program at Kenbridge with the objective of expanding the higher grade mineralized zones at Kenbridge with 50 meter step-outs from the main ore body to see if mineralization continues to the north.
The borehole geophysics indicates a lens exists and offers strong potential that the ore body is significantly larger. Additionally, the deposit is open at depth and Tartisan will be drilling significantly deeper holes in order to test the depth extent of high-grade areas where holes have ended in mineralization.
Tartisan will also be drilling targets at Kenbridge North (80% of drill meters at Kenbridge Main and 20% of drill meters at Kenbridge North), a target that has similar geophysical characteristics to the main Kenbridge Deposit, which has only seen shallow historical drilling.
The Kenbridge North Prospect features hosts two conductive features that each extend over 400 meters in strike length (as seen below):
Kenbridge North is located 3 kilometers north of the main Kenbridge Copper-Nickel Sulfide Deposit. This target encompasses a geophysical signature that is more than 2x the size of the main Kenbridge Deposit.
Massive sulfides outcropping at surface at Tartisan Nickel's Kenbridge Project
There are three primary catalysts to drive value for Tartisan shares:
Further de-risking the Kenbridge Project with a resource update, PEA, and then eventually a feasibility study. As Tartisan achieves these key milestones, the project gets de-risked and Tartisan should get credit for a larger percentage of the value of the metal in the ground at Kenbridge.
Resource expansion and identification of additional higher grade zones. A larger deposit is more valuable, a higher grade deposit is more valuable.
Higher copper and nickel prices greatly benefit Tartisan due to the Kenbridge Project's high degree of leverage to metals prices; the cost of building the mine
Obviously, the Tartisan equity portfolio holdings also offer potential upside, especially the 2,600,000 shares of Eloro Resources that currently hold a C$13 million valuation.
Another key aspect to the Tartisan story is the strong insider ownership and relentless open market buying by CEO Mark Appleby. In the first six months of 2021, Mr. Appleby has purchased ~1,000,000 Tartisan shares on the open market at a personal cost to him of nearly half a million dollars: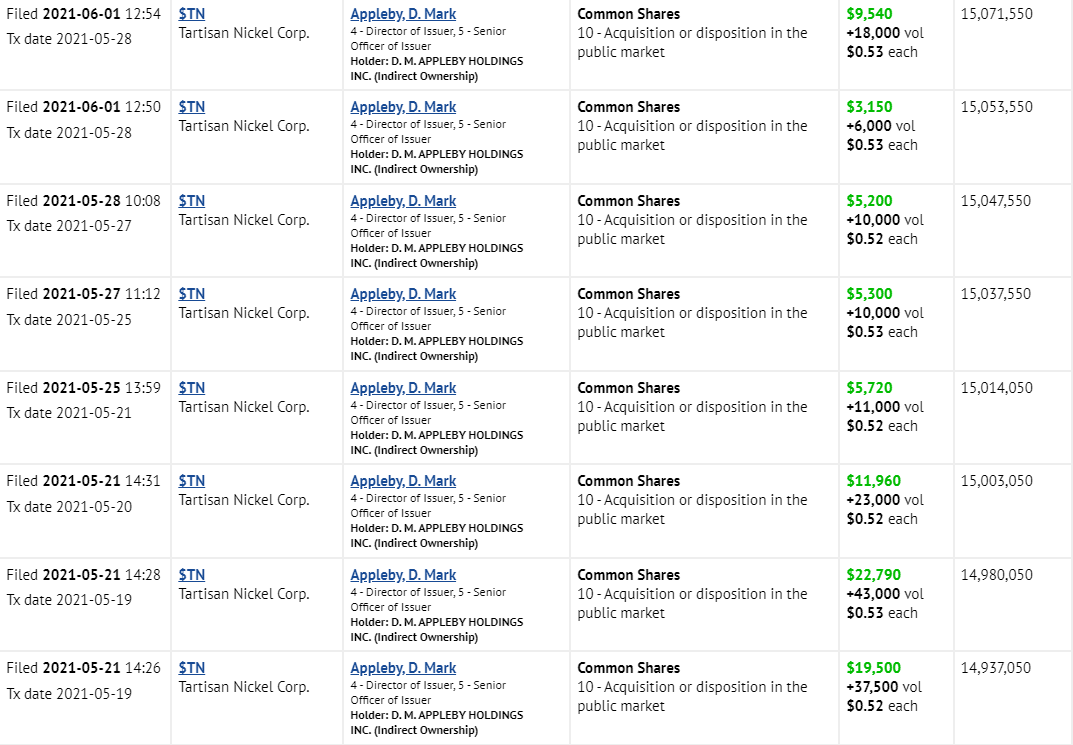 The only other junior mining company with anywhere close to this level of relentless buying by a CEO is Canada Nickel (TSX-V:CNC) Chairman/CEO Mark Selby's steady buying since the company IPOed in February 2020. Canada Nickel shares have risen 10x since Q1 2020, so I'd say that strong signs of commitment from a CEO through large open market buying is a very good sign indeed.
CNC.V (Daily)
Tartisan shares are barely giving the company any credit for Kenbridge as a viable economic copper/nickel deposit. The opportunity that lay before investors today is a straightforward one:
A 10,000+ meter drill program is about to commence at Kenbridge with an objective to upgrade resources from inferred to M&A, expand the resource to 10+ million tonnes, and test high priority regional targets such as Kenbridge North.
Updated PEA this summer.
Updated resource estimate by year end.
Once the above milestones have been achieved, Tartisan will be in a position to commence a feasibility study. A positive feasibility study and a positive construction decision would represent a substantial de-risking of Kenbridge's economic value.
Tartisan shares offer substantial potential for a double in share price over the next 3-6 months as the company completes the 10,000 meter drill program and delivers the updated RE and PEA to the market. Meanwhile, the downside risk is limited due to the company's strong equity investment portfolio, cash position, and resources in the ground at Kenbridge.
This is the sort of asymmetric risk/reward investment profile many institutional investors spend millions of dollars on research teams in order to uncover. However, smaller investors have an advantage in Tartisan due to the company's relatively small market cap; the only way an institutional investor can acquire a position in Tartisan is through contacting the company directly and offering the company financing. Right now, Tartisan is well funded through year end and its investment portfolio offers a nice backstop for any future capital needs. This means that the only way to acquire Tartisan shares is on the open market, the same way that Tartisan CEO Mark Appleby has been acquiring them recently.
Tartisan Nickel Corp. (Daily)
Disclosure: Author owns Tartisan Nickel Corp. shares at the time of publishing and may choose to buy or sell at any time without notice. Author has been compensated for marketing services by Tartisan Nickel Corp.
DISCLAIMER: The work included in this article is based on current events, technical charts, and the author's opinions. It may contain errors, and you shouldn't make any investment decision based solely on what you read here. This publication contains forward-looking statements, including but not limited to comments regarding predictions and projections. Forward-looking statements address future events and conditions and therefore involve inherent risks and uncertainties. Actual results may differ materially from those currently anticipated in such statements. The views expressed in this publication and on the EnergyandGold website do not necessarily reflect the views of Energy and Gold Publishing LTD, publisher of EnergyandGold.com. This publication is provided for informational and entertainment purposes only and is not a recommendation to buy or sell any security. Always thoroughly do your own due diligence and talk to a licensed investment adviser prior to making any investment decisions. Junior resource companies can easily lose 100% of their value so read company profiles on www.SEDAR.com for important risk disclosures. It's your money and your responsibility.