Yesterday the bearish sentiment and disgust with the cryptocurrency sector reached such a fever pitch that I decided it would be an interesting time to do a poll. At yesterday's low Bitcoin had dropped ~$1600 (~21%) in the last week. While undoubtedly painful for longs an objective glance at the chart, set against the backdrop of extreme bearish sentiment might have inspired a shrewd trader to take a punt on the long side:
Bitcoin (Daily)
Bitcoin was trading at $6,250 at the time I posted the following Bitcoin poll on Twitter last night: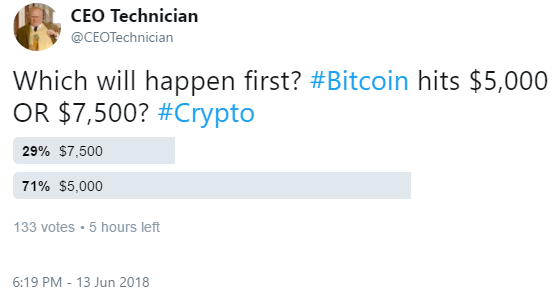 Given the downside price momentum the results of the poll are not terribly surprising. However, if one considers the current extreme bearish sentiment and the fact that the $6,000 area represents strong support, $7,500 is probably the more logical choice. But market sentiment isn't about logic, it's about momentum and herd psychology; the stage is now set for a snapback rally that will surprise the bearish herd.
SentimenTrader posted a Bitcoin sentiment chart this morning that confirmed we are in the midst of one of the most extreme bearish sentiment moment's in Bitcoin's history:
I'm not saying that this is the time to go all-in on Bitcoin, however, it's definitely time to become less pessimistic.
DISCLAIMER: The work included in this article is based on current events, technical charts, and the author's opinions. It may contain errors, and you shouldn't make any investment decision based solely on what you read here. This publication contains forward-looking statements, including but not limited to comments regarding predictions and projections. Forward-looking statements address future events and conditions and therefore involve inherent risks and uncertainties. Actual results may differ materially from those currently anticipated in such statements. The views expressed in this publication and on the 321Ethereum website do not necessarily reflect the views of 321Ethereum LLC, publisher of 321Ethereum.com. This publication is provided for informational and entertainment purposes only and is not a recommendation to buy or sell any security. Always thoroughly do your own due diligence and talk to a licensed investment adviser prior to making any investment decisions. Cryptocurrencies can easily lose 100% of their value. It's your money and your responsibility.