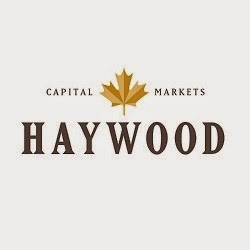 The Weekly Dig - Oct 20, 2017
by Mick Carew, PhD, mcarew@haywood.com, Emma Boggio, MSC, CPA and CA, and The Haywood Mining Team

The Weekly Dig - Gold Price Falls as the Dow Jones Industrial Average Reaches Record High
Highlights:
Precious Metals: As the US dollar climbed, the price of gold fell further on Friday following a Thursday evening Senate vote, where Republicans took the first step toward passing a tax plan and fulfilling a long-held campaign pledge as they narrowly voted, 51-49, to pass the fiscal 2018 budget. The Dow recorded a 392-point gain over the week to reach a record high as it finished at 23,329 on Friday. On the other hand, precious metals struggled with gold finishing down 1.82% at US$1,280, silver down 2.29% at US$17.03, platinum down 2.38% at US$924, and palladium down 1.59% at US$976 per ounce.
Base Metals: This week, the LME nickel price continued to improve, rising 0.5% to $5.29/lb, representing a gain of 17% YTD. Nickel had advanced as high as $12,000/t ($5.44/lb) during the week, reflecting a growing deficit. Copper rose 0.9% to $3.14/lb, ahead 26% YTD, amid speculation that the metal is trading ahead of its fundamentals; while zinc fell by 4.3% to close at $1.43/lb, but still up 23% YTD. Although the strong dollar, approaching the highest close since July, has had a moderating effect this past week, the strength in base metals was supported by data this showing continued economic growth in China for Q3/17 and rising industrial production in September, combined with slower than expected global mine supplies. In response, the S&P/TSX diversified Metals and Mining Index was slightly negative, down 0.9% WoW, but still up 10.6% YTD. Among the base metal equities this week, Trevali slipped 4.5% (but remains +33% YTD), while Capstone and Copper Mountain were up 7.6% and 7.1%, respectively. Copper Mountain is now up 61% YTD, helped by strong production results, reported on October 11 and an improving balance sheet.
The Week Ahead: Lundin Mining is reporting Q3/17 results on October 25, while Capstone Mining and Nevsun Resources are reporting Q3/17 results on October 26. Nevsun also plans to release the updated Preliminary Economic Assessment for the Timok Upper Zone project with financial results. Barrick Gold and Detour Gold will be reporting Q3/17 financial results on Wednesday October 25th after market close, and Eldorado Gold will be reporting after market close on Thursday October 26th. OceanaGold Corp. is reporting Q3/17 operating and financial results Pre-Market on Thursday October 26th, with the management conference call held on the 27th at 5PM ET/2PM PT (1-888-390-0546).

coming soon.
Important Information and Legal Disclaimers
All prices are in C$ unless noted
This report is neither a solicitation for the purchase of securities nor an offer of securities. Our ratings are intended only for clients of Haywood Securities Inc., and those of its wholly owned subsidiary, Haywood Securities (USA) Inc., and such clients are cautioned to consult the respective firm prior to purchasing or selling any security recommended or views contained in this report.
Estimates and projections contained herein, whether or not our own, are based on assumptions that we believe to be reasonable. The information presented, while obtained from sources we believe reliable, is checked but not guaranteed against errors or omissions. Changes in the rates of exchange between currencies may cause the value of your investment to fluctuate. Past performance should not be seen as an indication of future performance. The investments to which this report relates can fluctuate in value and accordingly you are not certain to make a profit on any investment: you could make a loss.
Haywood Securities, or certain of its affiliated companies, may from time to time receive a portion of commissions or other fees derived from the trading or financings conducted by other affiliated companies in the covered security. Haywood analysts are salaried employees who may receive a performance bonus that may be derived, in part, from corporate finance income.
Haywood Securities, Inc., and Haywood Securities (USA) Inc. do have officers in common however, none of those common officers affect or control the ratings given a specific issuer or which issuer will be the subject of Research coverage. In addition, the firm does maintain and enforce written policies and procedures reasonably designed to prevent influence on the activities of affiliated analysts.
Dissemination of Research
Research reports are disseminated either through electronic medium or in printed copy. Clients may access reports on our website, or receive publications directly via email. Haywood strives to ensure all clients receive research in a timely manner and at the same time. It is against our policy for analysts to discuss or circulate their recommendations internally prior to public distribution. This policy applies equally to recommendation changes, target changes and/or forecast revisions.
For Canadian residents: Haywood Securities Inc. is a Canadian registered broker-dealer and a member of the Investment Industry Regulatory Organization of Canada, the Toronto Stock Exchange, the Toronto Venture Exchange and the Canadian Investor Protection Fund and accepts responsibility for the dissemination of this report. Any Canadian client that wishes further information on any securities discussed in this report should contact a qualified salesperson of Haywood Securities Inc.
For U.S. residents: This investment research is distributed in the United States, as third party research by Haywood Securities (USA) Inc. Haywood Securities (USA) Inc. is a wholly owned subsidiary of Haywood Securities Inc., registered with the U.S. Securities and Exchange Commission, and is a member of FINRA and the Securities Investor Protection Corporation (SIPC). Haywood Securities (USA) Inc. as a U.S. registered broker-dealer accepts responsibility for this Research Report and its dissemination in the United States. Any U.S. client that wishes further information on any securities discussed in this report or wish to effect a transaction in these securities should contact a qualified salesperson of Haywood Securities (USA) Inc. Haywood Securities Inc. Research Analysts are considered Foreign Research Analysts to the USA and are not registered/qualified as Research Analysts with FINRA. As these analysts are considered Foreign Research Analysts they may not be specifically subject to FINRA (formerly NASD) Rule 2711 and FINRA (formerly NYSE) Rule 472 restrictions on communications with a Subject Company, Public Appearances and trading securities held by a Research Analyst Account.
This report may be distributed in the following states: nil. Otherwise, this report may only be distributed into those states with an institutional buyer state securities registration exemption.
Analyst Certification
We, Mick Carew, Geordie Mark, Colin Healey, Pierre Vaillancourt, and Kerry Smith, hereby certify that the views expressed in this report (which includes the rating assigned to the issuer's shares as well as the analytical substance and tone of the report) accurately reflect my/our personal views about the subject securities and the issuer. No part of my/our compensation was, is, or will be directly or indirectly related to the specific recommendations.
Important Disclosures
Of the companies included in the report the following Important Disclosures apply:
* n/a
Other material conflict of interest of the research analyst of which the research analyst or member knows or has reason to know at the time of publication or at the time of public appearance:
* n/a