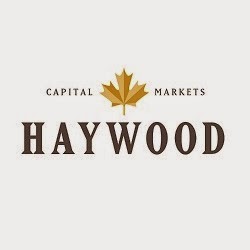 Mick Carew, PhD, mcarew@haywood.com
and The Haywood Mining Team
Gold Falls to 16 Month Low as July Marks the Fourth Consecutive Month of Declines
Highlights:
Precious Metals: As the U.S. Dollar Index (DXY) continues to hover around its 52 week high, on Friday morning gold fell to US$1,204 per ounce and hit a new 16 month low. However, coinciding with the release of the Labor Department's July job numbers that showed a lower than expected rise in nonfarm payroll of 157k (compared to Bloomberg estimates of 193k), the precious metal appeared to have a slight reprieve before finishing the day at US$1,214 per ounce (down 0.9% for the week). Meanwhile, both silver and platinum also struggled midweek before finishing at US$15.43 (down 0.5%) and US$832 (up 0.1%) per ounce. After a positive start to the week, palladium ended up finished down 1.5% at US$912 per ounce Friday afternoon. It was a tough week for gold mining equities with Detour Gold Corporation. (DGC-T; BUY rating, $15.50 target, up 0.9%) and OceanaGold Corporation (OGC-T; HOLD rating, $4.20 target, up 0.3%) being some of the better performing producers, while Goldquest Mining Corp. (GQC-V; HOLD rating, $0.20 target, up 18%) and Equinox Gold Corp. (EQX-V; BUY rating, $2.80 target, up 9%) were two of the better performing junior exploration companies.
Base Metals: Base Metals were all down this week with LME nickel being the most negatively impacted metal, down -4.6% WoW, followed by LME copper, down -1.7%, while LME Zinc was down -0.2% WoW. The LMEX Index finished the week down -1.48% WoW at 2,988. The S&P Composite Diversified Metals & Mining Industry Index finished the week at 5,754, which was down 488 bps WoW. YTD, metals have had a mixed performance: copper, zinc, and nickel are down -14.4%, -20.6% and up +3.3%, respectively. LME inventories were all down WoW, with LME zinc inventories down -3.6% WoW, followed by nickel and copper inventories, down -1.6% and -1.1%, respectively. The US Dollar Index was up +53.9 bps this week finishing at 95.18, having a minimal impact on base metals prices. In base metals news, disruptions continue to potentially impact supply "…together with Escondida, the Chilean operations under threat of labour action have a capacity of 3Mt per year, or nearly 15% annual global output. Upcoming contract negotiations that could also lead to work stoppages at Chile's Codelco operations include the Andina, El Teniente, Salvador, Ministro Hales and Gaby mines and the Caletones smelter. In addition to Escondida, the workers at Chuquicamata went on strike over a dispute, and on Tuesday, the main union at Chile's Caserones mine rejected a final wage offer." (Source: Mining.com) Unfortunately, these disruptions don't have the impact on the copper price they once did, suggesting that "Dr. Copper" may be presaging challenging economic conditions.
Week Ahead: B2Gold (BTO-T; BUY rating, $5.50) will report Q2/18 financial results pre-market on Wednesday, August 8th, Lucara (LUC-T; BUY rating, $3.20) will report Q2/18 financial and operating results after-market on Wednesday, August 8th, and Mountain Province Diamonds (MPVD-T; BUY rating, $6.30) will report Q2/18 financial results after-market on Wednesday, August 8th.