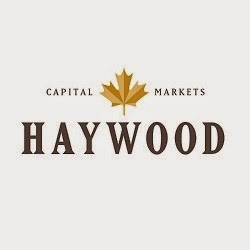 The Weekly Dig - Nov 11, 2017
by Mick Carew, PhD, mcarew@haywood.com, Emma Boggio, MSC, CPA and CA, and The Haywood Mining Team

The Weekly Dig - Uranium Sector in Focus as the World's Largest Uranium Mine Plans to Suspend Operations
Highlights:
• Precious Metals: It was a mixed week for gold as the yellow metal reached 3 week highs on Thursday before taking a sudden plunge late Friday morning as it dropped almost US$10 in 10 minutes. The precious metal finished the week up 0.5% at US$1,276. Silver also dropped on Friday morning before finishing the week at US$16.91. Meanwhile, platinum finished up 0.85% at US$929 and palladium finished down 0.44% at US$997.
• Base Metals: The base metals were mixed week over week, LME zinc had the only gain on the week, up 0.5% WoW, while copper and nickel were down 1.6% and 4.9% WoW, respectively. According to Bloomberg, the decline in nickel was the result of speculation that China's top producer of stainless steel cut its prices. The closing price of nickel on Friday represented the lowest since October 31st, losing all of its November gains. Nickel remains the top performer in the quarter and is up 21.0% YTD, in line with the YTD performance of copper (+22.3% YTD) and zinc (+27.7% YTD). Trafigura places $175M bet on Electric Vehicles (EV) with an investment in nickel and cobalt chemicals plant planned Terrafame, as the commodities trader anticipates surging usage in EV batteries. According to Terrafame, the plant will establish the Company as one of the largest producer of nickel sulphate, a key component in lithium-ion batteries. Trafigura's chief economist, Saad Rahim, expects demand for nickel sulphate will increase by 50% to 3Mt by 2030. He's been headed with a new inhouse working group to look at investments in the renewables space, including solar, wind and battery projects.
• Uranium: Uranium equities rallied this week after Cameco (CCO-T; NR) announced plans to temporarily suspend operations at its flagship McArthur River mine/Key Lake mill, the world's largest uranium mining operation, by the end of January 2018 for a period of 10 months. The news drove the daily uranium price (BAP) above the US$22.00/lb U3O8 level after it had recently tested US$20.00. Our uranium team believes the suspension may last longer than the stated 10 months and that this move could rapidly accelerate the improving supply/demand balance in the uranium market, which has been perennially over-supplied since the Fukushima disaster in 2011. New reactor builds in China and a gradual return to nuclear power by Japan underpin uranium's demand fundamentals, while production cuts from Kazatomprom and Cameco should rectify the oversupply situation and support higher spot prices. Ultimately, this is a highly positive development for uranium equities where a number of deep value opportunities remain.
• The Week Ahead: More Q3/17 financial and operating results are expected including Mountain Province Diamonds Inc. (MPVD – T) after-market close on Monday, followed by Trevali Mining Corporation (TV-T), RNC Minerals (RNX-T), and Roxgold Inc. (ROXG -T) after-market close on Tuesday.
Important Information and Legal Disclaimers
All prices are in C$ unless noted
This report is neither a solicitation for the purchase of securities nor an offer of securities. Our ratings are intended only for clients of Haywood Securities Inc., and those of its wholly owned subsidiary, Haywood Securities (USA) Inc., and such clients are cautioned to consult the respective firm prior to purchasing or selling any security recommended or views contained in this report.
Estimates and projections contained herein, whether or not our own, are based on assumptions that we believe to be reasonable. The information presented, while obtained from sources we believe reliable, is checked but not guaranteed against errors or omissions. Changes in the rates of exchange between currencies may cause the value of your investment to fluctuate. Past performance should not be seen as an indication of future performance. The investments to which this report relates can fluctuate in value and accordingly you are not certain to make a profit on any investment: you could make a loss.
Haywood Securities, or certain of its affiliated companies, may from time to time receive a portion of commissions or other fees derived from the trading or financings conducted by other affiliated companies in the covered security. Haywood analysts are salaried employees who may receive a performance bonus that may be derived, in part, from corporate finance income.
Haywood Securities, Inc., and Haywood Securities (USA) Inc. do have officers in common however, none of those common officers affect or control the ratings given a specific issuer or which issuer will be the subject of Research coverage. In addition, the firm does maintain and enforce written policies and procedures reasonably designed to prevent influence on the activities of affiliated analysts.
Dissemination of Research
Research reports are disseminated either through electronic medium or in printed copy. Clients may access reports on our website, or receive publications directly via email. Haywood strives to ensure all clients receive research in a timely manner and at the same time. It is against our policy for analysts to discuss or circulate their recommendations internally prior to public distribution. This policy applies equally to recommendation changes, target changes and/or forecast revisions.
For Canadian residents: Haywood Securities Inc. is a Canadian registered broker-dealer and a member of the Investment Industry Regulatory Organization of Canada, the Toronto Stock Exchange, the Toronto Venture Exchange and the Canadian Investor Protection Fund and accepts responsibility for the dissemination of this report. Any Canadian client that wishes further information on any securities discussed in this report should contact a qualified salesperson of Haywood Securities Inc.
For U.S. residents: This investment research is distributed in the United States, as third party research by Haywood Securities (USA) Inc. Haywood Securities (USA) Inc. is a wholly owned subsidiary of Haywood Securities Inc., registered with the U.S. Securities and Exchange Commission, and is a member of FINRA and the Securities Investor Protection Corporation (SIPC). Haywood Securities (USA) Inc. as a U.S. registered broker-dealer accepts responsibility for this Research Report and its dissemination in the United States. Any U.S. client that wishes further information on any securities discussed in this report or wish to effect a transaction in these securities should contact a qualified salesperson of Haywood Securities (USA) Inc. Haywood Securities Inc. Research Analysts are considered Foreign Research Analysts to the USA and are not registered/qualified as Research Analysts with FINRA. As these analysts are considered Foreign Research Analysts they may not be specifically subject to FINRA (formerly NASD) Rule 2711 and FINRA (formerly NYSE) Rule 472 restrictions on communications with a Subject Company, Public Appearances and trading securities held by a Research Analyst Account.
This report may be distributed in the following states: nil. Otherwise, this report may only be distributed into those states with an institutional buyer state securities registration exemption.
Analyst Certification
We, Mick Carew, Geordie Mark, Colin Healey, Pierre Vaillancourt, and Kerry Smith, hereby certify that the views expressed in this report (which includes the rating assigned to the issuer's shares as well as the analytical substance and tone of the report) accurately reflect my/our personal views about the subject securities and the issuer. No part of my/our compensation was, is, or will be directly or indirectly related to the specific recommendations.
Important Disclosures
Of the companies included in the report the following Important Disclosures apply:
* n/a
Other material conflict of interest of the research analyst of which the research analyst or member knows or has reason to know at the time of publication or at the time of public appearance:
* n/a