What happened? An epic year for Northern Vertex.
Northern Vertex (TSXV:NEE) made significant progress on meaningful goals in 2017. The list of accomplishments for the year shows great planning from management.
CEO Ken Berry writes of "a sense of urgency and focus" that is particularly important as the company goes into production. The transition into production is a huge risk-reward setup for a junior miner, offering even greater stakes than discovery itself as per the Lassonde Curve. The company has a great slide on this in their presentation deck and I snapped the picture of it below at the Metals Investor Forum in September, 2017.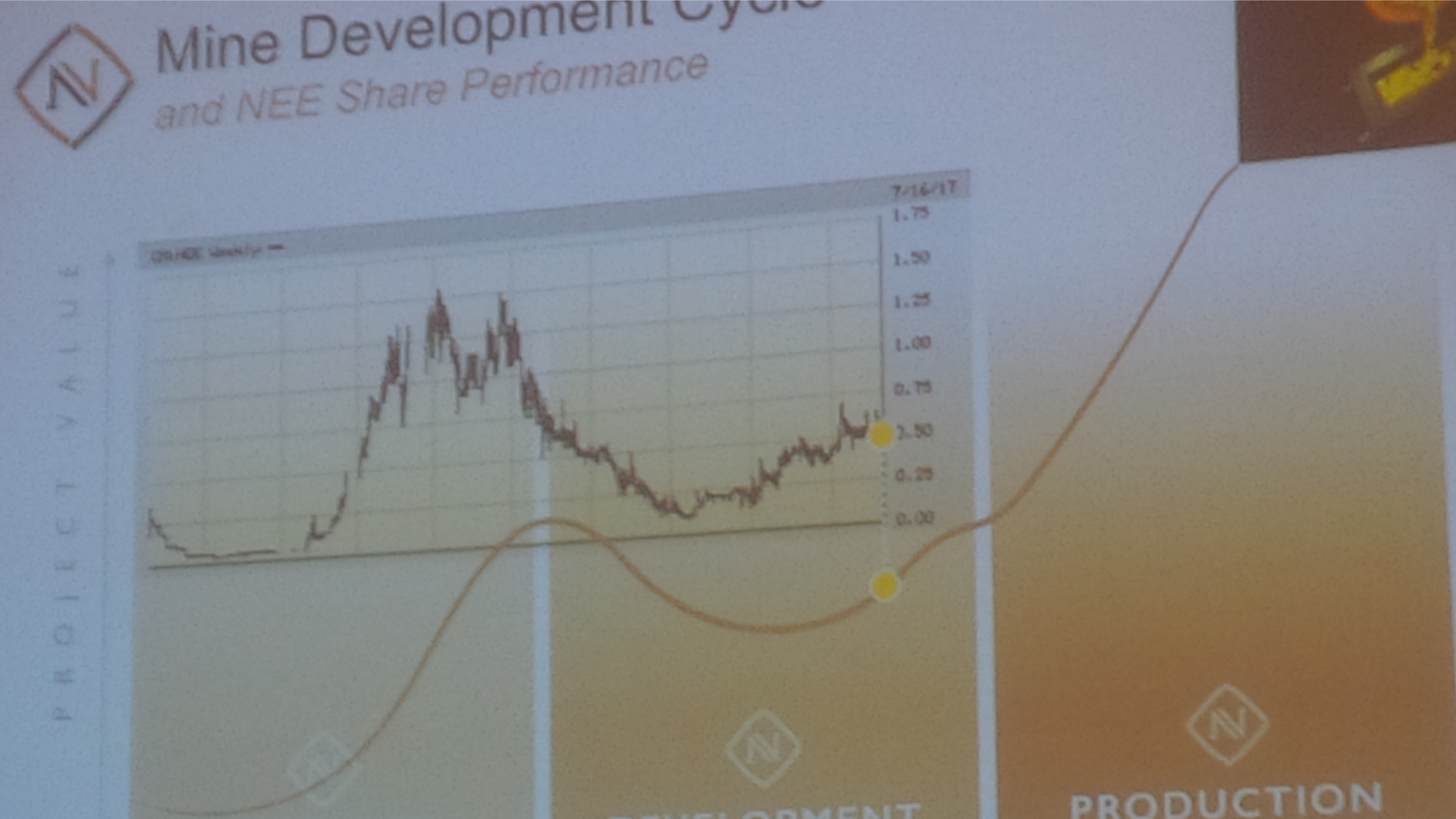 The primary goal for Northern Vertex is pretty simple: get the Moss Mine going. They didn't get into production in Q4, but did complete mechanical assembly of key assets and start commissioning. What's more, the work site is safe and they have added high-quality professionals to their operations team.
They've also added high-profile advisors who have a proprietary database on the Oatman District dating back to the 1970s. Their mandate for a meaningful exploration program to be funded from production shows that management have a good handle on things going forward.
So what? Foundation for next phase of growth.
Speculators often stay away from juniors that are bringing something into production, but I would point out that Northern Vertex has actually put the Moss Mine into production before! Their Phase 1 pilot mining program produced approximately 4,000 ounces gold and 20,000 ounces silver in 2012/2013.
They used contractors for mining, crushing, and leaching in Phase 1, but still turned a profit. Since then, they have decommissioned the heaps and ponds and re-purposed them for Phase 2. The fact that the company successfully took the Moss Mine through development into decommissioning is a good sign for what is to come at the Moss Mine in Phases 2 and 3.
What next? Build, build, build!
The first gold and silver doré is scheduled to be poured in Q1. This is probably the most important single thing for the public perception of the company at this point in time, but I think it's more important to focus on their momentum. Recovery from the heap leach takes time, but when it gets dialed the gold and silver production should be sweet.
The company has a high degree of confidence about the Moss Mine deposit and that allows them to optimize the mine plan relative to the Feasibility Study. After learning about "Money Mining" from Gerald Whittle, I think that exceeding expectations in this way is possible and essential for a company like Northern Vertex to differentiate itself among the new class of gold producers globally.
Little things like selling waste rock as aggregate and installing an electrical power line can really help financial performance. What's more -- they can position the company as a good "corporate citizen". With the rich history of mining in the Oatman area, there is a great opportunity for the company to run with some of Rick Rule's ideas for Corporate Social Opportunity.
The new PEA Northern Vertex published in November shows they have ounces in the ground at the Moss Vein to produce for the next decade. It is a simple operation that can provide a solid foundation from which they can add more years of production at Moss with similar deposits nearby or go after "Game Changing" exploration targets. Watch for more information on their plans to aggressively pursue US consolidation and initiate a district-wide exploration program targeting +1 million ounces of gold!