I recently had the pleasure to connect with Mr. Claudio Ciavarella, CEO of Kerr Mines, and Martin Kostuik, President, to talk about the company. This was my first introduction to the company and I was glad to get the story at this time, as Claudio told me that this is one of the first interviews he has done as CEO of the company. I look forward to following their progress for years to come.
The transcript contains forward-looking statements and is provided for general information about the company. I hold shares in the company, but was not compensated to prepare or disseminate this material.
Kerr Mines (TSX:KER) is a junior gold miner focused on the historical Copperstone Mine in Arizona. The company has 190M shares outstanding with a market cap of approximately $36M. The company had $2.1M in cash as of December 31, 2016, and has $9.5M in debt. You can find more information on the company's website here.
PB: Hello Claudio, very nice to be talking with you. I'm afraid I am not familiar with your background, please can you let me know a bit about yourself?
CC: Sure, thanks Peter. I have been involved in Kerr Mines for quite some time as an investor and recently took on the role of CEO. I helped finance the company when it was primarily focused on a group of properties in Northern Ontario.
CC: I am the second-largest shareholder of Kerr Mines, owning 26M shares or 14% of the company. Our Chairman, Mr. Fahad Al Tamimi, is the largest shareholder. Together, he and I own 100% of the debt of the company. We acquired those debts as part of a restructuring plan we implemented in 2016 after acquiring the Copperstone Mine from American Bonanza in 2014. The debt is now held in friendly hands and our interests are aligned with shareholders.
PB: I would like to ask about that, as it is reasonable to want to have the debt in friendly hands. How did that come about?
CC: Prior to being named Kerr Mines, this company was called Armistice Resources and was focused on several properties in Northern Ontario. The primary assets were the McGarry property in Virginiatown and the historical Kerr-Addison property. The company had other assets in the region in 2012, such as Bear Lake. In 2014, we were contacted by the holders of a gold-loan issued by American Bonanza that was associated with the Coppertsone project at the time. The holders of these loans wanted us to have a look at Coppertsone as American Bonanza had run into some significant struggles there and wanted us to consider taking the project.
PB: OK, so these debts trace back to American Bonanza.
CC: Yes, some of them trace back to the original Kerr Mines from Northern Ontario as well.
CC: After we acquired the property in 2014, it went onto care and maintenance. That was not a good period for gold projects, as you well know. In the beginning of 2016, our advisors were actually telling us to consider putting it into bankruptcy. We had security on the assets, so it would have been possible to take control of the asset that way. We did not heed that advice.
CC: My professional background is in private business and I have never had to do that to succeed. Our Chairman has a wide network of highly successful businesses that he has built over the year and he was strongly opposed to moving the company into bankruptcy to seize control of the Copperstone project. So, we ignored our advisors and decided to rebuild this company. The first step in rebuilding it was to take control of all the debt in the company so that we could not be pressured by someone else on our commitment to this plan.
CC: To get the debt into friendly hands, we invested more of our own capital into the company and divested non-core assets to provide some working capital. We also met with creditors to resolve their issues. We were very committed to doing the restructuring in a way that allowed us to keep this asset, which we like very much.
PB: Well, that is not a story that I encounter very often.
CC: It is unique, but I think it was the right thing to do. We are going to work our butts off to make sure that everyone who is involved with us succeeds.
PB: This background emphasizes the problems that can come from debt financing, which seems to be one of the big issues of our times. Junior mining companies generally use equity financing, which can dilute existing shareholders but doesn't bring things to a point where the company is facing bankruptcy.
CC: Correct.
PB: OK. So, American Bonanza stopped production in 2013. What was the timeline for them prior to that?
CC: According to my records, they acquired the project in 2004 and put it into production in 2012. They only operated for roughly 10 months.
CC: As I said, that was a tough time to be advancing a gold project. The challenges that they faced stemmed from the gold-loan, which effectively had a very high interest rate. The pressures management faced probably created a sub-optimal environment for them to move the project forward. In the end, they just couldn't make a go of it and we were brought in to review things. When we looked at the Copperstone asset, it was clear to us what went wrong and we saw the significant upside. Not only in the existing resource that is currently there, but in the whole project and land package.
PB: I didn't see mention of this gold-loan in my research. What was going on there?
CC: When we took the American Bonanza project on, the gold loan was resolved and the holders of the gold-loan had been converted into equity. One partner in the gold-loan had a small piece that he did not want to convert into equity, so we converted it into a regular debt instrument and ultimately ended up taking over that debt instrument.
PB: These creative financing methods can look pretty good on paper and can work well if you are in the right phase of the market cycle right, but they can be problematic as well. Do we have a sense for the dollar amounts associated with the debts you have taken on so far?
CC: The company has $9.5M in debt and that is primarily held by our Chairman and myself.
PB: And you mentioned your prior experience in private business. Is this the first time that you have served as a CEO in the gold space?
CC: It is. Since 2016, when we took the project off the shelf, I was instrumental in leading the charge in terms of the restructuring and debt settlement. We knew that we needed to hire a CEO and a lot of the Directors suggested that I could do it, based on my experience building businesses. I am a professional accountant and have built successful businesses in construction, manufacturing, and real estate, which are fairly diverse businesses. I have developed a broad set of skills in business management, so I am able to take on this role as CEO for Kerr Mines.
CC: Once we decided that I would serve as CEO, the goal was to build a good technical team around me. There is a quote often attributed to Henry Ford that he didn't know how to build cars but did know how to build a team around him. My thinking on this is similar. My goal is to build a team around me that knows how to do what needs to get done to be successful.
CC: About a month ago, I hired Martin Kostuik as President. He is on the call with me here today and is happy to talk with you, Peter. Martin has good experience in mining and has recently hired a geologist to lead the exploration side of our project.
PB: Thanks, Claudio. I have heard it said that operating a mine is very much like a construction project, so it is interesting to hear that you have experience there.
CC: I have been on enough construction projects in my life to know how to get things done in those settings. I also have experience in the boardroom. I am confident I can build a team that will add significant value to this company. I can't tell you the difference between one rock and another, but I have a highly successful business in the wood industry and I couldn't necessarily tell you what some of the different woods look like either.
PB: And I feel like being in America helps in that regard, as well. It seems to help allow you to provide that corporate leadership role knowing that your project is in the USA.
CC: Absolutely. We are located in Arizona, which is a great jurisdiction for mining. We have a great relationship with the Bureau of Land Management, who oversee our project, and have found that they are great to work with. They want to see Copperstone get going again.
CC: We are fully permitted in Arizona, which is a great strategic advantage that may help us accelerate our timeline. We have a huge infrastructure at the Copperstone site because this was an operating mine in the past. There is a substantial amount of sunk capital there and our shareholders stand to benefit from the value of that going forward.
PB: Great, thanks Claudio. If I can shift gears and say hello to Martin. Hello Martin, how are you?
MK: Hi Peter, I am doing well. Thank you.
PB: I'm afraid I haven't met you before either, but I see that you have prior experience with Luna Gold and Rupert Resources.
MK: Yes, that's right. I have been in mining my whole life. I started my career after university. I am a mining engineer and I have an MBA. I actually started my career at the Goldstrike Mine in Nevada, so it is good to be back in the Southwest now.
MK: I established a good base of experience on the technical side of open-pit and underground mines as an engineer, and then moved on operations management. Recently, I have gotten into the corporate side of things. I was first over the mine at the Gilbraltar mine in north-central BC, which is a copper mine owned by Taseko. That was a few years ago, now. After that, I moved from the operational side into the corporate side of things as the President and CEO of Rupert Resources. I moved Rupert from Vancouver to Toronto and it is still an active junior mining company. I stopped being a Director for them at the end of last year, but they are doing well. They are in the process of putting a gold mine into production in Finland.
MK: More recently, I was with Luna Gold. Myself and my partner Marc Leduc took over operations of that company at the end of 2014, which was a difficult time when the mine had to be shut down to save the company. We managed to put the company back on its feet, fiscally, and spent the next 22 months laying the ground work for putting it back into production. My role at that company was essentially to manage everything in Brazil and develop the plans to put the asset back into production, which is not unlike what I am doing with the Copperstone Mine for Kerr Mines.
MK: At Copperstone, we have a former-producing asset that has a significant amount of sunk capital that we can employ when the time comes to put it back into production. However, we have to do the work to make the best plan to get it back into production. That's our primary focus right now.
PB: Amazing to hear your experience from Goldstrike in the Carlin trend to the greenstone stuff in northern Brazil.
PB: In passing, I would like to ask if there is a geological relationship between the deposits in Nevada and Arizona?
MK: I don't know that anyone has been able to correlate the Carlin Trend with the Walker Belt, in particular. They are similar in a lot of ways, but are also different in important ways. The Walker Trend is its own system, from what I understand.
MK: The Copperstone deposit, in particular, is described as a detachment fault system that has repeating epithermal structures that carry the gold but are intersected at right angles by thrust faults that also carry mineralization. There might be some systems like that in Nevada, which I am not aware of, but what we are seeing in our area is repeated in several areas along the Walker Belt.
PB: I found a report from the Arizona Geological Survey that compared the salinity and the temperature of the fluids at Copperstone and noted that it is in-between the porphyries and the epithermal deposits in some sense. I'm not a geologist but it led me to wonder if there is a good geological model for Copperstone or if it is somewhat unique.
MK: I have not read that report, but my understanding is that there are some similarities between Copperstone and other epithermal deposits. At the end of the day, I think it depends on which geologist you are talking to.
PB: I find it a bit puzzling that these things would not be settled, given that it is such a prolific area.
MK: Well, it's not an exact science. The proper definition of the systems and an understanding of the geology, the lithology, and the structural controls are important to understand something that you may even consider calling an orebody.
PB: With the precedence of deposits that have been put into production in the Walker Lane, do you have a sense for analogies or lessons you could pull out from other mines nearby?
MK: I have not compared Copperstone to other nearby deposits in depth, but I have talked to geologists that understand it and they say it is very similar.
PB: It was the first time I had heard of these detached fault systems.
MK: Well, there hasn't been that much mining along that trend. All of the focus since the early to mid-1980s has been in the Carlin Trend. I feel lucky that we have stumbled upon this property because I think it is going to put the Walker Lane trend back on the map.
PB: It is exciting to find these big areas with that kind of potential. Sometimes it becomes a matter of reinterpreting a deposit, but I don't think that is necessary in this case.
MK: Yes, I agree with you on that. With the history of mining, the known deposits, and the prior exploration work done at Copperstone we have a good handle on what it will take to move this project forward.
PB: That cross section from the presentation deck told a good story in that regard. The way the deposit that was mined at Copperstone started at surface and dipped at a 30-degree angle made me think it had been simply created to be mined as an open-pit operation.
MK: That's an interesting way to put it, Peter. And now that we have this gigantic hole in the earth, why not continue down underground? It makes sense to go from open-pit to underground. And we are only scratching the surface of the potential here because of these parallel zones that we are starting to identify with drill results. The potential for parallel zones fits with the geological theory of the detachment fault systems and I believe further drilling will confirm that we do have these zones. We won't know if they are they all ore bodies until we drill them but they are certainly there.
PB: Oh, wow. I'm afraid I missed that there are parallel structures at Copperstone!
MK: There are at least 2 that we know of to the South West in the footwall of the deposit. There are also drill results to the North West that would indicate there are parallel zones on that side as well.
PB: I was impressed when I first read that these mineralized zones at the faults were tens of feet thick but hearing that there are multiples parallel zones is even more interesting.
MK: They are showing the same sort of geometry, widths, and grades as we saw in the Copperstone fault. The preliminary results are very encouraging.
PB: Well, it must be exciting for you to be getting in there to do the exploration work. I saw the news that the de-watering had been completed, what exactly was de-watered?
CC: I can speak to this, Martin.
CC: After we acquired the project in 2014, we did only a few things in 2015. We drilled some holes from the open-pit to test the Lower Parallel Zone, which is one of these parallel zones that Martin was just speaking about. We also drilled it from the historical underground development at the D Zone. We re-mapped the walls and verified grades. After we put it into care and maintenance, we allowed the underground workings to flood as they are underneath the water table. After we completed the restructuring process, we hired a contractor in fall 2016 to dewater the workings and rehabilitate them so that we can use them for underground exploration and definition-drilling of the ore body. The majority of the workings have all been de-watered to the point where we can use them for our planned work.
PB: So, let me back up and review the history of this mine. It was first operated as an open-pit in the late 80s, right?
CC: Yes, Cyprus Amax mined it as an open-pit between 1987 and 1992, I believe. That is when they produced half a million ounces of gold. They produced approximately 4,700 ounces per vertical meter, which is an outstanding result. Their open-pit ended at the water table, which is what they were permitted for, and that is when they stopped. Then, the mine went into an underground operation with a ramp under American Bonanza in the 2000s, as we discussed before.
PB: OK, thanks. Did the open-pit take material from each of the zones you are looking at for underground development now?
CC: The open pit absolutely removed material from the same zones we are exploring and have a resource in. The open pit simply mined the up-dip extension of these zones. In fact, the open pit mined areas wider than the simple up dip extension of the same zones that define the current resource – these areas that brought the pit to be wider were driven by parallel zones of mineralization that were encountered.
PB: With American Bonanza being in production for only 10 months, do you have a sense for how much time they spent in development?
MK: I assume they did most of their pre-production development before they fired up. They had two ramps going into the underground area of ore. They started producing soon after completing pre-production work, I believe, and then their production actually served to provide their additional development work, if that makes sense.
PB: Does that have something to do with the mining method they were using?
MK: Yes, they were using a drift-and-fill.
PB: And how does that fit with the fact that the ore body is fairly flat and continuous?
MK: Without being there, it is hard to understand what they were doing and why they were doing it. You can go underground, see the work they were doing, and put together some theories as to what they were trying to do, but I think they were under a very difficult set of circumstances that may have forced them to go into production sooner than they should have. Once you get into that, it is very hard to get out from under. They operated for 10 months, ran out of money, and had to shut it down.
PB: Interesting. That gives you a chance to pick up where they left off.
MK: We are trying to understand what happened so that we don't make the same mistakes. We feel that we understand enough about it, but our focus is really on looking forward and making new plans.
PB: Do you have a fairly comprehensive dataset from them in terms of mapping and grades?
MK: We do. We continue to organize that information, using the information we can and archiving the stuff we can't use at this point.
PB: I would imagine that all of the American Bonanza data is digital.
MK: Yes, it is generally digital. There is also some data from the Cypress days that isn't digital. For the most part, the data is fairly modernized and use-able.
PB: With the de-watering that is complete, did I hear mention of you guys getting underground to do some exploration drilling?
MK: What we are looking for in our 2017 program is to define and expand the current resources across the entire property, as well as strengthen the economics leading to a production decision. We see a lot of value for shareholders here. We are going to implement that through two options. We have an underground existing resource and surface exploration targets. With regards to the underground, the whole ore body is open on strike and down dip. It is also open through undefined gap zones.
MK: The ore body is located beneath the open-pit and it is identified as four zones, A, B, C, and D. In between each of the zones, there are areas that have never been drilled. Those were never drilled primarily because of their location with regards to the high pit wall. Previous management decided not to drill from surface because that would mean drilling through 700 feet to get to the deposit. Instead, they deferred the drilling until such time underground access was established. All the other drilling was done from inside the pit. They started at the pit and drilled it down into the ore body. They weren't able to access the areas that we are looking at now and that gives us a good opportunity to explore the upside of the resources in the gaps and the down-dip extension.
PB: When American Bonanza was drilling from the base of the pit, they stayed away from the steep side of the pit to avoid disturbing things. What is it that's going to allow you to drill in the gaps?
CC: It is the ability to come off the underground workings that are already in-place and create an exploration drift. With that drift, we will be able to drill into the A, B, and C zones from underground. It will allow us to do definition-drilling as well as exploration drilling for these areas.
PB: With the continuity of the ore body that was mined, the potential for filling-in those gaps makes a lot of sense to me.
CC: Absolutely. There is no reason to believe that these areas won't have ore. Just because an area wasn't drilled doesn't mean it doesn't have ore. It is reasonable to expect that the mineralization will carry on.
PB: Looking at the image of the underground workings on slide 7, are the black lines indicating historical developments and green ones indicating your proposed developments?
CC: Yes, that's right. You can see that a green line comes off the black and that will be the way we open up the A, B, and C zones by coming off the historical workings. We are going to be able to get into those zones and drill into those gaps.
PB: Thank you, that ties it all together for me. And I wonder about the timeline for that additional underground development?
CC: Our plans are to start with the exploration and definition phases. We are targeting to start that work in July. The objective over the next few months is to do the exploration drilling underground and at the surface targets, update the resource models, and prepare an optimized mine plan which will lead to a Pre-Feasibility Study for Q1 2018. From that basis, we look to make our production decision.
PB: With the dewatering that has been accomplished so far, do we have a sense for how long that took?
CC: We first announced that it was beginning in October 2016 and recently announced it had been completed in March 2017.
MK: Peter, the water situation is perfect right now at the site. I don't expect it to change, either, because there is no precipitation. We are in one of the hottest and driest place in the USA, so the groundwater is pretty steady. I think we are pumping around 300 gallons per minute just to keep the water at the level where it is now. That is the perfect situation for us.
MK: If you want to drive the water table down further, then you have to increase your pumping rate but once you get it to the level you want it will be 300 gallons per minute again. That is the perfect amount that we need to feed our mill and all of our water use around the site. It is not so dry that we don't have water and not so wet that it becomes a difficult issue.
PB: I would imagine that is not always the case in the area.
MK: One of the big challenges for mines is not having enough water or having too much.
PB: To hear you say PFS in Q1 2018, that is a pretty aggressive timeline for things.
MK: Yes, it is.
PB: I see mention of a 10,000-meter drill program for the surface exploration.
CC: Yes, we have three key targets that we have identified and are excited to start drilling. All three of these targets can be drilled from surface, as well. All three of the targets have had previous successful drilling with good intercepts.
CC: One of the zones that we are working on is called the South Target, which appears to be an extension of the existing ore body. It can actually be accessed through the south end of the open-pit. We can drive an adit into it and access it underground when the time comes. It currently has an inferred resource of 132,000 ounces of gold at 12 g/t. It is something that needs to be followed up on with some drilling.
CC: The second exploration target that we have, which I really like, is called the Lower Parallel Plate. Approximately 500 feet to the west of the existing ore body, we have what we believe is a zone of mineralization that is parallel to the ore that was mined from the open-pit at Copperstone. Previous drill results going back to Cypress Amax identified the area. Prior to us putting the project into care and maintenance, we drilled three holes into the area and all three were successful in finding what we were looking for in terms of grade, location, and widths. That provided strong indication that we have this parallel zone.
CC: What I like about these two locations is accessibility. As I mentioned, the South Target is accessible through the open-pit and this Lower Parallel Plate is actually accessible through the underground workings that American Bonanza put in. Through the west decline they put in, we can spin around and come right into this ore body.
CC: What these two things allow us to do, in addition to the expansion of the existing ore body that we are planning to drill, is that we can adding ounces to our resources with these two zones. It gives us the opportunity to increase mine life because of their accessibility and proximity to existing infrastructure. It also gives us an opportunity for much larger growth potential in terms of production over the long-run.
PB: And it is right there.
CC: Yes, it is. Our third exploration target is called the South West Target. It looks very promising, but it is 2,800 feet away. That is not particularly far away, but it is further than the other two targets I described. We expect to allocate 80% of our surface drilling efforts to the South Target and the Lower Parallel Plate, and 20% to the South West Target. We want to prioritize the areas at the open-pit, but we also want to get into that other one.
PB: Great. That South West Target isn't that far away. It looks like it is just on the other side of the tailings.
CC: That is correct. There have been good drilling results there before and we want to go see what opportunity may exist there. It may provide a substantial growth opportunity for the future. The targets are relatively close to surface and could potentially become a small open-pit mine. There are a lot of options there that we have to explore. Nothing is set in stone because we want to evaluate these things in more depth and make the best choices for our shareholders.
PB: There is the strategic challenge between how you make progress quickly and how you balance things out to cover all the opportunities you have.
CC: You have to be able to prioritize. You always want to allocate your resources to get the most out of them. I look at it as trying to build a business here. We have financial resources and we want to use them most effectively.
PB: And I've heard you describe it a bit, but I will ask again. What are your priorities for the three exploration areas?
CC: The South Target and the Parallel Zone are definitely our priority. As I said, 80% of our drilling will go to those two zones and 20% will go to the South West Target. As we are in the process of doing our exploration and definition-drilling underground that will lead to the mine planning, we want to think creatively about how we are able to tie all these things together over the long run.
PB: Looking at the maps of the drill holes slide 8 and 9, showing KER 15-04 and 15-03, it seems to me that those holes are on the right side of the pit -- the less steep side.
CC: They were drilled from the middle of the pit into it. Based on the drilling that was there when we laid that drill program to test that system, we felt it would be a good way to test the areas of the Lower Parallel Plate. They hit the right type of material in the right areas and that was pretty exciting for us. Based on the markets, we decided to pause the exploration efforts and wait it out.
PB: I don't imagine that was an easy decision.
CC: Sometimes you have to do what you have to do. Sometimes there are tough decisions to be made. As we talked about earlier, a key factor in the junior mining space is balancing everything off and doing things at the right time. I think we made the right decision there.
PB: Well, surviving is worth a lot.
CC: That's right. We wanted to get through it, we made it through, and now we are ready to go make things happen.
PB: And the permits you mentioned, where do those trace back to?
CC: We assumed them from American Bonanza when we took them over. All of the permits are in place and active. We are fully permitted.
PB: And you mentioned earlier that the open-pit mining permits only allowed them to go down to the water table. Do you know have permits to go below that?
CC: Yes.
PB: And a random thing -- is there any sense of looking at those tailings?
MK: Yes, Peter, we are definitely going to look at that. There are all kinds of opportunities to benefit from things associated with past activities like that. We have not done it yet, but it is certainly on the table. We will consider going and properly sampling that tailings pond to see if there is something of potential value for us there.
PB: The grades are generally much higher than what I expected coming in. The fact that it is gold-primary and you're not seeing copper or silver intrigues me.
MK: There is no economic silver, but there is up to 0.5% copper in the ore body. It is not consistent throughout and we are still trying to determine if it is a direct correlation or not. There are some copper values in the host rock. We are going to look at how we can exploit the copper that is present and there may be potential to get a credit from the copper to reduce our costs per ounce of gold.
PB: And that copper may be particularly concentrated in the tailings.
MK: That's right.
PB: In my reading on Copperstone, I gathered that it was Miocene/Jurassic age rocks. Fairly young, couple of hundred million years old at the most.
CC: Well, that's beyond me.
PB: And I guess that geology is somewhat moot since it is not really exploration work at this point.
MK: You're right, Peter. There have been a lot of geologists who have looked at the property over the years, particularly with American Bonanza recently. There is a very good understanding of the geology at Copperstone and our goal is to increase that. Let's delve into some of the structural controls for the ore body beyond the faulting: Are there other things to look at to better understand how the gold is deposited along these faulted areas? Or, are there indicator minerals that could help us to follow the gold? Let's get a better understanding of these things. There is a lot of understanding there but, as with any geology project, there is always more to learn.
PB: But it's not a science project, is it?
MK: No, it's not. That's probably the reason why Claudio brought me in rather than a geologist. Let's figure it out, wrap some economics around it, and make a decision. If that decision is to put it into production then let's go ahead and do that.
PB: Good choice, Claudio!
CC: Thank you, Peter.
PB: What you're describing, Martin, fits with my impression that Copperstone was a high-quality operations. 500,000 ounces of gold over six years is a fair amount of production.
CC: It is a great property. When we were introduced to it, we were blown away. We think we hit a home-run picking up this project. We were quite fortunate to be brought in when we were. The members of our team who went down there at first were gung-ho about the opportunities here from the beginning and our excitement has only grown since then.
PB: The wreckage of a bear market does leave some opportunities, doesn't it?
CC: Absolutely. And if you are fortunate enough to get involved in one, which we were, then it can yield substantial returns as we move forward.
PB: Any comments on your recent financings, or lack thereof?
CC: We have primarily monetized our non-core assets. We are contemplating moving forward with an equity raise to implement our strategy. We have a tremendous amount of support for what we have from existing shareholders and are confident that we can find new ones to invest with us.
PB: I saw mention of some royalties that look like they trace way back, mentioning $500 gold prices.
CC: There are royalties on the project. That was another thing we cleaned up when we started the restructuring process. The royalty is held by the Patch Family Trust. Initially, they had a 6% royalty on the property. As part of our restructuring activities, our Chairman acquired 4.5% of it from them. There were concerns that we would go through this process cleaning up the company and injecting more of our own money, and then they would sell off the royalty to someone else. We did not want that to happen, so we acquired it. We control it and can do whatever we want with it afterwards. That was an important move to make for the company.
PB: That echoes what you said about the debt, as well.
CC: There is no point of going through that whole process just to be handcuffed down the road.
PB: Those cherries on top can be picked away and wrestling it back is prudent.
CC: Our concern was that the holders of the royalty could have sold it to one of the royalty companies. We believe it would have been much harder to get back at that time.
PB: Good work.
CC: It was another strong action by the Chairman. He really stepped up for the company in acquiring that royalty.
PB: Well, you've both been stepping up quite a lot with the debt and the equity. You have substantial stakes in the company.
CC: Yes, we have a good chunk of the company and that's why we didn't tip it over. We want all the shareholders to succeed. I always tell people the debt is a non-issue. I own 14% of the company and I am not going to make money off the debt. I want the shareholders to succeed. As CEO, I will try to create value by executing on our strategic plan and that is how we will all succeed.
PB: That is the kind of subtle information that I try to get at in interviews like these, so thank you for that Claudio.
CC: It's my pleasure, Peter. The debt is not going to hurt the company at this point. If it was ever going to hurt it, it would have happened before we restructured it. We could have just taken the asset, but we said absolutely not. We wouldn't have put more money into this company if we just wanted to impair the company. If the debt was ever going to hurt the company, then it was going to hurt it in 2016.
PB: If you made it through the start of 2016, that was a rough time.
CC: Absolutely. We persevered and now we are ready to rock and roll.
PB: I see Eric Sprott listed as a shareholder with just under 10%. What's the timeline on him getting involved?
CC: I believe it goes back to before my time, when the company was called Armistice and focused on Northern Ontario. I believe he was involved on the Kerr side of things rather than with American Bonanza.
PB: And he hasn't been diluted down.
CC: He has been supportive and maintained his position. He is another great partner.
PB: Looking briefly at the peer group comparison. It looks like a fair comparison with others waiting in the wings to go into production.
CC: We classify ourselves as being in the middle of exploration and development. I see a lot of value potential for shareholders and people looking at our company right now. We have a relatively low valuation because we have kept this company under wraps. I haven't gone out and talked to a lot of people. This is actually the first interview I've done, Peter!
CC: It's really over the course of the last few weeks that I've been out telling the story. Our value probably reflects the fact that not a lot of people know the story. Once people get to know the story, as you have, I think the lights will come on.
PB: Thanks, Claudio. I appreciate the opportunity to talk with you about it. It seems that keeping a low profile is the key to survival when things are bad out there.
CC: Absolutely. And with regards to our peer group, there are companies with valuations way ahead of ours but whose projects are much less developed than ours. It's going to take a bit of patience and some hard work, but we look forward to getting a better reception in the public markets.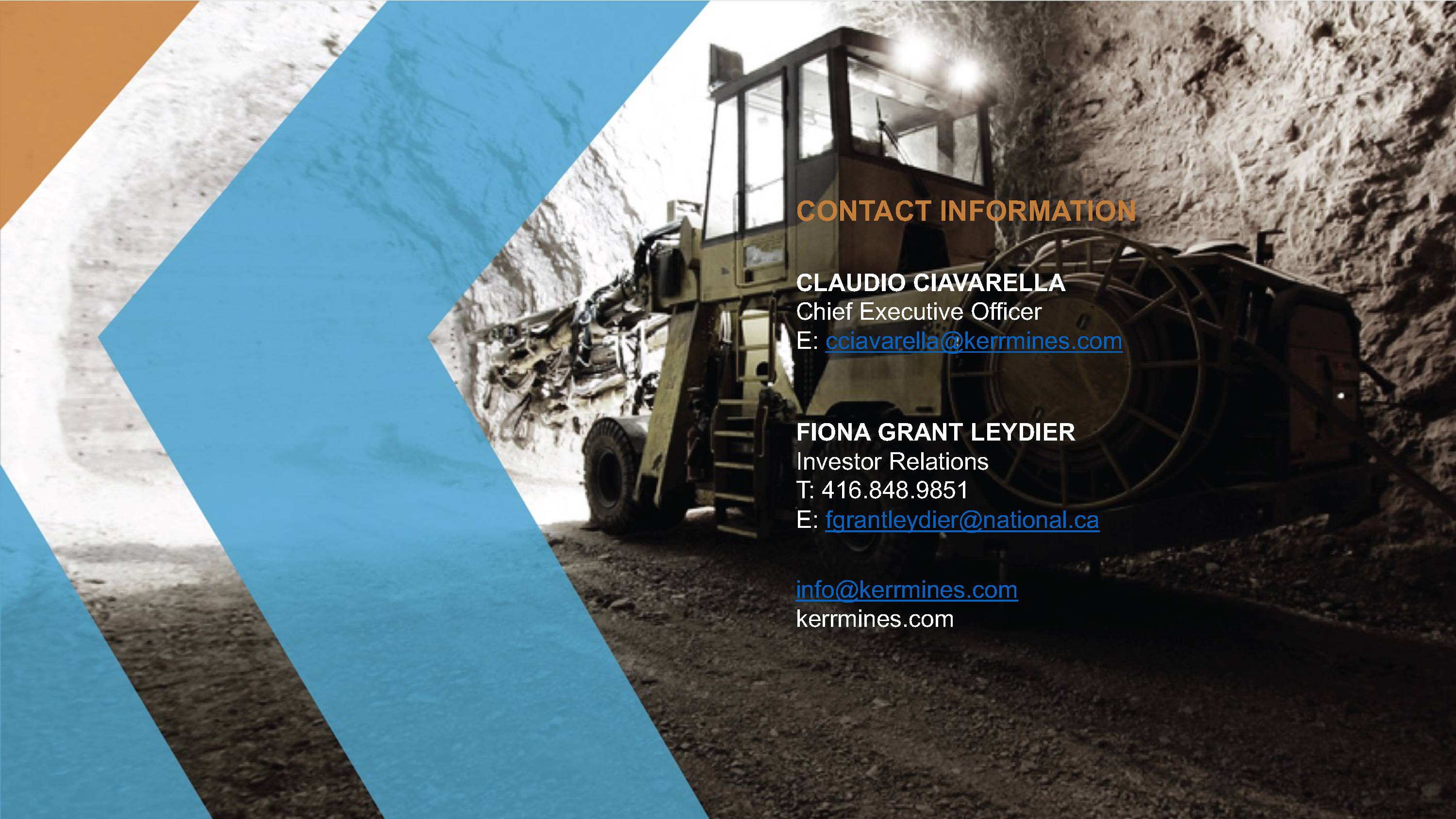 PB: Well, thank you very much for walking me through it all Claudio.
CC: Thank you, Peter. Great to talk to you.
PB: And thank you, too, Martin. I think there is much more for us to talk about!
MT: Great, thanks Peter. I look forward to it.