Following on my first impressions on the proposed acquisition of Orex Exploration (TSXV:OX) by Anaconda Mining (TSX:ANX) and my discussion of the proposed acquisition price, it is my pleasure to present a third article on the potential synergies in the deal. Back in 2014, Orex released a PEA for the Goldboro Project that is helpful for gaining some insight into how the two companies may fit together.

I am particularly interested in situations where the Goldboro Mine can be restarted at a smaller scale than proposed in the PEA because Mr. Angelo, CEO of Anaconda, told me in our first interview that Anaconda currently has capacity to process some additional higher grade material in the "back end" of it's Pine Cove mill.
Can Anaconda restart the Goldboro mine in a way that fills the spare capacity at their Pine Cove mill with minimal capital expenditures? Could ore from Goldboro displace some of the feed at the front of the end of the mill from the Pine Cove Mine, itself?
Anaconda and Orex stand to secure a big win by increasing near-term production for relatively low cap-ex and securing a long-term source of ore by combining the Goldboro Project and the Pine Cove Mine.

Check out this quote from the Orex PEA that identifies the major expenditures required to restart the Goldboro Project:
"Major items include the mill and tailings pond, maintenance and warehouse facilities, offices, a laboratory, and camp facilities" (pg. 140).
The good news is that Anaconda already has several of these things at the Pine Cove Mine. Anaconda has a lab, an automated mill, and a large amount of spare capacity at their tailings site due to their waste rock sales program. In other words, the major expenditures required to restart Goldboro overlap with assets and expertise that Anaconda already has in-house.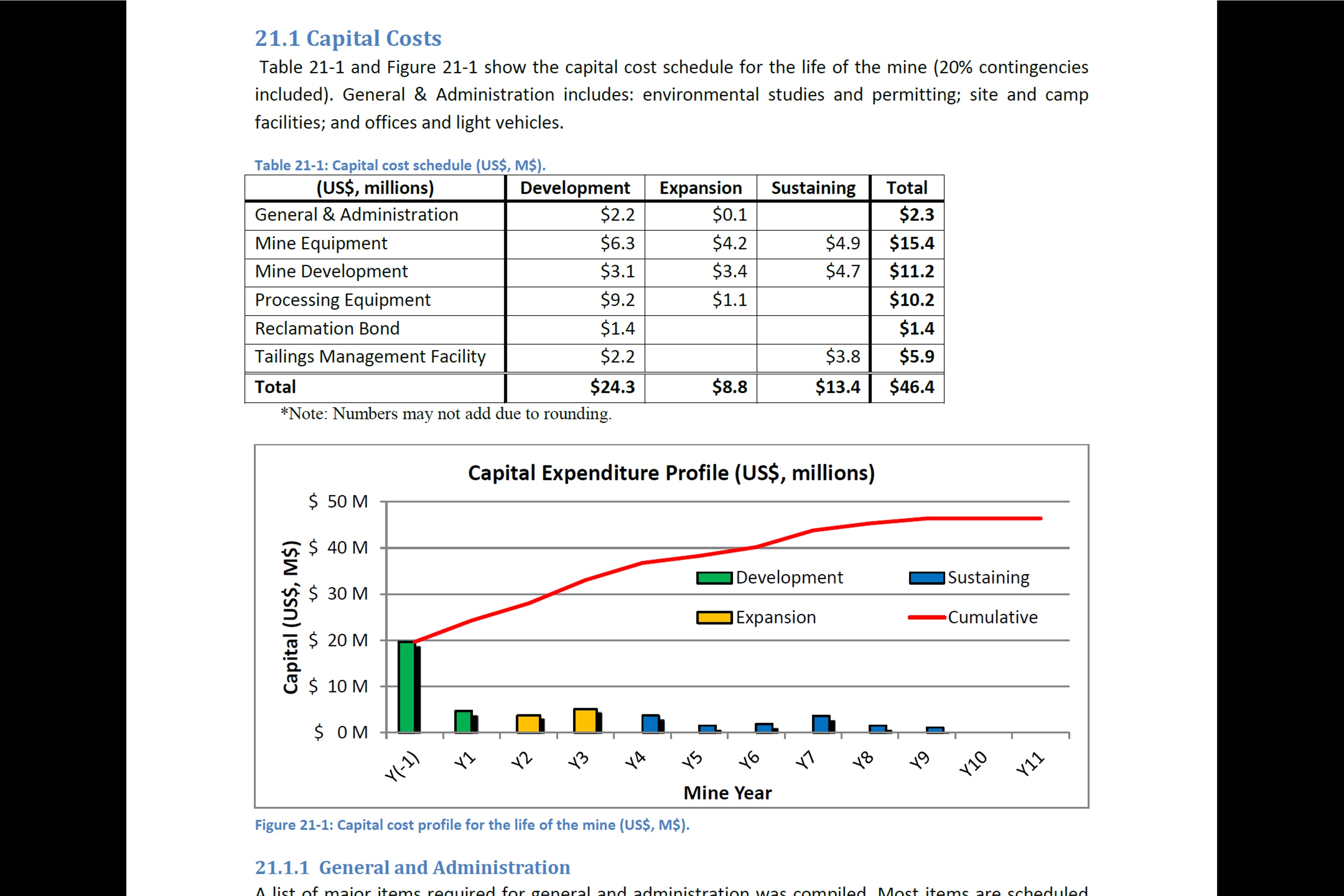 The single largest item required to get Goldboro going again is "Processing Equipment", estimated to cost $9M in Orex's PEA. That cost could come down as ore from Goldboro is processed at Anaconda's mill at the Pine Cove Mine. This is a bit beyond my expertise, but I like the flexibility that Anaconda has here.
For what it's worth, the recovery rates from Goldboro seem to be favourable for integration with Anaconda's mill. The Orex PEA reports that:
"... at least 70% of the gold would be recoverable by gravity techniques, while another 20% - 23% would be recovered in a flotation concentrate from which gold was leached in a bromo-cyanide plant." (pg. 80)
The fact that Anaconda already has a mill and lab also helps reduce costs and time required for mill design. The Orex PEA notes that:
"The estimated cost for metallurgical test work and detailed mill design is US$150,000, and would take 9-12 months to complete." (pg. 165)
Reducing initial cap-ex and accelerating the timeline to get into production are great sources of synergy between the two companies.

Another large piece of cap-ex for the Goldboro PEA is $2M for the tailings facility (pg. 146). Anaconda has a large amount of tailings capacity at Pine Cove Mine and I wonder if they will find a way to use their tailings there with Goldboro in some way. That may be a stretch, but I wouldn't put it past the Anaconda team as they are a creative bunch!
One of my favourite ideas is the potential to produce ore from Goldboro with no waste material, at all. There may be material that was deemed to be waste in the past at Goldboro that now qualifies as high grade ore for Anaconda: if some of this material is easily accessible and sufficiently high grade, then they could do a small-scale "rolling restart" at the Goldboro mine.
One reason to suspect this rolling restart may be possible is that the Goldboro Project is an underground mine with extensive historical workings. The PEA notes that:
"The project is aided by the fact that ramp infrastructure already exists that gives diesel equipment access to the first 2 years of production." (pg. 164)
However, there is some work to be done to understand the underground workings:
"The conditions of the existing workings are unknown. The workings excavated by Orex in the late 1988 are expected to be in relatively good condition, requiring minor repairs. Estimated costs for this work range from US$500,000 to US$1,000,000, depending on conditions encountered. The timeline for this work would range from 6-12 months to complete." (pg. 165)
Again, this is largely beyond my technical expertise but certainly something that I am keen to learn more about.
See the pictures below for a sense of what the underground workings and mineralization looks like.
A rolling restart at Goldboro would help bring forward some cash flow, delay cap-ex associated with the tailings, and even optimize the Pine Cove mill by blending in higher grade material. However, it would require additional expenditures for shipping the material that are not reflected in Orex's PEA. I don't know quite what that would look like, but will be watching.
This question of a rolling restart also ties into the issue of dewatering, in my opinion. The Orex PEA estimates dewatering Goldboro to cost $0.9M (pg. 149), which is the cost of dewatering the entire mine. If Anaconda can find a way to get some material from higher levels of the mine, then they may be able to delay dewatering the entire mine. Any way they can reduce costs and accelerate production may be up for consideration at this stage.

The capacity at Anaconda's Pine Cove mill effectively puts a constraint on the amount of material that can be processed from Goldboro and I believe that constraint forces the Anaconda team to get creative with Goldboro. Generating large, early cash flow with minimal expenses is a great way to improve the economics of the Goldboro Project overall. Anaconda has experience bootstrapping in this way, which I see as an important mark of prior success in a related venture.
That said, the economics of Goldboro looked pretty good to begin with! The PEA estimated total initial capital expenditures of $24M, with payback of 31 months, internal rate of return of 52%, and NPV of US$95M at $1300/oz gold and 7.5% discount rate. Those economics were associated with restarting the mine at full scale, which is generally required when advancing the project on its own merits. When you reconsider the GoldboroProject inside of Anaconda, things get more interesting.
What if Anaconda could increase annual gold production by 5,000 ounces in 2018 for $5M total expenditures at Goldboro Project? I don't know if those numbers are realistic, but will throw them out there as some sort of a discussion point.
The broader question is: how much does it cost to get different amounts of gold production from Goldboro? I suspect that Anaconda and Orex face a nice menu of options based on different strategies for putting Goldboro into production. I wish them the best of luck in figuring it all out and communicating it to the markets. From Peter Bell.