"When Theodore Roosevelt was in the White House, he confessed that if he could be right 75% of the time, he would reach the highest measure of his expectation.
If that was the highest rating one of the most distinguished men of the twentieth century could hope to obtain, what about you and me? If you can be sure of being right only 55% of the time, you can go walk down Wall street and make a million dollars a day. If you can't be sure of being right even 55% of the time, why should you tell other people they are wrong?" - Dale Carnegie
In the realm of Technical Analysis (TA), being wrong is equally as important as being right! Getting it right makes us richer, but being wrong keeps us disciplined, level headed and most importantly, civilized!
Now overall, I'm not sure if we are right more often than we are wrong (we're probably around 60%) but I do know we let the right ones grow, and cut the wrong ones off quickly.
The CEO Trading Lab is managed by @Goldfinger, a seasoned technical trader and portfolio manager, who is also an active poster here on CEO.ca
If you've seen the crazy amount of work he posts on CEO.ca, I can attest, that is likely about 25-30% of the information we go over in the lab.
There are currently 57 members which includes some excellent TA contributors such as Ty, Speculator, Bobbie, madeofrubber and HighROI. You can ask questions, or just watch people with different skills sets work together to try to understand the price movement. More often than not, there are at least 4-5 people who will comment on a stock we are bidding. They'll share technical analysis, fundamental analysis, and details about management track records and previous experiences with the company. This information is vital, especially for newer investors who weren't around during the 2012-2016 metals bear market.
Why join the lab? Here is an example:
If you were on CEO.ca back in early 2017, you surely remember the 2nd Nexgen Resource Estimate or better known as RE2 <- @Evenprime held the RE2 contest in which around 90% of us over-estimated the results!
Below is the $NXE trade we pulled off in February 2017 - one of the most difficult decisions I have made as a trader.
The chart below highlights the date the message above was posted.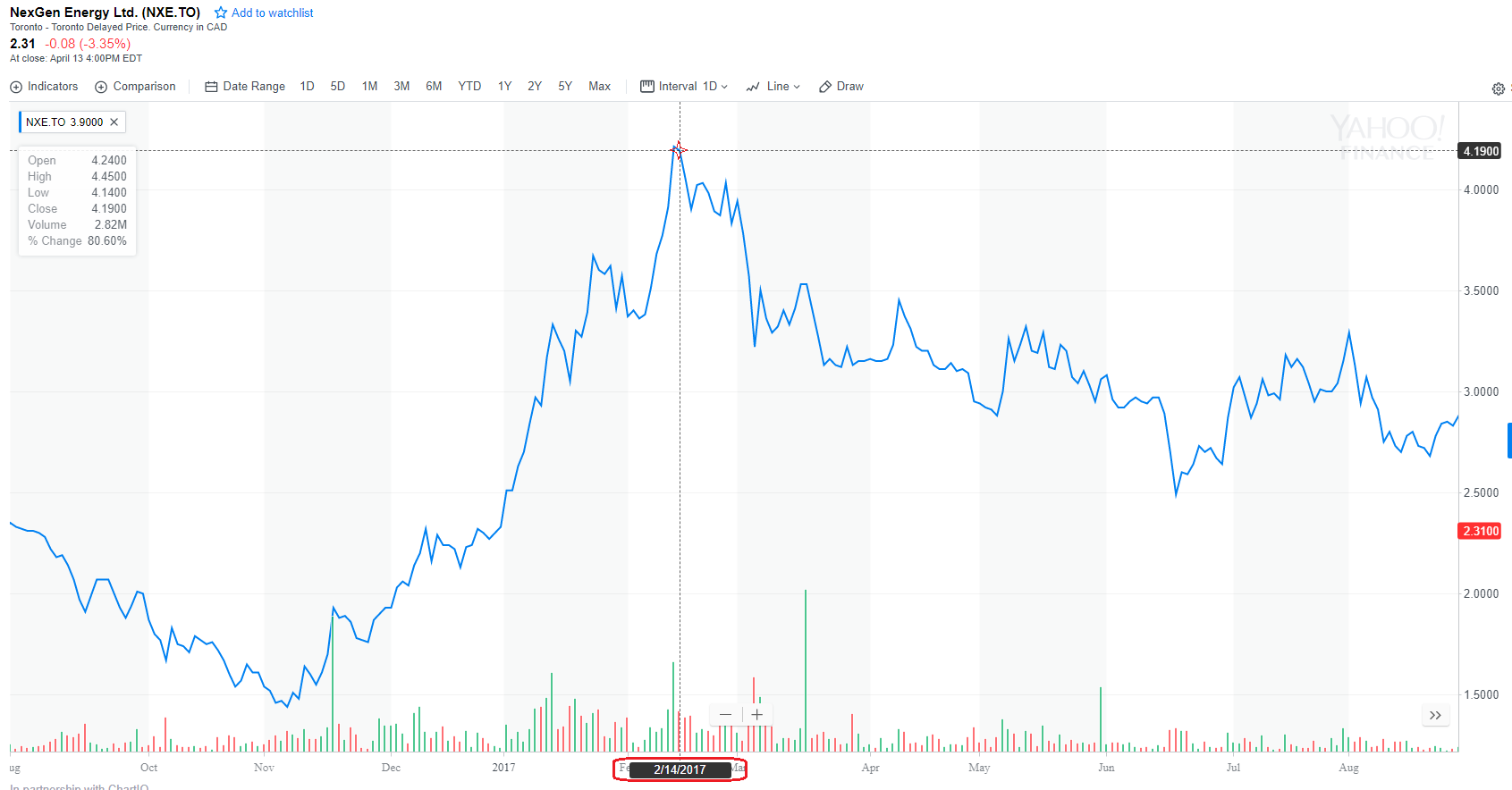 Fast Forward to Spring 2018. @EvenPrime's CEO.ca Stock Picking Contests include over 400 users;
79% of us have a negative portfolio in the #StockPickingContest (3 picks)
86% of us have a negative portfolio in the #Safest2xBagger (3 picks)
69% of us have a negative portfolio in the #BonusPickShowDown (1 pick)
Now, take this with a grain of salt as I am comparing apples to oranges here, but these are the TradingLab Sells thus far in 2018 (Jan 1 - April 15)
Not bad considering what the industry has done to most of us lately. Please recognize that this is not a Total Portfolio Gain, as position sizing is key to risk management.
Additionally, unlike a newsletter that is disseminated 'after' the author has most likely already accumulated their shares, the TradingLab is live. Often Goldfinger will say something like;
"We are watching Company X, we'll bid 22 cents. If filled, we will pick it up with a 20 cent stop-loss"
Goldfinger gives us lead-time on a stock he is bidding and also gives us a thesis on why he is making the decision. And sometimes, he will just follow the charts and make a few quick trades on stocks I personally may not have touched as they were in a downward trend at the time. But using technical analysis, and risk management (position size, stop-loss etc.) we are often rewarded.
Another part of the TradingLab is a channel specifically dedicated to Trade Information. I find it extremely beneficial for tracking purposes. I am a huge supporter of accountability; something this industry needs more of.
There are many other perks to joining the TradingLab such as weekly emails and monthly videos. I find having a CEO Pro subscription and also being subscribed to the TradingLab gives CEO.ca a much more interactive feel and the entire site flows together.
Although Goldfinger is generally a technical trader, "The trend is your friend" type fella, I wouldn't say he is a day trader. We also have a long term (3 months to 2-3 years) portfolio of about 20 stocks. Often these companies have quality assets and strong fundamentals, but for whatever reason, are at the bottom and appear oversold, beat down to the ground. These stocks propose a greater reward for those who are patient. This blend of trading style is interesting and exciting for day traders and long term investors alike.
I am not an active trader. Seeing the thought process of someone with a different approach can help gain clarity in the understanding of the people at play in the markets. I feel the TradingLab is a vital part of utilizing CEO.ca to its fullest potential. We are all here to make money, but also to learn something about both the markets and ourselves.
The best investors learn from each other and I invite you to join the TradingLab so we can share ideas. The TradingLab costs $50.00USD/month or $500.00USD/year which is a mere drop in the bucket after looking at the gains the Lab has made this year already. You can contact @goldfinger directly by clicking https://ceo.ca/@goldfinger and selecting "Private Message" on the top left corner or visit the webpage http://tradinglab.co/premium/
DISCLAIMER: I have not been paid in any way to write this article. I wrote this solely because I feel I have learned a lot from the lab and wanted to share it with others. I've been a big supporter since I joined and I believe if you are like how I was; a little loose with your investments, then this room can be very helpful. The constant reminder of not to fall in love with a stock, size positioning, adjusting stop losses etc keep me well versed and disciplined. Please do your due diligence.