Your dose of crypto news and analysis from @BTO and @Goldfinger
The internet was abuzz this week over the critically important question of whether a computer voice is saying "Laurel" or "Yanny". It's Laurel, goddammit!!! Don't know what I'm talking about?
Then @fuckjerry (instagram) shared this mind-bender -- ahh I can see both!
I digress. Why are we talking about Laurel vs. Yanny this week?
That's right, we were supposed to be basking in the glory of a major crypto rally., in which case there'd be no end of awesome GIFs to share with you. But alas...
At least we got to have some fun thanks to Genesis Mining's hilarious publicity stunt outside the Consensus conference venue:
Let's see how some of the major cryptos fared over this past week (close UTC time last Friday to today):

Bitcoin trading around US$8,240, down -2.4% on the week

Ethereum trading around US$690, up +1.6% on the week

Bitcoin Cash trading around US$1,215, down -11.4% on the week

Litecoin trading around US$137, down -0.3% on the week

Stellar trading around US$0.32, up +1.1% on the week

Dash trading around US$395, up +0.2% on the week

Monero trading around US$199, up +0.6% on the week

Ethereum Classic trading around US$18.05, up +1.8% on the week

ZCash trading around US$358, up +49.8% on the week

Other than ZCash, kinda boring... But don't worry, the co-founder and CEO of BitMEX -- the world's largest Bitcoin exchange -- predicts BTC will hit $50,000 in 2018.
WTF did I miss this week in crypto?
Florida Tax Collector to Accept Bitcoin, Bitcoin Cash Payments https://www.coindesk.com/florida-tax-collector-accept-bitcoin-bitcoin-cash-payments/
A Florida county tax collector has partnered with bitcoin payments processor BitPay to accept cryptocurrency for a variety of services. Seminole County Tax Collector Joel Greenberg said in a statement Monday that his office will take bitcoin and bitcoin cash for payments associated with driver licenses and ID cards, automobile tags and titles and property tax.
The office decided to accept the cryptocurrencies in an effort to streamline fee collection, reduce the potential for fraud and identity theft and increase the transparency and accuracy of payments. Greenberg's office added that it does not perceive any "price volatility or risk to the County" in accepting the cryptocurrencies.
CFO of Australia's Largest Bank Leaves to Join Block.One https://www.financemagnates.com/cryptocurrency/news/cfo-australias-largest-bank-leaves-join-block-one/

Rob Jesudason, the CFO of Commonwealth Bank of Australia, is leaving his post at Australia's biggest bank to join a blockchain company, effective immediately. He began working at the bank in 2011 but had held his leading role for less than a year. The blockchain company is Block.one – slogan "decentralize everything" – registered in the Cayman Islands. It is most notable for creating Ethereum-competitor EOS, which with a market capitalisation of $12 billion is currently the fifth biggest cryptocurrency in the world.
This type of headline is becoming a daily reoccurrence. Another this week saw Daisuke Murayama, a Barclays trader, moving from the European banking giant to Japanese cryptocurrency exchange BitFlyer. "I just didn't see a future in traditional finance," said Murayama, emphasizing that most of the services and products provided by traditional financial institutions are outdated and likely to be rendered unnecessary in the short-term.
German online bank uses Bitcoins to transfer loans https://www.reuters.com/article/us-germany-bitcoin/german-online-bank-uses-bitcoins-to-transfer-loans-idUSKBN1ID07Y
Bitbond uses cryptocurrencies like Bitcoin to bypass the Swift international transfer system to lend money across the globe rapidly and at low cost. "Traditional money transfers are relatively costly due to currency exchange fees, and can take up to a few days," Albrecht told Reuters TV in his office in Berlin's fashionable neighborhood Prenzlauer Berg. "With Bitbond, payments work independently of where customers are. Via internet it is very, very quick and the fees are low."
Facebook Plans to Create Its Own Cryptocurrency https://cheddar.com/videos/facebook-plans-to-create-its-own-cryptocurrency

Facebook is exploring the creation of its own cryptocurrency, a virtual token that would allow its billions of users around the world to make electronic payments, people familiar with Facebook's plans told Cheddar. "They are very serious about it," said one of the people, who asked not to be identified discussing unannounced plans.
A bitcoin believer would bet anything that "blockchain tech" won't last five years https://qz.com/1277739/jimmy-song-bets-joe-lubin-that-blockchain-tech-wont-be-around-in-five-years/
Onstage at the blockchain world's biggest crypto conference, bitcoin developer Jimmy Song said this week that he'd be willing to take on Joseph Lubin's proposed bet that "blockchain tech"—the use of a decentralized ledger without a cryptocurrency—won't have any significant users in five years. The men represent two camps in an increasingly divided blockchain world. Song is a "bitcoin maximalist"—those who place huge weight on decentralization—while Lubin is part of a growing chorus of technologists who believe private blockchains run by corporations and other hybrid systems will gain traction.
LedgerX Launches First CFTC-Regulated Bitcoin Savings Accounts https://www.forbes.com/sites/michaeldelcastillo/2018/05/15/ledgerx-launches-first-cftc-regulated-bitcoin-savings-accounts/#5071d7538094
Cryptocurrency asset management platform LedgerX has launched a new bitcoin savings product aimed at serving bitcoin investors who want to buy—and hold. Launched this week, the first bitcoin savings accounts to be offered by a company with two different CFTC licenses allow investors to earn a yield in fiat on their bitcoin holding. Instead of just sitting on the cryptocurrency and hoping it appreciates, the LedgerX Savings product lets investors—or savers as the case may be—do what's called a call overwrite. The investing technique, where a person deposits bitcoin to LedgerX then sells a call option at a slightly longer date, with a higher strike call option, has proved to be one of the New York City-based startups most popular services using the existing options service.
NASDAQ-Powered Crypto Exchange DX Set to Launch Next Month https://www.financemagnates.com/cryptocurrency/exchange/exclusive-nasdaq-powered-crypto-exchange-dx-set-to-launch-next-month/
dx.exchange, which is set to launch next month, is the first crypto exchange powered by NASDAQ. "The advantage of this cooperation is threefold: the brand name, the technology and the regulations," said DX Exchange CEO Daniel Skowronski. Skowronski further explained that their technology would rely on NASDAQ's infrastructure, such as its matching engine – used by over 70 exchanges around the world.
HSBC says it's made the world's first trade finance transaction using blockchain https://www.cnbc.com/2018/05/14/hsbc-makes-worlds-first-trade-finance-transaction-using-blockchain.html
HSBC issued a letter of credit for U.S. food and agriculture firm Cargill using blockchain. It used a platform developed by blockchain start-up R3 called Corda. The exchange was performed in 24 hours, HSBC and ING said. Traditionally this process would take a large amount of time, numerous paper records, and a lot of back and forth between the various parties involved.
Winklevoss-Led Gemini Becomes 'World's First Licensed Zcash Exchange' https://www.ccn.com/winklevoss-led-gemini-becomes-worlds-first-licensed-zcash-exchange/

Gemini has become the "world's first licensed Zcash exchange," the company announced on Monday. The New York City-based cryptocurrency exchange — which was founded by Cameron and Tyler Winklevoss — today revealed that it will open zcash trading markets (ZEC/USD, ZEC/BTC, and ZEC/ETH), which it says makes it the "first licensed Zcash in the world." Zcash will be just the third cryptocurrency listed on Gemini. At present, the platform supports trading pairs for bitcoin and ether. "Zcash picks up where Bitcoin left off," Tyler Winklevoss, CEO of Gemini, said in a statement, adding "Bitcoin has many strengths, but privacy is not one of them."
The news led to a huge rally in Zcash prices, jumping from around $250 to $380 per unit, before trending back downward a bit. It is still hanging on at the time of writing at ~$360.
CME Group Partners to Launch Ether Reference Rate Index https://www.coindesk.com/cme-group-partners-to-launch-ether-reference-rate-index/
Derivatives exchange operator CME Group is launching an ether reference rate and a real-time ether-dollar index in partnership with UK-based digital asset trading service Crypto Facilities. The operator noted Monday that it would provide "a daily benchmark price in U.S. dollars" every 24 hours, as well as the real-time price "based on transactions and order book activity" from cryptocurrency exchanges Kraken and Bitstamp, according to a press release. The rates are already available online on both the CME Group and Crypto Facilities websites, and will be provided to the CME Group Market Data Platform starting June 4.
McAfee Goes 'Underground' After Claiming Federal Govt Surveillance https://bitsonline.com/mcafee-underground-surveillance/
Cryptocurrency's most headline-worthy antihero John McAfee is reportedly going "underground" again, this time suggesting a Federal government agency had him under close surveillance. Time to pull out my trusty McAfee Rambo pic, which one can only assume depicts how he's equipped himself in his underground bunker:
Coinbase Rolls Out Crypto Custody Product for Institutions https://www.coindesk.com/coinbase-rolls-out-crypto-custody-product-for-institutions/
"We have leveraged our experience safely storing more than $20 billion of cryptocurrency to create Coinbase Custody, the most secure crypto storage solution available," the firm said today. The product is part of suite of institutional products being launched, according to a press release.
Founders of $32 Million Mayweather-Backed ICO Indicted for Securities Fraud https://www.ccn.com/32-million-ico-founders-indicted-for-securities-fraud/
"As alleged, the defendants conspired to capitalize on investor interest in the burgeoning cryptocurrency market. They allegedly made false claims about their product and about relationships they had with credible financial institutions, even creating a fictitious Centra Tech CEO. Whether traditional or cutting-edge, investment vehicles can't legally be peddled with falsehoods and lies."
MORGAN STANLEY: Here's how the rise of cryptocurrencies could change the way central banks deal with future financial crises http://www.businessinsider.com/morgan-stanley-cryptocurrencies-next-financial-crisis-negative-interest-rates-2018-5
Central banks are exploring the usage and creation of digital currencies following a boom in popularity of the likes of bitcoin. This week, analysts at Morgan Stanley examined the possible practical uses from central banks for digital currencies. Perhaps their most interesting finding was that digital currencies could be used to enable deeper negative interest rates in the next financial crisis.
IBM to Issue Cryptocurrency Token on Public Stellar Blockchain https://www.ccn.com/ibm-to-issue-cryptocurrency-token-on-stellar-blockchain/
Computing giant IBM has announced that it has signed a partnership with environmental fintech startup Veridium Labs to issue a cryptocurrency token on the Stellar blockchain. The initiative, unveiled on Tuesday, will see IBM and Veridium tokenize carbon credits, enabling pollution-heavy companies to offset the damage their operations cause to the environment. Proceeds from selling the "verde" token will be used to reforest a 250-square mile patch of rainforest on the island of Borneo in Indonesia.
Bitcoin fans troll Warren Buffett with 'Rat Poison Squared' clothing line https://www.marketwatch.com/story/bitcoin-fans-troll-warren-buffett-with-rat-poison-squared-clothing-line-2018-05-15
"We don't know exactly what 'rat poison squared' is supposed to mean. What we do know is that Bitcoin created a very productive ecosystem and spawned the entire cryptocurrency revolution, which is driving innovation in nearly every industry."
The other group trolling Buffett? None other than HIVE partner, Genesis Mining, who installed these billboards on the streets of Omaha:
Amazon is moving into blockchain with a new partnership https://www.cnbc.com/2018/05/15/amazon-is-moving-into-blockchain-with-a-new-partnership.html
The tech giant's cloud computing arm is partnering with a start-up called Kaleido to make it easier for customers to put their services on blockchain. "Introducing Kaleido to AWS customers is going to help customers move faster and not worry about managing blockchain themselves," Amazon Web Services says. Founder of Ethereum blockchain Joseph Lubin calls it is a "heavy duty" move by the tech giant to get into blockchain.
HTC is launching a blockchain-powered phone https://thenextweb.com/hardfork/2018/05/15/htc-blockchain-powered-phone/ #blockchain
HTC is developing a new Android phone that will be powered by blockchain technology. The phone, named Exodus, will feature a universal wallet and a built-in secure hardware enclave to support cryptocurrencies and decentralized applications.
Jack Dorsey Hopes Bitcoin Will Become The Web's 'Native Currency' https://www.coindesk.com/jack-dorsey-hopes-bitcoin-will-become-webs-native-currency/
Jack Dorsey, Twitter and Square CEO, sat down with Elizabeth Stark of Lightning Labs at CoinDesk's Consensus 2018 conference in New York City to talk more broadly about his company's goals for the digital currency. "I'm just approaching with the principle that the Internet deserves a native currency. It will have a native currency. I don't know if it will be bitcoin," said Dorsey said during Wednesday's fireside chat, adding: "I hope it will be bitcoin. I'm a huge fan."
This Guy Heated Bath Water With Bitcoin Mining and It Worked Too Well https://motherboard.vice.com/en_us/article/9k8ykp/heating-water-with-bitcoin-mining-asic-reddit
Lee's system—which he set up briefly in January—is "extremely simple," he told me, and makes use of a water-to-air intercooler like you'd find in a supercharged car. Ambient air is pulled into the system to cool the ASICs, and the heated air is pushed through an intercooler that has water constantly being pumped through it from a source, like a bathtub. The heat is transferred to the water, and voila—computer-heated water suitable for anything you'd normally use hot water for. In fact, Lee told me, it worked a little too well.
"It was a little too effective if I left it running all day as it produced baths of up to 122F/50C," he wrote. "Dangerously hot, especially as I have a few pets who could fall in if they somehow gained access to the bathroom. I took the experiment down to preserve the safety of my living space. Safety is an absolute priority to me."
Bitmain is Planning to Conquer the AI Industry https://www.financemagnates.com/cryptocurrency/news/bitmain-planning-conquer-ai-industry/
The company's co-chief executive has plans to expand Bitmain beyond crypto mining. Wu and his team believe that the two industries are similar enough that the switch isn't so far-fetched–Wu said that "Artificial intelligence requires lots of computations," similar to cryptocurrency mining. Bitmain's efforts to expand into the AI industry began in October of 2017, when the company began the sale of the 'Sophon BM1680', an ASIC chip designed to speed up the process of machine learning. Bloomberg reported that while the Sophon chip is not as effective for certain processes as chips made by Nvidia and AMD, the chip is more effective for certain kinds of deep learning, and much less expensive.
Bitcoin Mining Rig Maker Canaan Files for $1 Billion IPO https://www.bloomberg.com/news/articles/2018-05-15/bitcoin-mining-rig-maker-canaan-said-to-file-for-1-billion-ipo

Canaan Creative, the world's second-biggest maker of Bitcoin mining hardware, submitted an application for an initial public offering that could raise about $1 billion, people with knowledge of the matter said. The Chinese company aims to start trading in Hong Kong as soon as July, said one of the people, asking not to be identified because the size and timing of the IPO haven't been announced publicly. The group had revenue of 1.3 billion yuan ($203.8 million) in 2017 while profit surged sixfold to 361 million yuan, the company's Cayman Islands-based parent, Canaan Inc., said in a filing Tuesday.
Crypto Exchange Kraken Says It Will Probably Register With SEC https://www.bloomberg.com/news/articles/2018-05-15/crypto-exchange-kraken-says-it-will-probably-register-with-sec
Kraken, the digital-currency exchange that recently refused to respond to inquiries from New York's top lawyer, seems to be warming up to regulators -- at least federal ones. The San Francisco-based company, founded in 2011 in the wake of Mt. Gox's collapse, will probably register with the U.S. Securities and Exchange Commission as regulators continue cracking down on cryptocurrencies, Chief Executive Officer Jesse Powell said. "We would probably get registered as a broker dealer and then an ATS,'' Powell said in an interview Tuesday in New York, where he was attending an industry conference. "I don't think it necessarily helps the business. I think we're doing everything right anyway.''
Bitmain Leads Circle's $110 Million Round; Teams Up to Create Stable Coin https://bitcoinmagazine.com/articles/bitmain-leads-circles-100-million-round-teams-create-stable-coin/#1526475524
Bitmain, the largest of the Bitcoin mining operations, is putting its muscle behind mobile payments and cryptocurrency trading firm Circle by leading a $110 million Series E round of funding, placing a value of $3 billion on Circle. Bitmain is also joining forces with Circle to create a so-called "stablecoin," a cryptocurrency that is pegged to a stable asset. The goal is to eventually have lots of stable tokens, all backed by different fiat currencies, but the first will be Circle USD Coin (USDC), a coin backed one-to-one by the U.S. dollar with the fiat to be stored in an auditable bank account and redeemable by verified buyers. The tokens will be based on Ethereum's ERC20 standard and developed and governed by CENTRE, a foundation that will manage a collection of new, fiat-backed tokens. CENTRE is a wholly owned subsidiary of Circle, but Circle CEO Jeremy Allaire said that the foundation would become more independent as other members joined.
Fred Wilson Explains Why Warren Buffett Doesn't Get Bitcoin https://bitcoinmagazine.com/articles/fred-wilson-explains-why-warren-buffett-doesnt-get-bitcoin/#1526577466

"Calling it rat poison, to me, suggests that they haven't taken the time to really understand what's going on here," said Wilson. "If all you think of it as is some new asset class and some new thing that you can trade, then I think you'll come to that conclusion. But if you really understand that this is a fundamental innovation in foundational technology for the internet that provides a bunch of new functionality that didn't exist before this, then what I see it as is like the LAMP stack or something. This is an entirely new stack that we're going to get to build new applications on top of, and the tokens are just the fuel that lights up that stack."
Apple Founder Steve Wozniak Hails Bitcoin And Blockchain As 'Next Major IT Revolution' https://www.independent.co.uk/life-style/gadgets-and-tech/news/bitcoin-steve-wozniak-blockchain-apple-cryptocurrency-revolution-a8357336.html
Apple co-founder Steve Wozniak has given another powerful endorsement of cryptocurrency and its underlying blockchain technology, hailing its revolutionary potential at a conference on Thursday. Speaking on stage at the WeAreDevelopers World Congress in Vienna, Mr Wozniak said he believed the blockchain will have a huge impact on the technology sector, hailing it as "the next major IT revolution that is about to happen."
Coins and tokens and stocks, oh my!
[Note — Net change and % change figures are from the close last Friday to the close today .]
HIVE Blockchain (TSXV:HIVE) — $HIVE — Last at $1.24; Net Change: -$0.06; % Change: -4.6%
At Consensus, Wall Street vet Brian Kelly launched a new blockchain ETF in partnership with REX Shares. Kelly will actively manage a portfolio of roughly 30 companies actively using blockchain technology and fitting into one of four pillars: enterprise blockchain, or companies using the technology to streamline existing business processes; "Wall Street disruptors," that is, services changing how securities are traded (such as Overstock.com's tZero exchange); mining focused entities; and exchange firms and startups creating a decentralized internet. The company selected for the third category (mining-focused entities)? HIVE. Complete list of holdings here: https://rexshares.com/bkc/BKC_Holdings. And media coverage here: https://www.cnbc.com/2018/05/16/actively-managed-blockchain-fund-launches-into-crowded-etf-field.html // https://www.coindesk.com/wall-street-vet-brian-kelly-launches-blockchain-etf/
HIVE put out some slick promo vids this week -- check 'em out (the 360 VR vid is particularly neat):
Also, check out this new article from HIVE Chairman Holmes: My Conversation with Bitcoin Visionary Marco Streng http://news.goldseek.com/GoldSeek/1526386080.php
Other crypto/blockchain-related stocks riding the wave:
HashChain Technology (TSXV:KASH) — $KASH — Last at $0.22; Net Change: -$0.025; % Change: -10.2%

Mogo Finance (TSX:MOGO) — $MOGO — Last at $3.15; Net Change: -$0.37; % Change: -10.5%

Overstock (NASDAQ:OSTK) — $OSTK — Last at US$37.90; Net Change: +US$1.35; % Change: -2.9%

Riot Blockchain (NASDAQ:RIOT) — $RIOT — Last at US$9.00; Net Change: +US$1.62; % Change: +22.0%

Neptune Dash (TSXV:DASH) — $DASH — Last at $0.305; Net Change: -$0.01; % Change: -3.2%

Ethereum Capital (NEO:ETHC) — $ETHC — Last at $2.08; Net Change: -$0.03; % Change: -1.4%

MGT Capital (OTC:MGTI) — $MGTI — Last at US$1.26; Net Change: -US$0.04; % Change: -3.1%

Global Blockchain (CSE:BLOC) — Last at $0.46; $BLOC — Net Change: +$0.05; % Change: +12.2%

BTL Group (TSXV:BTL) — $BTL — Last at $5.97; Net Change: -$0.38; % Change: -6.0%

NetCents Technology (CSE:NC) — Last at $2.71; $NC — Net Change: $0.00; % Change: 0.0% (HALTED ALL WEEK)

eXeBlock Technology (CSE:XBLK) — Last at $0.208; $XBLK — Net Change: -$0.018; % Change: -7.8%

BIG Blockchain Intelligence Group (CSE:BIGG) — $BIGG — Last at $0.395; Net Change: +$0.025; % Change: +6.8%

And a few others that have been getting some attention: 360 Blockchain (CSE:CODE) — $CODE; Atlas Cloud (CSE:AKE) - $AKE; Block One Capital (TSXV:BLOK) - $BLOK; Calyx Bio-Ventures (TSXV:CYX) - $CYX; ePlay Digital (CSE:EPY) - $EPY; LeoNovus (TSXV:LTV) — $LTV; LottoGopher (CSE:LOTO) - $LOTO; HealthSpace Data Systems (CSE:HS); Blocplay Entertainment (CSE:PLAY); Blockchain Power Trust (TSXV:BPWR.UN) - $BPWR-UN; CryptoGlobal (TSXV:CPTO) - $CPTO; DMG Blockchain Solutions (TSXV:DMGI) - $DMGI; Hut 8 (TSXV:HUT) $HUT; Netcoins (CSE:NETC) - $NETC; Datametrex (TSXV:DM) - $DM

Follow @Evenprime's crypto watchlist if you want to track the now dozens of names apparently in the crypto/blockchain game.
The CryptoTechnician Report
A rather boring week in cryptoland with Bitcoin spending much of the week consolidating between $8,000 and $8,400. So far $8,000 has proven to be support with $8,400 now representing the closest resistance level:

Ethereum has important support near $670 and a decisive breakdown below this level would put a test of the $600 level in play:

Nothing has changed from a long-term technical perspective and as I pointed out last week a test of the US$360 billion total crypto market cap level was likely. So far this level is holding as support.

Turning to crypto related stocks, this week the market received earnings from Nvidia and the company pointed out that we might have just reached "peak crypto-mining". The NVDA weekly chart is also showing some signs of fatigue and there is clearly strong resistance above the $250 level: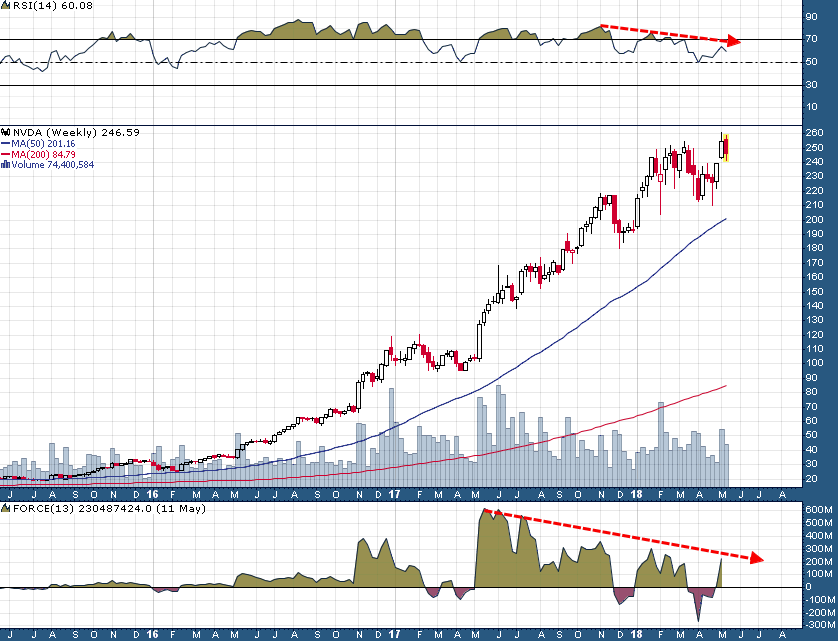 The NVDA chart is one to keep an eye on as a roll-over in this chart could be a bearish omen for the cryptocurrency sector as a whole.

Finally, I'd like to point out that while the HIVE chart certainly isn't exciting by any means, it is becoming more constructive as evidenced by the flattening 50-day moving average.

It will be important for the C$1.20 level to hold as support, however, a rally back above C$1.60 on a weekly closing basis could be confirmation that the low is in place and a new uptrend has begun.

I believe HIVE and NVDA are two key charts that will continue to offer us clues as to the health of crypto sector overall. For now there is nothing conclusive in the charts and it seems that for the time being the cryptocurrency market is a market waiting for direction.
Funny things we saw this week
Touché, SEC -- https://www.howeycoins.com/index.html
Speaking of the SEC, here's a bold crypto scam, actually tagging the SEC's twitter account -- lol!

I know there's some weird shit in TA, but don't tell me this is real - lol - classic antler head pattern forming dudes:
Buzzwords...
Gold...
What "peak blockchain week" looks like:
————————
DISCLAIMER — PLEASE READ CAREFULLY
All statements in this report, other than statements of historical fact should be considered forward-looking statements. These statements relate to future events or future performance. Forward-looking statements are often, but not always identified by the use of words such as "seek", "anticipate", "plan", "continue", "estimate", "expect", "may", "will", "project", "predict", "potential", "targeting", "intend", "could", "might", "should", "believe" and similar expressions. Much of this report is comprised of statements of projection. These statements involve known and unknown risks, uncertainties and other factors that may cause actual results or events to differ materially from those anticipated in such forward-looking statements. Risks and uncertainties respecting mineral exploration companies are generally disclosed in the annual financial or other filing documents of those and similar companies as filed with the relevant securities commissions, and should be reviewed by any reader of this newsletter.
The authors are online financial newsletter writers. They are focused on researching and marketing resource and other public companies. Nothing in this article should be construed as a solicitation to buy or sell any securities mentioned anywhere in this newsletter. This article is intended for informational and entertainment purposes only!
Be advised, the authors are not registered broker-dealers or financial advisors. Before investing in any securities, you should consult with your financial advisor and a registered broker-dealer.
Never, ever, make an investment based solely on what you read in an online newsletter, including Crypto Wars, especially if the investment involves a small, thinly-traded company that isn't well known or a crypto asset like Bitcoin or Ethereum.
Past performance is not indicative of future results and should not be used as a reason to purchase any stocks mentioned in this newsletter or on this website.
In many cases, the authors, and/or site owner/operator Tommy Humphreys, owns shares in the companies featured. For those reasons, please be aware that the authors can be considered extremely biased in regards to the companies written about and featured in Crypto Wars. Because of this, there is an inherent conflict of interest involved that may influence our perspective on these companies. This is why you should conduct extensive due diligence as well as seek the advice of your financial advisor and a registered broker-dealer before investing in any securities. We may purchase more shares of any featured company for the purpose of selling them for our own profit and will buy or sell at any time without notice to anyone, including readers of this newsletter.
None of the authors, Tommy Humphreys, or Pacific Website Company Incorporated (dba CEO.CA) shall be liable for any damages, losses, or costs of any kind or type arising out of or in any way connected with the use of this newsletter. You should independently investigate and fully understand all risks before investing. When investing in speculative stocks or crypto assets, it is possible to lose your entire investment.
Any decision to purchase or sell as a result of the opinions expressed in this report will be the full responsibility of the person authorizing such transaction, and should only be made after such person has consulted a registered financial advisor and conducted thorough due diligence. Information in this report has been obtained from sources considered to be reliable, but we do not guarantee that they are accurate or complete. Our views and opinions in this newsletter are our own views and are based on information that we have received, which we assumed to be reliable. We do not guarantee that any of the companies mentioned in this newsletter will perform as we expect, and any comparisons we have made to other companies may not be valid or come into effect.
We do not undertake any obligation to publicly update or revise any statements made in this newsletter.