Your dose of crypto news and analysis from @BTO and @Goldfinger
Mark Carney, Bank of England Governor (yes, leader of the type of institution that would be completely irrelevant in crypto nirvana), got quite a bit of media attention this week for his comments on Bitcoin having "failed as a currency". He also pulled out some classic "all the hallmarks of a bubble" and "it's going to end with a pretty brutal reckoning" and "not an effective medium of exchange" type lines. Here he is just today on Bloomberg:
Ultimately, it's the usual "I don't like cryptocurrencies, but the blockchain, now that's interesting…" Or, better said: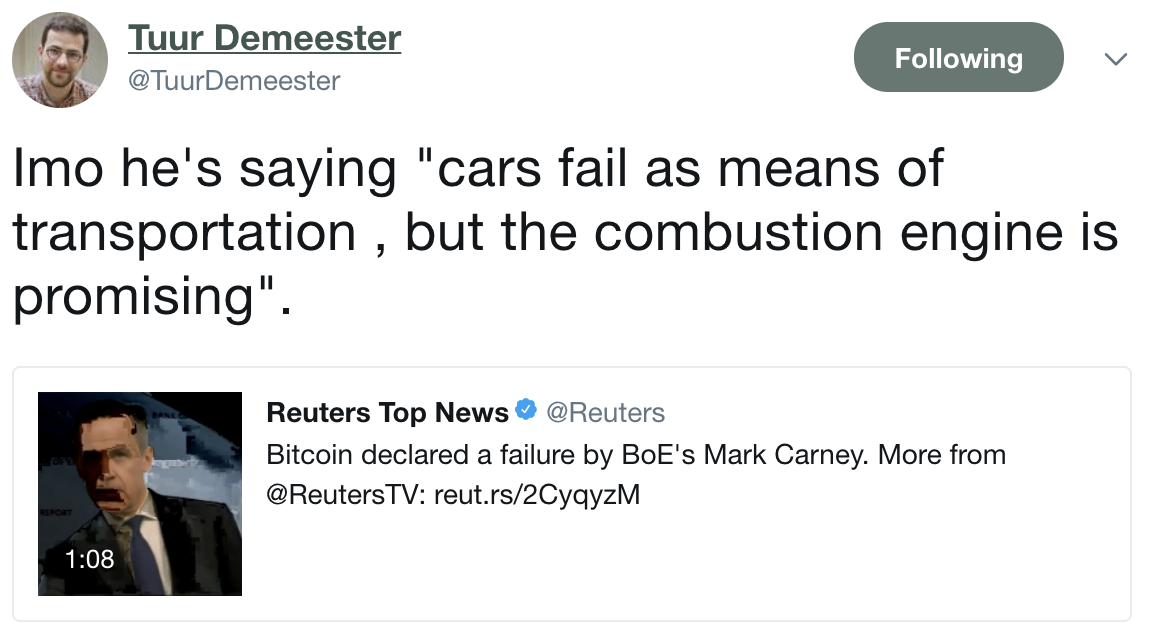 What's funny is that we're already seeing the technological advancements play out which will enable Bitcoin to function as a legitimate medium of exchange not too long from now. These past couple of weeks saw some of the big boy exchanges adopt "SegWit". And it's already resulted in huge reductions in withdrawal fees:
Check out this Forbes article for a good overview of why SegWit matters. Basically, the technological change was implemented months ago, but is just now starting to be adopted en masse by Bitcoin market stakeholders, like exchanges and wallets (which is needed for it to be relevant to everyday transactions). The increased capacity offered by SegWit may only ease network congestion in the short term, as blocks would only become full again as adoption of Bitcoin continues to rise. However, the more important aspect of SegWit over the long term is a technological fix that will enable a more efficient version of the Lightning Network. I've mentioned Lightning Network many times in Crypto Wars, but it's important. It's a layer-two payments protocol on top of the Bitcoin blockchain and is expected to help Bitcoin achieve massive scale as it is rolled out over the course of this year. With a working Lightning Network, Bitcoin payments are limited more by the number of users on the network rather than how often they wish to transact. This is HUGE and I believe it will be a major boon for crypto generally when LN starts to roll out.

The number of transactions using SegWit has already doubled to more than 30% in just the past few days, according to SegWit.Party:
Next stop: Lightning.
Let's check in on the performance of some of the major cryptos this week (close UTC time last Friday to today):
Bitcoin trading around US$11,100, up 7.7% on the week

Ethereum trading around US$860, down 0.5% on the week

Bitcoin Cash trading around US$1,280, up 0.9% on the week

Litecoin trading around US$207, down 0.9% on the week

Stellar trading around US$0.32, down 15.4% on the week

Dash trading around US$606, down 3.9% on the week

Monero trading around US$345, up 20.9% on the week

Ethereum Classic trading around US$31.32, down 17.7% on the week

ZCash trading around US$390, down 6.3% on the week

Some action in a few of these, but I'm getting bored of 2018. Can someone wake me up when this guy comes back to life?
WTF did I miss this week in crypto?
The Official Guide To Tokenized Securities — https://medium.com/@apompliano/the-official-guide-to-tokenized-securities-44e8342bb24f
Consider this the definitive post on tokenized securities -- i.e., digital assets subject to federal security regulations. If you take away one thing from this guide, remember this: When Security Tokens are done correctly, they don't skirt laws & regulations, they remove financial institutions and middlemen.
We Shouldn't Ban Bitcoin, Says Former FDIC Chair Sheila Bair — https://www.ccn.com/shouldnt-ban-bitcoin-says-former-fdic-chair-sheila-bair/
The former director of the US Federal Deposit Insurance Corporation (FDIC) Sheila Bair has doubled down on her stance in stating cryptocurrencies like bitcoin shouldn't be outlawed. In a wide-ranging interview with Barrons, Bair was quoted as stating:
There Are Benefits to Bitcoin, Digital Cash, Digital Currencies, White House Official Says — https://www.trustnodes.com/2018/02/20/benefits-bitcoin-digital-cash-digital-currencies-white-house-official-says
"I think we're still absolutely studying and understanding what the good ideas and bad ideas in [the crypto] space are," Joyce said at the Munich Security Conference in Germany, before adding that any regulations at the White House level is nowhere close. Seeming to take a different stance than we've heard from the likes of Mnuchin, Joyce however stated: "There are benefits to the bitcoin concept — digital cash, digital currencies."
Coinbase Informs 13K Affected Customers Of Imminent Data Handover To IRS — https://cointelegraph.com/news/coinbase-informs-13k-affected-customers-of-imminent-data-handover-to-irs
US-based cryptocurrency exchange and wallet service Coinbase sent an official notice Friday, Feb. 23 to approximately 13,000 of its customers whose information it is legally required to turn over to the US Internal Revenue Service (IRS). The IRS had initially asked Coinbase in July 2017 to hand over even more detailed information on every one of its then over 500,000 users in an attempt catch those cheating on their taxes. However, another court order in Nov. 2017 reduced this number to around 14,000 "high-transacting" users, which the platform now reports as 13,000, in what Coinbase calls a "partial, but still significant, victory for Coinbase and its customers."
Dutch Bank ING Says Crypto Exchange Bitfinex Is An Account Holder — https://www.coindesk.com/dutch-bank-ing-confirms-bitfinex-account/
Bitfinex — of "is Tether actually backed by USD balances" fame — apparently does have a bank account!
Regulated Bank Starts Offering Ethereum, Bitcoin, Bitcoin Cash, Litecoin and Ripple Trading — https://www.trustnodes.com/2018/03/01/regulated-bank-starts-offering-ethereum-bitcoin-bitcoin-cash-litecoin-ripple-trading
A Liechtenstein based bank with branch offices in London has begun offering crypto trading for five digital currencies as well as safe custody via offline storage. Customers of Bank Frick can now buy or sell ethereum, bitcoin, bitcoin cash, litecoin and ripple, or just leave the assets in the bank for safe storage in cold wallets.
Trump Administration Working on 'Comprehensive Strategy' for Crypto — https://www.coindesk.com/trump-justice-department-rosenstein-crypto-strategy/
The deputy attorney general of the U.S. said Tuesday that the government is working on a "comprehensive strategy" around cryptocurrencies. Speaking at the Financial Services Roundtable's spring conference this week Rod Rosenstein said, "A lot of these schemes involve bitcoin and other cryptocurrencies which do not flow through the traditional financial system. What we're working on now with our cybercrime task force is a working on a comprehensive strategy to deal with that."
This Big Cryptocurrency Acquisition Could Create a Wall Street-Style Financial — Giant http://fortune.com/2018/02/26/circle-cryptocurrency-trade-bitcoin/
Circle, a cryptocurrency-focused financial-services firm, announced this week that it is buying crypto exchange Poloniex—a move that immediately makes Circle one of the largest and most influential companies in the industry. Fortune's Robert Hackett profiles the company in this article, which hopes to leverage the technology behind Bitcoin to become the bank of the next century.
J.P Morgan Sees Crypto As 'Competition' And 'Risk' To Its Business In SEC Annual Report — https://cointelegraph.com/news/jp-morgan-sees-crypto-as-competition-and-risk-to-its-business-in-sec-annual-report
J.P. Morgan Chase has added a segment on cryptocurrencies to the "Risk Factor" section of their 2017 annual report to the US Securities and Exchange Commission (SEC), filed yesterday, Feb. 27. The annual report mentions cryptocurrencies under the "Competition" subsection when describing how new competitors have emerged that threaten J.P. Morgan's operations:
"Both financial institutions and their non-banking competitors face the risk that payment processing and other services could be disrupted by technologies, such as cryptocurrencies, that require no intermediation."
Similarly, Bank of America said in its latest SEC filing: "The widespread adoption of new technologies, including internet services, cryptocurrencies and payment systems, could require substantial expenditures to modify or adapt our existing products and services."
Largest Irish Residential Property Developer Building Homes For Bitcoin — http://bitcoinist.com/largest-irish-residential-property-developer-building-homes-bitcoin/
According to Raidió Teilifís Éireann — a semi-state company and the national public service broadcaster of the Republic of Ireland — the country's largest homebuilding company plans on accepting Bitcoin as a form of payment.
BlackRock: Crypto Use Could Grow As Market Matures — https://www.coindesk.com/blackrock-crypto-blockchain-report/
Global investment management company BlackRock says it envisions a more pervasive role for cryptocurrencies in the future, and that blockchain has promise but it is not without obstacles.
"We see cryptocurrencies potentially becoming more widely used in the future as the market matures," the commentary reads. "Yet for now we believe they should only be considered by those who can stomach potentially complete losses. Similarly, blockchain needs to overcome significant hurdles to reach its promising future."
This $1 Trillion Money Manager Just Joined the Crypto Frenzy — https://www.bloomberg.com/news/articles/2018-03-01/this-1-trillion-money-manager-just-joined-the-crypto-frenzy
Add Wellington Management Co. to the list of mainstream investors getting serious about digital coins. The Boston-based firm with $1 trillion under management is considering including cryptocurrencies in some portfolios, it said in a February report. The company's systems were upgraded to enable trading in Bitcoin derivatives, and Wellington has started taking positions in companies related to cryptocurrencies. The names of such companies were not disclosed, unfortunately.
Crypto Legend Who Bought Pizza With 10,000 Bitcoin Is Back At It — http://fortune.com/2018/02/26/laszlo-hanyecz-pizza-bitcoin/
It's one of the best-known cryptocurrency legends: The guy who bought two pizzas with 10,000 Bitcoin back in 2010 to prove the digital currency worked. Now he's at it again. This time, early Bitcoin developer Laszlo Hanyecz wanted to test the Lightning Network, a technology that runs parallel to a blockchain like Bitcoin's network and aims to speed up transactions. He ended up paying 0.00649 Bitcoin for two pizzas, or $67, and the transaction cost about 6 U.S. cents.
Must watch: Tom Lee Presents The Economics of Cryptocurrencies
Coins and tokens and stocks, oh my!
[Note — Net change and % change figures are from the close last Friday to the close today.]
HIVE Blockchain (TSXV:HIVE) — $HIVE — Last at $1.71; Net Change: -$0.18; % Change: -9.5%
Financials week! At the end of January, GMP put a speculative buy recommendation and a C$5.35/share target price on HIVE. It turns out their assumptions and expectations in coming to that target were not far off. In an update they pushed out shortly after the release of HIVE's Q3 financials, GMP highlighted the following from the results (all in USD):
Revenue: $3.27mm vs GMP expectation of $3mm

Gross mining margin: $2.38mm (73% of revenue) vs GMP expectation of $2mm

Coin balance as of Q3: $5.83mm vs GMP expectation of $5.7mm (includes a mix of Ethereum, Ethereum Classic, and Z-Cash)

Coin balance as of Feb. 26/18: $13.62mm vs GMP expectation of $12mm

Cash balance: $99.1mm which excludes $32mm committed for Sweden facility

Sweden facilities: GPU facilities on schedule for go-live in next two months, BTC facility on schedule for September 2018

Pro-Forma: Pro forma annual revenue $153mm expected based on current spot prices and network hash rates vs GMP pro forma of $142mm and prior forecast of $260mm. The decline is due to lower spot prices for ETH and BTC, and higher network hash rates for both blockchain networks.

HIVE's coin inventory has increased more than 130% since quarter-end — to a total value of $13,624,783 as at February 26, 2018 — during a period when ETH prices were up only 13%. The jump up in value is therefore due to the uptick in hashing power when Sweden Phase 1 came online (mid-January). With Phase 2 and 3 due online in the next two months (each the same size as Phase 1), the coin accumulation is going to continue to ramp up significantly — and very soon.
PI reaffirmed its buy rating on HIVE post-release of the financials, but reduced its price target a bit to C$4.50 per share, which is still a more than 2.5x from the closing price today.
A couple of additional items that jumped out at me after listening in on management's webcast (FULL transcript here) and then going back to read the MD&A again:
The company expects their coins (being newly minted as opposed to purchased in the open market) to demand a premium as industry regulations evolve, due to being fully AML compliant.

Genesis is guaranteeing HIVE's miners will have uptime of at least 93%. In the webcast, the company noted that it believes this metric — uptime — will become an increasingly important one in this industry going forward.

Pursuant to the agreements with Genesis, the company is also entitled to a one year warranty on all of its rigs, which includes periodic replacement of GPU cards, and accordingly, the company has spent $nil to date on replacement and upkeep of its miners. This, plus the monitoring tools used by Genesis to prevent overheating, etc., should mean HIVE's repair/replacement costs for their rigs remains minimal for the foreseeable future.

Overstock (NASDAQ:OSTK) — $OSTK — Last at US$60.55; Net Change: -US$3.20; % Change: -5.0%
Yesterday morning, shares of Overstock briefly fell 10% in morning trading, before recovering a bit and finishing the day down 4.4%. The reason? The SEC's investigation into cryptocurrency token sales (see summary in news headlines above), including the one ongoing by Overstock's subsidiary tZero. But, apparently, the SEC did not subpoena tZero as it did many other ICO participants. According to the company's President: "They subpoenaed everybody else and asked us to cooperate." Contrary to many other ICOs that have been notoriously opaque regarding their ICOs and how the founders spend the money, tZero's is going through the Reg D exemption, meaning an increased level of transparency is built into the process.
Other crypto/blockchain-related stocks riding the wave:
HashChain Technology (TSXV:KASH) — $KASH — Last at $0.42; Net Change: -$0.075; % Change: -15.2%

Mogo Finance (TSX:MOGO) — $MOGO — Last at $4.70; Net Change: +$0.22; % Change: +4.9%

Neptune Dash (TSXV:DASH) — $DASH — Last at $0.41; Net Change: -$0.015; % Change: -3.5%

Riot Blockchain (NASDAQ:RIOT) — $RIOT — Last at US$10.58; Net Change: +US$0.31; % Change: +3.0%

MGT Capital (OTC:MGTI) — $MGTI — Last at US$1.93; Net Change: -US$0.31; % Change: -13.8%

Global Blockchain (TSXV:BLOC) — Last at $0.57; $BLOC — Net Change: -$0.52; % Change: -47.7%

BTL Group (TSXV:BTL) — $BTL — Last at $8.23; Net Change: -$0.45; % Change: -5.2%

NetCents Technology (CSE:NC) — Last at $1.67; $NC — Net Change: -$0.16; % Change: -8.7%

eXeBlock Technology (CSE:XBLK) — Last at $0.33; $XBLK — Net Change: -$0.015; % Change: -4.3%

BIG Blockchain Intelligence Group (CSE:BIGG) — $BIGG — Last at $0.77; Net Change: +$0.07; % Change: +10.0%

And a few others that have been getting some attention: 360 Blockchain (CSE:CODE) — $CODE; Atlas Cloud (CSE:AKE) - $AKE; Block One Capital (TSXV:BLOK) - $BLOK; Calyx Bio-Ventures (TSXV:CYX) - $CYX; ePlay Digital (CSE:EPY) - $EPY; LeoNovus (TSXV:LTV) — $LTV; LottoGopher (CSE:LOTO) - $LOTO; HealthSpace Data Systems (CSE:HS); Stompy Bot (CSE:BOT); Imagination Park (CSE:IP); Blockchain Power Trust (TSXV:BPWR.UN) - $BPWR-UN; CryptoGlobal (TSXV:CPTO) - $CPTO; DMG Blockchain Solutions (TSXV:DMGI) - $DMGI.

Follow @Evenprime's crypto watchlist should you wish to track the now dozens of names apparently in the crypto/blockchain game.
The CryptoTechnician Report
The Bitcoin chart has become much more constructive in the last week as support near $9,300 held convincingly:
The next major resistance lies just above, between $11,800 and $12,200 - A breakout above $12,200 would target $17,000+ and likely result in a sharp move higher up into the $14,000s in a relatively short amount of time.
The meandering price action of the last six weeks has formed a head & shoulders bottom pattern with a neckline right around $12,000. This recent consolidation has also served to tremendously cool off market sentiment and build up potential energy which could be unleashed in the event of a technical breakout from the head & shoulders bottom.
A couple of other crypto charts that have my attention are Litecoin (LTC) and Ethereum Classic (ETC).
Litecoin surged up near $250 last week only to run into profit taking and some disappointment that the LitePay launch ran into a hiccup when it came to issuing Visa debit cards to users. However, the pullback has been orderly and quite healthy from a long term technical perspective. A bull flag pattern has formed with overhead resistance at $223 followed by $235 and then a much bigger level near $250. If Litecoin can get back above $250 within the next couple of weeks it would indicate a strong probability that LTC is on its way to $300+. Downside support exists at $200 followed by $180; bulls do not want to see a move back down below $180, which could indicate that the February rally was a bear market rally.
Ethereum Classic is a crypto that I haven't followed closely, even after hearing that $HIVE was mining it and seeing quite a bit of enthusiasm over the Ethereum Developers Conference at the end of last year. The ETC chart is quite constructive with strong signs of accumulation in recent weeks and the key technical levels are about as straight forward as they come: Multiple tests of $42.50 have failed to see a daily close above this level, a daily close above $42.50 would target $60+. Meanwhile, support at $30 is crucial with a breakdown below $30 targeting a move down to at least the low $20s.
Total cryptocurrency market capitalization continues to oscillate between about US$430 billion on the downside and US$510 billion on the upside:
A decisive move back above the US$510 billion mark should lead to a rally up to at least US$600 billion (the highest level since January 20th). Such a move would also likely mean that Bitcoin has broken out above $12,200 and Ethereum is back over $1,000.
Funny things we saw this week
It's cool that Robinhood is in the crypto game now, but this is just weird:
There's a browser plugin that replaces the word "blockchain" with the phrase "multiple copies of a giant Excel spreadsheet" -- LOL!
Remember Crypto Dad, CFTC Chairman Chris Giancarlo? Looks like he's embraced his new nickname!
As seen on reddit -- not sure it'll catch on:
Ouch:
Skis = fiat / financial institutions / nocoiners; Snowboards = crypto
Regulations:
————————
DISCLAIMER — PLEASE READ CAREFULLY
All statements in this report, other than statements of historical fact should be considered forward-looking statements. These statements relate to future events or future performance. Forward-looking statements are often, but not always identified by the use of words such as "seek", "anticipate", "plan", "continue", "estimate", "expect", "may", "will", "project", "predict", "potential", "targeting", "intend", "could", "might", "should", "believe" and similar expressions. Much of this report is comprised of statements of projection. These statements involve known and unknown risks, uncertainties and other factors that may cause actual results or events to differ materially from those anticipated in such forward-looking statements. Risks and uncertainties respecting mineral exploration companies are generally disclosed in the annual financial or other filing documents of those and similar companies as filed with the relevant securities commissions, and should be reviewed by any reader of this newsletter.
The authors are online financial newsletter writers. They are focused on researching and marketing resource and other public companies. Nothing in this article should be construed as a solicitation to buy or sell any securities mentioned anywhere in this newsletter. This article is intended for informational and entertainment purposes only!
Be advised, the authors are not registered broker-dealers or financial advisors. Before investing in any securities, you should consult with your financial advisor and a registered broker-dealer.
Never, ever, make an investment based solely on what you read in an online newsletter, including Crypto Wars, especially if the investment involves a small, thinly-traded company that isn't well known or a crypto asset like Bitcoin or Ethereum.
Past performance is not indicative of future results and should not be used as a reason to purchase any stocks mentioned in this newsletter or on this website.
In many cases, the authors, and/or site owner/operator Tommy Humphreys, owns shares in the companies featured. For those reasons, please be aware that the authors can be considered extremely biased in regards to the companies written about and featured in Crypto Wars. Because of this, there is an inherent conflict of interest involved that may influence our perspective on these companies. This is why you should conduct extensive due diligence as well as seek the advice of your financial advisor and a registered broker-dealer before investing in any securities. We may purchase more shares of any featured company for the purpose of selling them for our own profit and will buy or sell at any time without notice to anyone, including readers of this newsletter.
None of the authors, Tommy Humphreys, or Pacific Website Company Incorporated (dba CEO.CA) shall be liable for any damages, losses, or costs of any kind or type arising out of or in any way connected with the use of this newsletter. You should independently investigate and fully understand all risks before investing. When investing in speculative stocks or crypto assets, it is possible to lose your entire investment.
Any decision to purchase or sell as a result of the opinions expressed in this report will be the full responsibility of the person authorizing such transaction, and should only be made after such person has consulted a registered financial advisor and conducted thorough due diligence. Information in this report has been obtained from sources considered to be reliable, but we do not guarantee that they are accurate or complete. Our views and opinions in this newsletter are our own views and are based on information that we have received, which we assumed to be reliable. We do not guarantee that any of the companies mentioned in this newsletter will perform as we expect, and any comparisons we have made to other companies may not be valid or come into effect.
We do not undertake any obligation to publicly update or revise any statements made in this newsletter.