In southwestern Nevada there are a group of mining claims which have for all intents and purposes been frozen in amber for the last two decades. This is a very unique situation for a state like Nevada, the most prolific gold mining state in the US. However, for those who understand the limited 'project bandwidth' of most mining companies it shouldn't be too surprising that Imperial Metals didn't do a whole lot with the Sterling Project (an orphan project in a company with a sizable portfolio primarily focused on copper in Canada). Of course that was up until the day Imperial agreed to sell the project to a hungry, visionary group of junior mining entrepreneurs, led by Northern Empire Resources President and CEO Michael Allen in February 2017. Mr. Allen managed to identify the upside of the Sterling Project and then negotiate its purchase from Imperial and place the asset into Northern Empire Resources.
Northern Empire (TSX-V:NM, OTC:PSPGF) is focused on its Sterling Gold Project roughly 100 miles north of Las Vegas and not too far from 'Area 51.' The Sterling Project consists of three primary sections:
The Sterling Mine (fully permitted): 231,000 ounces Au inferred grading 3.67 g/t.

The Crown Block (10 miles north of Sterling within the same contiguous land package) which consists of 3 deposits (Daisy, Secret Pass, SNA): 440,000 ounces Au inferred grading 1.8 g/t.

A district scale exploration package, hosting some of the best geology for hosting large gold mines in the state of Nevada that has never been assembled under one owner. Company geologists were quick to recognize that "every time that we kick over a rock there seems to be gold on it" on the Sterling Project and recognized the opportunity that that was open for staking. District scale targets had not been properly evaluated, where large mineralized structures had intersected favourable host rocks, such as the famed Roberts Mountain formation. In addition, the company was pleasantly surprised to learn that the settings of known deposits were duplicated throughout the Bare Mountain Range and were quickly staked. The Company's aggressive work capitalized on an opportunity that had been forgotten by staking ~90 square kilometers in surrounding claims after the acquisition of the Project from Imperial.

Northern Empire can boast that it has over 700,000 ounces inferred grading more than 2.2 grams/tonne gold across its property package. However, the real juice is in the exploration potential in the north (Crown Block). NM is already having impressive exploration success at Crown including 123.93 meters grading 1.41 g/t Au including 38.25 meters grading 3.09 g/t Au at its Daisy Property and 82.3 meters grading 1.25 g/t Au at Secret Pass. In gold's king state of Nevada, these are potentially mineable grades and widths, something major miners and speculators alike need to see in acquisition targets (The average grade of heap leach mining operations in Nevada is about 0.7 g/t gold which makes NM's grades quite special).
The story of how Northern Empire came to acquire Sterling and much of the Crown Block properties is one for mining lore. The Sterling Mine had been in production under Imperial Metal's ownership from about 1980 until 2015. However, in 2015 a combination of low gold prices and a major disaster at Imperial's Mount Polley Mine forced Imperial to put Sterling on care & maintenance and focus all of its efforts and financial capital on cleaning up the damage at Mount Polley.
This led to a situation in which Sterling was left untouched for more than two years until a group of investors led by Northern Empire President & CEO Michael Allen managed to make a deal with Imperial in February 2017. The deal closed in May of 2017 and in return for US$10.1 million, 1.67 million Northern Empire shares, and a 2% net smelter return (NSR) Northern Empire acquired the Sterling Project (Sterling Mine + the 'Crown' claims).
Northern Empire has moved quickly since acquiring the Sterling Project nine months ago and the market has responded by bidding NM shares up more than 80% since they resumed trading at the beginning of June 2017:
NM.V (June 2017-March 2018)
While the Sterling Project is quite impressive (more on that later) the quality of NM's management stands out, and from my vantage point, sets Northern Empire apart from the crowd. NM is led by a group of experienced mining professionals who can boast a track record of building several companies and creating considerable shareholder value in the process:
Douglas Hurst (Executive Chairman) – Mr. Hurst has over 25 years of experience in the mining/resource industries having acted as geologist, consultant, mining analyst, and senior executive. He was a founding executive of International Royalty Corporation and then a Director of the company until 2010 when it was purchased by Royal Gold, Inc. for $700 million. Recently, Mr. Hurst was one of the founders and executives of Newmarket Gold Inc. which was purchased for $1.0 billion by Kirkland Lake Gold Ltd. In 2016.
Michael G. Allen (President, CEO & Director) – Mr. Allen is a professional geologist with 20 years of experience in the mining industry. He has extensive experience in project evaluation, recently reviewing in excess of 400 gold projects worldwide. This effort lead Mike to identify and negotiate the purchase of the Sterling Gold Project. He also has a strong technical background having explored for gold in Nevada, Arctic, British Columbia and Ontario. He has worked in both open pit and underground mines, as well as managing the construction of new mines and exploration crews.
John Robins (Director) – Mr. Robins is a professional geologist with over 30 years of experience as an independent exploration geologist and entrepreneur. Most recently John was the founder and Chairman of Kaminak Gold which was purchased for $520 million by Goldcorp Inc. in 2016. Mr. Robins has also been active in starting several successful public exploration and development companies culminating in 2005 with his co-founding of the Discovery Group of Companies. Mr. Robins also sits on the Board of several successful publicly traded exploration companies.
Ray Threlkeld (Director) – Mr. Threlkeld is a seasoned mining professional with more than 32 years of experience in mineral exploration, mine operations and construction and executive management. Most recently Mr. Threlkeld was chairman of Newmarket Gold which was purchased by Kirkland Lake Gold for approximately $1-billion. From 2006 to 2009 Mr. Threlkeld led the team that acquired, developed and put into operation the Mesquite gold mine in California with Western Goldfields subsequently being purchased by New Gold for $314-million in 2009. Mr. Threlkeld holds a BSc degree in geology from the University of Nevada.
Adrian Fleming (Director) – Adrian Fleming is an Australian geologist with over 30 years of global diversified experience in the mining industry, including exploration, project development, and operations. Mr. Fleming was the President and Director of Underworld Resources Inc. which was acquired by Kinross Gold Corporation in 2010. Mr. Fleming has held a number of senior positions, including Exploration Manager for Placer Dome, President of Giant Yellowknife Mines, and Vice President of Exploration for Golden Star. Mr. Fleming presently serves as an officer and director of several other publicly listed companies.
The Northern Empire team including Executive Chairman Doug Hurst, Director Jeff Sundar, President & CEO Michael G. Allen, Director John Robins, Director Adrian Fleming, Director Jim Paterson, and Dylan Berg – Manager, Investor Relations.
The executive management team is an all-star team and the bench is also deep. On my recent trip to visit the Sterling Project, 100 miles northwest of Las Vegas, the quality of Northern Empire's geologists and mine manager on the ground struck me as being impressive for a company with a sub-US$100 million market cap. This is a winning team that is committed to doing things the right way on their path to maximizing shareholder value for Northern Empire investors.
The management team owns ~8% of Northern Empire shares (management & insiders doubled their position in the recent C$.90 bought deal financing) and mid-tier producer Coeur Mining (NYSE:CDE) also holds a significant ~12% stake. Coeur has been a big supporter of NM, not only by being a big participant in financings but Coeur has taken a keen interest in the "Bare Mountain Play" (Sterling + the surrounding area including neighbor Corvus Gold). Just like NM's management, Coeur is extremely excited about the "blue sky" prospects to build ounces in the ground, both at the Sterling Mine and the Crown claims.
Let's delve a bit deeper into what exactly Northern Empire's 141 square kilometer Sterling Project consists of. The Sterling Mine was previously thought to be where the company's bread was buttered; a fully permitted mine with tremendous high-margin potential due to its oxide nature (no milling or crushing involved which makes costs lower), which could be moved into production within a relatively short time frame but without much upside exploration potential. However, this has changed with the recent exploration program which has identified a potential high-angle feeder structure. A hole which intersected 7.92 meters grading 6.07 g/t Au near surface opens up the potential to add an additional 20%-30% to the resources at the Sterling Mine. CEO Mike Allen offered the following comment regarding the potential for growth at Sterling:
"Our recent drilling at the Sterling Mine hit previously unknown mineralization, potentially a high-angle feeder structure to the deposit. Hole STR17-039C and STR17-049C drilled into the feeder outside of the existing resource model opening up significant potential for expansion. This drilling builds on the extensive work done to date by Northern Empire to demonstrate this permitted deposit remains open for growth."
With significant exploration potential at the Sterling Mine the success that Northern Empire has had at its 'Crown' claims is a very sweet icing on an expanding cake, and in fact the Crown could soon become the 'cake' with the Sterling Mine and its permitted ounces would become the icing.
The Crown claims currently consist of:
Daisy Deposit: The Daisy Pit was in production between 1997 and 2001 by Glamis Gold/Rayrock and production ended in 2001 when the gold price cratered to $260/ounce. Glamis/Rayrock produced a total of 104,000 ounces between the Daisy Pit, Secret Pass pit, and Mother Lode pit which it comprehensively called the "Daisy Mine" even though these are 3 distinct deposits. Daisy currently has an inferred resource of 2.556 million tonnes grading 2.12 g/t Au (174,000 contained ounces) using a 1.0 g/t Au cut-off. 2017 drilling at Daisy returned several impressive intercepts including 47 meters of 1.47 g/t Au and 21 meters of 1.83 g/t Au, and most recently in 2018 returned 123.93 meters of 1.41g/t Au including 38.25 g/t Au of 3.09 g/t.

Secret Pass Deposit: 3.534 million tonnes grading 1.65 g/t Au (188,000 contained ounces) using a 1.0 g/t Au cut-off. 2017 exploration program returned a hole grading 1.26 g/t Au over 82 meters. In addition, newly acquired claims to the south will allow Northern Empire to follow up on hole D-164 which ran 56.39 meters at 3.13 g/t Au. 15 holes are permitted at Secret Pass in 2018.

SNA Deposit: 1.51 million tonnes grading 1.61 g/t Au (78,000 contained ounces) using a 1.0 g/t Au cut-off. SNA just south of Corvus Gold's Mother Lode Project, which is fully surrounded by Northern Empire's claim package, and boasts several high-grade surface samples. Northern Empire has plans to drill 16 holes at SNA during its 2018 exploration program. The 2018 exploration program should go a long way toward figuring out the upside potential at SNA.

Shear Zone Target: The Shear Zone is an early stage target located right on the Fluorspar Canyon Detachment Fault; the Shear Zone lies along the same fault which Corvus Gold has been aggressively drilling less than 1 kilometer away and there is an historic drill hole which graded 5.01 g/t Au just a few hundred feet to the southeast of the Shear. The Shear Zone could be a marker of a section of the Flourspar Canyon Detachment Fault that received exceptional fluid flow indicating a potential for a large volume of mineralization down the structure. CEO Mike Allen added that the Shear Zone has been interpreted as the top of an epithermal vein system.

In total the Crown hosts 470,000 ounces of gold (inferred), however, with the recent drilling success at Crown and the large exploration program slated for 2018 (roughly 15,000 meters of drilling is slated for the Crown claims) it's not far fetched to bring those total ounces to north of 1,000,000 ounces of gold. With some luck and a new discovery in 2018 Northern Empire could soon be talking 2 million+ ounces of gold at its Sterling Project.
The size of Northern Empire's claims is simply stunning, as its 141 square kilometers of contiguous claims has consolidated much of the Bare Mountain mining district. By comparison, Corvus Gold (TSX:KOR) has a ~C$167 million market cap and its flagship Mother Lode Project represents a land package of less than 1 square kilometer. This size difference helps to put the opportunity which lays in front of Northern Empire into perspective; there is substantial potential to make new discoveries and to add additional ounces on Northern Empire's past producing pits.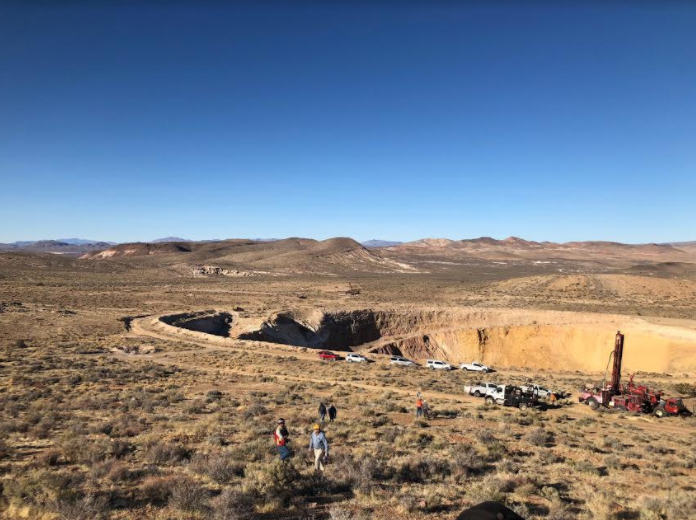 View of Corvus Gold's Mother Lode Project from Northern Empire's SNA Project (Northern Empire is drilling close to the claim boundary with Corvus as can be seen in the photo).

Barrick's Bullfrog Mine, visible in the distance from most locations on the Crown claims, is a consistent reminder that it would make a lot of sense for a single entity to consolidate Mother Lode with Northern Empire's Crown deposits. Such a consolidation would create a potentially multi-million ounce open-pit heap leach gold mining operation that could conceivably produce well over 150,000 ounces of gold per year. Perhaps Barrick (NYSE:ABX) itself would even be tempted to return to its old neighborhood if it could consolidate the projects into a new district with sufficient scale to turn the needle for the world's largest gold producer. AngloGold is also very active in the Walker Lane trend (where the Sterling Project is located) and of course Newmont Mining is the biggest player in Nevada. All are potential acquirers of Northern Empire, including NM's largest shareholder, Coeur Mining.
What is the Sterling Project worth?
Always the toughest, and most important question an investor should consider.
Given the company's recent exploration success, and its strong starting point with the historical resource estimates at Sterling, Daisy, Secret Pass, and SNA it's not too difficult for Northern Empire to get to a 1,000,000 ounce mineral resource estimate. Moreover, Northern Empire's gold ounces should command a premium valuation given the following factors:
Massive, strategic land package in gold's best state, Nevada.

Metallurgical recoveries are expected to be robust (88% recovery rate from historical production at Sterling, 75% recovery rate from historical production at Daisy/Secret Pass).

The majority of the ounces are open-pittable and heap leach is likely to be used throughout all of the deposits.

Permit already in place for the Sterling Mine and substantial infrastructure already in place including power lines 8 miles from the mine site, a power substation nearby that Barrick Gold used at its Bullfrog Mine, under-allocated water basin 5.5km from the Sterling Mine that the company could be used if the project moves into production, and roads that lead right up to all of the deposits.

All of this means that assigning a US$75/ounce valuation for Northern Empire's inferred ounces is quite reasonable. 1 million ounces x US$75 gives us a C$93.75 million market cap using a $1.25 USD/CAD exchange rate. 66.5 million NM shares outstanding gives us a C$1.41 per share fair value at a 1,000,000 ounce resource. This is a good start, however, it is the blue sky in the Crown block of claims (particularly at SNA and the Shear Zone) that gives Northern Empire shares so much potential upside.
Northern Empire CEO Mike Allen didn't beat around the bush during a February mine tour in which he was heard stating on multiple occasions that Northern Empire's primary focus was to now "build ounces in the ground." If we can realistically begin talking about the 2,000,000 ounce number as a global resource estimate for Sterling there is considerable upside available in Northern Empire shares. In fact, it's quite possible that NM could warrant a premium valuation (well above US$75/ounce in the ground) as it grows its resource above the 2 million ounce mark (as the market places a premium on scale and the probability of a takeover offer increases).
Where will these ounces come from? Northern Empire CEO Allen made it clear that a significant chunk of 2018's 15,000 meter drill program will be focused on SNA (16 holes) which has by far the most 'blue sky' of any of NM's claims. SNA surrounds Corvus Gold's Mother Lode discovery and Corvus drilled a hole within 8 meters of the claim boundary which returned 51.8 meters of 1.86 g/t Au including 19.8 meters of 3.43 g/t Au. That's a very impressive intersection, the kind which mines are made from. CEO Allen was quoted saying that SNA "probably has the greatest game changer potential. There's the potential for a new Carlin discovery there which would open up the world considerably."
Northern Empire is thinking big and in the background the company has been working on permitting a larger drill program (50,000+ meters), in order to delineate resources identified in the proof of concept work. Companies don't spend the money to drill tens of thousands of meters unless they believe there is a strong probability that this drilling will be accretive and add ounces to the overall total number of ounces in the ground.
When I visited the Sterling Project in early February there was a palpable excitement among the board members and team on the ground. These guys know they've got something special on their hands, the only question now is "how special is it?" We should have a much better answer to that question this summer once the vast majority of the 15,000 meter exploration program is completed. Investors shouldn't have to wait long as a flurry of results from the 15,000 meter program should come out over the coming months.
Disclaimer
The article is for informational purposes only and is neither a solicitation for the purchase of securities nor an offer of securities. Readers of the article are expressly cautioned to seek the advice of a registered investment advisor and other professional advisors, as applicable, regarding the appropriateness of investing in any securities or any investment strategies, including those discussed above. Northern Empire Resources is a high-risk venture stock and not suitable for most investors. Consult Northern Empire Resources' SEDAR profile for important risk disclosures.
EnergyandGold has been compensated to cover Northern Empire Resources and so some information may be biased. EnergyandGold.com, EnergyandGold Publishing LTD, its writers and principals are not registered investment advisors and advice you to do your own due diligence with a licensed investment advisor prior to making any investment decisions.
This article contains certain forward-looking information and forward-looking statements within the meaning of applicable securities legislation (collectively "forward-looking statements"). Certain information contained herein constitutes "forward-looking information" under Canadian securities legislation. Generally, forward-looking information can be identified by the use of forward-looking terminology such as "expects", "believes", "aims to", "plans to" or "intends to" or variations of such words and phrases or statements that certain actions, events or results "will" occur. Forward-looking statements are based on the opinions and estimates of management as of the date such statements are made and they are subject to known and unknown risks, uncertainties and other factors that may cause the actual results, level of activity, performance or achievements of the Company to be materially different from those expressed by such forward-looking statements or forward-looking information, standard transaction risks; impact of the transaction on the parties; and risks relating to financings; regulatory approvals; foreign country operations and volatile share prices. Although management of the Company has attempted to identify important factors that could cause actual results to differ materially from those contained in forward-looking statements or forward-looking information, there may be other factors that cause results not to be as anticipated, estimated or intended. There can be no assurance that such statements will prove to be accurate, as actual results and future events could differ materially from those anticipated in such statements. Actual results may differ materially from those currently anticipated in such statements. The views expressed in this publication and on the EnergyandGold website do not necessarily reflect the views of Energy and Gold Publishing LTD, publisher of EnergyandGold.com. Accordingly, readers should not place undue reliance on forward-looking statements and forward looking information. The Company does not undertake to update any forward-looking statements or forward-looking information that are incorporated by reference herein, except as required by applicable securities laws. Always thoroughly do your own due diligence and talk to a licensed investment adviser prior to making any investment decisions. Junior resource companies can easily lose 100% of their value so read company profiles on www.SEDAR.com for important risk disclosures. It's your money and your responsibility.