NOT FOR DISTRIBUTION TO U.S. NEWS WIRE SERVICES OR FOR DISSEMINATION IN THE UNITED STATES
HIGHLIGHTS
$1.38-Million Flow-Through Financing Fully Funds 2023 Exploration Program

Phase 1 Exploration Program Has Commenced:

Covering all 64 Beyond Lithium projects, the largest greenfield Lithium portfolio in Ontario, including a significant position in every major lithium, cesium, tantalum ("LCT") pegmatite district known in that province

Up to six teams conducting extensive field exploration work on all projects

Actively sampling, mapping and assessing over 500 mapped pegmatites outcrops aimed at prioritizing potential pegmatite-bearing structures. Some individual pegmatites are mapped as being over 100 meters wide and are traced up to 2.5 kilometers along strike

Phase 1 expected to be completed by August, 2023

Crews Currently At The Dryden East Group Of Lithium Projects Next To Critical Resources' Mavis Lake Lithium Deposit Which Has A Resource Of 8.0 Mt At 1.07% Li2O1

Phase 2 Program Will Follow Up On Projects Showing The Highest Potential For Discovery After Interpreting The Results From The Phase 1 Program

Field Teams Are Led By Experienced Prospecting Companies, Bounty Gold Corp. And Last Resort Resources Ltd.

Three Of Beyond's Lithium Projects (Scholfield, Oneman Lake, and Sollar Lake) Intercepted Pegmatites In Historical Drilling And The Drill Cores Available For Relogging And Sampling, To Be Conducted During Phase 1

LiDAR Survey Is Planned For The Wisa Lake Lithium Project Next To Green Technology Metals' Wisa Project With A Mapped Pegmatite Striking 1.5km In Length And Exceeding 20m In Width2

Winnipeg, Manitoba--(Newsfile Corp. - May 15, 2023) - Beyond Minerals Inc. (CSE: BY) (OTCQB: BYDMF) (the "Company" or "Beyond Minerals") is pleased to announce the completion of a non-brokered private placement of 2,764,600 common shares in the capital of the Company that will qualify as "flow-through shares" (within the meaning of subsection 66(15) of the Income Tax Act (Canada)) (the "Flow-Through Shares") at a price of $0.50 per share for aggregate gross proceeds of $1,382,300 (the "Offering").
The gross proceeds from the Offering will be used by the Company to incur eligible "Canadian exploration expenses" that will qualify as "flow-through critical mineral mining expenditures" as such terms are defined in the Income Tax Act (Canada) (the "Qualifying Expenditures") related to the Company's projects in Ontario. All Qualifying Expenditures will be renounced in favour of the subscribers of the Flow-Through Shares effective December 31, 2023.
Beyond also announces that it has begun an extensive Phase 1 exploration program to assess its 64 Lithium projects located across Ontario, Canada.
Beyond's President and CEO, Allan Frame, commented: "With the closing of this flow-through financing, Beyond is uniquely positioned to execute on its 2023 exploration program, starting with a Phase 1 exploration program that will cover our 64 Lithium projects, representing the largest lithium portfolio in Ontario. Our projects are located within the most active Lithium exploration areas across Ontario. We are pleased to start the field season early in the Dryden East area and will gradually shift to the central and northern areas as the snow continues to melt. The results from the Phase 1 program will lead to a Phase 2 program which will have its primary focus to delineate potential drill targets and provide additional geological information to enter into potential joint ventures."


Figure 1: Tenure map of Dryden area
To view an enhanced version of this graphic, please visit:
https://images.newsfilecorp.com/files/8620/166033_da8b5cf974751aa9_003full.jpg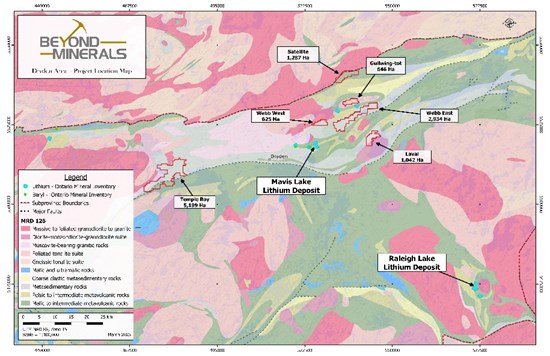 Figure 2: Geological map of Dryden area
To view an enhanced version of this graphic, please visit:
https://images.newsfilecorp.com/files/8620/166033_da8b5cf974751aa9_004full.jpg
Beyond has 64 Lithium projects totalling over 150,000 hectares across Ontario. Most of the projects are accessible via highways and logging roads except for eight projects (12,051 hectares) which require helicopter access support. These eight projects are situated near Frontier Lithium's Pak and Spark Lithium deposits in northwestern Ontario. In addition, most of the projects are close to cities and towns and proximal to infrastructures such as the Trans-Canada Railway and hydro power lines.


Figure 3: Locations of Beyond Lithium projects in Ontario
To view an enhanced version of this graphic, please visit:
https://images.newsfilecorp.com/files/8620/166033_da8b5cf974751aa9_005full.jpg
Exploration Program
The 64 Beyond Lithium projects located in Ontario are greenfield exploration projects that historically have not been prospected or explored specifically for Lithium or Lithium-Cesium-Tantalum pegmatites. Beyond has reviewed the historical and regional data available of all the projects and geo-referenced most of the mapped pegmatite outcrops. The main focus of the Phase 1 exploration program is to formally map, assess and systematically sample these pegmatite outcrops, identify new pegmatite showings, and locate prospective regional or terrane structures.
A total of 11 projects have records with historical drilling information and 8 of them reported intercepts of pegmatites noted in the drill logs. Drill cores from three projects, the Scholfield, the Oneman Lake, and the Sollar Lake are available for relogging and sampling. Re-examination and sampling of the pegmatites intercepts of these three projects will be conducted during Phase 1. Assays from these historical drill holes will quickly outline potential follow-up drill targets to confirm these historical drill holes.
The LiDAR survey planned for the Wisa Lake Lithium project next to the Green Technology Metals' Wisa Project will provide a detailed digital elevation model (DEM) of the area which is a useful exploration tool for identifying and prioritizing areas within the project evidencing the highly prospective combination of outcrop and structure. LiDAR is a remote sensing method that is utilized to create digital terrain (DTM) and DEM of the landscape. As the topography of the area is generally flat, a subtle change to elevation high may indicate pegmatite outcrops or features worth prospecting.
All data collected from the Phase 1 exploration program will be integrated into the existing database for interpretation and used to prioritize projects for the Phase 2 program planned later this field season. The Phase 2 program will include detailed geological mapping and sampling of the selected projects. The key objective of the Phase 2 program will be to define potential drill targets.
In connection with the Offering, the Company paid certain eligible third parties dealing at arm's length with the Company (the "Finders"): (i) cash commissions totalling $88,224.50, representing 6.5% of the proceeds raised from subscribers introduced to the Company by such Finders; and (ii) an aggregate of 176,449 non-transferable broker warrants (the "Broker Warrants"), representing 6.5% of the number of Flow-Through Shares sold to such subscribers, each exercisable to acquire one common share of the Company for 2 years from the date of issuance at exercise price of $0.50 per share.
All securities issued under the Offering are subject to a hold period of four months and one day from their date of issuance.
The offered securities have not been registered under the U.S. Securities Act of 1933, as amended, and may not be offered or sold in the United States absent registration or an applicable exemption from the registration requirements. This news release shall not constitute an offer to sell or the solicitation of an offer to buy nor shall there be any sale of the securities in any state in which such offer, solicitation or sale would be unlawful.
Qualified Person and Third-Party Data
The scientific and technical information in this news release has been reviewed and approved by Lawrence Tsang, P.Geo., VP Exploration of the Company. Lawrence Tsang is a "qualified person" as defined in National Instrument 43-101 - Standards of Disclosure for Mineral Projects.
About Beyond Minerals Inc.
Beyond Minerals Inc. is the largest greenfield lithium exploration player in Ontario with 64 high potential greenfield lithium properties totalling over 150,000 hectares. The Company has adopted the project generator business model to maximize funds available for exploration projects, while minimizing shareholder dilution. Beyond Minerals is advancing certain of its projects with its exploration team and will seek to option other properties to joint venture partners. Partnering on various projects will provide a source of non-dilutive working capital, partner-funded exploration, and long-term residual exposure to exploration success.
Please follow @BeyondMinerals on Twitter, Facebook, LinkedIn, Instagram and YouTube.
For more information, please refer to the Company's website at www.beyondminerals.ca.
CAUTIONARY STATEMENT REGARDING FORWARD-LOOKING INFORMATION: This news release includes certain "forward-looking information" within the meaning of applicable Canadian securities legislation. All statements, other than statements of historical fact, included herein including, without limitation, statements regarding future capital expenditures, anticipated content, commencement, and cost of exploration programs in respect of the Company's projects and mineral properties, anticipated exploration program results from exploration activities, resources and/or reserves on the Company's projects and mineral properties, and the anticipated business plans and timing of future activities of the Company, are forward-looking information. Although the Company believes that such statements are reasonable, it can give no assurance that such expectations will prove to be correct. Often, but not always, forward-looking information can be identified by words such as "pro forma", "plans", "expects", "will", "may", "should", "budget", "scheduled", "estimates", "forecasts", "intends", "anticipates", "believes", "potential" or variations of such words including negative variations thereof, and phrases that refer to certain actions, events or results that may, could, would, might or will occur or be taken or achieved. In stating the forward-looking information in this news release, the Company has applied several material assumptions, including without limitation, that market fundamentals will result in sustained precious and base metals demand and prices, the receipt of any necessary permits, licenses and regulatory approvals in connection with the future exploration of the Company's properties, the availability of financing on suitable terms, and the Company's ability to comply with environmental, health and safety laws.
Forward-looking information involves known and unknown risks, uncertainties and other factors which may cause the actual results, performance or achievements of the Company to differ materially from any future results, performance or achievements expressed or implied by the statements of forward-looking information. Such risks and other factors include, among others, statements as to the anticipated business plans and timing of future activities of the Company, the proposed expenditures for exploration work on its properties, the ability of the Company to obtain sufficient financing to fund its business activities and plans, delays in obtaining governmental and regulatory approvals (including of the Canadian Securities Exchange), permits or financing, changes in laws, regulations and policies affecting mining operations, risks relating to epidemics or pandemics such as COVID-19, the Company's limited operating history, currency fluctuations, title disputes or claims, environmental issues and liabilities, as well as those factors discussed under the heading "Risk Factors" in the Company's prospectus dated February 23, 2022 and other filings of the Company with the Canadian securities regulatory authorities, copies of which can be found under the Company's profile on the SEDAR website at www.sedar.com.
Readers are cautioned not to place undue reliance on forward-looking information. The Company undertakes no obligation to update any of the forward-looking information in this news release except as otherwise required by law.
For further information, please contact:
Alan Frame
President and CEO
Tel: 403-470-8450
Email: allan.frame@beyondminerals.ca
Jason Frame
Manager of Communications
Tel: 587-225-2599
Email: jason.frame@beyondminerals.ca
---
18.0 Mt at 1.07% Li2O Maiden Mineral Resource at Mavis Lake, See Critical Resources (ASX: CRR) announcement released 4 May 2023
2See Green Technology Metals (ASX: GT1) Wisa Project Qualified Person and Third-Party Data
To view the source version of this press release, please visit https://www.newsfilecorp.com/release/166033