It is my pleasure to provide an update on Anaconda Mining (TSX:ANX). You can find all of my prior articles on the company on CEO.CA at this link: https://ceo.ca/anx?b65066be0565 If you're pressed for time, just know that Anaconda was recently recognized as having one of the top-five drilling results globally for July, 2017 by the Mining Journal. You can find the link here: http://www.mining-journal.com/financeinvestment/exploration/july-best-global-drill-intercepts/
I look forward to bringing out additional content on Anaconda. Watch for something with Mr. Allan Cramm, the VP of Innovation and Development. Also with Mr. Jonathan Fitzgerald, who is the Chairman of Anaconda Mining. Lots to discuss about this wonderful company. I, myself, am particularly keen to go through the financials line-line with Dustin, maybe in a web-conference where we screen-share the financials.
Note that I have not been compensated to prepare and distribute this material. I own shares in the company. The transcript contains forward-looking statements and has been approved by the company. Read on for 60 minutes with Mr. Dustin Angelo, President, CEO, and Director of Anaconda Mining!
Peter Bell: Dustin, thank you very much for joining me.
Dustin Angelo: You're welcome, Peter. Thanks for all your efforts to support the company in the past. You have done a lot of writing about us and we appreciate it.
Peter Bell: So much to talk about – I have two pages of notes jotted down from our first conversation back in November 2016 with things to follow up on. And all the news flow since then has just been stunning.
Dustin Angelo: Yes, it's been quite a ride so far.
Peter Bell: Good for you guys. Is everything OK – are you holding it all together up to this point?
Dustin Angelo: So far, so good.
Peter Bell: I noticed that the CFO left. Have there been any additions to the management team? I would guess the acquisition of Orex brought on some new people. There is a lot to talk about there – what a great acquisition. Well done.
Dustin Angelo: Thanks, we thought so too. It went very smoothly.
Dustin Angelo: To your question about management, nothing really happened with the Orex acquisition. They didn't have anyone on payroll. The CEO and CFO joined our board, but no-one joined to Anaconda as far as executives in the management team.

Peter Bell: OK, thanks for clarifying that.
Dustin Angelo: We have hired a new CFO who started back in May, 2017. He is doing a great job. We work very closely on the accounting. Keep in mind that I am an accountant myself.
Dustin Angelo: Although we didn't bring on any management from Orex, we have promoted people internally. One person has been promoted to Chief Operating Officer, which is a new position for the company. For the first time, Anaconda has a Chief Operating Officer.
Peter Bell: Really? How many years have you been in production now?
Dustin Angelo: About seven.
Peter Bell: Wow. That sounds like a long time to have been in production without having a COO.
Dustin Angelo: Well, we had a single project. The Point Rousse project, which we've discussed a bit. Lots more to discuss there, obviously.
Dustin Angelo: We were able to operate without a COO because we had a single project. Our general manager at Point Rousse and I tag-teamed the role. He worked at the site locally and I worked at the corporate level.
Peter Bell: So, you've leveled-up.
Dustin Angelo: It is a milestone for the company.
Peter Bell: Everybody's still in place out there in Baie Verte?
Dustin Angelo: Yes, they are. In fact, there have been some changes as the promotion of our Chief Operating Officer internally created a void. We have elevated certain people who work there. And deservedly so. Those people were ready for bigger roles in the organization.
Dustin Angelo: As I say, we made some positive moves at the Point Rousse level by increasing the responsibilities of staff there. We have made key changes around the project site and haven't missed a beat.
Our General Manager, Allan Cramm, is one of these people I am describing. He moved into a new role as our VP of Innovation and Development. You may have seen that he received an award recently. Again, that is well-deserved.
Allan has been leading our research project concerning narrow vein mining techniques. We've had several exciting research and development projects, as you know Peter. We have been participating in these programs for some time, but you could describe this is as another case of going to the next level.
Peter Bell: This was always a key feature for me. I worked project development for academic-industrial research funding throughout my academic career and I know how powerful it can be. I helped execute projects as an undergrad, a Masters student, and a PhD student. I don't know any other juniors who are doing that like you are. The future of mining is exciting.
I will just briefly mention that Daniel Cook and I discussed this yesterday. We were imagining a mining scenario where you follow veins 6 centimeters wide with a re-orientable drill that takes 30 centimeters. Assuming you have nice continuity of the veins. Dan pointed to Robert Friedland's public comments about robotic mining. No idea what will come of all that for Anaconda, but it is great that you are working towards that.
Dustin Angelo: Certainly, Peter.
Peter Bell: Good to hear about promotions. You have potential to create a lot of value in the markets, but you are already having a large economic impact on Newfoundland economy.
Dustin Angelo: We are working on some things to create value in the short-term, too. Some of the things that Allan is working on, for example, may take a long time to play out. We have tried to strike a balance between that in our entire corporate history. I believe we have done a good job of that and I look forward to continuing to execute our business to high standards.
Peter Bell: Agreed, Dustin. You have delivered since I first met you and I shudder to think what the future might hold for you. This research project on mining techniques for high-grade veins has got everybody abuzz. The combination of that with the presence of high-grade veins at your newest acquisition, Goldboro in Nova Scotia, has been a bit much. I don't know many people who get it yet, but it is just screaming at me.

Please can I ask, just how far out are these research ideas?
Dustin Angelo: I would not describe them as "far out". We're looking at augmenting existing technology. There is much more to it, but that is basically what we are doing. It's not too far of a stretch to implement some of these ideas. It will take some investment and some time. We have great partners in ACOA and RDC.
It's an important initiative for us. There are a lot of areas in Newfoundland, particularly, that have potential for gold deposits that can be mined economically using this new technology. If we can make this technology work, then it could be a big deal for us. We could develop a competitive advantage in the local industry for these types of projects. That would be a long-term goal for us.
Peter Bell: Fascinating. Thanks for telling me that the research projects are adapting existing technology. You don't want to be on the wrong side of the cutting edge.
Dustin Angelo: And just to briefly mention that the way the research funding is structured, it mitigates our risk. We have commitments, but the amounts are certainly manageable by Anaconda and our partners are right alongside us sharing some of the risk.
Peter Bell: And the human infrastructure or access to people that comes along with the universities is great, as well.
Dustin Angelo: Yes. We've always had this public/private partnership between ourselves, the universities, particularly Memorial University and College of North Atlantic, and the government. This isn't our first go-around in this structure. As I mentioned before, we've been doing this for a number of years now but this is the biggest one yet.
Peter Bell: I'm looking at the news release here, the image appendix. It shows Romeo and Juliet, which are located on Point Rousse close to Anaconda's mill in Newfoundland. I see a few points on the image: the average width of the vein is 1.5 meters; it's a single vein, so the economics don't support underground mining. That is an example of projects you just mentioned, the ones at Point Rousse that may prove more interesting if you have success with your research and development efforts. I guess that is one of the 47 targets that we've talked about before at Point Rousse. By the way, my favourite moment from our first interview was when I flipped through the deck at the 50 minute mark and saw mention of "47 exploration targets on Point Rousse". That was just great.
Please can you tell me where that Romeo and Juliet project is located on the point in relation to the 47 other targets?
Dustin Angelo: Romeo and Juliet is about 1.5 kilometers north of our mill. It's pretty close.
Peter Bell: And do you still refer to having 47 targets at the Point Rousse project? That number seems so large to me.
Dustin Angelo: Well, there are still a lot of targets out there. We are currently in the field, as we speak, reviewing some of the key targets that are close to the mill. These are higher on our priority list right now, which we have discussed in the past. There is a lot of potential for mineralized areas right around our mill at Point Rousse. We haven't been able to get to all of them over the years because of time and money.
Peter Bell: That is great to hear. The way that you have managed those constraints has been very impressive, though. I have heard some say that your inability to generate much cash has been a yellow flag, but I've been impressed by your ability to make as much progress as you have from bootstrapping your exploration and development off your production. Doing that at any scale of production is an impressive task, in my opinion.
I mentioned the image of an inchworm to you before in relation to this. All your acquisitions in Newfoundland and Nova Scotia really moved you forward, and now you get time to go back and do things like exploring right around your mill. I'm sure you always planned to do that, but it is good to see things on track for you.
Have things gotten more complicated for you recently with additions of Goldboro and whatever due diligence you may be doing on additional acquisition targets?
Dustin Angelo: Certainly, things get more complicated when you have more projects. It forces you to prioritize and stay disciplined on where you're going to allocate your capital. We have a number of projects – everything from grassroots exploration all the way through to production.
We haven't been speaking much about it lately, but we have the Viking project, the Great Northern project, and Tilt Cove. They rank behind Point Rousse and Goldboro, which are our clear focus right now. Goldboro is the largest project we have. It's a high-grade project. And we're producing at Point Rousse. As I say, there is a lot of potential right around the mill and those may prove to be the cheapest ounces available to us at this time. The proximity to our mill benefits the operating costs relative to our other projects and the permitting is simplified because we are in production there.
Our focus is on these two projects, but we will do work on the other ones to keep the pipeline moving.
Peter Bell: Yes, you have to balance what you put into the pipeline and what moves through it. My impression is that you've done a good job with all of that. There are myriad different ways that you could move forward, but you've found one.
I will briefly mention for the readers one thing that I liked about Anaconda when I first met you. You made very disciplined use of the public markets. I believe you went five years without an equity financing during the bear market from 2011. Just great vision. However, you still have a large share count. Particularly after the acquisition of Orex. That number scares some people away, but I would point out that these are all old shares. These are not shares facing a four month hold date or large number of warrants hanging over the market. When you roll the shares back, things could get interesting.
Dustin Angelo: I understand that shareholders or potential investors may be concerned about share count. We did issue shares to acquire Orex for the Goldboro project and have used shares to acquire other projects before that.
If you look at what we have acquired on a per-ounce basis, you will find that we have made prudent acquisitions. At Goldboro, we acquired over 800 thousand ounces at high-grade – over 5 grams of gold per ton. We acquired that for shares and paid roughly $15 an ounce based on the valuation of our equity. For comparison, Marathon Gold is trading at roughly $60 an ounce.
However, this cost-per-ounce statistic is a crude metric because of differences in the categorization of mineralization. It is simply taking your enterprise value and dividing by those total number of ounces in measured, indicated, and inferred resources.
We think this metric under-estimates the potential of Goldboro, but it is still a useful place to start discussions. As I say, we bought these ounces, high-grade ounces at Goldboro, for roughly one-quarter the valuation of Marathon Gold right now. Another comparable company is Atlantic Gold. Comparing the Enterprise Value and total resources, I believe the valuation of Atlantic Gold is approximately double Marathon Gold.
I understand that we have issued shares in acquisitions, but I believe we bought value. Management and the Board agree on this point. If we can do what we expect to do at Goldboro, then it may show the company has a lot more value than in the past. We think there's a lot of expansion capability of that resource. We're targeting doubling the size of it. Our target is to double the size of the resource at Goldboro.
As we mentioned in our press release, there is expansion along strike. We have a strike length of about 1.6 kilometers included in the resource estimate right now. There is potential for another 1.6 kilometers of strike along where there are gold occurrences, historic workings, and historic drilling. There are IP anomalies, as well.
All these things coalesce at Goldboro to suggest that there is potential to the west for mineralization over another kilometer. It is similar to the east over approximately 600 meters, as well. Just in terms of the strike length, we could double the size of the deposit area. And that doesn't include the potential for us to increase the mineral resources at depth, as well.
We see a lot of potential. There are some significant drill hole intercepts at the margins of the deposit, particularly at depth. They were summarized in the press release we released recently. All of the deep drilling at Goldboro was done in the '80s. There has been no modern drilling. No-one has tried to expand this deposit since the 1980s. There is a lot of opportunity there.
Peter Bell: Despite the Osisko holes? I'm looking at OSK-11-04, their fourth hole from 2011. They had 1,500 grams of gold over 0.5 meters within 2.7 meters that averaged 270 grams. I don't know how much of that type of mineralization like that is present, but if you are mining 10 meters then it is almost 75 grams per tonne by my calculations. Well above 5 grams!
Dustin Angelo: Certainly, Peter. We will see about all of that. Now, let me tell you that the hole you just mentioned was actually located along strike rather than at depth. Osisko did some drilling to extend the strike and had mixed results. All of the deep drilling was done in the '80s.
We see several areas where this ore body could potentially expand. At East Goldbrook, for example, the average drill-spacing is about 100 meters. One of the holes we drilled, hole #4 if I recall correctly, encountered significant gold mineralization. Approximately 2,500 grams per ton over half a meter within 485 grams over 2.6 meters. That hole actually extended two of the known gold belts. Hole #4 at East Goldbrook intercepted two of the belts that previously weren't modeled, and extended them approximately 40 meters and 100 meters respectively. That gives you an example of the potential for the infill drilling at East Goldbrook and how we hope to expand the resource base at Goldboro.
Peter Bell: What an acquisition.
Dustin Angelo: There's all kinds of potential here and we're working to demonstrate that. I think the initial drilling we've done is getting off to a good start. We are building on a lot of work that has been done in the past. Consolidating all that information and refreshing it for the market is a very useful exercise for us. As we try to demonstrate the potential to others, we are encouraged about the upside.
Peter Bell: Indeed. I'm looking at the map with the hole plan at Goldboro. Were these holes meant to twin old holes? I am looking at BR-17-01-05 and it would seem to be an infill hole. There are some others that are closer to prior holes. The first 3 holes you drilled were in the Boston Richardson area, which is very exciting to me as an outsider. There was a lot of drilling done there historically. Then, you drilled holes 4 & 5 at East Goldbrook. Hole #4 looks pretty close to an old hole there. I wonder how Hole #4 compares to the old hole nearby. Any broad comment around the hole plan here?
Dustin Angelo: Sure. Yes, we drilled at the Boston Richardson and the East Goldbrook areas of the main deposit. They were planned for a couple different reasons. For one, we are using some core for metallurgical work. For another, we were doing confirmation drilling. One of the key things out of this first round of drilling at Goldboro by Anaconda was that it confirmed the geologic model. We have a lot of confidence in the resource, which is really important as we move forward. Hitting what we've hit just confirms the magnitude of the grade in this deposit and the character overall.
Peter Bell: Some fresh core for structural interpretations, as well? That may not be necessary for you at this point with all the historical drilling.
Dustin Angelo: We use that core primarily for metallurgical testing, but we will complete geotechnical work as we move forward. At this point, any fresh core is helpful for the development of the project.
Peter Bell: A couple questions that occur to me. I haven't heard any mention of soil sampling. I see there's a lake close by called Goldboro Lake, I believe. Has there been lake sediment analysis or geophysics done in the Goldboro area?
Dustin Angelo: Yes, there has been. I think we're generally beyond that at this point, given the amount of work that's been done on this project in the past.

Peter Bell: And it's noteworthy that mineralization extends to surface at Goldbrook, right?
Dustin Angelo: Yes, it does. That's why we're looking at development immediately. Ultimately, we're thinking about an open pit before we attempt underground mining but there is great potential for mining Goldboro.
Peter Bell: Great. Are there not some historical workings there? A shaft or a ramp?
Dustin Angelo: Yes, there are. There is old infrastructure at the Goldboro site. The underground workings need to be pumped out. We haven't been able to assess them at this point, but we will. The historical infrastructure provides us a lot of opportunities.
Peter Bell: Given your drilling at the projects in Newfoundland, I have wondered who you would use for drilling at Goldboro. I assume you are using contract drillers there. Was it the same group that has done your drilling in Newfoundland?
Dustin Angelo: Yes, we use contractors but it was not the same group that did our drilling in Newfoundland. We put the project out for bid and our best practices for drill programs are to do a tender. For both Argyle and Goldboro, we requested bids from multiple drilling companies that could work in both provinces.
Peter Bell: I always was pleased to hear about the bulk sampling that you did at Stog'er Tight last year. The 10,000 tonnes you mined from the higher-grade pod at surface was great. I wonder about the potential for something similar at Goldboro. Particularly to demonstrate the potential for the shipping! I'm sure that we will come to that in time.
Dustin Angelo: It's in the plan.
Peter Bell: There is always a "show me" attitude amongst some people in the markets and that can be a good way to do it. That's always been a thing that has impressed me about Anaconda – being in production is different from planning to go into production.
Dustin Angelo: There were lots of challenges going through that process, but we do have a certain level of comfort with all of that. We are now able to put together financial models of production there that have a basis in the reality of our historical performance.
Shipping the ore is a whole other thing! Everybody is eager to see if we're going to do it and how we're going to do it. We have been working through the process of evaluating it and talking with different shipping companies. There are other companies that can help us to put in the infrastructure, such as loading and unloading facilities. We continue to do a lot of work on that and we educate ourselves more and more every day. Remember, too, that bulk shipping around the Maritimes is not uncommon.
Peter Bell: That's wonderful. You just reminded me of Mr. Duane Poliquin when he was describing shipping a mill he bought in Alaska to Mexico – how he was cutting costs by half by doing it himself. I see something similar in Anaconda. Much of your mill is second-hand.
Dustin Angelo: That's right. And we're planning to have a PEA out by the end of the year. We will have to make significant decisions for that PEA. Over the next couple months, we will decide whether we're going to ship whole ore or build a concentrator at Goldboro. If we do build a concentrator, then we could likely truck the concentrate back to Pine Cove. The quantities would be small enough to allow trucking by road as it would be very high-grade material.
Peter Bell: Wow. That reminds me of our discussion about the Viking Project in our first interview. I believe we discussed the potential for a concentrator there and trucking. Great to see the same idea at play in another location. And the shipping facility was just coming online at that time. Since then, it has generated cash for you. I imagine that's been appreciated.
Dustin Angelo: Yes, it has been. We're getting this extra cash from what was a cost center for the business. It was our waste product and now it's generated revenue. It's lowered operating costs because our haul distance for mining activities is shorter. More importantly, creating that port opened up a lot more strategic options on a long-term basis. The entire Atlantic Canada region is now open to us.
I think the port even helped get the deal done with Orex. We are keen to see how we can use it for production at Goldboro. How can we leverage it in other situations, as well? It may allow us to acquire other projects, as we've discussed before.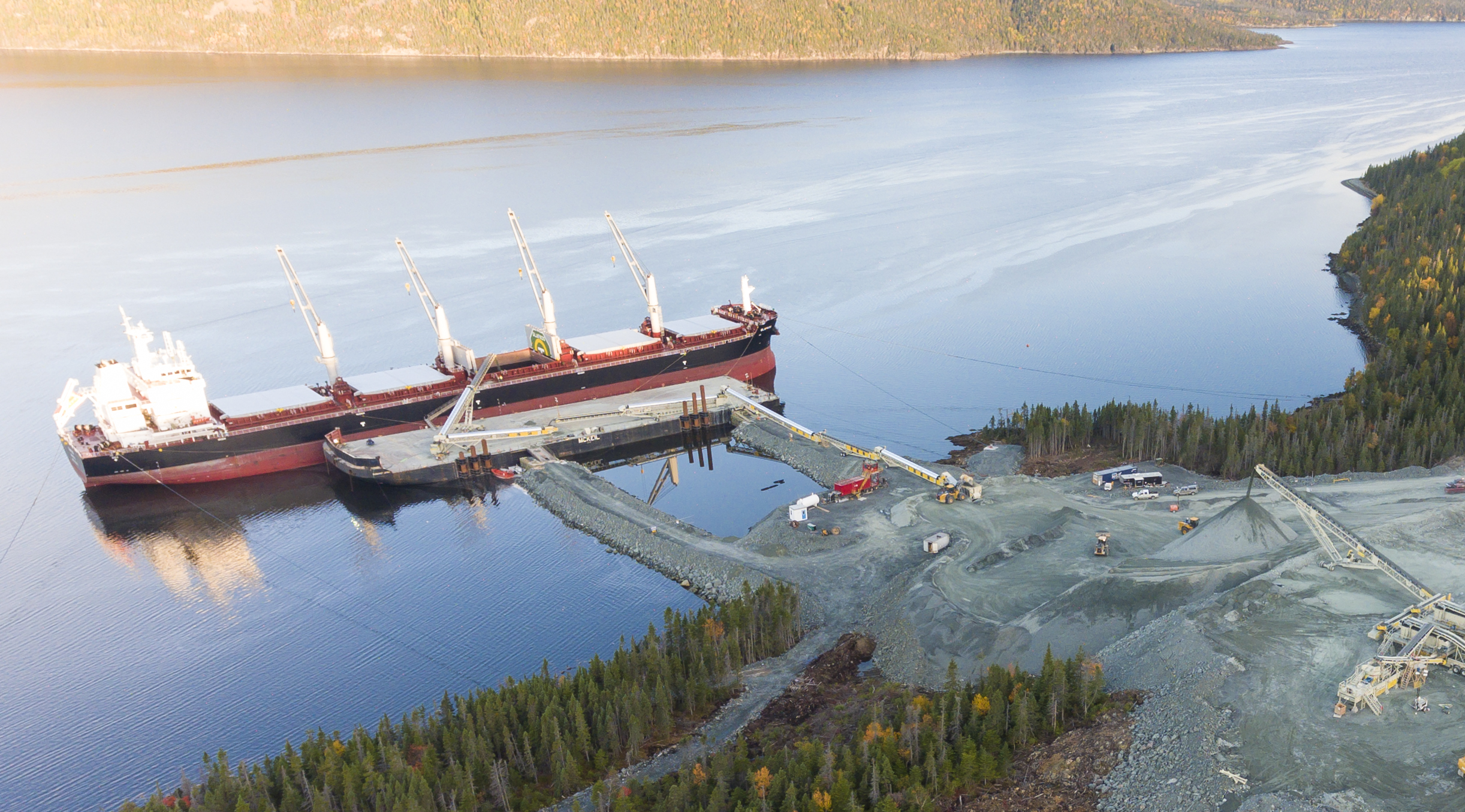 Peter Bell: Another thing I liked about the concentrator approach was the fact that the front end of your Pine Cove mill was running at capacity, but you had some spare capacity in the back end of the mill. The whole "back end of the mill" thing was just great. For such a small producer, optimizing these things can have a big impact. I recall that you talked about the impact of higher grade material on your financials, even with the limited run of the 10,000 tonne bulk sample. I can't imagine what the financials might look like in the future.

Dustin Angelo: Yes, it is an exciting time for the company.
You mentioned the concentrator at our Viking Project and it is the same concept. We're looking to leverage the infrastructure that we already have in place, filling-in all the areas that have available capacity. As you just said, Peter.
There may be an opportunity for more capacity in the front end of the mill by making changes to the ball mill and the crushing circuit, but the lion's share of additional capacity is at the back end of the mill. That is why one of the scenarios we're looking at for Goldboro is to concentrate the ore and then bring the concentrate back to the mill. We would only need what is effectively half a mill at Goldboro and can do the rest of the processing up at the Pine Cove mill site.
Peter Bell: And transport it by highway. Isn't mining in the Maritimes grand? I certainly look forward to the PEA. I hope to see you put all these things into production someday – I can't even imagine what your financials would look like at that time.
Dustin Angelo: They would be pretty robust.
Peter Bell: I noticed one subtle thing in the notes to the financial statements about gold sales. You have some contracts in place with a metals traders.
Dustin Angelo: Yes, our gold trader is Auramet Trading. We sell all of our gold to them. We did a small gold loan with them back in January, which has now been paid off. We don't owe them any more repayments. We have found them to be pretty innovative and agile, coming up with some good solutions and helping us with the sale of our gold.
Peter Bell: And wasn't there an option provided to them by Anaconda? A call option on additional gold at some fixed price. It seemed like a good thing to help bring them to the table.
Dustin Angelo: Yes, they have a call option on some of our production: 400 ounces at USD$ 1,300 expiring December of this year and 400 ounces at the same strike price expiring in the summer of 2018. It's not an overwhelming amount of our annual production.
Peter Bell: Yes, that was my impression. It didn't seem like a large amount. I think it is one-tenth of one quarter of your total annual production. That is, 2.5% of your annual production at 16,000 ounces gold per annum. A small amount for you, but helpful to your relationships with other businesses down the chain in the gold markets.
Dustin Angelo: We've been working with Auramet for about 10 years and they're a good group to work with.
Peter Bell: Ten years, wow. And just to say it in so many words: that gold loan should not be taken as a signal that you are hedging production.
Dustin Angelo: Certainly not. We don't have a policy of hedging our production.
Peter Bell: That's probably for the best. And we've talked before about the difference between your costs of production, whether operating costs or all-in costs. Are the costs and margins still broadly the same as we discussed before?
Dustin Angelo: Yes, our costs have generally been about the same. We're producing gold at the site-level for roughly $1,100 per ounce in Canadian dollars. Gold today is trading at almost $1,600 an ounce, so we have a significant margin at the operating level.
Right now, we're producing 15-16,000 ounces of gold per year. Once we bring Goldboro into production, we want to be around 50,000 ounces per year. In that situation, we believe we'll generate substantial amounts of free cash flow. At that point, we could generate more cash than corporate overheads and continued exploration and capital expenditures combined, which would allow us to begin to accumulate a substantial cash reserve.
Peter Bell: Hold on – 50 thousand ounces? Tripling of gold production?
Dustin Angelo: It is a doable goal.
Peter Bell: And you could attempt to do that by optimizing the existing mill at Point Rousse in combination with Goldboro?
Dustin Angelo: Yes, we believe so. As I mentioned before, there are a couple ways we could proceed. Either way, there would have to be some infrastructure built at Goldboro but both ways leverage the Pine Cove mill.
Dustin Angelo: Whatever we do, we want to avoid building another set of full-scale infrastructure required to put another project into production. If we chose to concentrate at Goldboro, then we would have to build a concentrator there and all the associated infrastructure. If we chose to ship whole ore from Goldboro to Pine Cove, then we would have to build infrastructure at Goldboro such as a crusher and dock facilities. There's always going to be capital expenditures, but we will seek to find ways to do it effectively in a low-cost manner.
Peter Bell: Yes, which you have done consistently in the past.
The phrase, "ship whole ore," strikes me. That's a neat one, particularly in regard to the spare capacity at the back end of the mill that we have discussed.
One thing that some people have said to me is that they don't like to "pay management to learn how to mine on their dime". I guess that is a fair comment, generally, but I'm not convinced.
Dustin Angelo: And they're not paying us to learn how to mine. The management team that's in place now has over 100 years of experience in mining. It's not like we're new kids on the block. We've put in mines before. We put in the Point Rousse project. We developed that from scratch! We're not spending shareholders money for us to learn how to mine or develop an asset. That's just not the case here.
What some may find concerning is that we are putting forward some new ideas. For example, shipping whole ore. That's a new idea and it is something that we're exploring. If we can do it and we think it will provide the best shareholder return, then we'll pursue that. If we think that we should build a concentrator at Goldboro, concentrate the ore, and bring it back by truck, then we'll do that. We believe we can accomplish either one because we have an accomplished team of mining professionals in the company.
At the end of the day, we're trying to leverage the existing physical infrastructure at Pine Cove and the people. We have accumulated a lot of valuable know-how.
And the technology, too! You may recall that we automated the Pine Cove mill and it has technology that could allow us to operate other projects remotely. That can limit operating costs, as well. We're looking at all these things in order to generate the highest return.
Peter Bell: In our first conversation there, I recall you made a comment about the three legs of the stool being the mill, the port, and the tailings. Just listening to you here now, I think hear a different set of legs for the stool. The people, and the project, and the technology. It's great to see the evolution in the story here, Dustin.

When you first announced the intention to acquire Orex, I was very impressed. They were completely off my radar – I had not heard about them at all and did not know anything about that project. Since then, I've dug around and been even more impressed. Good choice!
Some of the historical drilling at Goldboro is very compelling, as we've described. This sedimentary gold deposit type is a bit beyond me, though. I will have to do some homework to figure out what's going on there. But the gold is clearly there, so I am happy to come along for the ride.
And you mentioned a PEA. How much more drilling you think may be required to move that forward?
Dustin Angelo: We don't need any more drilling for the PEA.
Peter Bell: Okay. Do you have access to the historical core that was drilled there?
Dustin Angelo: Yes, we do.
Peter Bell: There's some great visible gold in there.
Dustin Angelo: Sure is. The press release had a picture of that.
Peter Bell: I'm looking at it right now. That core is Osisko's drilling in 2011. Afraid I have nothing to say insightful about it and I won't press you for comment as I know you're an accountant! Let me ask this: was Paul McNeill excited to see it?
Dustin Angelo: Oh, yes. Everybody's really excited about it. We are all on the same page: there is a lot of potential at Goldboro.
Peter Bell: Just so I don't forget, I wanted to ask about the financials briefly. I noticed on one of the recent quarterlies that the cash number was very low. You have used some the $1 million line of credit from RBC. Do you have any broad comment on Anaconda's liquidity situation? You're not the typical junior mining company because you actually have revenue.
Dustin Angelo: Sure, Peter. Our liquidity is fine. We're generating cash flow at the Point Rousse project and we do have our line of credit, as you've said. We have been in the same sort of state for a long period of time. We generate cash flow and invest.
Peter Bell: Good for you. I wonder where the discipline for that really comes from?
Dustin Angelo: Well, it is the vision for the company. I'm an accountant by trade, so I bring a certain amount of discipline. You can only spend what you have. We try to spread our spending around and that is why the development of the company has been fairly slow. It has been organic, in a way, because we have mainly just used our own cash flow over the (nearly) seven years that I've been here.
Peter Bell: What a great strategy for a bear market.
And this acquisition of Orex. I was very pleased to see that it was an all-share deal. I crunched the numbers on it and it seemed to be priced at the market. There had been a rally in Orex shares prior to that, but it seemed like a merger of equals in a way.
Dustin Angelo: The two companies were very complementary. Orex fit with our strategy very well. Just look at what they brought to the table: large resource with high-grade gold that is on water. They're only two kilometers from Isaac's Harbor. What we brought to the table was the management team, the track record, and the infrastructure. What we've lacked over the last several years has been the longevity associated with substantial resources established under the 43-101 rules. What they had, we didn't have. What we had, they didn't have. It was a perfect compliment.
Peter Bell: I recall trying to find a way to articulate that in the writing I did around the acquisition. I think I said, "Merger of equals, but very different equals." The word complementary didn't even occur to me, but I will remember it for next time. That idea was very clear at the time and even more so now. I'm glad to hear that on the other side of that acquisition now that it's closed, everything remains the same. Sometimes there are surprises in this business, right?
Have there been dramatic shifts for you in terms of your understanding of Goldboro before and after the acquisition?
Dustin Angelo: Not really, as we did full due diligence prior to the acquisition.
Peter Bell: Even with this first round of drilling and actually getting on the ground? I will be watching for news of surprises from prospecting, even.
Dustin Angelo: One thing that has happened is that a lot of people who were associated with the project in the past have come forward. They're coming out of the woodwork and they want to help, which is just great! They know the project and they like it. That's been a pleasant surprise because it has meant more data for us.
The data that we had before was supportive of our acquisition, but we are learning more and more about the deposit every day. Spending time with it and people who have actual experience on the ground there is just great. It is all coming together there.
Peter Bell: Amazing that people would present themselves in that way. Who knows what kind of information they would have, as well.
Dustin Angelo: We get to hear about the different interpretations and what people saw. There are people that were actually underground at the site. The hardest thing about a mine is to know what's underground and people who have been underground have contacted us. We are keen to gather information from them that could be helpful to develop this project.
Peter Bell: And it lines up with the support you've had at Baie Verte in Newfoundland, as well.
Dustin Angelo: Yes, we wholeheartedly support that. We want to bring these people together. The last thing we want to do is lose their knowledge and experience or push them away. We want to learn from them rather than thinking we can just do it on our own.
Peter Bell: The Maritimes need the economic activity, too. If you can bring business to Nova Scotia, then I think many would be eager to welcome you.
Dustin Angelo: Yes, we've had a lot of great responses from the local government, provincial government, and the communities. The local conferences we've already attended have been great. Lots of positive feedback. I agree that a lot of people would welcome the development of the Goldboro project.
Peter Bell: And especially after that set of drilling results, am I right!
Dustin Angelo: Yes, that's right Peter.
Peter Bell: You just mentioned a mining conferences in the area. I saw Anaconda tweeting from the Baie Verte mining conference this year and it put a smile on my face. I've heard about that event from a friend on CEO.CA and it sounds great.
Dustin Angelo: Yes, it's a good conference. There were around 250 people there this year, which was well-attended. It's a great event every year.
Peter Bell: I imagine you would have a marquee position there
Dustin Angelo: We are a key sponsor. There are a lot of other good groups that sponsor and a lot of people that support it in different ways. It gets a lot of community support for good reason and we're one of the many supporters.
Peter Bell: That leads me to a question about your budgets. You raised flow-through financing with Red Cloud Klondike Strike last year in the summer. Is there any public disclosure around that yet – has all of that money been spent yet?
Dustin Angelo: Yes, it has been spent.
Peter Bell: Okay. I noticed that there were also some warrants expiring recently there at the end of July.
Dustin Angelo: Yes, they expired.
Peter Bell: They were at 10 cents. It doesn't look like they were exercised.
Dustin Angelo: Unfortunately not.
Peter Bell: Too bad. I was hoping you would get some extra cash there. I've encountered one group at the core shack of a Cambridge House show who told me about how they exercised warrants that were out of the money. I had never heard of that before. They amended the terms a little bit to encourage others to do it, but I think only the management exercised them. It helped bring some cash into the company and was an impressive act of commitment from the major shareholders.
How is marketing to the capital markets going for Anaconda?
Dustin Angelo: Pretty busy. We've been pretty active. We've been to Europe twice since April. We continue to go to New York City often. We have done some marketing around Toronto and Vancouver. We've been pretty active.
We've also increased our marketing for general awareness. For example, we've made a concerted effort to address our French speaking shareholders. Orex, as a company domiciled in Quebec, had a significant amount of French-speaking shareholders. We're working on trying to communicate with them better. We are now translating our press releases into French. We have a Francophone who communicates with them directly, as well.
Source: http://anacondamining.com/20170713-FR.pdf
However, it has probably been a bit slower than I would like. The acquisition of Orex took a lot of time and energy. Now that we're getting it off the ground, I'm hoping that we can do more marketing. Particularly to the Orex shareholders, who we want to become long-term shareholders of Anaconda.
Peter Bell: And there are some French speaking people in Nova Scotia who would probably appreciate it, too.
It occurs to me that that first transcript of that interview we did back in November would be an interesting document to translate to French. It would give the new shareholders a sense for the Anaconda story back before they got involved. There's a lot of info in there and I know some people who have read it were very impressed. I thought the Anaconda story was great at that time, before Goldboro was even in the picture. It's progressed so much over the ten months since November, I can't imagine where you'll be 12 months from now!
Dustin Angelo: 12 months from now? Good question. I expect we will have demonstrated mineral resource expansion potential at Goldboro. We will also have revised production plans for the Point Rousse project, possibly including Argyle to become part of our production profile. And another acquisition.
That's where I'd like to be a year from now. Did I mention Goldboro? Of course, the main priority is to move it through the development phase as soon as possible as we seek to demonstrate potential production of 50,000 ounces of gold per year.
Peter Bell: I heard you mention the potential for another acquisition there. I would say that I believe the secondary markets for shares in junior miners is still fairly soft and that benefits you as potential acquirors. You still have a window of opportunity.

Some may say that it would be nice to see your share price increase now to give you more currency in the markets, but I think you have proven you can thrive in a bear market. I want to see you grow even bigger here before we get off to the races, whenever the next bull market comes along.
Dustin Angelo: You make some interesting points. Yes, it would be nice to have our currency be a little bit more valuable in the markets but the silver lining, I guess, is that the target companies' shares are down, too, and it's a relative valuation.
Peter Bell: That's right. I've heard it said, "you can't pay too much if you're paying in shares".
Dustin Angelo: We continue to look around and evaluate what makes sense for us. If we have a willing counter-party and the deal makes sense, then we'll do another deal.
Peter Bell: We are coming up to the hour mark here, Dustin. Believe it or not.
Dustin Angelo: It's going to be a long transcript, Peter.
Peter Bell: Yes, I'm afraid it will probably be around 8,000 words. If anyone can read it all, then I think they will be all bulled up on the story. Dustin, thanks very much for your time talking with me today about Anaconda Mining.
Dustin Angelo: Thank you very much, Peter. Thanks for your time and your consideration. There are some great pieces of information about Anaconda in this update. Until next time. Goodbye.
Please note that a short recording was released with this interview at the following addresses: