(TheNewswire)
Highlights
Currently drilling 1st hole located on South Pad 

Testing 838 g/t Au* historically reported intercept 

518 Drilling has 2 shifts drilling 24 hours a day 
Calgary, Alberta – TheNewswire – September 13th 2023 - Ashley Gold Corp. (CSE:ASHL") ("Ashley" or the "Company") is pleased to announce the commencement of drilling on the Tabor Lake Property.  As of this morning, the first hole located on the south pad is drilled to a depth of 110m.  This test will look to confirm historic drilling reports stating the existence of another mineralized vein below the historical workings that was reported at 838 g/t over 1m*.  518 Drilling has two shifts drilling 24 hours a day and are making excellent meterage per shift.
Darcy Christian, President of Ashley, commented, "We are very excited to get the drill turning at Tabor.  George and I were on site last week in preparations and are very happy with the progress that has been made to date."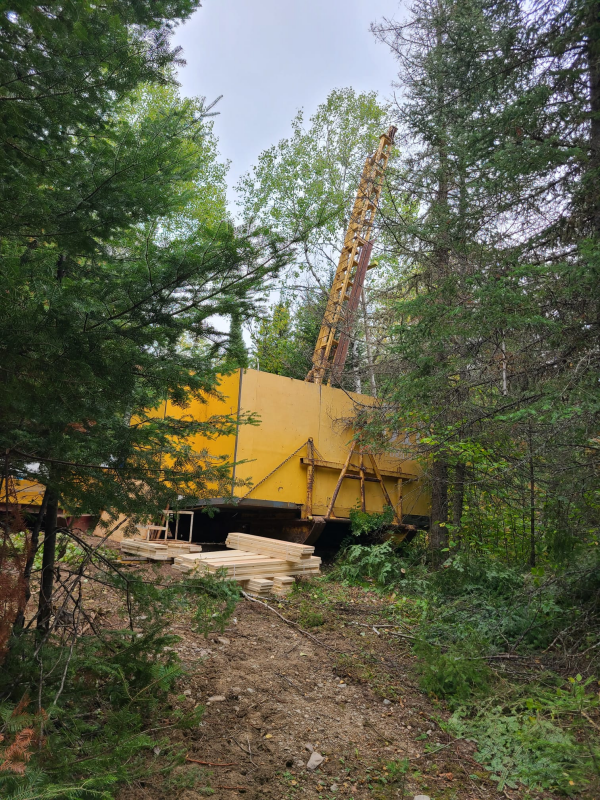 Click Image To View Full Size
Figure 1. Lining up the drill for the first hole on the South pad.
Tabor Drill Program
Drilling will be completed in multiple holes near the Tabor historical workings.  The objective of this program is to confirm the mineralization reported by historical operators in the 1930's to 50's. Additionally, the new information from core will be used to better understand structure of the system to direct follow up drilling and exploration plans.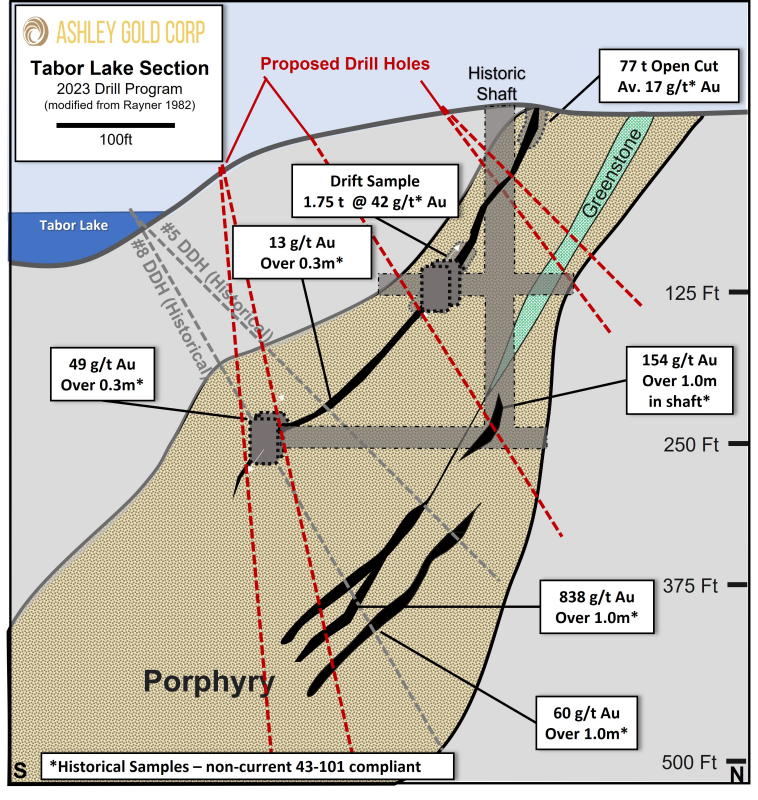 Click Image To View Full Size
Figure 2.  Conceptual Cross Section Showing Targets for Upcoming Drill Program (Looking West)
Pad Locations and Targets
Pad locations were chosen to optimize time drilling and to test the known mineralization at multiple levels above, between, and below the historical workings.
North Pad East
North Pad 1 is located to the east of the shaft and will be used to test the mineralization and structure between the 125ft and 250ft shaft levels.  A hole will be extended to the northeast to confirm an interpreted north-south fault that is thought to offset the Quartz Feldspar Porphyry (QFP).  Structural measurements will be taken to understand mineralization and any offset of mineralized veining.
North Pad West
North Pad 2 is located west of the shaft and will be used to test the shallow potential above the 125ft level.  Historically, a surface bulk sample of 77 tons was obtained yielding an average of 17 g/t Au*.  No drilling has occurred in this shallow section to date, so it will be an important data point for understanding the mineralization near surface.
South Pad 1
South Pad 1 is located southwest of the shaft and will be used to test mineralization and structure below the 250ft level.  #8 DDH drilled in 1958 intersected additional parallel gold bearing veins with excellent historical assays of 838 g/t Au over 1m and 60 g/t Au over 1m.  It is our intent to confirm these parallel veins from the South Pad.
The acquisition of modern drill data will provide the following:
Historic drilling is from the 50's to 80's and most data including core is missing; historical assays are non-compliant to modern NI-43-101 standards  

Testing extent of 'known' mineralization both in the veins as well as adjacent "Wall Rock" 

Core measurements necessary for an in-depth structural understanding 

Mineralogical analysis to determine paragenesis of veining, mineralization, and structural movements 

Data will be used to refine geological and structural model and plan upcoming exploration programs 
*Please note that assay values denoted with an "*" within this release are from previous operators, considered to be "historical" in nature and therefore are non-compliant with respect to NI 43-101 standards, and have not been independently verified by Ashley Gold. The values have been extracted from publicly available government resources including Assessment Reports and MinFile inventory details and it is unknown what type of quality-control programs were performed at the time.
The Qualified Person responsible for the technical content of this press release is Shannon Baird, P.Geo, Exploration Manager of Ashley Gold Corp.
Update on Private Placement announced September 13,2023
With respect to announcement "Ashley announces $300,000 Private Placement with Institutional Investor" a corporate finance fee of $24,000 of cash or Units at the election of the investor was discussed.  Ashley has elected to pay the corporate finance fee with Units in lieu of cash.  In addition, the refundable $20,000 deposit will also be paid in Units via DRS with balance to be reduced on total Units Payable on closing.
ABOUT ASHLEY GOLD CORP.
Ashley Gold is focused on creating substantive, long-term value for its shareholders through the discovery and development of world class gold deposits. Ashley has acquired, 100% of the Tabor Lake Lease subject to a 1.5% royalty, 100% of the Santa Maria Project subject to a 1.75% royalty, 100% interest in the Howie Lake Project subject to a 0.5% royalty and 100% interest in the Alto-Gardnar Project subject to a 0.5% royalty.
Ashley Gold Corp. is an early-stage natural resource company engaged primarily in the acquisition, exploration, and if warranted, development of mineral projects. The Corporation's objective is to conduct efficient and economical exploration on its growing portfolio of high-quality gold projects, currently focused in northwestern Ontario within the Eagle-Wabigoon-Manitou Lakes Greenstone Belts.
The responsibility of this release lies with Mr. Darcy Christian, President and CEO • +1 (587) 777-9072 • dchristian@ashleygoldcorp.com , may be contacted for further information. www.ashleygoldcorp.com
Neither the CSE nor its Regulation Services Provider (as that term is defined in the policies of the CSE) accepts responsibility for the adequacy or accuracy of this release.
DISCLAIMER & FORWARD-LOOKING STATEMENTS
This news release includes certain "forward-looking statements" which are not comprised of historical facts. Forward-looking statements are based on assumptions and address future events and conditions, and by their very nature involve inherent risks and uncertainties. Although these statements are based on currently available information, Ashley Gold Corp. provides no assurance that actual results will meet management's expectations. Factors which cause results to differ materially are set out in the Company's documents filed on SEDAR. Undue reliance should not be placed on "forward looking statements".
Copyright (c) 2023 TheNewswire - All rights reserved.