(TheNewswire)
VANCOUVER, BC / THENEWSWIRE / May 25, 2023 – Element 79 Gold Corp. (CSE:ELEM) (OTC:ELMGF) (FSE: 7YS) ("Element 79 Gold", the "Company") announces that, further to its November 17, 2022 release, the Company has entered into an Asset Purchase Agreement (the "Agreement") for the sale of two properties from its Battle Mountain Portfolio located in the gold mining district of northeastern Nevada, US to a subsidiary of Centra Mining Ltd. ("Centra").
Under the terms of the Agreement, Centra has agreed to purchase all of Element79 Gold's interests and obligations in relation to the Long Peak Project ("Long Peak") and the Stargo Project ("Stargo") in exchange for a total consideration of CAD 1,000,000 payable by the issuance of an aggregate of 2,500,000 common shares of Centra at a deemed price of CAD 0.40 per share (the "Payment Shares"). The transaction is expected to close on or before June 30, 2023, and is subject to regulatory approval.
"The sale of Long Peak and Stargo to Centra marks another milestone in Element79's journey for the strategic development of its high-grade gold assets," commented James Tworek, CEO of Element79. "Centra realizes that these projects have great exploration potential along with the rest of their portfolio and it will be exciting to see what their near-term development plans are.  We are excited to maintain our exposure to the very promising development potential of these properties through our equity participation in Centra."
Tworek added, "We have been working at the sale of the non-core assets in the Battle Mountain for over a year now, and it feels great to confirm that we have one package of properties now signed up and pending their closing date. This achievement further helps to highlight the currently-unrealized value of the individual properties in the Battle Mountain portfolio, helping to re-envision a benchmark for corporate valuation and enabling us to unlock additional value from our extensive portfolio of prospective properties while increasing Element79 Gold's focus, energy and capital flows on developing its flagship Maverick Springs and both defining a resource at and bringing production online at Lucero in 2024."
Element79 Gold's Battle Mountain Portfolio
The Battle Mountain Portfolio was originally comprised of 15 separate projects totaling over 44,478 acres across 2,203 unpatented claims in five counties: Elko County, Eureka County, Humboldt County, Lander County, and Nye County. Most of the Battle Mountain Portfolio is located within the Battle Mountain Trend, with several projects close to globally reputable gold deposits including Nevada Gold's Cortez Mine.
The Battle Mountain Portfolio is comprised primarily of early-stage projects. While drilling has been completed at some projects, such as Elder Creek (155 holes) and Clover (104 holes), many have only surface sampling and geophysical surveys completed. Of particular note are the Long Peak, Elephant, Elder Creek, North Mill Creek, Clipper, Pipeline South, West Cortez, and Walti Projects, which are interpreted to lie along the northwest trending fault that hosts the high-grade Pipeline deposit, which is included in Nevada Gold's Cortez Mine.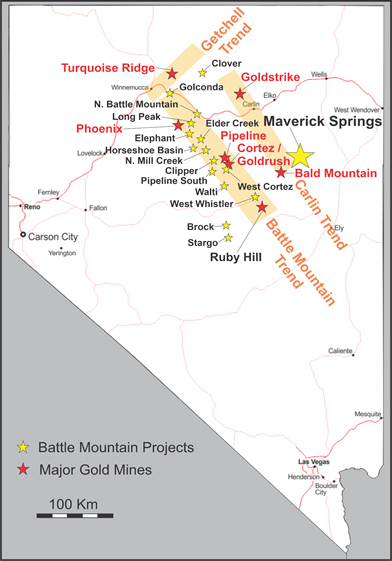 Figure 1. Map of Nevada showing location of Battle Mountain Projects, and select major gold mines.
The Long Peak Project
Long Peak is comprised of 34 unpatented claims located near Copper Basin and the Copper Canyon Mine in Lander County, Nevada. Long Peak hosts significant historic prospects, warranting further exploration at Long Peak.
The Stargo Project
Stargo is comprised of 337 unpatented claims located south of the Battle Mountain Trend in Nye County, Nevada. The large claim block contains attractive host rocks, tertiary age intrusives, and appropriate aged structural preparation to represent an attractive area for exploration target development.
About Element79 Gold
Element79 Gold is a mining company focused on gold, silver and associated metals and committed to maximizing shareholder value through responsible mining practices and sustainable development of its projects. Element79 Gold's main focus is on two core properties: developing its previously-producing, high-grade gold and silver mine, the Lucero project located in Arequipa, Peru, with the intent to bring it back into production in the near term; and its flagship Maverick Springs Project located in the famous gold mining district of northeastern Nevada, USA, between the Elko and White Pine Counties. Maverick Springs hosts a 43-101-compliant, pit-constrained mineral resource estimate reflecting an inferred resource of 3.71 million ounces of gold equivalent "AuEq" at a grade of 0.92 g/t AuEq (0.34 g/t Au and 43.4 g/t Ag) with an effective date of October 19, 2022. The acquisition of the Maverick Springs Project also included a portfolio of 15 properties along the Battle Mountain trend in Nevada, which are non-core to its primary business focus. In British Columbia, Element79 Gold has executed a Letter of Intent and funded a drilling program to acquire a private company that holds the option to 100% interest of the Snowbird High-Grade Gold Project, which consists of 10 mineral claims located in Central British Columbia, approximately 20km west of Fort St. James. The Company also has an option to acquire a 100% interest in the Dale Property, 90 unpatented mining claims located approximately 100 km southwest of Timmins, Ontario, Canada in the Timmins Mining Division, Dale Township. The Company is analyzing the non-core Nevada projects, The Dale Property and Snowbird Property for further merit of exploration, sale or spin-out.  
For more information about the Company, please visit www.element79.gold
Contact Information
For corporate matters, please contact:
James C. Tworek, Chief Executive Officer E-mail: jt@element79gold.com
For investor relations inquiries, please contact:
Investor Relations Department
Phone: +1 (613) 879-9387
E-mail: hello@element79gold.com
Cautionary Note Regarding Forward Looking Statements
This press contains "forward‐looking information" and "forward-looking statements" under applicable securities laws (collectively, "forward‐looking statements"). These statements relate to future events or the Company's future performance, business prospects or opportunities that are based on forecasts of future results, estimates of amounts not yet determinable and assumptions of management made in light of management's experience and perception of historical trends, current conditions and expected future developments. Forward-looking statements include, but are not limited to, statements with respect to: the Company's business strategy; future planning processes; exploration activities; the timing and result of exploration activities; ultimate sale and timing of closing, if any, of the above mentioned properties; capital projects and exploration activities and the possible results thereof; acquisition opportunities; and the impact of acquisitions, if any, on the Company. Assumptions may prove to be incorrect and actual results may differ materially from those anticipated. Consequently, forward-looking statements cannot be guaranteed. As such, investors are cautioned not to place undue reliance upon forward-looking statements as there can be no assurance that the plans, assumptions or expectations upon which they are placed will occur. All statements other than statements of historical fact may be forward‐looking statements. Any statements that express or involve discussions with respect to predictions, expectations, beliefs, plans, projections, objectives or future events or performance (often, but not always, using words or phrases such as "seek", "anticipate", "plan", "continue", "estimate", "expect", "may", "will", "project", "predict", "forecast", "potential", "target", "intend", "could", "might", "should", "believe" and similar expressions) are not statements of historical fact and may be "forward‐looking statements".
Actual results may vary from forward-looking statements. Forward-looking statements are subject to known and unknown risks, uncertainties and other factors that may cause actual results to materially differ from those expressed or implied by such forward-looking statements, including but not limited to: the duration and effects of the coronavirus and COVID-19; risks related to the integration of acquisitions; actual results of exploration activities; conclusions of economic evaluations; changes in project parameters as plans continue to be refined; commodity prices; variations in ore reserves, grade or recovery rates; actual performance of plant, equipment or processes relative to specifications and expectations; accidents; labour relations; relations with local communities; changes in national or local governments; changes in applicable legislation or application thereof; delays in obtaining approvals or financing or in the completion of development or construction activities; exchange rate fluctuations; requirements for additional capital; government regulation; environmental risks; reclamation expenses; outcomes of pending litigation; limitations on insurance coverage as well as those factors discussed in the Company's other public disclosure documents, available on www.sedar.com. Although the Company has attempted to identify important factors that could cause actual results to differ materially from those contained in forward-looking statements, there may be other factors that cause results not to be as anticipated, estimated or intended. The Company believes that the expectations reflected in these forward‐looking statements are reasonable, but no assurance can be given that these expectations will prove to be correct and such forward‐looking statements included herein should not be unduly relied upon. These statements speak only as of the date hereof. The Company does not intend, and does not assume any obligation, to update these forward-looking statements, except as required by applicable laws.
Neither the Canadian Securities Exchange nor the Market Regulator (as that term is defined in the policies of the Canadian Securities Exchange) accepts responsibility for the adequacy or accuracy of this release.
Copyright (c) 2023 TheNewswire - All rights reserved.