(TheNewswire)
Highlights
Tabor pad locations surveyed and drill crew on standby in preparation for imminent drill program 

Testing 838 g/t Au* historically reported intercept 

Howie Property rock and channel sampling commences 
CALGARY, ALBERTA – TheNewswire  - September, 7th 2023 - Ashley Gold Corp. (CSE: ASHL) ("Ashley" or the "Company") is updating shareholders on the fall drill program on Tabor and exploration program on Howie.  A slight travel delay has the program slated to start this weekend.  Pads are in place and the drill crew is on standby.  Sampling crew is onsite at Howie for grab and channel samples across multiple mineralized occurrences.
Darcy Christian, President of Ashley, commented, "We are looking forward to getting the Tabor drill program fired up.  George and I travelled to the drill pad locations to confirm rig access and survey elevations and azimuths.  Everything is good to go for later this week".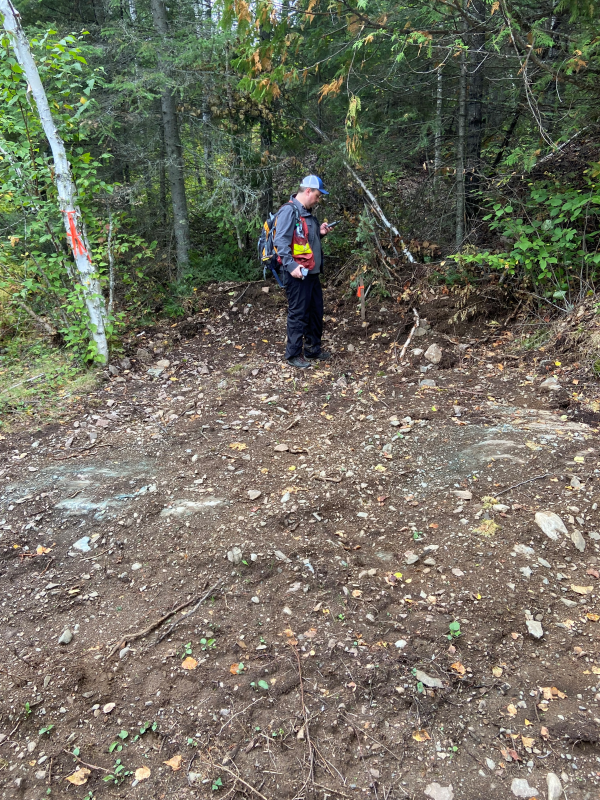 Click Image To View Full Size
Figure 1. Darcy Christian Standing on South Pad Location
 Tabor Drill Program
Drilling will be completed in multiple holes near the Tabor historical workings.  The objective of this program is to confirm the mineralization reported by historical operators in the 1930's to 50's. Additionally, the new information from core will be used to better understand structure of the system to direct follow up drilling and exploration plans.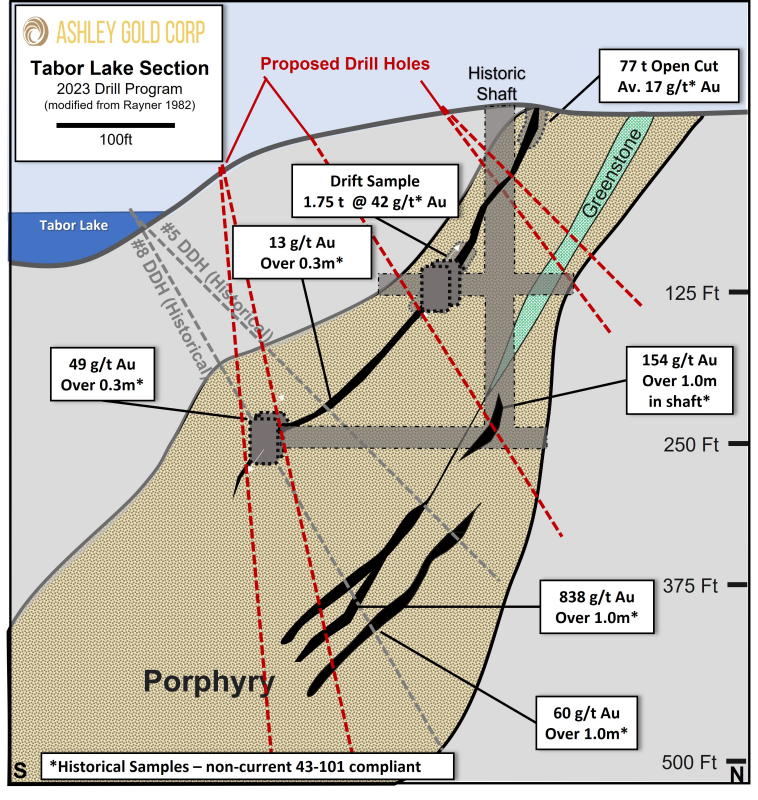 Click Image To View Full Size
Figure 2.  Conceptual Cross Section Showing Targets for Upcoming Drill Program (Looking West)
Pad Locations and Targets
Pad locations were chosen to optimize time drilling and to test the known mineralization at multiple levels above, between, and below the historical workings.
North Pad East
North Pad 1 is located to the east of the shaft and will be used to test the mineralization and structure between the 125ft and 250ft shaft levels.  A hole will be extended to the northeast to confirm an interpreted north-south fault that is thought to offset the Quartz Feldspar Porphyry (QFP).  Structural measurements will be taken to understand mineralization and any offset of veins.
North Pad West
North Pad 2 is located west of the shaft and will be used to test the shallow potential above the 125ft level.  Historically, a surface bulk sample of 77 tons was obtained yielding an average of 17 g/t Au*.  No drilling has occurred in this shallow section to date, so it will be an important data point for understanding the mineralization near surface.
South Pad 1
South Pad 1 is located southwest of the shaft and will be used to test mineralization and structure below the 250ft level.  #8 DDH drilled in 1958 intersected additional parallel gold bearing veins with excellent historical assays of 838 g/t Au over 1m and 60 g/t Au over 1m.  It is our intent to confirm these parallel veins from the South Pad.
The acquisition of modern drill data will provide the following:
Historic drilling is from the 50's to 80's and most data including core is missing; historical assays are non-compliant to modern NI-43-101 standards  

Testing extent of 'known' mineralization both in the veins as well as adjacent "Wall Rock" 

Core measurements necessary for an in-depth structural understanding 

Mineralogical analysis to determine paragenesis of veining, mineralization, and structural movements 

Data will be used to refine geological and structural model and plan upcoming exploration programs 
The Howie Property
The upcoming surface program will include channel sampling some of the known mineralized zones where historical data is missing and to prospect over areas of elevated gold soil anomalies across the large property.  The results of this program will help determine future geophysical and exploration programs up to and including drilling. An overview of the Howie property follows.
The Howie Property is located adjacent to Dynasty Gold's Thundercloud property and about 3km from their Pelham Deposit.  Dynasty is currently drilling with results anticipated shortly.  Gold emplacement on both properties is thought to be related to the Thundercloud porphyry which is located between the Pelham deposit and the known mineralization on the Howie Property.  Figure 1 shows a composite of soil grids (triangles) obtained by previous operators with anomalies above 5 ppb Au highlighted on the map.  Anomalous readings outside of the known mineralization are seen across the property with a linear north-south trend south of the Figure 3 Inset that coincides with a series of shears mapped by Esso in the late 1980's. Additional anomalous zones are seen in the northeast of the Howie property as well as proximally to the Thundercloud property on the western boundary.  Focused exploration on these 'Greenfield' targets will commence in September with prospecting and sampling.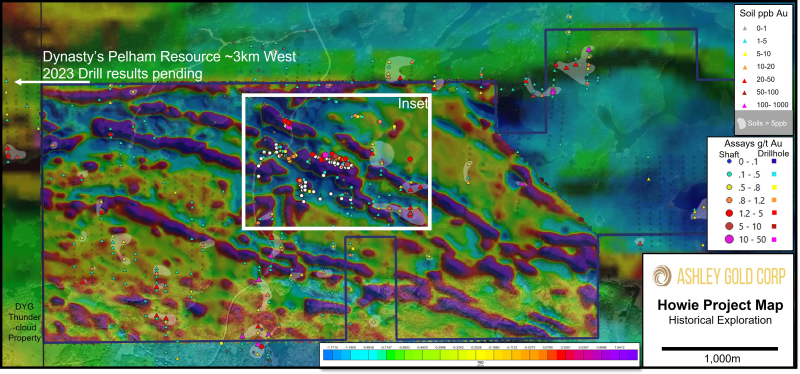 Click Image To View Full Size
Figure 3.  Howie Project Magnetics with Historical Gold Assays
Known Mineralization (Inset)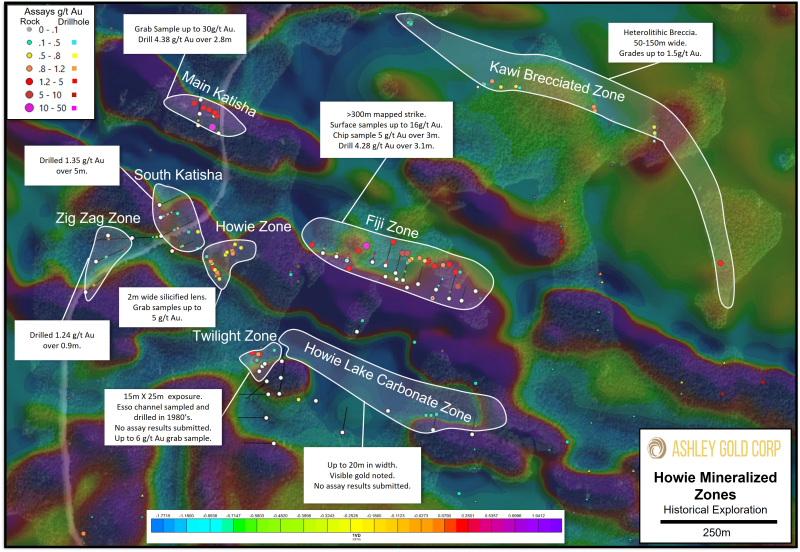 Click Image To View Full Size
Figure 4.  Figure 3 Inset of Mineralized Zones and Highlights
The Howie Property has several known historical mineralized zones sampled at surface and, in some cases, drilled.  Generally, the mineralization is structurally controlled within or adjacent to shear zones.  Thundercloud-type porphyry intrusive dykes have been identified at surface and in drill holes.
Esso performed two drilling campaigns in 1986 and 1987 before they exited the mineral exploration space and focussed on oil and gas production.  Year-round access is excellent with a main forest service road running through many of the mineralized zones.  Figure 2 shows the location of the known mineralized zones.
Main Katisha
Zone traced for 100m 

Mineralization ranges from 1.2 g/t Au to 30 g/t Au 

Poorly understood at depth with an historical drill intercept of 4.28 g/t over 2.8m* 
South Katisha
Wide zone of pervasively carbonatized, and silicified metagabbro  

1.35 g/t Au over 5m*  
Howie Zone
100m southeast of South Katisha.  Similar orientation and alteration/mineralization suggests extension of South Katisha Zone 

Thundercloud Porphyry dyke within the zone 

Grab samples assayed up to 5 g/t Au 
Zig Zag Zone
5-20m sheared meta-gabbro 

Historical drill intercept of 1.24 g/t Au over 0.9m*  
Fiji Zone
Gold bearing zone traceable for over 300m 

Chip Sample ran 5 g/t Au over 5m 

Historical drill intercept of 4.28 g/t Au over 3.1m* 
Twilight Zone
Triangular 15m by 25m zone that has been mechanically stripped showing intense alteration with carbonatization and silicification 

Most sampling including all channel samples were not submitted by Esso, however more recent samples show up to 6 g/t Au 
Howie Lake Carbonate Zone
200m in length with an alteration zone up to 20m in width 

Little information available, however visible gold was documented in one hole intersecting the zone 
Kawie Brecciated Zone
Heterolithic Breccia up to100m in width 

2022 sampling revealed grades of up to 1.5 g/t Au 
*Please note that assay values denoted with an "*" within this release are from previous operators, considered to be "historical" in nature and therefore are non-compliant with respect to NI 43-101 standards, and have not been independently verified by Ashley Gold. The values have been extracted from publicly available government resources including Assessment Reports and MinFile inventory details and it is unknown what type of quality-control programs were performed at the time.
The Qualified Person responsible for the technical content of this press release is Shannon Baird, P.Geo, Exploration Manager of Ashley Gold Corp.
ABOUT ASHLEY GOLD CORP.
Ashley Gold is focused on creating substantive, long-term value for its shareholders through the discovery and development of world class gold deposits. Ashley has acquired, 100% of the Tabor Lake Lease subject to a 1.5% royalty, 100% of the Santa Maria Project subject to a 1.75% royalty, 100% interest in the Howie Lake Project subject to a 0.5% royalty and 100% interest in the Alto-Gardnar Project subject to a 0.5% royalty.
Ashley Gold Corp. is an early-stage natural resource company engaged primarily in the acquisition, exploration, and if warranted, development of mineral projects. The Corporation's objective is to conduct efficient and economical exploration on its growing portfolio of high-quality gold projects, currently focused in northwestern Ontario within the Eagle-Wabigoon-Manitou Lakes Greenstone Belts.
The responsibility of this release lies with Mr. Darcy Christian, President and CEO • +1 (587) 777-9072 • dchristian@ashleygoldcorp.com , may be contacted for further information. www.ashleygoldcorp.com
Neither the CSE nor its Regulation Services Provider (as that term is defined in the policies of the CSE) accepts responsibility for the adequacy or accuracy of this release.
DISCLAIMER & FORWARD-LOOKING STATEMENTS
This news release includes certain "forward-looking statements" which are not comprised of historical facts. Forward-looking statements are based on assumptions and address future events and conditions, and by their very nature involve inherent risks and uncertainties. Although these statements are based on currently available information, Ashley Gold Corp. provides no assurance that actual results will meet management's expectations. Factors which cause results to differ materially are set out in the Company's documents filed on SEDAR. Undue reliance should not be placed on "forward looking statements".
Copyright (c) 2023 TheNewswire - All rights reserved.