(TheNewswire)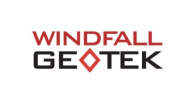 DOES NOT CONSTITUTE AN OFFER OF THE SECURITIES DESCRIBED HEREIN
Highlights:
- The Wachigabu property is the latest asset available to the market as a result of the strategic review undertaken by the board.

- Windfall's Wachigabu project is carbon neutral and the targets have been validated by a qualified person.

- Project is proximal to the Shortt Lake Gold Mine and Mariposite deposit with road and powerline access.

- Drill targets have high potential for Copper and Zinc. Copper and Zinc are input metals in batteries required for electrification, a key mitigation strategy to reduce global greenhouse gases.
Brossard, Quebec – TheNewswire - April 28, 2021 – Windfall Geotek Inc. (the "Company", or "Windfall") (TSXV:WIN) (OTC:WINKF) (FSE:L7C2) is pleased to announce the Wachigabu Copper & Gold Property in the La Ronde Township located in the Chibougamau-Matagami archean greenstone belt is available for option. This property has been developed using digital methods that limit greenhouse gas emissions.Where emissions were generated, these have been mitigated through purchasing of carbon offsets.

Dinesh Kandanchatha, Chairman & Interim CEO commented: "Last Friday CNN reported that the Biden administration has committed to cut US carbon emissions by 52% before 20301. Windfall has been leading the field of low carbon exploration since our first project in 2005. I expect that we are going to see all market participants be required to demonstrate they have made the necessary investments to meet society's commodity requirements in a carbon neutral way.  Our Wachigabau Lake property is the next step on our decade long low- carbon emission journey. "
Location, Access and Infrastructure of the Chapais Property:
- The Wachigabu Lake Property is located 40 km east of Desmaraisville and 60 km southwest of Chapais

- The property is part of the La Ronde and La Ronciere townships and is located in NTS map sheet 32G/12. The center of the block is located at latitude 49° 34' 43.6'' N and longitude - 75° 38' 40.6'' W (453400mE, 5492000mN, NAD83 UTM zone 18)

- Property comprises 48 map designated claims, totalling 2,679.31 (26.79 km2).

- The property is accessible from Quebec Provincial Highway 113 via all weather gravel roads, which are part of a network of logging roads accessible from, 25 kilometres northeast of Desmaraisville.

- Power lines run through the eastern portion of the property
Geological & Historical context
- The Wachigabau Lake property lies within the Southern band (Caopatina Segment) of the Chibougamau-Matagami archean greenstone belt.

- The Caopatina Segment is a volcano-sedimentary rock assemblage composed of two principal formations: the Obatogamau formation, a vast plain of tholeiitic basalts with a few mafic to felsic volcanic centers, and the Caopatina formation, an overlying sedimentary sequence. These formations are part of the lower volcanic cycle of the Roy Group.

- The region hosts rich mineral deposits such as:

- the Shortt Lake gold mine which is 12 km northwest of the property. Shortt Lake Reserves are 2,694,920 t at 4.59 g/t Au (GM 59755)3.

- Mariposite deposit, located 6 km Northwest of the property, with reserves of 700,000 t at 2.0 g/t Au for the Mariposite zone and more than 2,000,000 t at 1.0 g/t Au for the west zone (GM 59755)3.

- 2018 IP Survey identified a total of 152 individual IP anomalies, further grouped as 52 chargeable lineaments.
Nathan Tribble P.Geo, Director commented:  "The Chibougamau-Matagami region is well known for its abundance of precious metals with many big players in the area. This project is part of a new generation of mining projects that seek to chart a new path in the resource sectors relative greenhouse gas emissions. The existing infrastructure and digital exploration techniques of Windfall should mitigate Scope 1 and Scope 22 carbon impact while still creating the potential for a copper, zinc and gold resource."
AI Target Maps Below - Gold, Copper, Zinc
Gold Targets
Figure 4. Plan View of Windfall Geotek AI Gold Targets with 3D satellite imagery
Copper Targets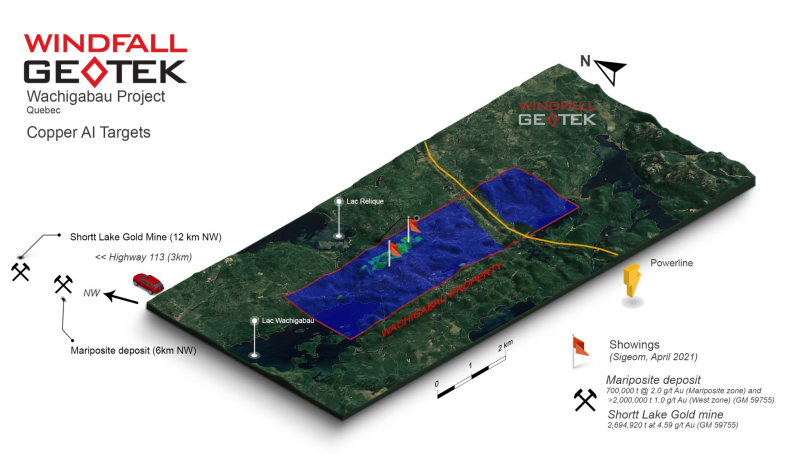 Click Image To View Full Size
Figure 5. Plan View of Windfall Geotek AI Copper Targets with 3D satellite imagery
The scientific and technical data contained in this press release was reviewed and prepared under the supervision of Grigor Heba, Ph.D., P.Geo., Principal Geologist and a Qualified Person as defined by National Instrument 43-101.
About Windfall Geotek – Powered by Artificial Intelligence (AI) since 2005
Windfall is an Artificial Intelligence company that has been in business for over 15 years developing its proprietary Windfall AI analysis and data processing techniques. Windfall Geotek can count on a multidisciplinary team that includes professionals in geophysics, geology, Artificial Intelligence, and mathematics. It combines available public and private datasets including geophysical, drill hole and surface data. The algorithms designed and employed by Windfall are calculated to highlight areas of interest that have the potential to be geologically similar to other gold deposits and mineralization. Windfall Geotek AI increases shareholder value by reducing both time & exploration costs while reducing the environmental impact from mineral exploration. Windfall Geotek looks forward to leveraging it's AI technology to find both precious and base metals which will play a critical part in the future of electrification & reducing the world's carbon footprint. The Company's objective is to develop a new royalty stream by significantly enhancing and participating in the exploration success rate of mining and to continue the Land Mine detection application as a high priority. Windfall has played a part in numerous past discoveries utilizing its methodology as described at: https://windfallgeotek.com/
For further information, please contact:
Simran Kamboj
President & CTO
Email: info@windfallgeotek.com
Website: www.windfallgeotek.com

Additional information about the Company is available under Windfall Geotek's profile on SEDAR at www.sedar.com. Neither the TSX Venture Exchange nor does its Regulation Services Provider (as that term is defined in the policies of the TSX Venture Exchange) accept responsibility for the adequacy or accuracy of this release.
FORWARD-LOOKING STATEMENTS: This news release contains forward-looking statements, which relate to future events or future performance and reflect management's current expectations and assumptions. Such forward-looking statements reflect management's current beliefs and are based on assumptions made by and using information currently available to the Company. Investors are cautioned that these forward-looking statements are neither promises nor guarantees, and they are subject to risks and uncertainties that may cause future results to differ materially from those expected. These forward-looking statements are made as of the date hereof and, except as required under applicable securities legislation, the Company does not assume any obligation to update or revise them to reflect new events or circumstances. All forward-looking statements made in this press release are qualified by these cautionary statements and by those made in our filings with SEDAR in Canada (available at WWW.SEDAR.COM).
1 https://www.cnn.com/2021/04/22/politics/white-house-climate-summit/index.html
2 Scope 1 and Scope 2 emissions as defined in McKinsey&Company report, "Climate risk and decarbonization: What every Mining CEO needs to know", January 28, 2020
3 RAPPORT ANNUEL D'EXPLORATION 2002, PROPRIETE LA RONDE (1323), SECTEUR LAC SHORTT http://gq.mines.gouv.qc.ca/documents/examine/GM59755/GM59755.pdf
Copyright (c) 2021 TheNewswire - All rights reserved.