As the Prosper Gold (TSXV:PGX) team gears up to explore a recently consolidated land package around Alamos Gold's Young-Davidson mine in the Abitibi gold belt near Timmins, Ontario, they're thinking big.

You would expect that.
The team - headed up by Pete Bernier (President and CEO) and Dirk Tempelman-Kluit (Vice President Exploration) - drove success at Richfield Ventures when they discovered the Blackwater gold deposit in B.C. that sold for $500 million to New Gold in 2011.
We told you in detail about that success and how they put together their latest deal in the Abitibi - Canada's top gold district that has produced some 160 million ounces of gold over the years.
And now, with exploration in full swing, it's time to tackle the guts of how they plan to try and do it again.
GENERATING BIG TARGETS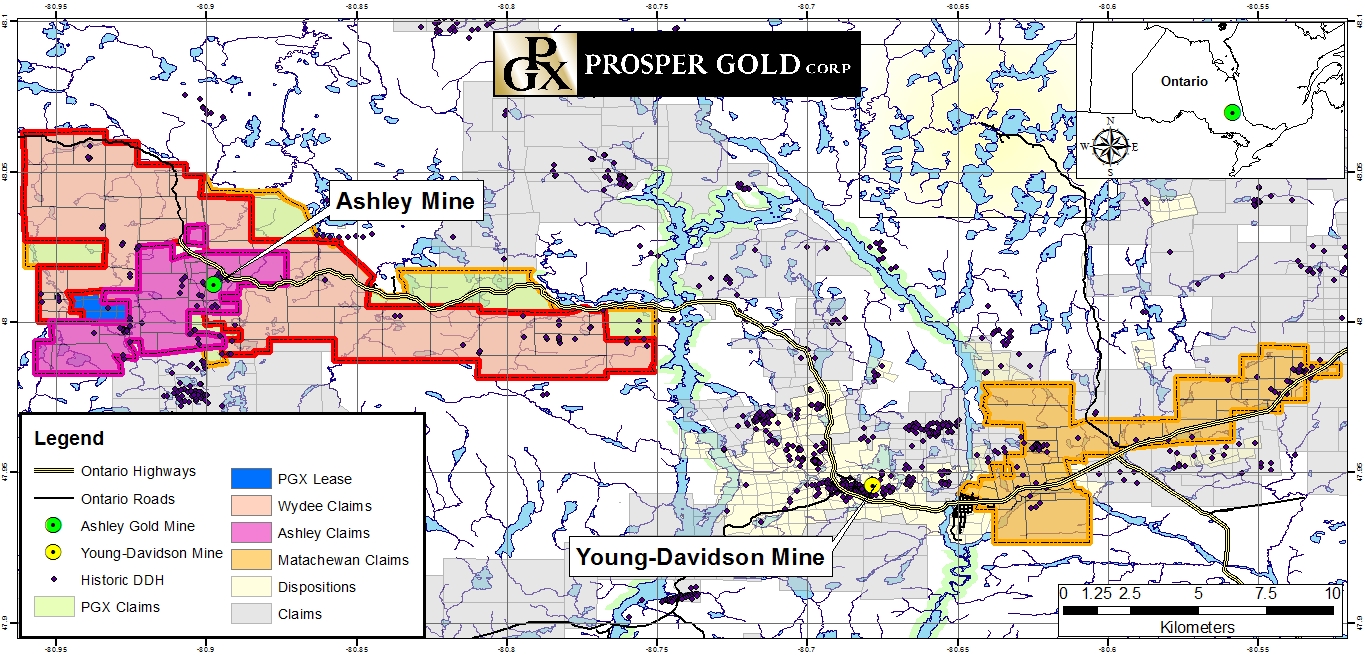 The Ashley gold project comprises extensive ground east and west of Alamos's producing Young-Davidson mine, one of Canada's largest underground gold mines. The chief focus is land to the west that is best known for the past-producing Ashley mine. That was a small-tonnage, high-grade operation that ran nearly a century ago.
In the past few months, Prosper consolidated a ~25-km-long swath of concessions around Ashley to cover some of the most prospective ground on the Cadillac Larder Lake system that hosts, among other large deposits, Young-Davidson. That mine lies about seven kilometres from the eastern extent of the Ashley land package.
Given the productivity of the Abitibi belt over the years, explorers have not completely overlooked the Ashley property, much of which was long held by a single family.
Yet some of the most basic exploration work has been left undone.
That was a huge part of the attraction to Bernier, Tempelman-Kluit and their recently promoted COO James Hedalen, who has been with the team since Prosper's qualifying transaction in 2013.
Tempelman-Kluit explains. "What hasn't been done: Two things. First, a comprehensive airborne survey. There have been bits and pieces of airborne surveys all over the place. But they're all postage stamps. They don't necessarily join together. They're done with different parameters. Basically it's kind of useless to give a picture of the whole. So we decided on an airborne survey that will cover both packages of ground completely, with state-of-the-art airborne data."
The airborne started last week and will run the gamut, Tempelman-Kluit says, including gravity, magnetics and electromagnetics.
The second thing that hasn't been done is comprehensive soil sampling, which has already started. In all, Prosper plans four grids (one done) with 8,000 samples on 100-metre line spacings and 50-metre intervals. "Which is pretty coarse," Tempelman-Kluit notes, "But we are looking for elephants. We are not really interested in the high-grade gold veins."
Not that they're ignoring it. But the idea here is to home in on Young-Davidson-style mineralization. That deposit has some 46 million tonnes in proven and probable reserves @ 2.64 g/t Au containing nearly 4 million ounces gold in a bulk-tonnage deposit hosted in a syenite intrusive.
It's the model and chief target for Prosper and it's what the exploration program is designed to help find. Syenite-hosted gold deposits - which can yield multi-million-ounce deposits - can give good indicators even under cover, which characterizes most of the ground in the region.
Tempelman-Kluit runs through some of those indicators: As syenite tends to be less dense than the surrounding rocks, gravity surveys can help highlight it. It also demagnetizes minerals (destroying magnetic mineralization through emplacement) which means magnetic lows are notable. And it also comes with potassium highs. So in soil sampling you're not merely focused on gold, but a tell-tale sign like potassium to vector in on syenite.
Summing it up: "We're looking for potassium highs with co-incident mag lows and gravity lows that are around places where we see places with high-grade gold veins," Tempelman-Kluit says. Signs of tellurium and bismuth help too, he adds.
There's always the possibility of a high-grade gold discovery - after all, the Abitibi is best known for those. But the high-grade gold is more indicator for Templeman-Kluit than goal.
"One reason we really liked this property is because there was all this smoke - all these high-grade veins all over the place," he says. "But nobody had done a serious campaign for decades."
The geophysics and soil sampling will give results by the end of July, with it all coming together by late August, Tempelman-Kluit hopes.
That's when picking drill targets and setting up for fall drilling begins.
"The real key is when you put a drill hole in, these big targets have to narrow down to something on a kilometre scale rather than something on a 10-kilometre by 10-kilometre scale," Tempelman-Kluit says. "And that's a difficult thing to get right."
The team hopes to start drilling around September.
Most critical: The comprehensive sampling and the regional geophysics program is designed not to miss the big one if it's there. Tempelman-Kluit says, "Basically if we have a million dollars we figure we can drill about 7,000 metres, which will give us about 40 holes. That gives us enough to test the targets reasonably effectively."
Basic exploration agreements are in place with local First Nations, which are consulted on drilling first. As Prosper has the ground under option, its partners - local prospectors and Alexandria Minerals - do the consultation and filing. Hedalen says Alexandria has been a great partner.
"I think they're happy to have someone take this ground seriously," he says.
And the timing on the deal - to assemble the ambitious land package needed to seriously explore for Young-Davidson-like deposits - was fortuitous ahead of this year's turning gold market.
"Dirk (Tempelman-Kluit) and I looked at a lot of projects," Bernier says. "And if this came up right now, I don't think we would be able to put it together. But the world's changed. That's the way we feel."
In that, Tempelman-Kluit credits Bernier for having contacts with prospectors who held some of the ground in the region. They came to him with property.
Bernier recalls getting the proposal.
He quickly noted shades of the early days in the Blackwater (Richfield) discovery, where there was also high-grade gold yet little modern or comprehensive exploration. He passed it along to Tempelman-Kluit, who mulled over the data for a couple months.
In the end: "It seemed to make no sense not to go after it," Bernier says.
Now they are. And the hope is that they find something big again.
"Then the Alamos's of the world will be looking at us," Bernier notes.
Prosper Gold (TSXV: PGX)
Cash: Raised $535k @ $0.15 in March; now doing $2m raise at $0.25 with 2 million non-flow-through shares and up to 5 million flow-through at $0.30.

Shares out: ~35 million

Market cap: ~$8.8 million

DISCLAIMER: Author owns shares in Prosper Gold. The work included in this article is based on SEDAR filings, current events, interviews, and corporate press releases. It may contain errors, and you shouldn't make any investment decision based solely on what you read here. This publication contains forward-looking statements, including but not limited to comments regarding predictions and projections. Forward-looking statements address future events and conditions and therefore involve inherent risks and uncertainties. Actual results may differ materially from those currently anticipated in such statements. The views expressed in this publication and on the CEO.CA website do not necessarily reflect the views of Pacific Website Company Inc., publisher of CEO.CA. Prosper Gold is a Pacific Website Company Inc. advertiser, which makes CEO.CA biased in its coverage of that company. This publication is provided for informational and entertainment purposes only and is not a recommendation to buy or sell any security. Always thoroughly do your own due diligence and talk to a licensed investment adviser prior to making any investment decisions. Junior resource companies can easily lose 100% of their value so read company profiles on www.SEDAR.com for important risk disclosures. It's your money and your responsibility.