Anthony Lacavera Tackled Canada's Wireless Oligopoly, Now He's Challenging Banks with Blockchain and AI Venture
The problem with selling your business for $1.6 billion when you're only 40: what to do next?

Anthony (Tony) Lacavera had too much restless energy to retire after his Canadian wireless startup, WIND Mobile, was acquired by cable giant Shaw Communications in 2015.
"People thought I had no chance of starting a wireless carrier; I can't tell you how many people laughed at me when I said I'm going to start a wireless carrier. I went 0 for 84 in investor meetings in Canada!"
For his next venture, Lacavera aims to harness blockchain and artificial intelligence ("AI") with Globalive Technology ("GT" or "LIVE"). "Same way I disrupted Bell, Telus, and Rogers," Lacavera says. "Now I'm building a technology company focused on revenue and global disruption in traditional sectors of the economy using blockchain and AI technology." GT is expected to commence trading on Wednesday, June 13, 2018, on the TSX.V under ticker "LIVE" (market cap $151.15 million, cash ~$32 million - June 6 presentation).
Lacavera wants to build the next great Canadian tech company like RIM or Shopify, and he hasn't lost any of the daring attitude he developed at WIND. "GT is the rest of my career. I am fully committed to building a long term, huge company here. I don't care what people think. That's what I'm doing."
Running Against the Wind
When WIND sold to Shaw, it had a million subscribers and more than $100 million in annual profits. Less than a decade earlier, it was just an idea in the mind of a young Canadian entrepreneur.

Tony Lacavera found success right out of college building internet and IT services companies. By the age of 33, he was willing to wager $10 million of his self-made capital to bring competition to Canada's wireless market. But he would need a lot bigger war chest to take on the nation's largest carriers, Rogers, Telus, and Bell.
After coming up empty handed at investor meetings in the U.S. and Canada, Lacavera learned of a fearless billionaire in Egypt who saw opportunity in combatting Canada's mobile oligopoly: Naguib Sawiris. Tony got in touch with Sawiris' handlers in Cairo, and was able to arrange a 15 minute meeting. He flew to the Middle East and threw himself into preparing for the short meeting, practicing his presentation hundreds of times, including in the hotel lobby moments before stepping into Sawiris' office. When he finally had his moment, the two connected on a personal level right away.
Sawiris taught Tony, through data and statistics, that communications can lift people out of poverty and build economies. It is for this reason that some of Sawiris' ventures have included building communications infrastructure in places like North Korea, Iraq, and Syria. "With WIND, he moved me from 'Here's our business plan and here's how much money we can make', to 'Here's the social impact this is going to have'. And that's how I think about that asset now, and how I did throughout its history. And it guided me throughout building it as a CEO. In the end, the output was we lowered prices an average of 21% in all 28 English-speaking markets we were operating in. We moved $8.5 billion out of Bell, Telus, and Rogers into 15 million Canadians' pockets. Because it didn't matter if you were a WIND customer or not. Prices went down in the market and disposable income for all those 15 million people went up."
For his part, Sawiris said Canada was a tougher place to do business than Afghanistan or North Korea. He blamed the federal government for being biased against foreign investors and anti-competitive in defending the entrenched wireless incumbents. Sawiris sold his stake in WIND to a Russian wireless company, Vimpelcom. Vimpelcom later sold its interest to a Lacavera-led private equity group, which in turn sold to Shaw the following year. It was a wild ride of reorganizations, but ultimately proved to be a huge win for Lacavera's investors.
Something in the Syrup
Lacavera grew up playing hockey in a small town called Welland, 10 km due west of Niagara Falls in Ontario. Born in 1974 into a middle class family, he is the son of a lawyer (later judge) and a high school teacher.
He claims he was an average student, but something special must have been cooking in the Lacavera household. Tony's sister Catherine would go on to make Fortune Magazine's 40 Under 40 in 2013, alongside a few names you might know: Marissa Mayer, Jack Dorsey, and Mark Zuckerberg. Dubbed 'Google's secret weapon', Catherine Lacavera has been the company's Director of Litigation globally for nearly 13 years, and was the mastermind behind its blockbuster legal victories over Oracle and Viacom as well as its massive $490 million multi-party settlement involving TiVo.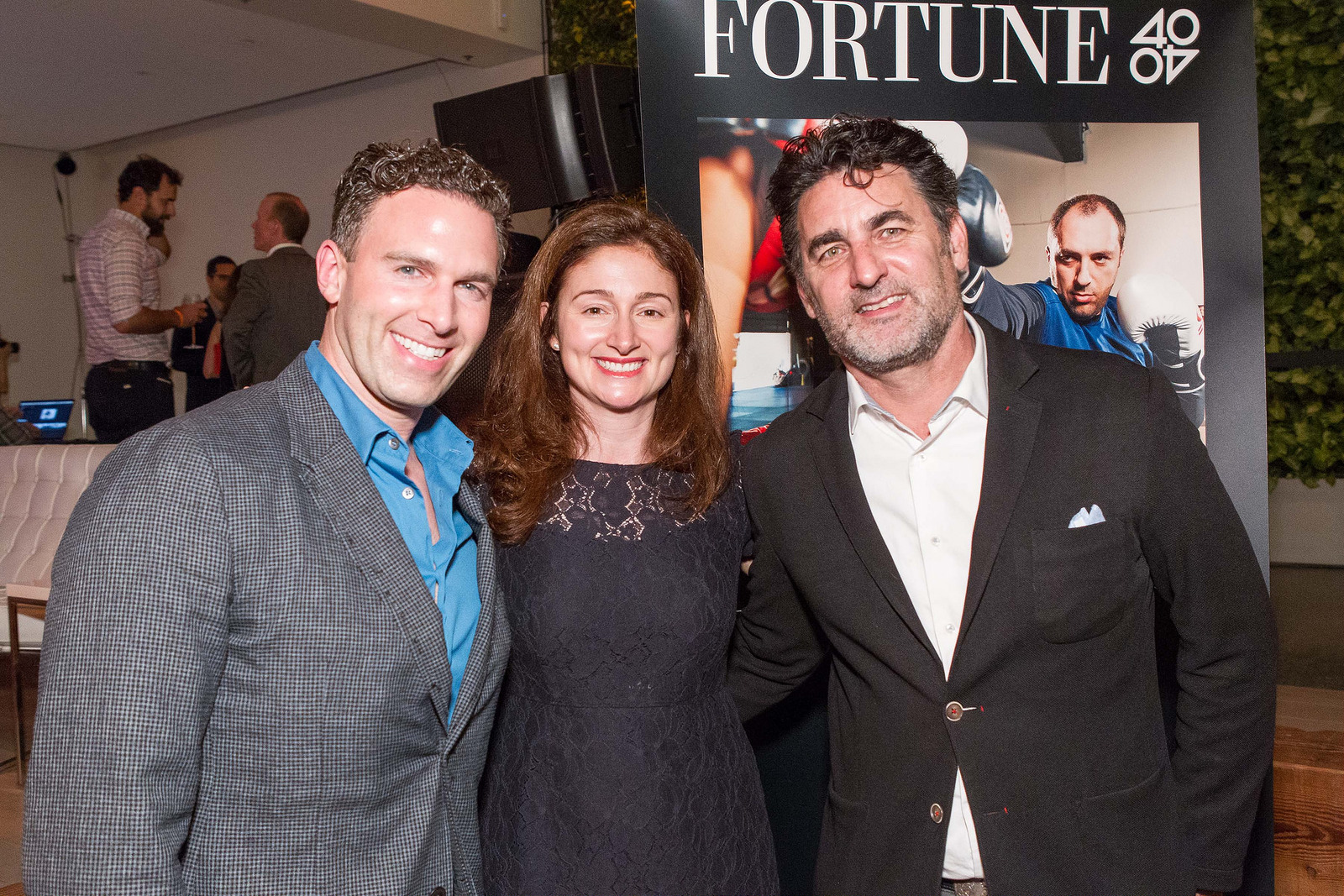 And Tony? While most remember the WIND story, it was actually just a part (albeit a large one) of Tony's empire building under his private holding company, Globalive, which he founded in 1998 (at age 23) with a $25,000 small business loan from RBC.
Little did he know, but that $25k seed would grow into what would now be called a 'studio' in Silicon Valley circles — that is, an umbrella company that actively builds and operates numerous subsidiary companies, rather than simply deploying capital and taking a back-seat.
With Globalive, Tony has raised nearly $2 billion in private capital and has founded, co-founded, seeded, financed, operated, and divested 12 companies (including WIND and Enunciate Conferencing, which sold to Premier Global Services (NYSE:PGI) for $30 million). He was the first to bring automated teleconferencing to Canada; before then, conference calls had to be manually connected and administered by a live operator. Lacavera was also the first to bring — now ubiquitous — Voice over Internet Protocol (VoIP) telephone technology to Canada.
On top of all of this, he dedicates a big chunk of time to helping young entrepreneurs achieve success through his involvement in numerous accelerators and incubators, sits on several charitable and public company boards, and produces theatre productions in New York and London, including the Laurence Olivier award-winning 2010 production of Cat on a Hot Tin Roof starring James Earl Jones.
In his new book (yes, Tony's an author too) — How We Can Win: and what happens to us and our country if we don't — he passionately argues that Canadian companies just aren't ambitious enough and suffer a "junior partner syndrome" compared to their American counterparts. Lacavera wants to change this by building GT into a leading global software company to compete with the likes of Oracle and IBM, but headquartered and listed in Canada, keeping the talent and wealth creation at home.

"We must shed our colonial branch plant mindset."

Globalive Technology
After publishing How We Can Win, Lacavera was ready to focus his efforts 100% on a new venture.
Tony believes that decentralized technologies and AI can be used for global social good. "I see those as platforms to bring people together in a way that transcends governments, transcends borders, transcends religion."
With that purpose in mind, Globalive Technology was launched in early 2018. Tony describes what he's doing with GT as being similar to what he did with Globalive beginning back in 1998. GT is a 'studio' in a public company structure, which will have a growing portfolio of operating subsidiaries and JVs underneath it.
The JVs being finalized today (key ones discussed below) are part of Tony's short- to medium-term go-to-market strategy — i.e., partnering with forward-looking growth companies that already have an established customer base. But beyond this, he says the parent company (GT) will also become a "next generation software company" by retaining ownership of the software developed in the studio ecosystem and later licensing it outside of this ecosystem.
Globalive Technology's key launch assets include:
The Globalive Team. Led by Lacavera himself as Chairman and CEO, the team includes founders of Mundo Inc., VRG, and several of Tony's most trusted business operators from his past ventures. These include Globalive Technology CTO Bhavin Shah, CSO Eric So, CCO Simon Lockie, CFO Brock Bundy, and COO Scott Nirenberski.

Flexiti Financial. Established in 2013, Flexiti is a fintech lender that offers technology-enabled instant credit approvals for prime customers at the point-of-sale for big-ticket retailers. It has grown to over 2,500 merchant locations and over 33,000 customer applications. GT's exposure to Flexiti is two-fold. First, there is a potential acquisition of Globalive Capital's control position in Flexiti by GT, and second, through a 50-50 joint venture, GT plans to help Flexiti bring machine learning and blockchain technology to its point-of-sale financing and credit approval systems to streamline credit adjudication, while democratizing the funding of loans (i.e., Person A could lend Person B money directly on a blockchain). In addition, merchants on the Flexiti system will be able to exchange inventory on a seamless, frictionless basis. In other words, a small merchant could in theory compete with a big box retailer because the small guy will have access to the inventory of hundreds of other merchants. Last week, Flexiti announced it would buy buy TD's private credit card business for $250 million, which brings access to over a million prime credit consumers in Canada and more than 900 merchants to Flexiti's platform. Lacavera discussed the deal on Bloomberg TV with Amanda Lang here.

Globalive BIG Dev (51% ownership stake). Blue sky / long-term projects, but GT's partner (BIG Dev) has, through its company ICOx Innovations Inc., already commercialized and generated revenue from related projects, building software that is used to deploy token/coin ecosystems for ICOs. This JV partner has already worked with its client WENN Digital to create, develop, and launch the KODAKOne coin, which recently announced a partnership that will see it deployed as means to register and protect in-venue photos and videos at six major NBA and NHL arenas in the U.S. Additional contracted projects will be communicated on an ongoing basis.

Coinsquare International (50-50 JV). Coinsquare, a leading Canadian digital currency exchange, was recently valued at $430 million in an institutional financing round. The purpose of this planned JV is to build a global cryptocurrency exchange leveraging the established Coinsquare platform and proven customer acquisition strategy. Coinsquare's international expansion will be exclusively conducted through this JV in the UK under the brand GT Direct (Globalive Technology Direct). Rollouts into additional countries are expected follow as the international customer acquisition model is refined.

More to come.

Lacavera is nothing if not inspiring. His drive and passion for Canada is like that of late tycoon Peter Munk. In a 1992 autobiography about Munk, author Donald Rumball wrote:
"For the first 30 years of his career, [Munk] spent most of his time creating visions, selling them to financial partners, and then working impossibly hard to turn the vision into reality before reality dissolved the vision. This aspect of entrepreneurs, almost magical in its power, is widely misunderstood and often deprecated, perhaps because most people do not themselves have the will or the courage to dream visions that defy gravity."
This quote captures Tony too. Makes you want to root for him.
Follow Globalive Technology at CEO.CA/LIVE.
Disclaimer: All statements in this report, other than statements of historical fact should be considered forward-looking statements. These statements relate to future events or future performance. Forward-looking statements are often, but not always identified by the use of words such as "seek", "anticipate", "plan", "continue", "estimate", "expect", "may", "will", "project", "predict", "potential", "targeting", "intend", "could", "might", "should", "believe" and similar expressions. Much of this report is comprised of statements of projection. These statements involve known and unknown risks, uncertainties and other factors that may cause actual results or events to differ materially from those anticipated in such forward-looking statements. Risks and uncertainties respecting mineral exploration companies are generally disclosed in the annual financial or other filing documents of those and similar companies as filed with the relevant securities commissions, and should be reviewed by any reader of this newsletter.
Tommy Humphreys is a web developer and financial publisher. Nothing in this article should be construed as a solicitation to buy or sell any securities mentioned anywhere in this newsletter. This article is intended for informational and entertainment purposes only!
Be advised, Tommy Humphreys is not a registered broker-dealer or financial advisor. Before investing in any securities, you should consult with your financial advisor and a registered broker-dealer.
Never, ever, make an investment based solely on what you read in an online newsletter, including Tommy Humphreys' online newsletter, especially if the investment involves a small, thinly-traded company that isn't well known.
Tommy Humphreys' past performance is not indicative of future results and should not be used as a reason to purchase any stocks mentioned in his newsletters or on this website.
In many cases Tommy Humphreys owns securities in the companies he features, and that is the case with respect to Globalive Technology Technologies ("LIVE"). For those reasons, please be aware that Tommy Humphreys can be considered extremely biased in regards to the companies he writes about and features in his newsletters, including LIVE. Because Tommy Humphreys owns shares of LIVE, there is a major conflict of interest involved that does influence his perspective on LIVE. This is why you should conduct extensive due diligence as well as seek the advice of your financial advisor and a registered broker-dealer before investing in any securities. Tommy Humphreys may purchase more shares of LIVE for the purpose of selling them for his own profit and will buy or sell at any time without notice to anyone, including readers of this newsletter.
Tommy Humphreys shall not be liable for any damages, losses, or costs of any kind or type arising out of or in any way connected with the use of this newsletter. You should independently investigate and fully understand all risks before investing. When investing in speculative stocks, it is possible to lose your entire investment.
Any decision to purchase or sell as a result of the opinions expressed in this report will be the full responsibility of the person authorizing such transaction, and should only be made after such person has consulted a registered financial advisor and conducted thorough due diligence. Information in this report has been obtained from sources considered to be reliable, but we do not guarantee that they are accurate or complete. Our views and opinions in this newsletter are our own views and are based on information that we have received, which we assumed to be reliable. We do not guarantee that any of the companies mentioned in this newsletter (specifically LIVE) will perform as we expect, and any comparisons we have made to other companies may not be valid or come into effect.
Tommy Humphreys does not undertake any obligation to publicly update or revise any statements made in this newsletter.